Could Will Smith Lose His Oscar Over Chris Rock Slap?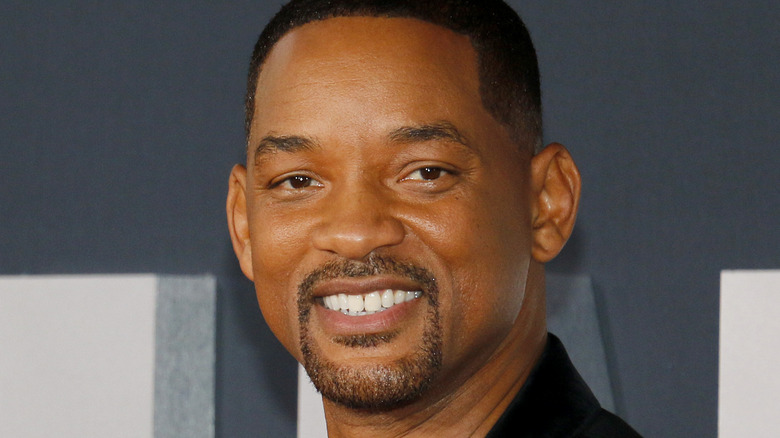 Tinseltown/Shutterstock
The 94th Academy Awards won't be remembered as the year "CODA" won Best Picture, or the year Denis Villeneuve's "Dune" won a show-high 6 awards. Already, the entire ceremony has been overshadowed by Will Smith's response to a Chris Rock joke about Jada Pinkett Smith's hair loss when the comedian took the stage to present the award for Best Documentary Feature. While Smith appeared to initially laugh at Rock's joke — a throwaway quip comparing Pinkett Smith's short hairstyle to Demi Moore's character in the 1997 film "G.I. Jane" — the night's eventual Best Actor winner then stood up, approached Rock on stage, and slapped him in the face. That's right: This year's Oscar's — among a few other things — included an actual assault.
"Will Smith just slapped the s*** out of me," Rock said as Smith returned to his seat, prompting the actor to yell at Rock twice to "keep my wife's name out of your f***ing mouth."
The U.S. broadcast was briefly muted as a bewildered Dolby Theatre audience realized they weren't watching some bizarre awards show sketch; Smith did, in fact, genuinely slap Rock, who proceeded to plead his case that "it was a G.I. Jane joke" before attempting a transition back to handing out the Best Documentary Feature award, which went to Amir "?uestlove" Thompson for "Summer of Soul."
The unprecedented altercation loomed large over the rest of the ceremony as Smith took the stage a second time later that night to accept the award for Best Actor. In his surreal, tear-filled speech, Smith compared his actions to those of Richard Williams, the character he portrays in the film for which he won — prompting questions about whether he should even be allowed to keep the award in light of his violent behavior.
The Academy's statement and code of conduct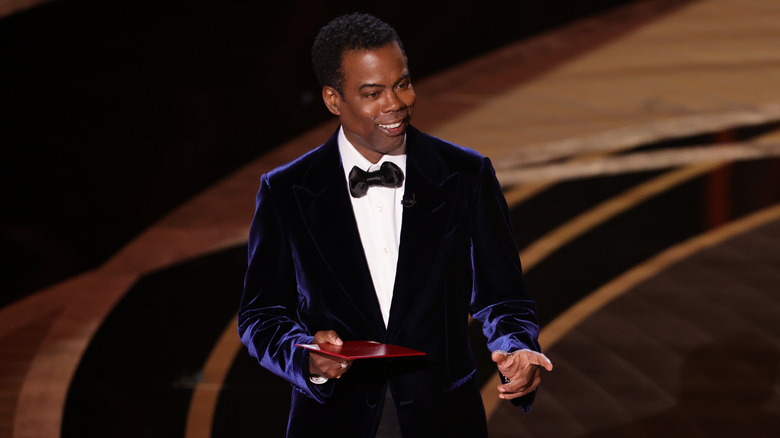 Neilson Barnard/Getty Images
The New York Post's Sara Nathan reported that "industry insiders" are suggesting that Smith may be asked to give his Oscar for Best Actor back after slapping Chris Rock during the Academy Awards telecast. People Magazine reported that behind the scenes, ABC and Academy representatives scrambled to understand what happened and that removing Smith from the show "was definitely discussed seriously." 
However uncomfortable the altercation was, members of the Academy present at the Dolby Theater appeared to attempt to ease tension, while social media erupted in response; just minutes later, cameras showed both Will Smith and Jada Pinkett Smith laughing from their seats as Sean Combs told the audience that Smith and Rock would "solve that like family" at an afterparty (via Twitter).
After the ceremony ended, the Academy posted a Tweet saying that it "does not condone violence of any form." The Post noted that the organization took great pains to create standards of conduct for Academy members in 2017. Per Variety, this code of conduct includes expectations that members must uphold "the Academy's values of respect for human dignity, inclusion, and a supportive environment that fosters creativity," and affirms that "there is no place in the Academy for people who abuse their status, power, or influence in a manner that violates recognized standards of decency."
Despite the strong language in the Academy's code of conduct, there does not appear to be a formal process in place for stripping Academy members of an award after it has been awarded.
The Will Smith-Chris Rock altercation appears to have been settled off-screen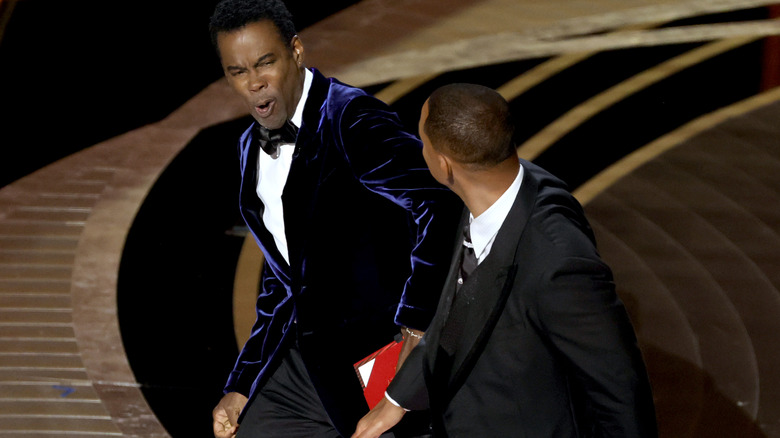 Neilson Barnard/Getty Images
Although Will Smith decided to express his displeasure with Chris Rock's "G.I. Jane" joke on stage, it appears the altercation was largely solved in the aftermath of the shocking Oscars moment. 
According to NBC News, Los Angeles police said in a statement that Rock declined to press charges against Smith, and Page Six reported that Combs confirmed Rock and Smith made amends after the ceremony. Variety reported that Smith said "It's all love," in response to a question about how he was doing after the show — a sentiment the actor repeated during his acceptance speech for Best Actor, during which he apologized to the audience but not to Rock directly. 
The Hollywood Reporter's Scott Feinberg filmed the aftermath of the altercation during a commercial break, showing Denzel Washington and Tyler Perry speaking to Smith before everyone returned to their seats. Smith said during his Best Actor speech that Washington advised him in the aftermath, "At your highest moment, that's when the devil comes for you," as he compared himself to Richard Williams and emotionally spoke about defending his family from public criticism (via Twitter). Only in Hollywood.
The Smith family have been in the news frequently throughout this awards season; Jada Pinkett Smith posted on Instagram in December 2021 that she shaved her head due to hair loss from alopecia, and Will Smith spoke candidly about their at-times non-monogamous marriage in a November 2021 GQ feature.