What Denzel Washington Really Thinks About Will Smith's Career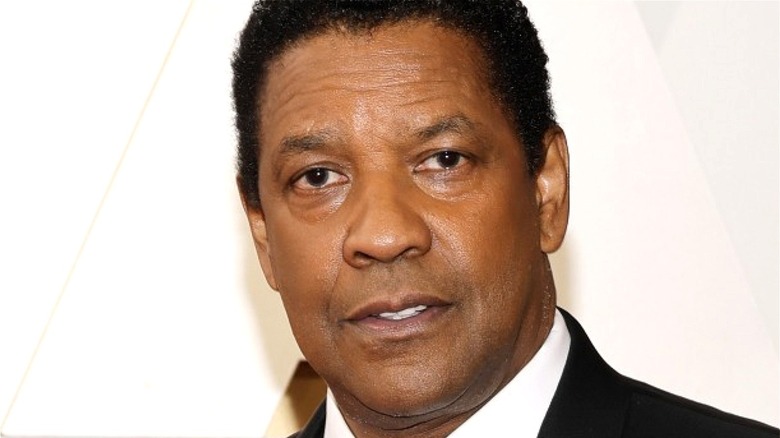 Mike Coppola/Getty
When the Slapgate dust finally settles, where will you stand? Following the unexpected altercation between Chris Rock and Will Smith at last night's Academy Awards — the biggest Oscars drama since the great "La La Land" snafu of 2017 –- celebrities (as well as the Twitterati watching at home) were quick to divvy themselves into either pro-Rock or pro-Smith camps. 
Denzel Washington was one of the primary celebrities to try to diffuse the situation, rushing over to calm Smith after the surreal disruption. In Twitter footage courtesy of Hollywood Reporter columnist Scott Feinberg, Washington and Tyler Perry can be seen consoling a shaken-up Smith. Later, upon receiving his Academy Award for Best Actor for "King Richard," Smith shared Washington's words of wisdom: "Denzel said to me a few minutes ago, 'At your highest moment, be careful; that's when the devil comes for you.'" The quote was met with applause, then a cut to a visibly emotional Washington in the audience.
Washington's emotions were clearly running high, and not just because of the bizarre assault that's come to define the 2022 Oscars. Like Smith, Washington was also up for Best Actor for his performance in Joel Coen's "The Tragedy of Macbeth." At the Oscars, Washington was put in the complicated position of being Smith's friend, confidante, and competitor all at once. In a pre-show interview, Washington revealed his feelings coming into the 94th Academy Awards — and what he really thinks about Smith's nomination.
Washington said it was Smith's turn to win an Oscar
Denzel Washington's historic Best Actor win in 2002 marked only the second time a Black man had won the award since Sidney Poitier in 1963. "I'll always be chasing you, Sidney," he famously remarked (per Daily Beast). "There's nothing I would rather do, sir." In total, Washington has been nominated for ten Academy Awards and won twice (via IMDb).
Perhaps no one, then, is more qualified to judge the acting performances of others, and Washington holds Smith in particularly high esteem. In a red carpet interview with Etalk, the decorated actor spoke highly of his younger friend: "Will is already a winner. He's probably the biggest star in the last 30 years. More box office, as many nominations and/or awards as anyone. He's just huge, and it's his turn." Still, Washington let his competitive spirit shine through, adding, "I'm rooting for me [laughs] but it's his turn."
Washington alludes to Smith's impressive resume, which indeed includes a near-constant stream of hits dating back to 1995's "Bad Boys." Adding to Washington's emotional reaction was the fact that he and Smith had shared Best Actor nominations once before, in 2002 — Washington for "Training Day" and Smith for "Ali." Despite Smith's unruly Oscar night presence, it's clear that his win meant a lot for the veteran actor. Smith's award was a long time coming, by Washington and many others' estimation.