Cobra Kai Showrunner Teases Possible Return For Aisha In Future Seasons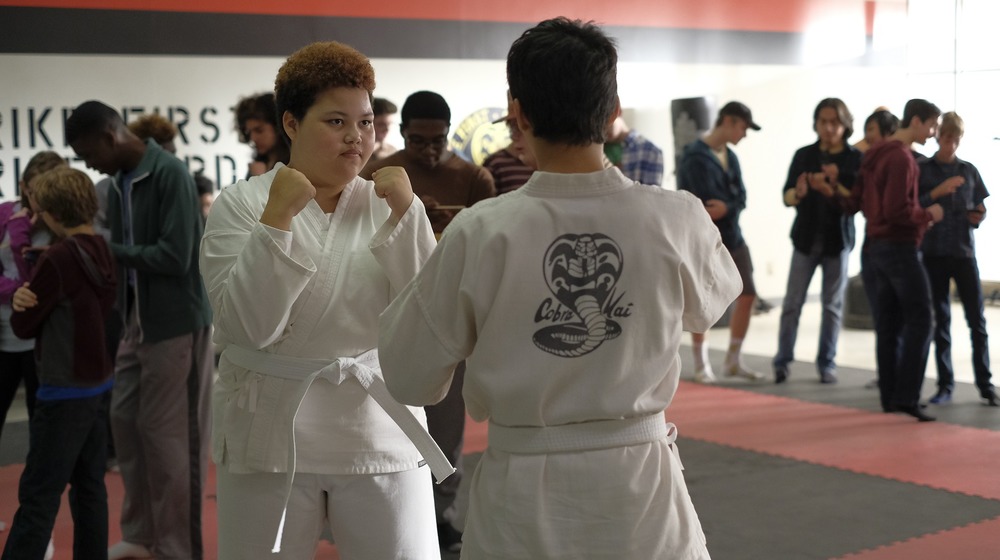 Netflix
When Cobra Kai returns to ring in the new year with season 3 on Netflix, there is one fan-favorite who won't be a part of the action. Aisha Robinson (portrayed by Nichole Brown) will not be returning to the dojo for this round, despite being a pivotal part of the Cobra Kai team in the show's first two seasons.
Aisha was one of the first recruits for Johnny Lawrence's (William Zabka) new dojo and was a standout for her fearlessness and ferocity on the mat. Her friendship with Samantha LaRusso (Mary Mouser) was also a central part of the story, especially after Sam's new friends Yasmine (Annalise Cochrane) and Moon (Hannah Kepple) bullied Aisha at school and drove a wedge between them. Aisha was last seen being dragged into the school brawl, and she did not appear to be one of the students joining John Kreese (Martin Kove) at the dojo after the fight.
Brown revealed the news that she would not return on her social media page (via Reddit), writing, "Officially NOT in season 3 of Cobra Kai. Unfortunate, but thankful for the opportunity." The actress also made it clear in the same post that it was not her decision to leave the series. Now, producers on the series have spoken up to confirm Aisha's absence from the new season, which premieres January 1, but they also tease a potential return for the character in a later season.
Comebacks are common at Cobra Kai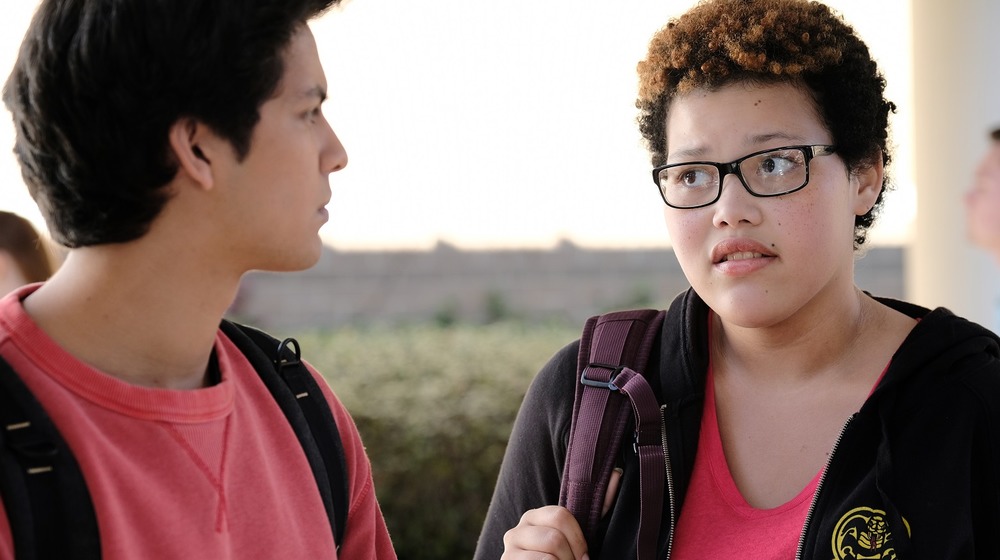 Netflix
In an interview with TVLine, executive producer and co-showrunner Jon Hurwitz confirmed that Aisha's absence from season 3 would be explained in the premiere but added, "We love Aisha and we love Nichole Brown." Per Hurwitz, Aisha could still return for a later season, and having a character disappear for a season only to later return would not be uncommon for Cobra Kai, since season 3 will usher in the return of several characters fans haven't seen since the first season.
"Certain characters we loved in Season 1 didn't appear at all in Season 2, like Kyler, Yasmine, and Louie," he explained. Kyler (Joe Seo) was a major nemesis of the Cobra Kai students in season 1 and appears to be joining the dojo in season 3, much to Hawk's (Jacob Bertrand) chagrin. Meanwhile, Yasmine was also an antagonist for Aisha, and Louie (Bret Ernst) is Daniel LaRusso's (Ralph Macchio) cousin who got fired after setting Johnny's car on fire. "Before the season, we told Nichole the same thing we told those actors: That just because a character doesn't appear for a period of time doesn't mean they've left the universe, that they can't return again. We love that character, and perhaps we'll see her again one day," Hurwitz said.
Meanwhile, executive producer and co-showrunner Josh Heald also added, "We have a long story left to tell. We tend to look at the show in a very long view, where entrances and exits are impactful and important. Sometimes people need to exit to make their [re-entry] a little bit different and bigger." Ahead of season 3's premiere, Cobra Kai has already been renewed for season 4, so perhaps fans will get to see Aisha again sooner than we might expect.