The Kyler Quote From Cobra Kai That Means More Than You Think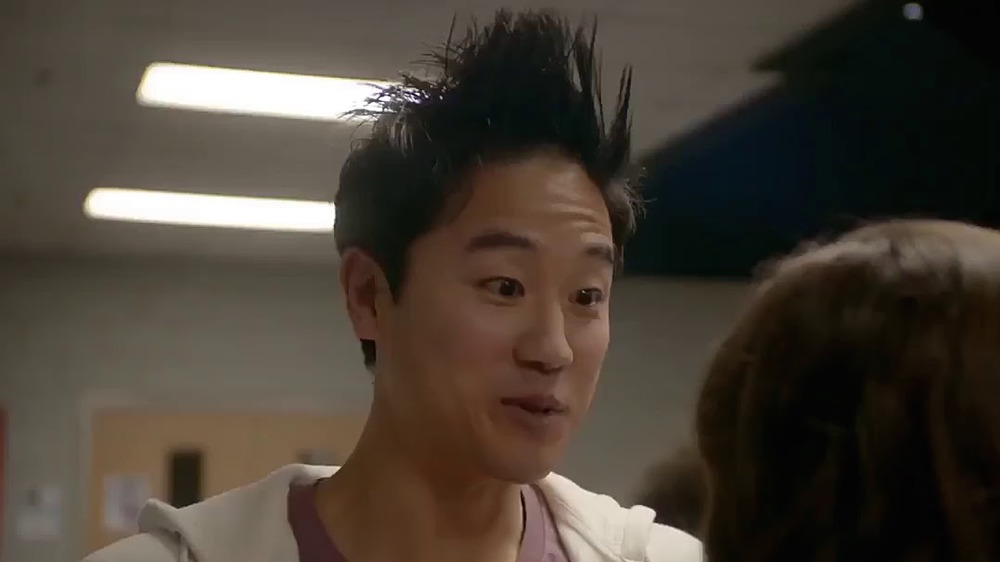 Netflix
Cobra Kai is an earnest show with a lot of humor about kids trying to grow up, and grownups acting like kids. It's also incredibly badass — to borrow Johnny Lawrence's favorite word. As it heads into its third season, the series expands The Karate Kid mythology of characters Johnny and Daniel LaRusso (Ralph Macchio), while also frequently calling back to the 1984 film and sequels.
Though some Easter eggs from the YouTube-turned-Netflix show are fairly obvious, such as Mr. Miyagi's yellow 1947 Ford, executive producers Jon Hurwitz, Josh Heald, and Hayden Schlossberg serve up deep cuts even diehard fans might miss. The deepest cut of all might be in the first episode of season 1, and it's especially notable because it involves Johnny (played by actor and director William Zabka), but references The Karate Kid Part III, a movie he isn't even in. 
Before Johnny Lawrence re-opens Cobra Kai or reconnects with Daniel, he's a hard-luck handyman just trying to enjoy his slice of pizza when he witnesses Miguel (Xolo Maridueña) running afoul of high school bully Kyler (Joe Seo) and his goons. Though reluctant, the former All Valley Under-18 Karate champ gets involved to help Miguel fight off the teens.
Why does Kyler's taunt sound so familiar?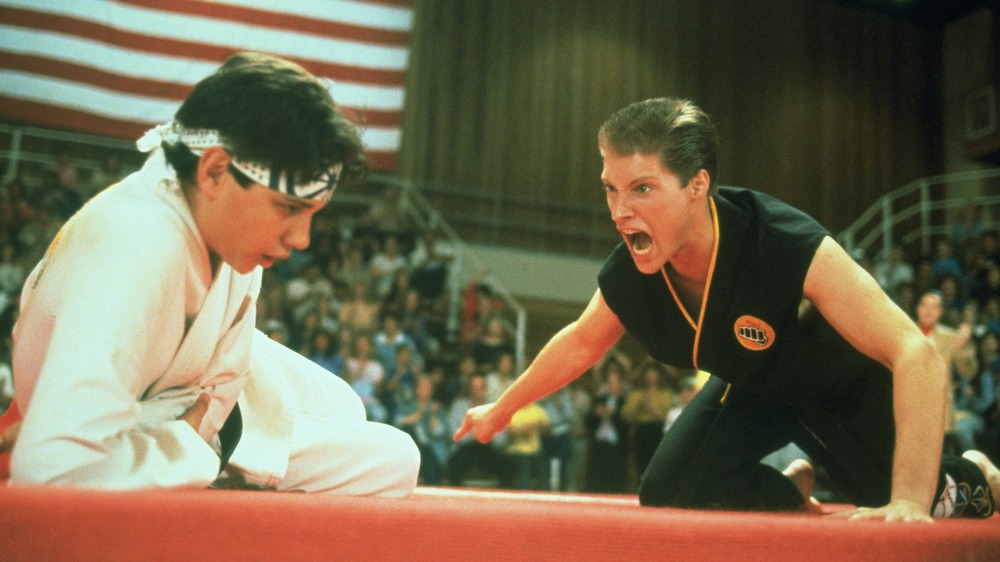 Columbia Pictures
Johnny pretty easily takes out the four bullies, even if he loses his slice in the process, but Kyler attacks from behind, puts him in a chokehold, and asks, "What's the matter? Having trouble breathing?"
Johnny struggles for a moment before elbowing and flipping Kyler. Following a brief second round with the bullies, Johnny subdues Kyler again. With his hand locked around Kyler's throat, Johnny repeats the same question — in a much more badass fashion. The scene establishes Johnny as someone who still has the skills, despite being 36 years older than he was in The Karate Kid. But Kyler's dirty move is reminiscent of another bully, Mike Barnes (Sean Kanan) from 1989's The Karate Kid Part III.
Also known as "Karate's Badboy," Barnes works for Cobra Kai co-founder, and toxic waste disposal tycoon Terry Silver (Thomas Ian Griffith). As the main thug in Part III, Barnes hides his connection to Silver as he faces off against Daniel multiple times (which even briefly drives Mr. Miyagi's pupil into the Cobra Kai dojo). Then, Barnes dons the Cobra Kai gi, and puts a beat down on young LaRusso at the All Valley Karate Tournament.
Silver and Cobra Kai sensei John Kreese (Martin Kove) look on as Barnes fights dirty, landing one illegal punch after another, and verbally abusing Daniel in the meantime (while a way-too-permissive referee does very little refereeing). He delivers a series of gut punches, and then drops Daniel to the mat before looming over the boy and saying, "What's the matter, sweetheart? Having trouble breathing?"
Does Kyler know Mike Barnes?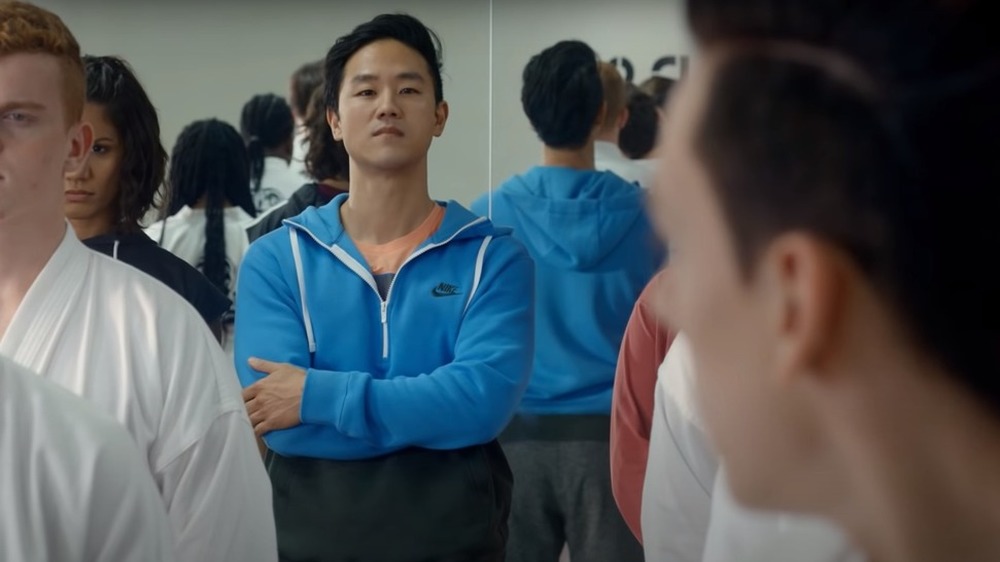 Netflix
The line happens so quickly it is easy to miss. But it's enough to break Daniel, and make him want to give up — until Mr. Miyagi's pep talk that helps LaRusso win the day, and leads to Cobra Kai being banned from the tournament. Barnes' karate is no joke. He is a much more skilled fighter than Kyler, but both share the same language of bullies, and while the Cobra Kai callback is likely just a little gift to the most observant fans, it begs a critical question for season 3: Where is Mike Barnes?
With the third season premiering in January, Cobra Kai has already confirmed the return of The Karate Kid Part II characters Chozen (Yuji Okumoto) and Kumiko (Tamlyn Tomita). Kreese is now running the dojo, and Silver has been name-dropped, which suggests he could be waiting in the wings somewhere. What if Barnes is still quite literally kicking around out there? In Part III Barnes receives 50% ownership of Cobra Kai in return for working for Silver. Also, he was a guy who liked to have his own henchmen (I'm looking at you Snake and Dennis), so it wouldn't be a stretch to think he would start his own dojo, just for a chance to train his own little acolytes.
Might Kyler know Barnes somehow, and has he previously heard that taunting line from the older bully? The teen does recognize Johnny as the guy his father hired to clean out a septic tank, and some fans theorize Barnes is the same "Mike" who fires Johnny over the phone in the series premiere, "Ace Degenerate." So it would not be a stretch for Kyler's father and "Mike" to be connected. Plus, the trailer for the new season shows Seo's return as Kyler, now as a student of Cobra Kai. 
From a casting perspective, actor Sean Kanan, who is a legitimate martial artist, has expressed interest in reprising the role. And let's face it, Barnes' return is a great reason for Johnny and Daniel to team up. He was Daniel's most violent adversary, and as part-owner of Cobra Kai, he could cause a lot of problems for Johnny.
Though it is yet to be seen whether Mike Barnes still exists in the Cobra Kai universe, if he ever does return, he might give both our heroes some breathing troubles.