Small Details In Cobra Kai Seasons 1 And 2 Explained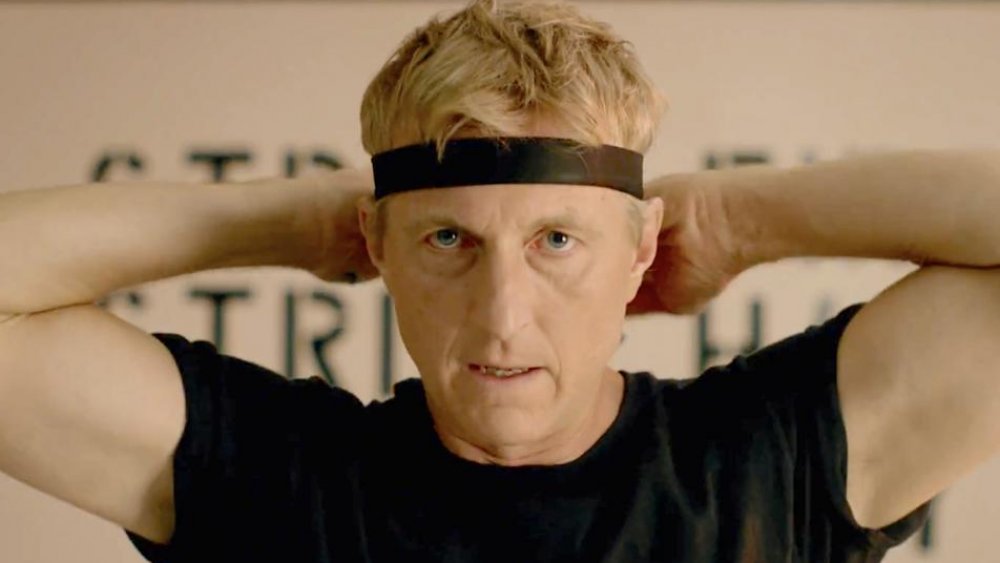 The Karate Kid was one of the biggest movies of the 1980s. In the 1984 franchise-launching blockbuster, Ralph Macchio played Daniel LaRusso, a New Jersey teen who moves to California and makes enemies with Johnny Lawrence (William Zabka), a bully who also happens to be a karate expert. To take him down, Daniel challenges Johnny — and his vicious Cobra Kai dojo — at the All-Valley Karate Tournament. He gets in shape, physically and mentally, by training with sensei Mr. Miyagi (Pat Morita), who provides Daniel with sorely lacking self-esteem and a father figure. Johnny is vanquished, and he never quite gets over it. That's why the YouTube Premium series Cobra Kai was such a fascinating delight, depicting the aftermath of the high school rivalry from the point of view of Johnny, whose life fell apart in every which way as Daniel became a wealthy local celebrity. Bitter and nostalgic for the glory days of his youth, Johnny restarts the notorious Cobra Kai dojo for a new generation, sparking a whole new conflict with his old rival.
Cobra Kai moves to Netflix for its third season, which promises to be full of more score-evening between Johnny and Daniel, along with lots of subtle references and Easter eggs. Here are the most clever (and easy to miss) bits and Karate Kid references hiding out in the first two seasons of Cobra Kai.
Welcome to Reseda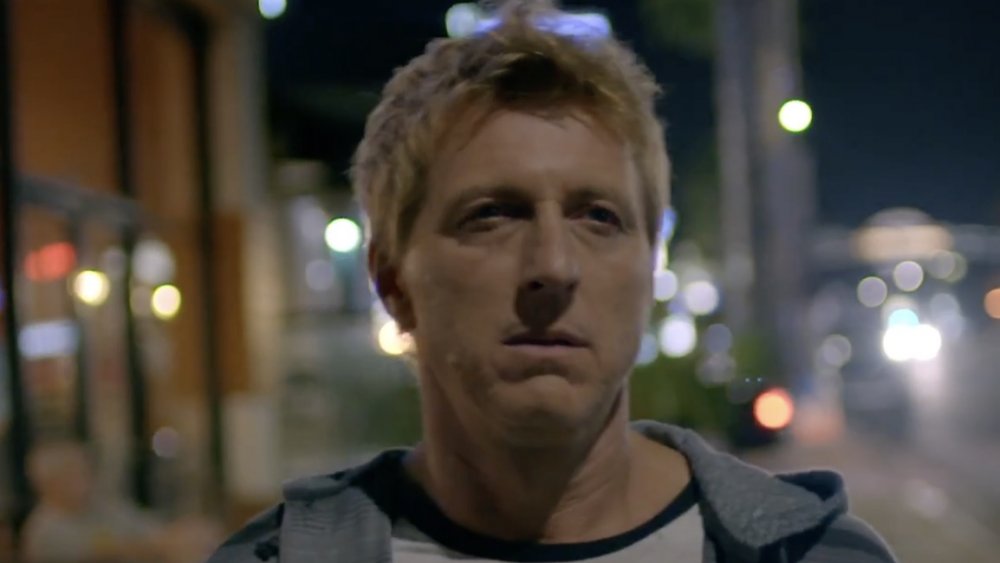 The Karate Kid isn't just a movie about karate and spirited underdog Daniel LaRusso overcoming the odds to vanquish his better prepared opponent Johnny Lawrence. It's an '80s movie, which means there's also a strong through-line of class warfare. As in other classics from the era like Pretty in Pink or Some Kind of Wonderful, the rich kids are needlessly and endlessly cruel to the kids from families with less money. True to form, Johnny comes from money and lives in a nice area, and he's harsh to and dismissive of Daniel right away because this new kid in town and son of a single mother lives in a small, inexpensive apartment in the less exclusive California town of Reseda.
When Cobra Kai picks up the story more than 30 years on, the situation has reversed. Daniel owns a chain of car dealerships and has a lot of money in the bank. Johnny, on the other hand, is divorced, barely getting by, and lives in a tiny, nondescript apartment building in a not-fancy neighborhood. Viewers may not notice that Johnny's complex is called Reseda Heights, meaning he lives almost exactly where Daniel once did.
Johnny was always a mat man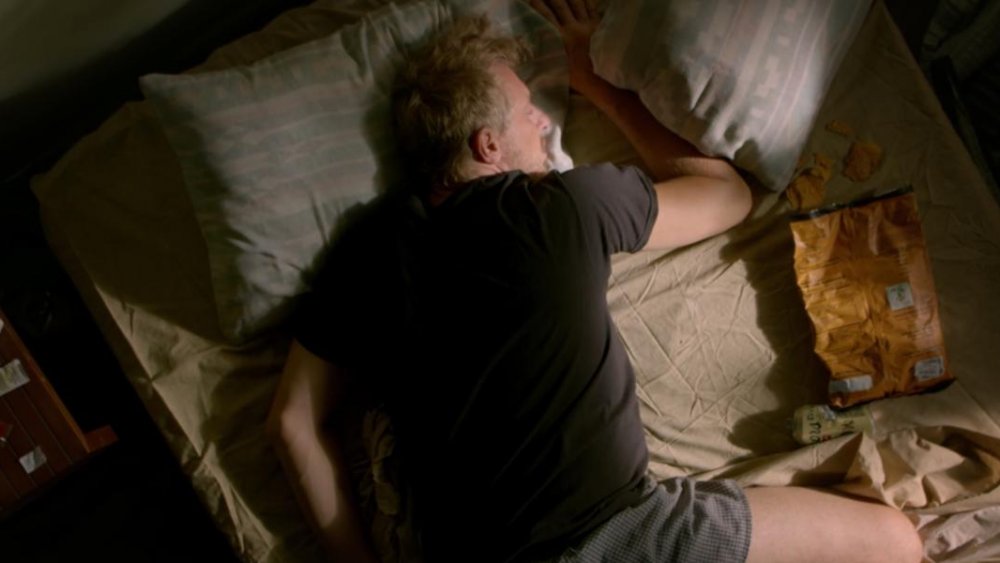 Obviously, nobody watching Cobra Kai is coming into it fresh — there likely isn't much appeal to someone who has never seen any of the Karate Kid movies of a show that revisits the franchise's central rivalry three decades after the fact. The show is a direct follow-up to The Karate Kid series, or at least the first one, because that's the last one that featured Johnny Lawrence as a major character. At the end of the 1984 classic, Johnny, the villain of the piece, ends the big match face down on a gym mat, thoroughly defeated by Daniel LaRusso at the All-Valley Karate Tournament. To set up how Cobra Kai examines the world of California dojo karate from the point of view of Johnny, it opens with a shot to let the world know exactly where it's starting from, philosophically speaking: with Johnny face down on a messy bed, beaten not by Daniel but by the travails of life over the past 30 years.
They got him a body bag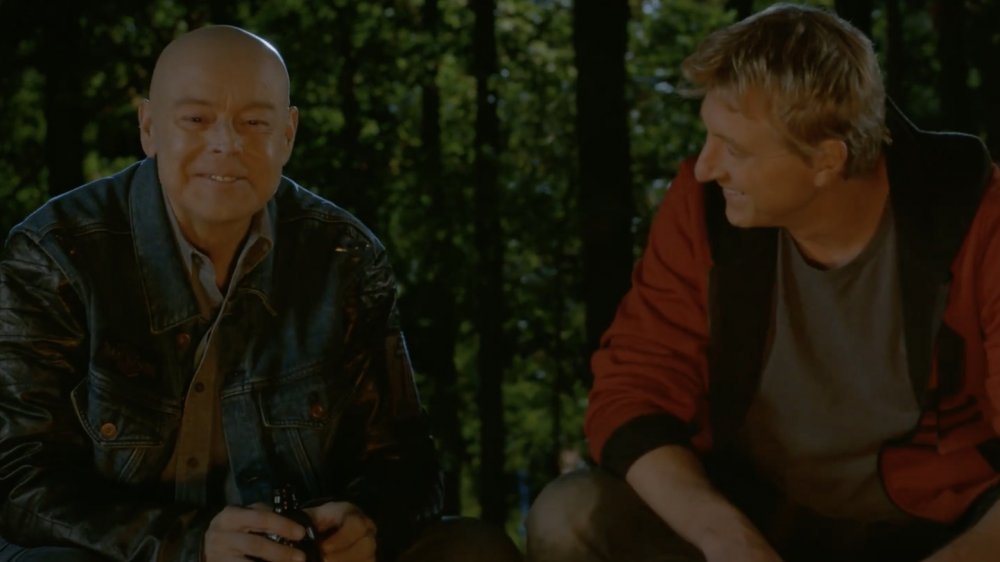 The fate of one Cobra Kai character is tragic and sad, but it also provided the series' writers with a chance to make an extremely subtle nod to a very famous line from the original Karate Kid movie, and which makes it ghoulishly prophetic in the process. 
It was a real coup for Cobra Kai to get actor Rob Garrison to make an appearance on the show in 2019, seeing as how he'd retired from acting and had only appeared in one other project in nearly 25 years. He reprised his role as Tommy, one of Johnny Lawrence's Cobra Kai friends and fellow bullies in The Karate Kid and the opening moments of The Karate Kid Part II. In Cobra Kai, Tommy is dying, and he has one last day of drinking, riding motorcycles, and camping with his friends before passing away in his sleep. That at least completed his character's unresolved arc after so many years. The last viewers see of Tommy is when his lifeless corpse is zipped into a body bag. That's a reference to the first Karate Kid — when Johnny fights in the climactic All-Valley Karate Tournament, Tommy cruelly yells "Get him a body bag!" because his compatriot is so thoroughly defeating Daniel. (Sadly, Garrison died just a few months after his Cobra Kai appearance.)
It's a Bananarama-rama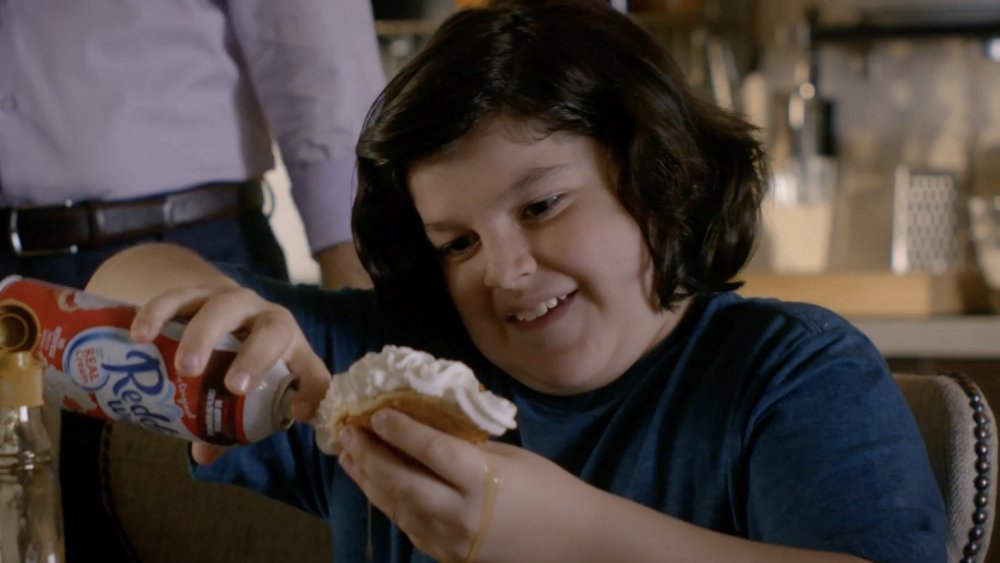 In the first season episode "Cobra Kai Never Dies," Daniel LaRusso makes breakfast for his kids, proudly and enthusiastically whipping up a sugary concoction of batter, fruit, and chocolate chips he calls "Bananarama Pancakes." That's a cute bit of goofy dad wordplay (or goofy dad outdated pop culture reference) for sure, but it also alludes to a music cue from the first Karate Kid movie. Viewers can tell that it came out in 1984, because that included the brief period of time when English vocal group Bananarama was extremely popular in the United States. One of the trio's biggest hits was "Cruel Summer," which is also the song that soundtracks Daniel's first bicycle ride to his new school in The Karate Kid. The synth-pop classic doesn't actually appear on the film's official soundtrack, so that's an Easter egg just for fans extremely familiar with the movie itself. (The song is so associated with The Karate Kid that a remake of the tune showed up in a second-season episode of Cobra Kai.)
Karate Kid time machine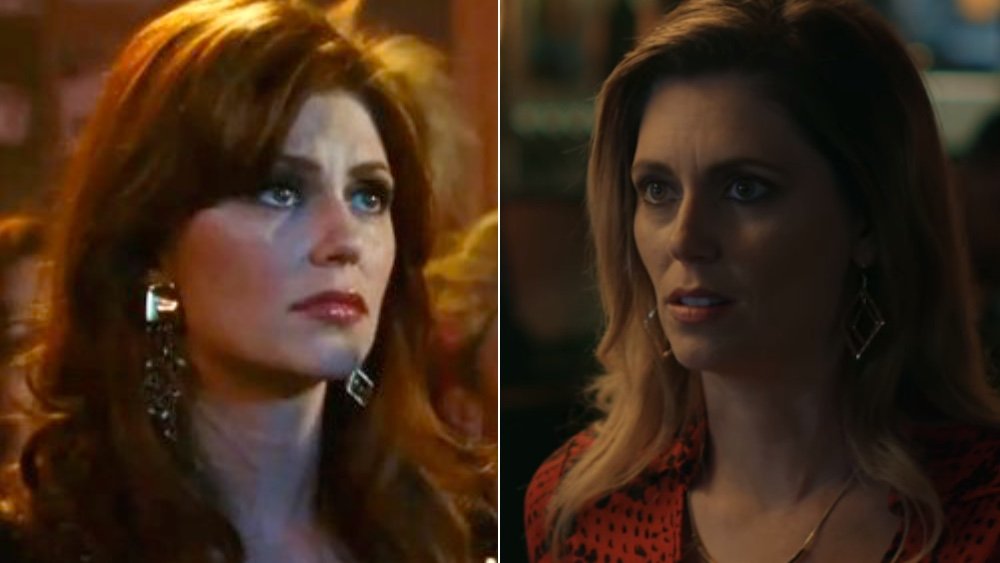 The Karate Kid spawned a hefty film and television universe. Many of the entries were largely forgotten by the time the first season of Cobra Kai reached a paying audience on YouTube, such as the ill-fated 1994 reboot starring Hilary Swank, the 2010 remake starring Jaden Smith and Jackie Chan, and the 1989 animated The Karate Kid television series, which precedes Cobra Kai as the first show featuring Daniel LaRusso. But if the circumstances of Cobra Kai are to be interpreted to their logical but extreme end, there's another film series that could be considered a part of the Karate Kid extended universe. In Cobra Kai, Johnny Lawrence (William Zabka) is divorced from his former wife, Shannon, the mother of his son, Robby. In the 2010 movie Hot Tub Time Machine, which is partially set in the 1980s, Zabka plays a guy named Rick, and Diora Baird plays his wife. Baird portrays Shannon on Cobra Kai, implying that they're the same couple, and that things obviously ended badly at some point.
Eli sheds his scar to become Hawk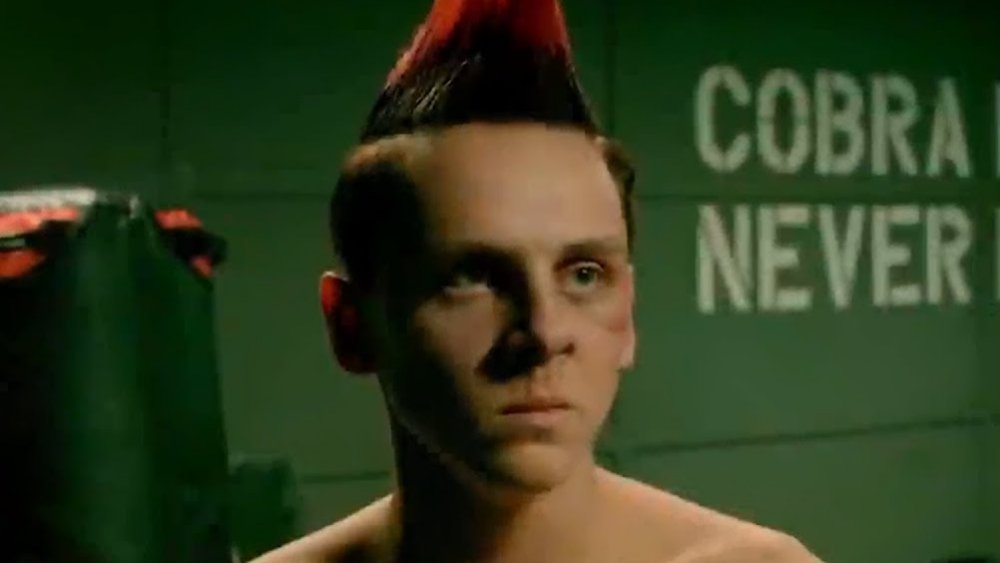 In the first two seasons of Cobra Kai, One of Johnny Lawrence's most prominent and talented students at his dojo is a young man named Eli Moskowitz (played by Jacob Bertrand). However, most everybody just calls him Hawk, on account of his tall, multi-colored, early '80s style punk haircut that used to be called a "mohawk." Hawk adopts that hairstyle after some bullying/tough love from Johnny, who encourages him to switch his life around by gaining some confidence. He also ensures people will call him "Hawk" forever by getting a tattoo of a hawk on his back. There's one other meaningful element of Hawk's appearance, and its state could be seen as a barometer of the character's development. When he first shows up early in season one, Eli sports a scar above his lip, a remnant of a cleft correction surgery. He gets some teasing from Johnny for it — he nicknames him "Lip," as he calls all of his students by a noticeable facial feature. As the series goes on, the scar fades... at the same time that Eli transforms into Hawk, and grows more confident and self-assured.
Daniel remembers something Karate Kid fans probably haven't seen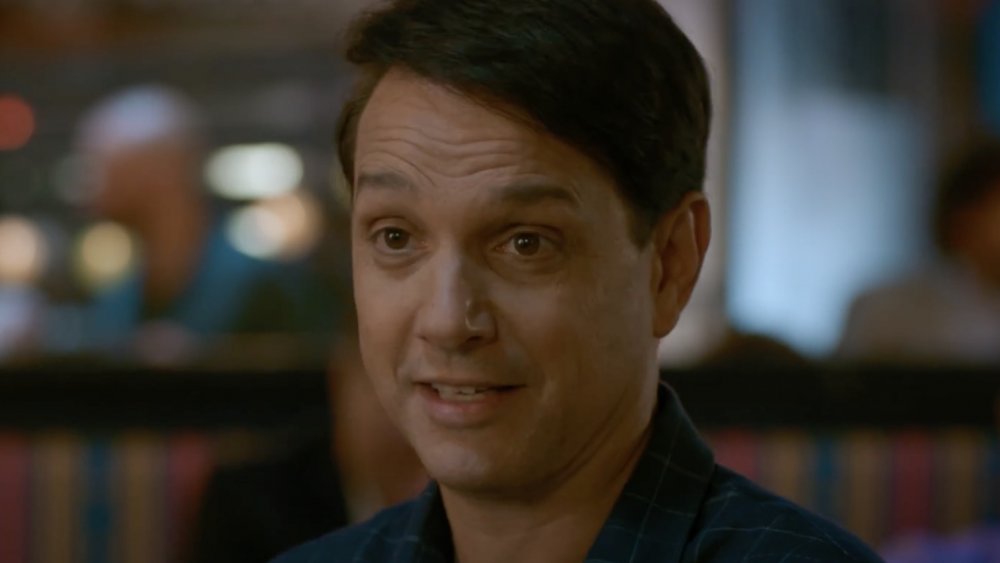 "Pulpo," the second to last episode of season two of Cobra Kai, includes the unlikely sight of longtime enemies Johnny and Daniel on a double date together, albeit reluctantly. They do have a bit of fun when they recount their long and violent rivalry (they do have karate in common, after all), pinpointing the weird moment when it might have all begun. "You spilled a blueberry pie on my shirt," Johnny says through laughter, to which Daniel responds, "That's because he put it on my chair first. He's leaving out the details." Also leaving out the details: the makers of Cobra Kai and the first The Karate Kid movie. While this pie-based act of aggression may not sound familiar to casual fans of The Karate Kid, or even those who have watched it 100 times, there's a good reason for that — Johnny and Daniel beginning a war over blueberry pie was scripted, but didn't make it into the final cut of the movie. In 2012, Karate Kid director John Avildsen posted a bunch of behind-the-scenes footage to YouTube, including one of actors Ralph Macchio and William Zabka rehearsing what would be a cut scene of Daniel and Johnny attempting to humiliate each other with a common dessert.
Elisabeth Shue is there in spirit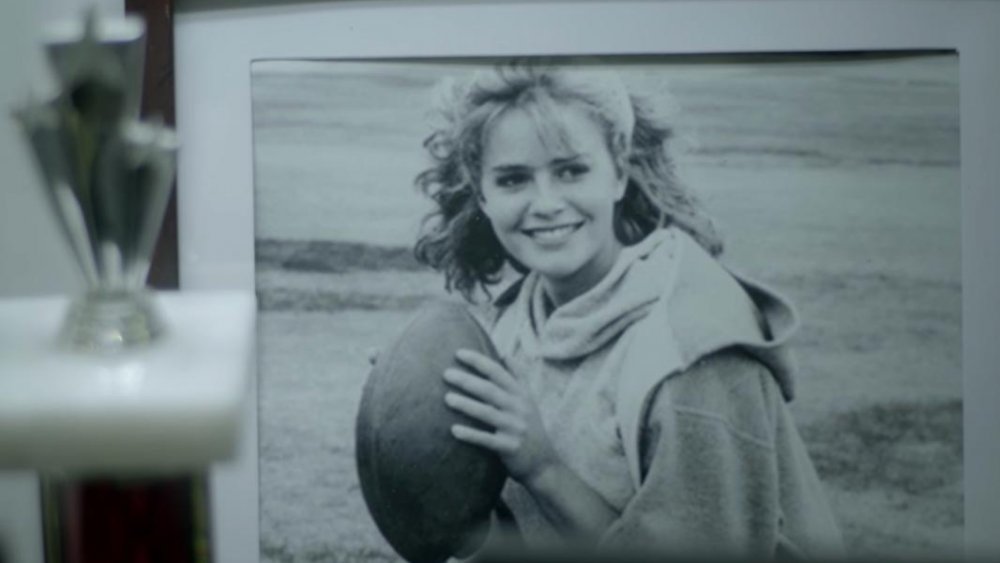 Many of the major cast members of the original The Karate Kid movies from the 1980s show up for at least a cursory cameo at some point in the first two seasons of Cobra Kai. Martin Kove even shows up as the presumed dead Kreese to bother and motivate Johnny, and Randee Handler recurs as Daniel's mother, Lucille LaRusso. One notable omission, at least so far: Elisabeth Shue is nowhere to be found, apparently not yet ready to reprise her role as Ali Mills from The Karate Kid, a love interest and source of tension as she was Johnny's ex-girlfriend who took an interest in his rival, Daniel. 
Last mentioned as having left Daniel for a UCLA football player in The Karate Kid Part II, Ali may not appear in Cobra Kai, but her presence is strongly felt throughout. Daniel and Johnny explain and dissect their love triangle from long ago, and Daniel lets slip that Ali became a pediatric surgeon and moved to Denver with her oncologist husband — all of which he ascertained from a little Facebook snooping. Nobody is seen connecting with anyone via social media, however, one of the final shots of season two shows the screen of Johnny's angrily discarded phone, displaying a friend request from one Ali Mills-Schwarber. Shue does appear briefly on camera in the form of a photo taken in the '80s — it sits in the trophy case at Johnny's old high school for some reason.
Lots of stuff about Golf N' Stuff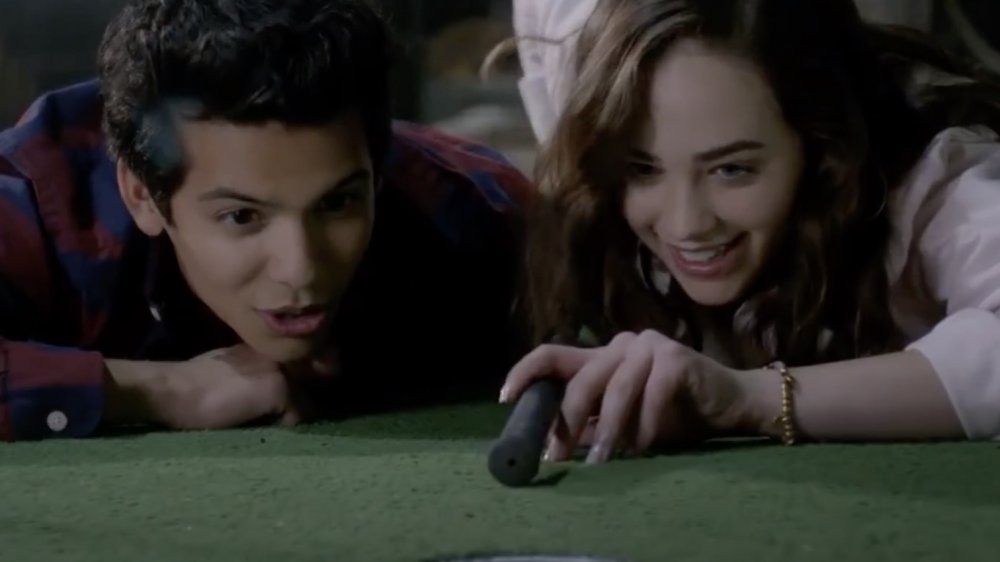 Cobra Kai picks up many years after the events of The Karate Kid, focused on the renewed rivalry between now karate men Johnny Lawrence and Daniel LaRusso. Both operate karate dojos not far from where they spent their teen years in the large, well-populated Los Angeles metropolitan area. This is is a massive city with countless entertainment options, and yet the young people of the shared Karate Kid/Cobra Kai universe seem to only ever patronize one family entertainment establishment, both back in the mid-1980s and today. In The Karate Kid, Daniel takes Ali on a sweet and innocent first date to Golf 'n Stuff — an actual putt-putt course and gaming arcade located in Norwalk, California. There, they engage in wholesome activities like air hockey, bumper boats, bumper cars, and soda drinking. Viewers learn from Cobra Kai that Johnny also took Ali on their first date to Golf 'n Stuff, kicking off a successful, long-term romance. Golf 'n Stuff then shows up for real in Cobra Kai when karate student Miguel (Xolo Maridueña) takes out Daniel's daughter Samantha (Mary Mouser) for an evening of fun.
Cobra Kai is a colorful world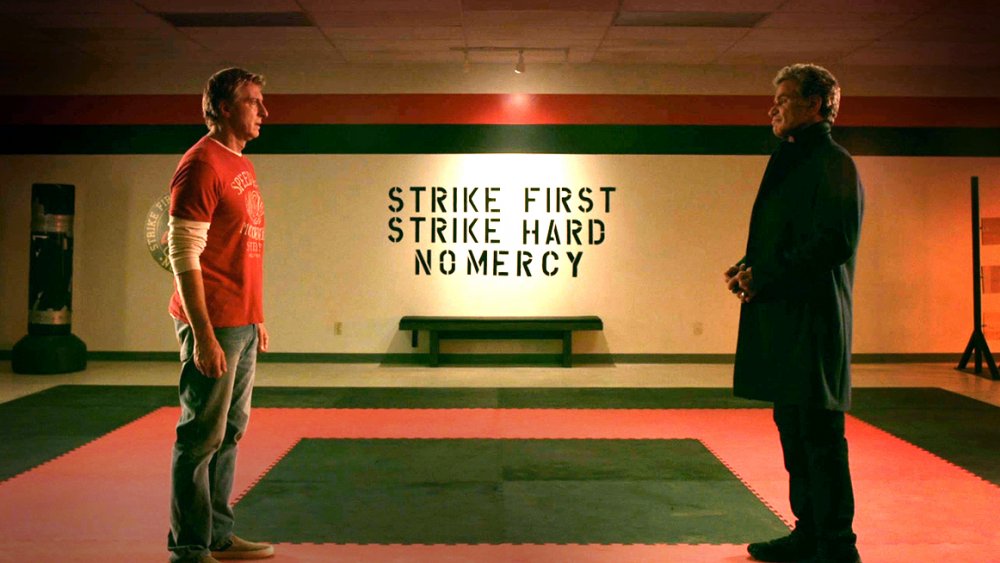 Cobra Kai brings back much of what made The Karate Kid so special, and for his Cobra Kai dojo, Johnny Lawrence revives the three dictums of his own martial arts training: "Strike first, strike hard, no mercy." He also brings back his definitive '80s movie villain garb for his students: a sleeveless black and yellow gi for tournament wear. William Zabka wore that in The Karate Kid, but when he wasn't doing martial arts, he (and lackey Tommy) could often be spotted sporting a red Members Only-style jacket bearing the Cobra Kai logo. That color figures both prominently and symbolically in the Cobra Kai series. Karate students affiliated with Johnny's dojo carry on the tradition and wear strikingly red shades, subtly suggesting they share their sensei's aggressive, merciless tactics. Contrast that with students who study with Daniel LaRusso at his Miyagi-Do, named for his sensei from the original film trilogy, Mr. Miyagi, who taught martial arts with a more holistic focus, emphasizing inner strength. As such, Miyagi-Do acolytes are often seen wearing blue, traditionally interpreted as a calmer, less threatening color than red. 
But Cobra Kai presents many conflicts. Students are often torn between the worlds of the two dojos and what they represent, namely Robby — he's Johnny's son but trains with Daniel. When characters are caught up in the crossfire, they'll wear both red and blue.
It's all different, but it's also the same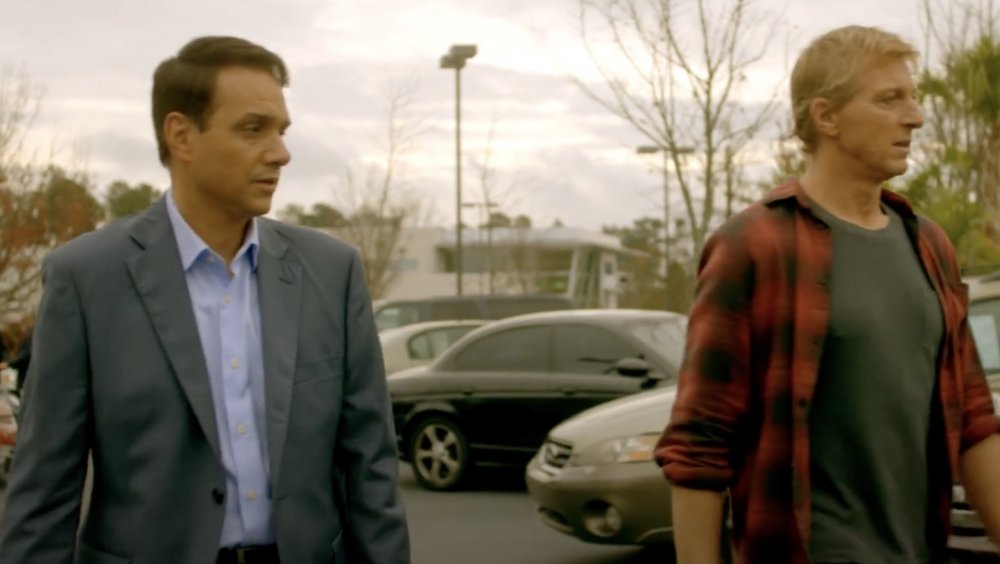 The ninth episode of the first season of Cobra Kai is titled "Different But Same," a clue into how the episode finds once-and-again enemies Johnny and Daniel reconnecting over the many things they have in common. For example, a bout of beer-soaked reminiscing reveals that both men aren't totally over Ali Mills, who Daniel dated in high school after she broke up with Johnny, and who Johnny still thinks that Daniel "moved in on." Similarly different but same is how in the previous episode, "Molting," Miguel, a Cobra Kai trainee, spies Johnny's son, Robby, getting along a little too well with his girlfriend, Sam, who also happens to be Daniel's daughter. In that same episode, a group (led by Daniel's ne'er-do-well cousin) sets Johnny's car on fire, and he blames Daniel. What could be a very violent situation is ultimately defused by Daniel's wife, Amanda, who suggests her husband hand over, free of charge, a car of Johnny's selection from one of the many lots owned by their LaRusso Auto Group. Daniel escorts Johnny to a dealership full of selections and instructs, "Choose." That's the same simple line delivered in the same simple way that Mr. Miyagi offered Daniel a car as a birthday present back in The Karate Kid.
Advertising works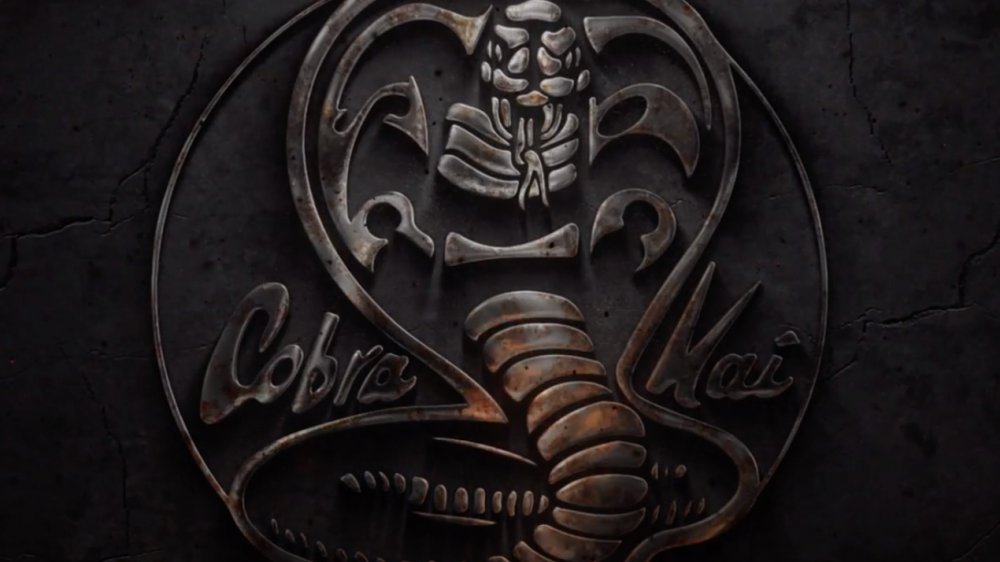 In the years since the events of the original Karate Kid movies took place, Daniel LaRusso has done quite well for himself. He's married to Amanda with two kids, Samantha and Anthony, and he owns and operates LaRusso Auto Group, a successful chain of suburban Los Angeles car dealerships. But he hasn't completely forgotten karate, which was an important and formative part of his youth. The former All-Valley Karate champion uses the martial art as a recurring bit in TV commercials for his car lots, literally karate chopping high prices and promising to "kick the competition." These air on local television all the time, where the jealous and resentful Johnny Lawrence sees them and finds them to be extremely corny (he isn't wrong). 
However, Johnny soon comes to realize the power and importance of branding when he makes a TV commercial for his new-and-improved Cobra Kai dojo. Well, he doesn't do it — he's proudly not the least bit tech savvy — but he recruits karate student Aisha Robinson (Nichole Brown) to put the spot together. He does have one suggestion: to place the Cobra Kai logo at the end, rendered in chrome so that it impressively pops off the screen. Where have Cobra Kai viewers previously seen a chrome Cobra Kai logo that pops off the screen? At the end of every episode of Cobra Kai, that's where.