It's Official: Cobra Kai Season 3 Is Hitting Netflix Earlier Than Expected
Good things come to those who wait, but even better things come to those who — in the words of Johnny Lawrence — whine.
On Thursday, December 24, Netflix confirmed that the hotly anticipated third season of Cobra Kai will debut on the platform earlier than expected. How much earlier? A full week, dropping on January 1, 2021 rather than the previously discussed drop date of January 8, 2021. 
Netflix issued the news in two delightfully meta forms. The first is a video (shown above) in which Johnny Lawrence (William Zabka) figures out a way to alter Netflix's title page for Cobra Kai to read "Season 3 Coming January 1," remarking that the wait until January 8 is simply too long. The second is a tweet posted to the Cobra Kai Twitter account and signed by — you guessed it — Johnny Lawrence. He writes, "QUIET! I heard you all whining about season 3 taking forever. So I called the pawn shop and the guy walked me through this Netflix thing. Dude knows his stuff. Now you get it a week early. See you Jan 1, nerds."
A Cobra Kai character knowing they're in a beloved series on the cusp of dropping its third season is one thing, but said character intervening to bring new episodes to fans early? That's some serious fourth-wall-breaking behavior if we've ever seen it.
As an added bonus, the Cobra Kai cast will appear on The Netflix Afterparty alongside hosts David Spade, Fortune Feimster, and London Hughes to discuss the new season. Tune in on January 2, a day after season 3 premieres.
The hype for Cobra Kai season 3 is real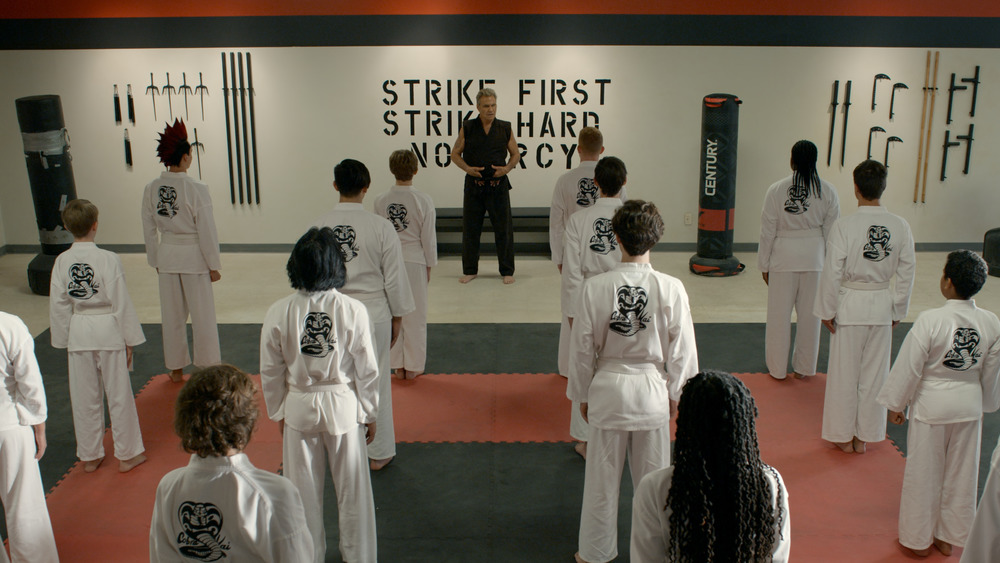 Netflix
Prior to this formal announcement, those nestled in the shared space in an internet-users-and-Cobra-Kai-fans Venn diagram began speculating that perhaps Netflix would indeed release the series' third season early — both as a treat for viewers, who have taken an incredible liking to the show since it made the jump from YouTube Red to Netflix, and as a way to fill in the empty space on its content calendar. January 1, 2021 was initially set aside for We Can Be Heroes, director Robert Rodriguez's upcoming superhero movie that serves as a sequel to The Adventures of Sharkboy and Lavagirl in 3-D. When Netflix opted to shuffle We Can Be Heroes back a bit to December 25, 2020, suddenly, there was no big original project arriving to the streamer's digital library on New Year's Day. Not one to miss out on a chance to add extra magic to existing festivities, Netflix pulled Cobra Kai season 3 up to January 1.
For fans of Cobra Kai, season 3 dropping on Netflix a week early should be the perfect holiday-season gift and the best possible way to kick off 2021. Following the jaw-dropping events of the Cobra Kai season 2 finale, the fates and futures of many characters are uncertain — not the least of which is Miguel Diaz (Xolo Maridueña), who suffered a serious injury during the high school dojo-versus-dojo battle. The new season will find Daniel LaRusso (Ralph Macchio) looking to his past to learn more about himself — and discover the answer to some burning questions — while Johnny hopes to earn redemption. Now the only sensei at Cobra Kai, John Kreese (Martin Kove) aims to train his students to be ruthless in an effort to bring the dojo back to its no-mercy, all-pain days of old. As Netflix teases, in Cobra Kai season 3, "the soul of the Valley is at stake, and the fate of every student and sensei hangs in the balance."
Mark your calendars for Cobra Kai season 3 to hit Netflix on Friday, January 1, 2021.