Why This Johnny Quote In Cobra Kai Means More Than You Think
Netflix
There are a lot of reasons to love Cobra Kai. For fans of The Karate Kid films, the streaming series is a shot of nostalgia, as Daniel LaRusso (Ralph Macchio) and his longtime rival Johnny Lawrence (William Zabka) continue their feud with a new generation of trainees calling them senseis. The show is also solid as a standalone drama, and it features an endless stream of well-choreographed fight scenes. 
Perhaps most intriguingly, the show continues the Karate Kid films' exploration of the dichotomy between the dueling purposes of martial arts training. While Daniel's Miyagi-Do philosophy has always been to use karate as a means of defense and discipline, Johnny has been brought up under the "strike first, strike hard, no mercy" persuasion. This contrast has always been at the heart of the show and the films that precede it.
At the start of season 2, though, we see Johnny beginning to have something of a change of heart. Even after his star student Miguel Diaz (Xolo Maridueña) has won the All-Valley Karate Tournament by being ruthless and thus earns Johnny's dojo some much-needed credibility, Johnny still reprimands his fighters for their ignoble aggressions on the mat. Later, his champion confronts him about his contradictory teachings, and Johnny says something that truly exemplifies everything he now wants the new Cobra Kai to stand for.
Johnny doesn't want history to repeat itself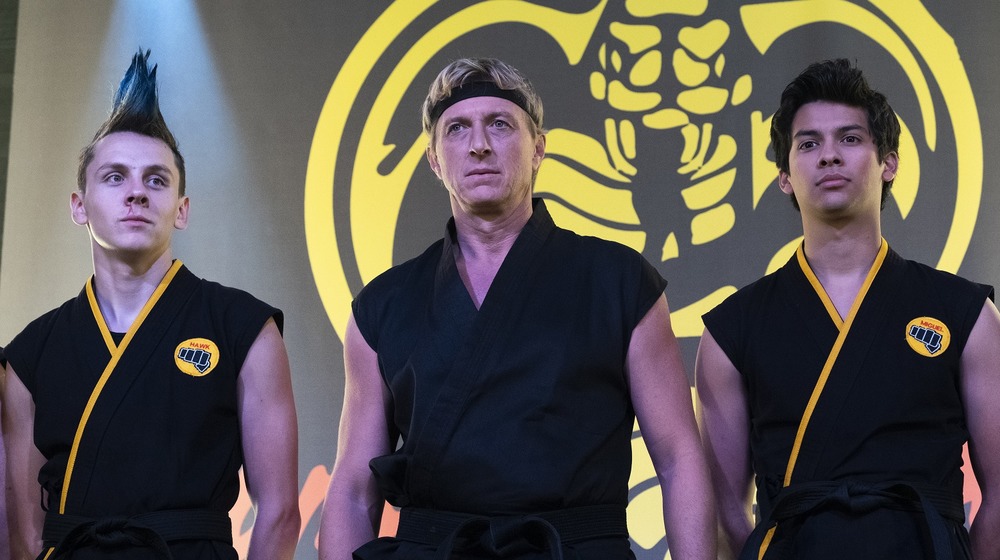 When Miguel asks Johnny for an explanation as to why he and Hawk (Jacob Bertrand) are being punished for attacking their opponents during moments of weakness — specifically, Miguel went after Robby Keene's (Tanner Buchanan) injured shoulder in the finals — Johnny reveals he wants to do things differently in his Cobra Kai. Even though he trains his students to be warriors, he also wants them to fight fair.
"I wasn't taught the difference between mercy and honor, and I paid for it. If I'm extra hard on you, it's only because you have the potential to be better than I ever was," he says, as a nod to the brutality he was taught to embrace as a kid. 
Johnny's decision to take this different approach to training seems motivated by multiple factors: Miguel's mother expressed her concerns over his anger during the tournament; the attack on Robby hits particularly close to home because, of course, Robby is Johnny's son; and, most importantly, he has just been reacquainted with his own sinister sensei John Kreese (Martin Kove), who is delighted to see his legacy live on in the new dojo.
During a tense reunion with Kreese, Johnny is dismayed to hear his former sensei take pride in what he saw from Miguel. When Kreese tells Johnny, "Train him well, just like I trained you," Johnny fumes at being compared to the man that made him so miserable. Johnny's new instruction to Miguel is a clear rejection of Kreese's style.
Miguel is also Johnny's mea culpa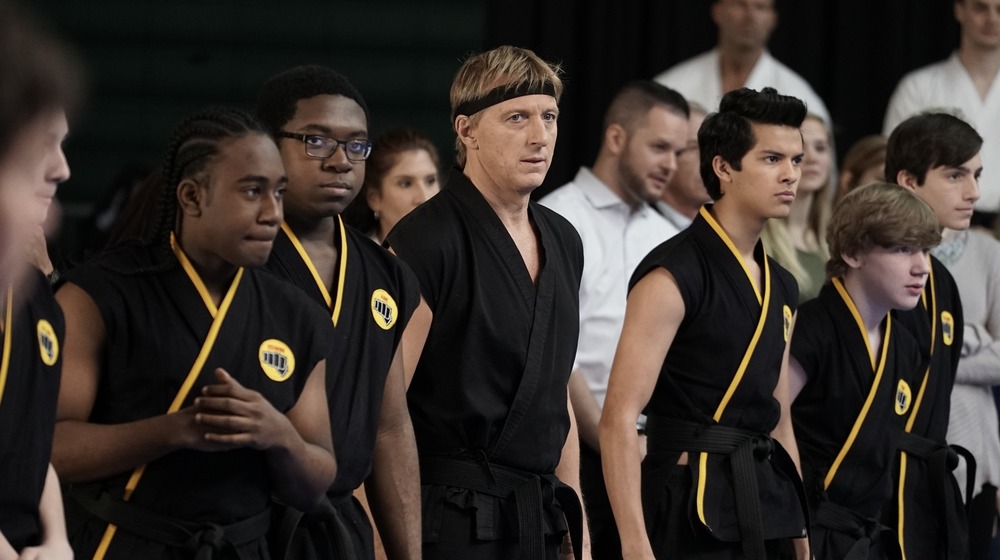 It's not just that Johnny wants to be a better sensei than Kreese was for all of the students of the new Cobra Kai; he also has a vested personal interest in Miguel's well-being in particular. Miguel is the first student at Johnny's dojo, and Johnny spends a great deal of time doing one-on-one training with him. Even though Cobra Kai is far from successful during his early tutelage of Miguel, they develop a unique bond when it is just the two of them.
Through his training of Miguel, Johnny has an opportunity to course-correct his own life. Not only can he help another fighter succeed where he could not at the tournament, but he can also assuage his guilt over being an absentee father to Robby by giving much-needed guidance to another kid. In addition to training him to be a good fighter, he can also avoid making him a bitter person like his sensei did. As a result of his careful attention, Johnny's teachings sink in with Miguel, and the next time Miguel has an opportunity to hurt an already-injured Robby, he does not take it. Unfortunately, Robby responds to Miguel's mercy by taking it way too far and kicking him off the second-story ledge in the season 2 finale.
From what we've seen of Cobra Kai season 3 so far, it'll now be up to Johnny to help Miguel get back on his feet after his student paid a very different price for his training. We'll have to wait and see whether Johnny's new mantra of mercy and honor still continues when season 3 arrives to Netflix in January 2021.