The Ending Of Cobra Kai Season 2 Explained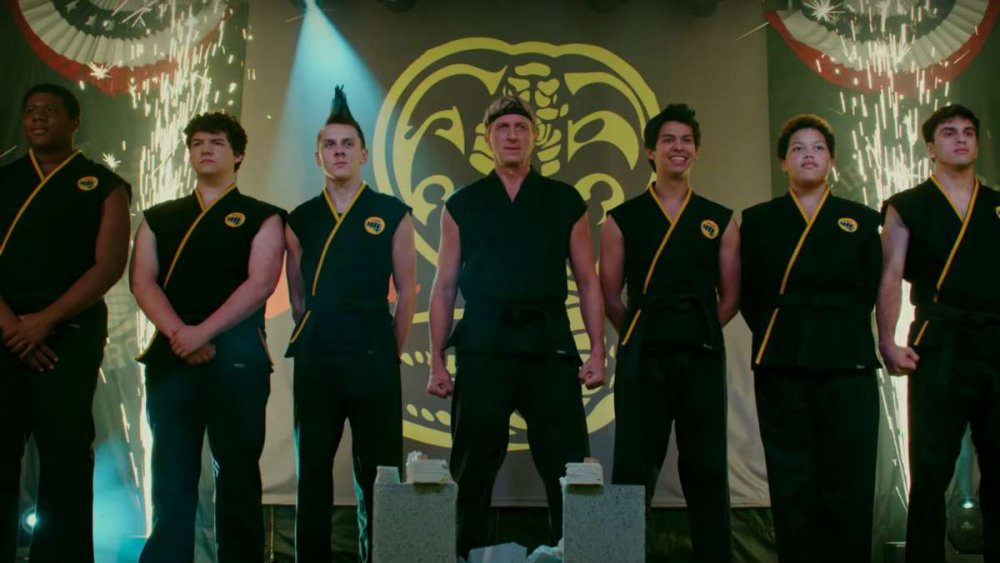 YouTube
Cobra Kai is about the lingering grudge between Karate Kid rivals Daniel LaRusso (Ralph Macchio) and Johnny Lawrence (William Zabka). But at its heart, the show is really about trauma. It's about how we handle the pains of growing up and how different opportunities change our ability to move on from the people and the situations that hurt us in the past. More than that, Cobra Kai is about generational trauma and how the pain that parents feel can transfer to their kids and to the communities around them.
Both Daniel and Johnny had a tough time growing up. In the original movie, Daniel starts his life over in a new place without a father, and Johnny's stepfather abuses him. But where Daniel finds a caring surrogate father in Mr. Miyagi (Pat Morita), Cobra Kai sensei John Kreese (Martin Kove) shows Johnny neither sympathy nor mercy — in other words, Johnny trades one abusive father for another.
Over the years leading up to the series, those circumstances lead Daniel and Johnny down very different paths. Daniel gets married, has kids, and works with his wife Amanda (Courtney Henggeler) to build a successful car dealership. Johnny, on the other hand, is alone, estranged from Shannon Keene (Diora Baird) and their son, Robby (Tanner Buchanan). Johnny drinks too much, struggles to hold down work, and frequently finds himself the victim of his own impotent rage.
Cobra Kai season 1 is about trying to face your inner demons. Cobra Kai season 2 is about what happens when you lose to those demons all over again.
Cobra Kai faces its inner demons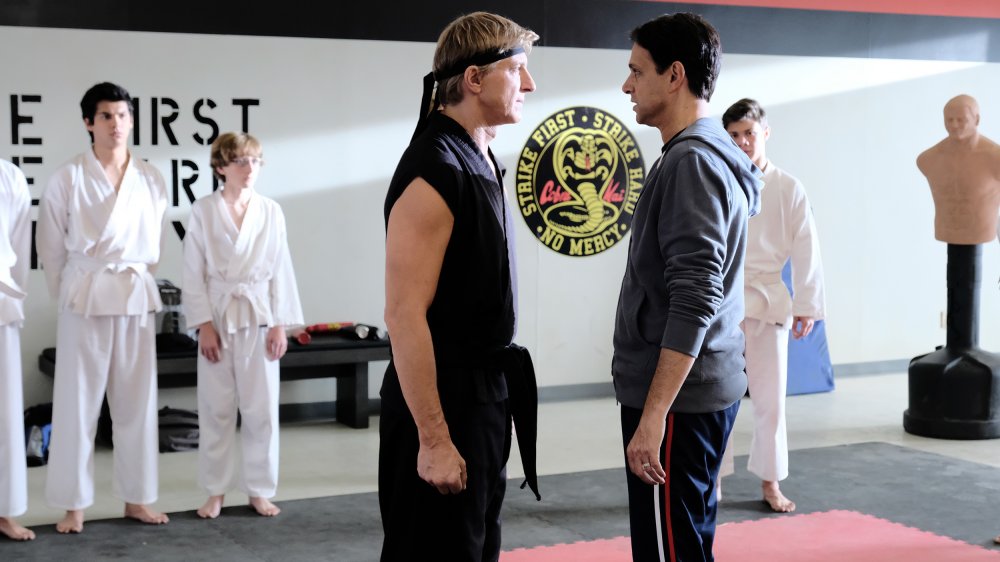 YouTube
In Cobra Kai season 1, Johnny starts to repair his own trauma by training Miguel Diaz (Xolo Maridueña), a kid in circumstances not unlike a young Daniel LaRusso. Johnny builds a new Cobra Kai dojo for kids like Miguel who feel alienated at school and at home. While his heart is in the right place, Johnny is still haunted by who Kreese expected him to be, and he projects his insecurities and anger onto his students. 
Meanwhile, Daniel winds up taking in Robby, who develops feelings for Daniel's daughter Sam (Mary Mouser), even though Sam is in a relationship with Miguel. It's all very high school angst, and the conflict between Daniel and Johnny's kids stirs up the old rivalry between them. Just like in The Karate Kid, everything builds to a tournament — this time between Miguel and Robby. The difference is that Miguel wins, bringing victory to Cobra Kai, but only by exploiting an injury Robby sustained in an earlier fight.
Johnny realizes too late that he's transferred his pain and anger onto Miguel, and the cost is the well-being of his own son. And while Johnny has a desire to reevaluate his teachings, that plan is stymied by the unexpected return of Kreese. 
Daniel, meanwhile, opens Miyagi-Do Karate, a competing dojo with Robby and Sam as his first students — which sounds nice, but is also a continuation of the now decades-old rivalry between Daniel and Johnny.
Season 1 of Cobra Kai shows us a Johnny Lawrence in search of redemption, but he comes up short. In season 2 he manages, for a time, to incorporate mercy into his teachings while rebuilding a relationship with Robby. But that can't last forever either, and this time, the cost of Johnny's mistakes is much, much higher.
Daniel and Johnny's demons possess everyone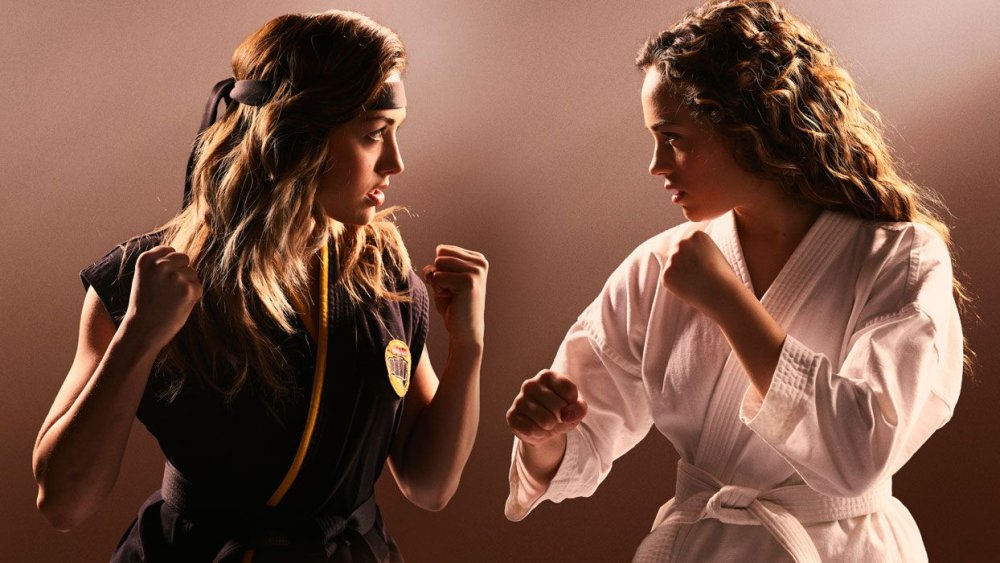 YouTube
Everything from Cobra Kai's first season is amped up in season 2. There are two competing dojos and two competing relationships: Robby and Sam, and Miguel and his new girlfriend Tory (Peyton List). And while Daniel and Johnny allow their healthy relationships to fall away over their own increased tensions, their community falls apart around them, too.
The final push toward a full-blown crisis point comes at a party where Sam drunkenly kisses Miguel, confirming that the two still have feelings for one another.
The ending of Cobra Kai season 2 is an all-out brawl in the school that starts between Sam and Tory, grows to involve everyone from Cobra Kai and Miaygi-Do, and ends with Robby knocking Miguel over a railing, cracking his spine and putting him in critical condition in the hospital.
But the end of season 2 is not about that fight, it's about who really started it — and this isn't on the kids. To understand the end of this season, you have to understand that none of this strife would be happening without Daniel and Johnny. As kids, it makes sense that the conflict between them would find no resolution — they're kids and kids hardly understand themselves, let alone each other. But as adults it's their responsibility to reach some kind of détente. Instead, Daniel and Johnny fight and push the kids from their respective dojos to do the same.
Amanda makes Daniel close Miyagi-Do because she thinks he's gone too far, and she's absolutely right. Miguel's mother Carmen (Vanessa Rubio) tells Johnny to stay away because she thinks her son's life is jeopardized by Johnny's actions, and she's absolutely right, too. There's so much pain Daniel and Johnny have caused and there's no easy way to fix it — but we're left with some indications for how that might be possible.
The reunion of old love for a new future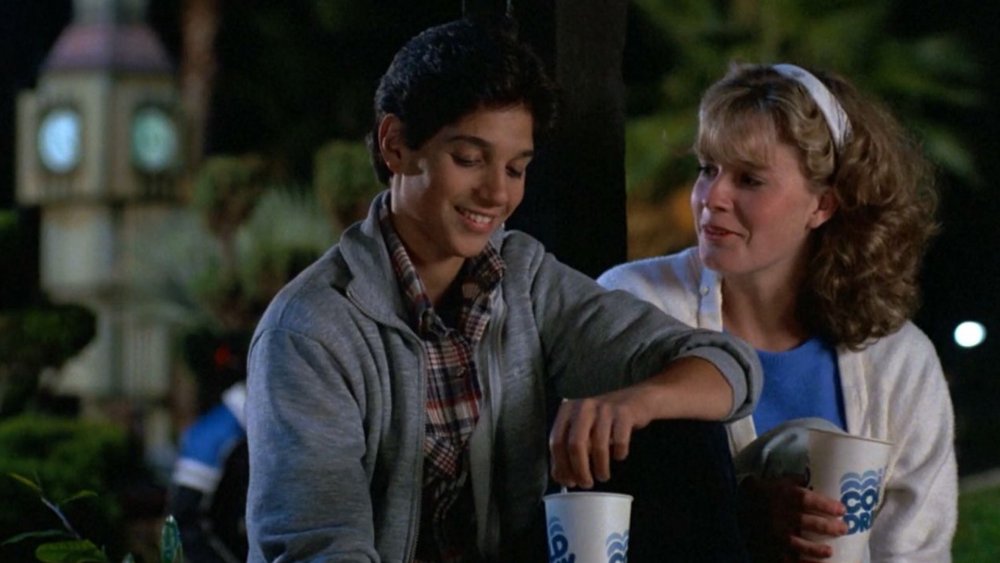 Columbia Pictures
Kreese takes over Cobra Kai, with Johnny leaving in disgrace. In other words, both Daniel and Johnny have lost their dojos. But this isn't the first time they've both lost something — or someone — they've loved.
Part of the rivalry between Daniel and Johnny is over a girl: Ali Mills (Elisabeth Shue). Ali dated Johnny, but fell in love with Daniel before the end of the original movie. By The Karate Kid Part II, she's gone from both their lives. And thanks to a little Facebook stalking by Daniel all these decades later, we know that Ali is a pediatric surgeon, that she moved to Denver, and that she's married to an oncologist named Gregory Schwarber.
Daniel wouldn't have looked up Ali unless he still had unresolved feelings about her leaving. And we also know that Ali is the only woman Johnny ever really opened up to. In fact, Johnny's feelings are strong enough that he fights his own distrust of the internet and messages Ali to see if they might "connect one of these days."
The second season ends with Johnny throwing his phone into the ocean sand as we see that Ali has responded to him.
The Ali Mills cliffhanger is all about redemption and mutual understanding. She left Johnny for Daniel. She left Daniel for "some football player from UCLA." It seems likely that Daniel and Johnny might finally find peace with each other if they can find peace with Ali. Maybe then the two could finally work together, face off against Kreese, and bring harmony back to their families and this poor community full of kids punching and kicking each other in the middle of school.
Cobra Kai is streaming on Netflix, and its third season will arrive in 2021.