The Flash Producer Reveals Dream Project For Flash Team-Up Movie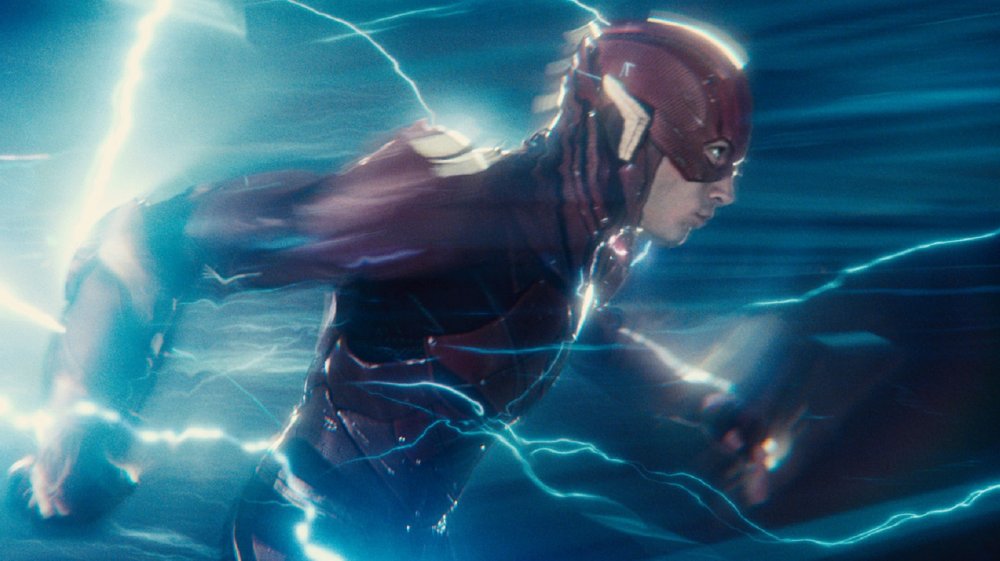 Warner Bros./DC Entertainment
What's next for Ezra Miller's Flash after his upcoming solo movie? A comment made by one of the flick's producers might make you Wonder about the possibilities.
The panel for The Flash at the recent DC FanDome virtual event was short but sweet, giving us a look at some cool new concept art and hinting at how the flick will bust open what can only be called the DC Cinematic Multiverse. The flick will exploit the fact that the Flash is capable of interdimensional travel to put forth the notion that all of DC's film and television properties share that multiverse — even going so far as to bring back Michael Keaton's iteration of Batman from Tim Burton's 1989 classic film, as well as Ben Affleck's version from the earlier movies of the DCEU.
Taking part in the panel along with Miller were screenwriter Christina Hodson, director Andy Muschietti, and his sister and producing partner Barbara Muschietti, all of whom had a few interesting insights about how they're approaching the film. Near the end of the panel, each participant addressed where they would like to take the Flash next, considering all of the new possibilities opened by the multiverse. While Miller, Andy Muschietti, and Hodson all gave somewhat cheeky answers, Barbara Muschietti's response might perk up your ears. "I would really like to do a two-hander with Wonder Woman," the producer said. "I think [she and the Flash] would solve a lot of problems, let me tell you."
It's tough to argue with that assessment. Gal Gadot's Wondy first appeared in 2016's Batman v Superman: Dawn of Justice before appearing in 2017's Justice League and her own stellar solo vehicle that same year. She'll next appear in the upcoming, oft-delayed Wonder Woman 1984, but after that, her cinematic path is unclear. A little team-up with the Scarlet Speedster, perhaps? 
The other Flash panelists offered some hilarious crossover possibilities
Now, about all that cheekiness. Andy Muschietti reached outside the DC Multiverse — way outside — for his dream crossover. "I'd like to see [a] Game of Thrones crossover," the director said, with a straight face. "Instead of all the months that it takes traveling from Winterfell to King's Landing, it would happen in two seconds. Barry Allen [on] the Iron Throne." Well ... one could at least make the case that this would have made for a more interesting finale, if not a more satisfying one, than the one GoT fans actually got.
As for Miller, he had a decidedly more wacky choice as to whom he thinks Barry should team up with. "I would like the Flash to meet, in the multiverse, Nicolas Cage," Miller said. "Not the Nicolas Cage Superman that never was, I want the Flash to meet Nicolas Cage, the person [from] this world, who I believe probably does have the ability to transcend spacetime." There is actually some evidence for that.
Hodson, in lieu of a suggestion, gave us a fun story instead. "I actually already have a weird, behind-the-scenes DC Multiverse crossover," the scribe shared. "My best friend growing up is Rob Pattinson's older sister. So, I've actually known the new Batman since he was two years old and in diapers."
There you have it, folks: Christina Hodson wants a crossover with the Flash and Bat-Baby. She's probably working on the screenplay right this moment. She didn't actually say that, but you can read between the lines.