The Flash Will Bring The Multiverse To The DC Movies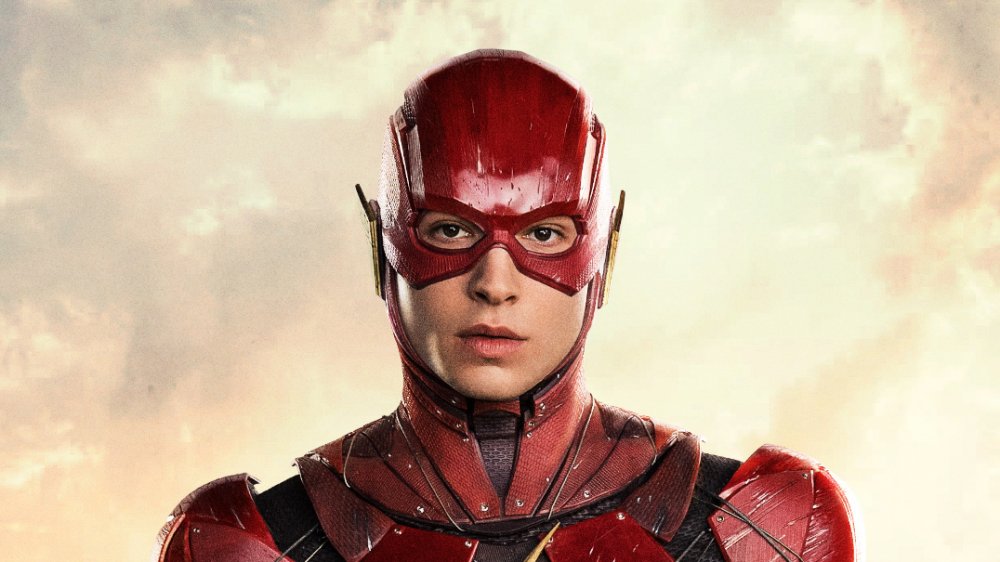 Warner Bros./DC Entertainment
During The Flash's brief but fact-filled presentation at the online DC FanDome event, the cast and creative team confirmed that the long-gestating project would finally introduce the concept of a multiverse to DC's cinematic slate. 
Star Ezra Miller, director Andy Muschietti, screenwriter Christina Hodson, and producer Barbara Muschietti were all present at the virtual panel to tease the film, which has faced several creative challenges since first being announced. But following Miller's surprise cameo in DC television's Grant Gustin-led Flash series, the movie's storyline and role in the cinematic universe seemingly began to take shape. The FanDome panel not only confirmed earlier reports about the film's potential plot, but the speculation Miller's Crisis on Infinite Earth's cameo had stirred up among fans. 
"This cinematic multiverse is gonna be born out of this movie," Hodson told viewers. "It's born out of Barry's story." 
Miller went on to contextualize Hodson's reveal, and the decision to use Allen's solo debut as the gateway to multiple worlds. "This film is immensely important because if you look around at the DC Universe, obviously we have all of these characters that exist within their own bubbles. We even have now multiple iterations of the same story," Miller said. "This movie, by opening that door that Flashpoint is in the comics, all of these stories and characters can start to collide." 
During the announcement, the creative team also noted how Allen's Flashpoint arc was compelling not just because of the intimate, personal story at its heart, but how the speedster can "deteriorate the very fabric of space-time continuum," as Muschietti said. Coupled with Hodson's summation of the film, this seems to suggest that the movie will not only follow Allen's time travel adventures but their ramifications, and even a character death.
"The tempo of the film I think is very much Andy's signature," Hodson said. "You can jump from funny to scary to emotional really fast."
The Flash movie's multiverse sets a new precedent across DC's film and TV properties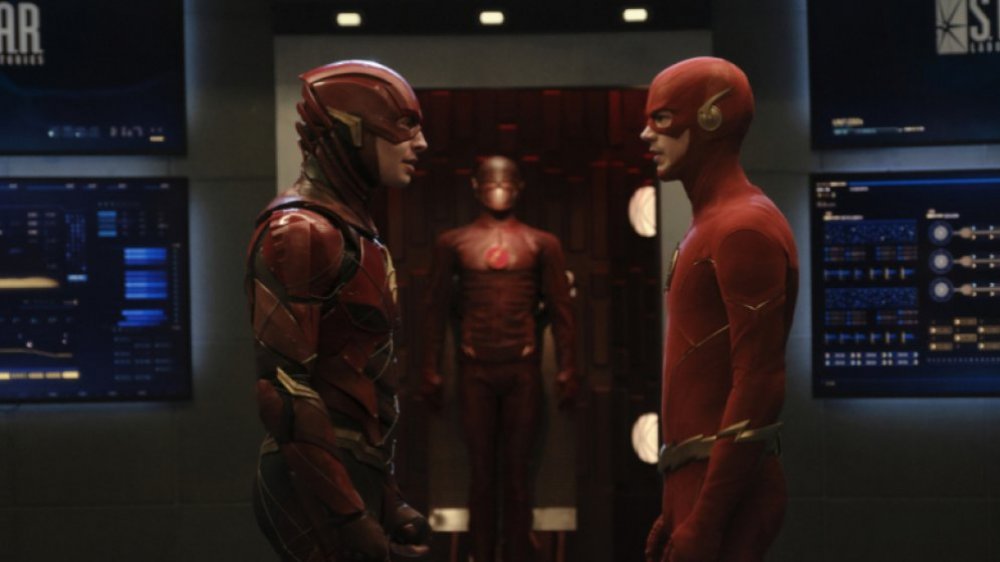 Warner Bros./The CW
The Flash's multiverse-opening storyline will be significant for the landscape of DC movies, as illustrated by a panel discussion about the DC Multiverse that debuted just before the Flash team took the virtual stage. Warner Bros. Pictures President of DC-Based Film Production Walter Hamada discussed how unlike Marvel's focus on keeping strict continuity across film properties, Miller's Flash officially introduces a shared universe that accepts various timelines and multiple iterations of characters and styles of storytelling. 
"The multiverse allows you to lead into this idea [that] you can tell just great stories, and you don't have to really be as focused on [whether] it has to fit within a singular continuity," Hamada explained. "On one earth, we have our Tao and Jason and Ezra version of the Justice League, and we can continue telling those stories, while on a separate earth, we don't have to worry about the continuity." 
Walter also revealed that the creation of the multiverse in DC movies by Miller's Barry Allen will not only impact big-screen storytelling. Thanks to his Crisis cameo alongside Gustin's Flash, a new, more connected approach to DC film and TV opens the potential for more screen-hopping crossovers.
"The company was just organized where TV was TV and film was film, and oftentimes DC and Jim [Lee, Chief Creative Officer of DC Comics] were sort of the arbiter of like 'Hey, they want to use this character...' and it became this like really weird situation," Hamada said. "The fans love the characters, they just want to see the characters and this sort of opens the door for us to do more crossovers, to really lean into this idea and just acknowledge the fact that there can be a Flash on TV and one in the movies, and you don't have to pick one or the other. You can love both, and they do both exist in this great multiverse."
DC FanDome offered Flash fans positive news after a long and rocky road to the big screen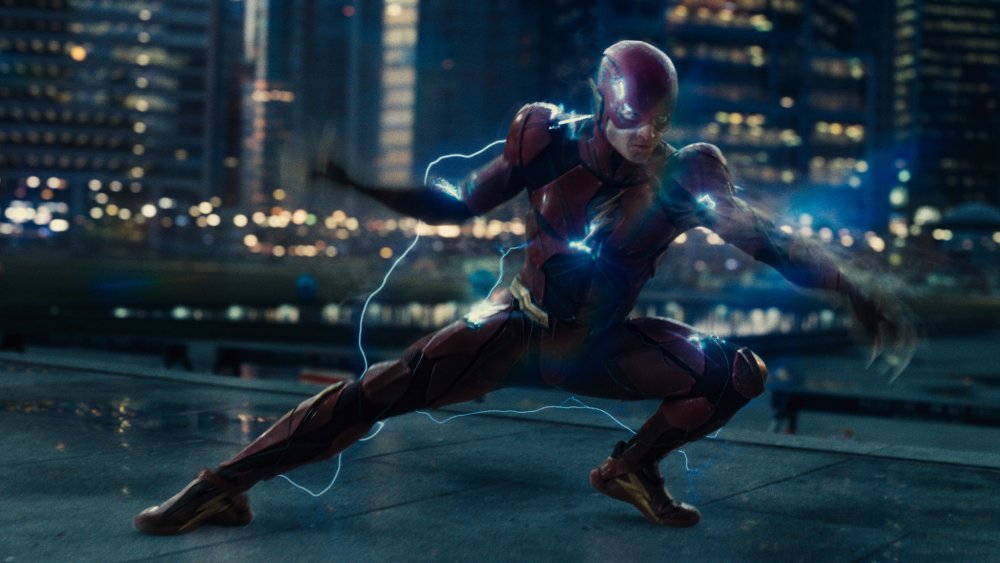 Warner Bros./DC Entertainment
Like many movies, ones of the superhero variety especially, The Flash has gone through many changes over the years since its existence was first made known. A little over seven years ago, in July 2013, The Hollywood Reporter noted that Warner Bros. and DC Entertainment had put in motion plans for a standalone Flash movie, at the time intended to be released in 2016. (Warner Bros. also planned for a Justice League feature to hit screens in 2017, which did end up happening.) Greg Berlanti, producer extraordinaire who has been instrumental in bringing to life the series of the Arrowverse, was confirmed to be developing the Flash flick.
By October 2014, Warner Bros. locked The Flash in place for a 2018 release — the same year that Jason Momoa's Aquaman solo pic launched in cinemas. Things were chugging along quite nicely — a first-draft script got going, then Phil Lord and Christopher Miller (you know, the guys who co-produced the Oscar-winning Spider-Man: Into the Spider-Verse) were working on a story treatment — but the project's wheels started to get stuck when a revolving door of directors passed through and a handful of different writers fiddled with the script.
After filmmakers Seth Grahame-Smith, Rick Famuyiwa, and directing duo John Francis Daley and Jonathan Goldstein all dropped out of The Flash due to creative differences (either with the studio in Grahame-Smith and Famuyiwa's case or with star Ezra Miller in Daley and Goldstein's case), It's Andy Muschietti and Bumblebee's Christina Hodson stepped in as director and writer, respectively.
The Flash is finally on track — and it'll be here soon... ish. Starring Miller in the lead role and both Ben Affleck and Michael Keaton playing different-dimension versions of Batman, the movie will flash into theaters on June 2, 2022.