The Best Chadwick Boseman Movies Ever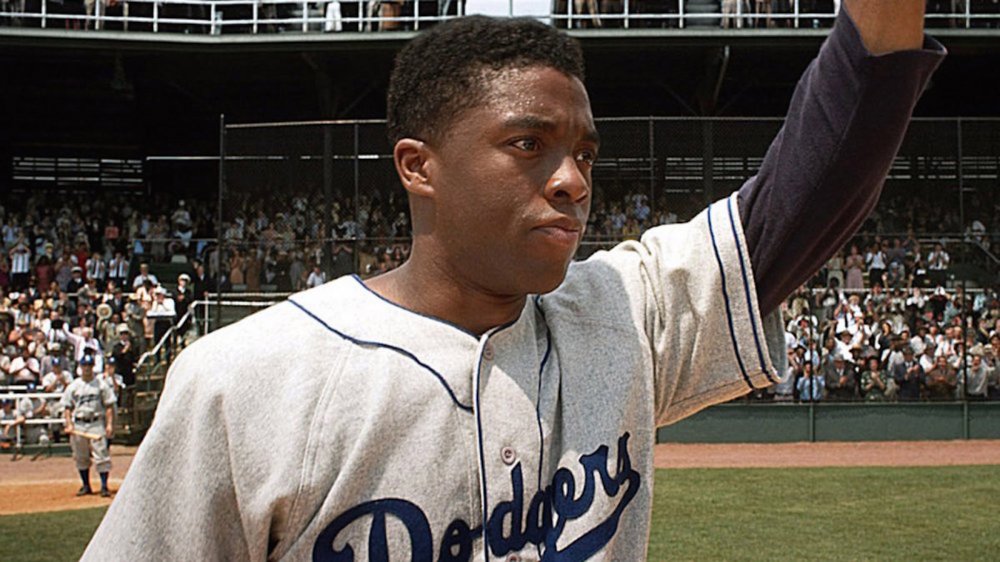 Warner Bros.
As the world mourns the loss of Chadwick Boseman, it seems as appropriate a time as any to revisit the performer's storied career and many of the iconic characters and historical figures he brought to the screen. Boseman was the rare actor beloved by all who worked with him. Industry insiders as diverse as Spike Lee, Chris Hemsworth, and Josh Gad have had nothing but praise for their experiences with Boseman and extraordinary sadness at his untimely death.
Boseman accomplished enough for three careers in his all-too-brief, 43-year life. He started out on television, guest starring on some of the biggest shows on the air, but by 2012 his star outshone the small screen; he moved on to the world of feature films and never looked back. In just one decade of movie stardom, Boseman assembled a filmography worthy of a lifetime achievement award.
Boseman passed away late in the evening on August 28, 2020, the sad ending to a four-year battle with colon cancer that he endured largely in private. The actor and his family made great efforts to keep his disease out of the public eye, a feat that they largely managed in a difficult media climate made even more challenging by the actor's rise to superstardom after joining the Marvel Cinematic Universe. Astonishingly, many of Boseman's most memorable projects — even a few high-intensity action movies — were filmed while he was fighting the disease. His legacy lives on through these important films, and the many others that span his triumphant career.
Chadwick Boseman shut down 21 Bridges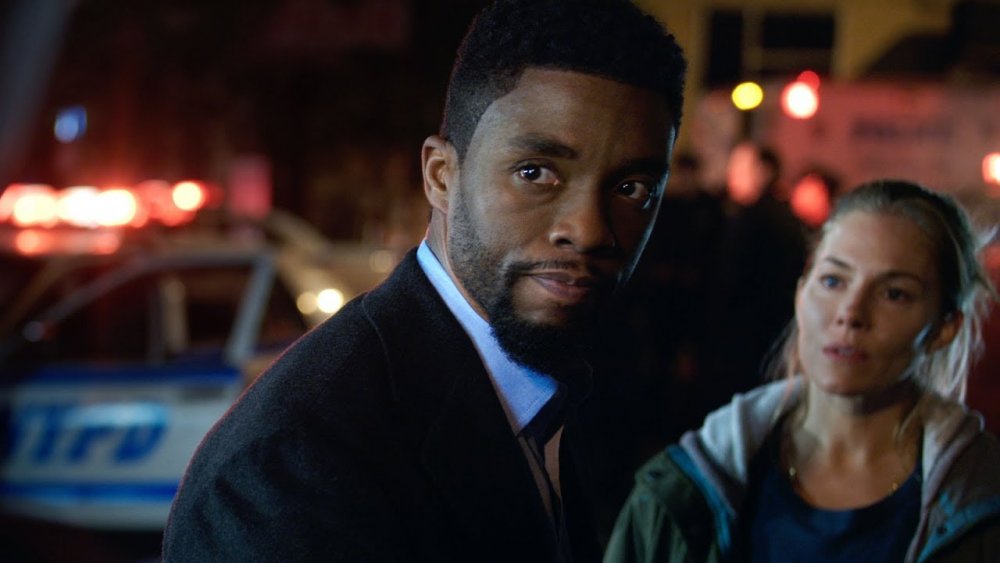 STX Films
21 Bridges is a 2019 action film starring Boseman in the lead role of NYPD Detective Andre Davis. The film takes its name from Davis' decision to completely close off the 21 bridges into and out of the island of Manhattan so he can trap and track down two convicted cop killers played by Taylor Kitsch and Stephen James. Avengers auteurs Joe and Anthony Russo served as producers on the flick, which may explain how they were fortunate enough to land Boseman for the role of Davis.
Despite appearing alongside some other A-list talent — including Sienna Miller (Stardust) and the incomparable J.K. Simmons (Oz, Counterpart) — Boseman truly elevates the film from what could have been an otherwise mundane cop thriller. The movie came out in 2019, and remains notable as Boseman's final theatrical release during his lifetime. It may not be the actor's most well-known role, but it's a Boseman performance that's not to be missed.
Chadwick Boseman was the linchpin of Spike Lee's Da 5 Bloods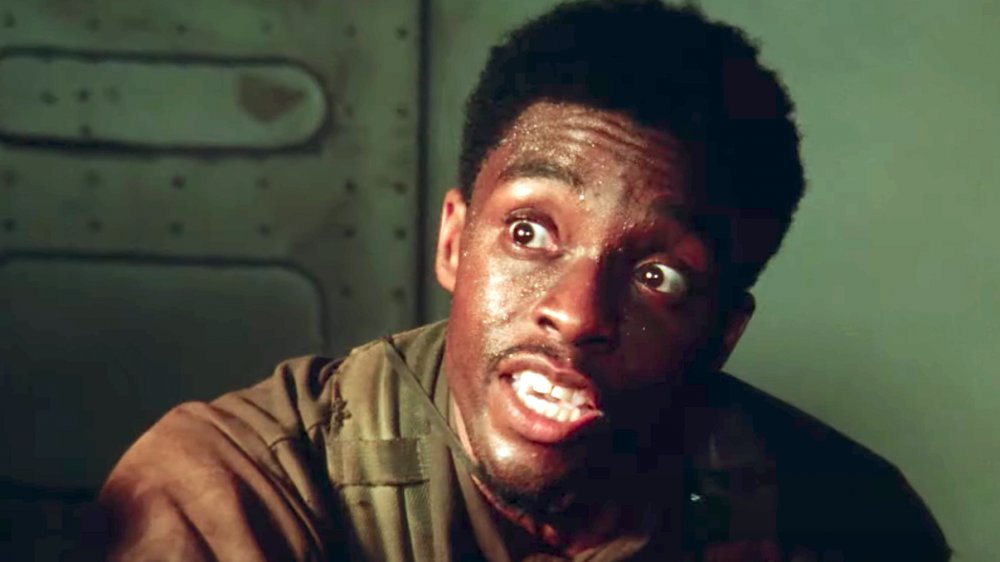 Netflix
Chadwick Boseman didn't get a ton of screen time in Spike Lee's Netflix Original Film Da 5 Bloods, but his role was arguably the most important. The film tells the story of a group of aging Vietnam vets (and one of their sons) who travel back to Southeast Asia to recover the body of their fallen comrade-in-arms, Stormin' Norman Earl Holloway played by Boseman. While we do get to see scenes of Boseman's Stormin' Norman in the thick of the fighting, for most of the movie he's just the body his buddies are on a mission to retrieve. It speaks to Boseman's sheer talent that he's able to make his limited on-screen minutes count.
Lee explained why he wanted Boseman for the smaller role, and why the actor was such a perfect fit for the character at the heart of the film's inciting incident. Stormin' Norman was a superhero in life, according to Lee. So who better to play him than the preeminent Black superhero who practically reinvented the genre?
With one posthumous project in the offing, Da 5 Bloods also has the bittersweet distinction of being the final Boseman film to be released during his life.
Chadwick Boseman got on up as funk legend James Brown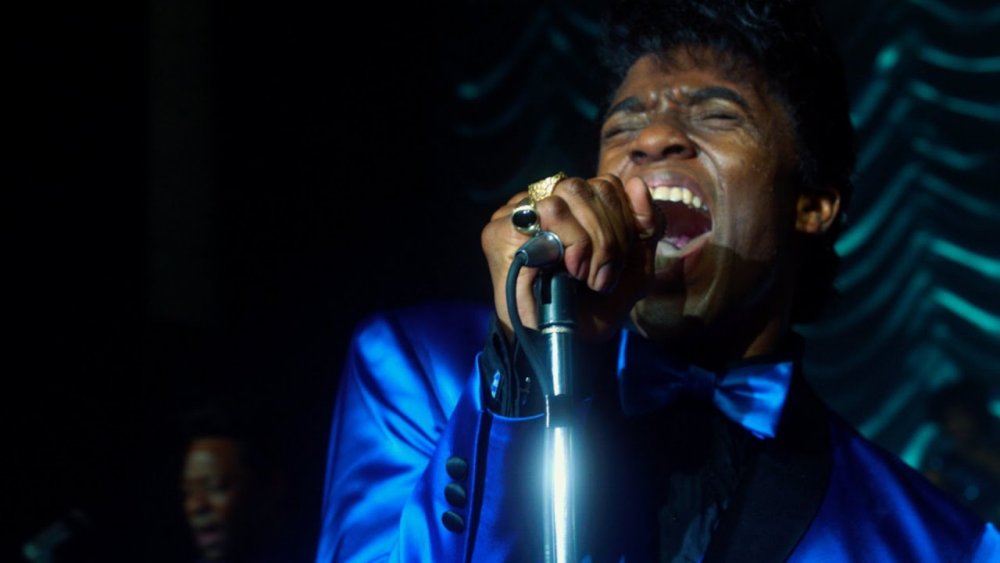 Universal Pictures
Part of the mystique of Chadwick Boseman's incredible career is the diversity of important Black historical figures that he brought to life on screen. Most fans remember Boseman's characters from the worlds of baseball and law, but in a slightly lesser-known film he also embodied one the most important Black musicians of the last century: funk legend James Brown.
The James Brown biopic Get on Up was led by The Help director Tate Taylor, and featured Boseman as the Godfather of Soul alongside a truly all-star cast. Nelsan Ellis, Dan Aykroyd, Viola Davis, Craig Robinson, and Octavia Spencer all lent their talents to this artistic music history lesson, which hit theaters on August 1, 2014.
According to The Daily Beast, the unreasonably talented Boseman did all of his own singing and dancing in the role. He also took some lessons in music superstardom from Rolling Stones frontman Mick Jagger to help prepare to play the iconic singer. When Chadwick Boseman takes on a real-life figure, he always goes all in. In his contemporaneous review of Get on Up, Richard Corliss of Time Magazine wrote of Boseman's performance, "Incarnating James Brown in all his ornery uniqueness, he deserves a Pulitzer, a Nobel and instant election to the Rock and Roll Hall of Fame." 
High praise, indeed, and hardly overstated.
Chadwick Boseman broke down color barriers in 42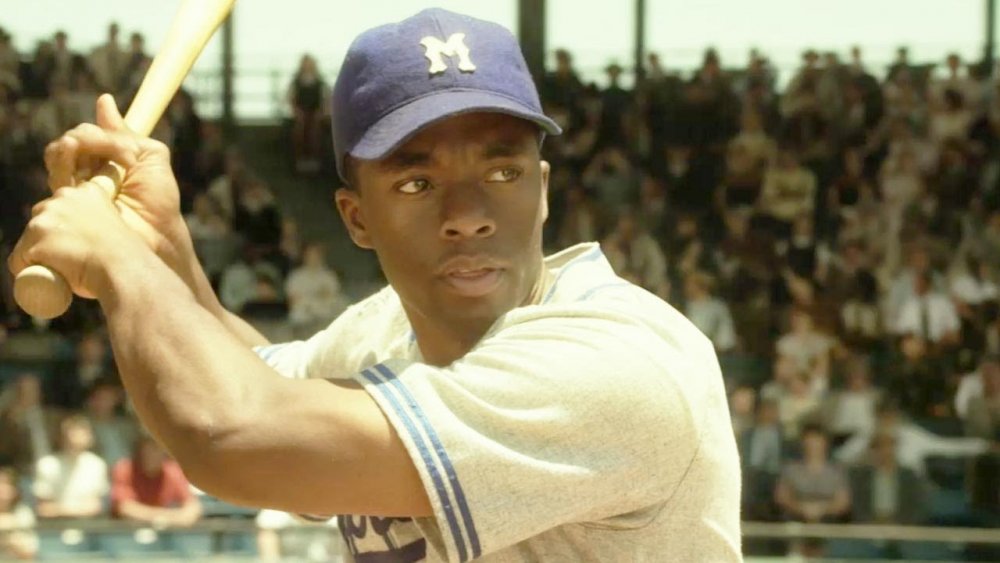 Warner Bros.
42 actually came earlier in Boseman's career than Get on Up, though the ubiquitous story of Jackie Robinson's courageous destruction of the color barrier in Major League Baseball has become such an indelible piece of Americana that this film's wider appeal is, perhaps, somewhat understandable. In all likelihood, it was Boseman's masterful turn as the transcendent slugger that proved he could be trusted to bring important figures from Black history to life on the silver screen.
The film came out in 2013 and — with Boseman at the helm — told the history of racial integration in sports through the story of the famous black infielder's life. Boseman led a cast composed of veteran actors Harrison Ford, Nicole Beharie, Christopher Meloni, and many more. Their little baseball movie dominated at the box office, grossing over $97 million against a $40 million budget (via Box Office Mojo).
42 was the film — more than any other — that put Chadwick Boseman on everyone's radar as a thespian to be reckoned with. Tom McCarthy of the Hollywood Reporter described the delicate needle that Boseman had to thread, a feat he accomplished with a rewarding, subtle performance, "He gives an ingeniously stylized cartoon performance, his eyes atwinkle, his mouth a rubbery grin, his voice all wily Southern music, though with that growl of Fordian anger just beneath it."
Playing Jackie Robinson might be the defining honor of most actors' careers, but Boseman would later earn the chance to play a historical figure of even greater import — at least in political circles.
Chadwick Boseman brought Justice Thurgood Marshall to life in Marshall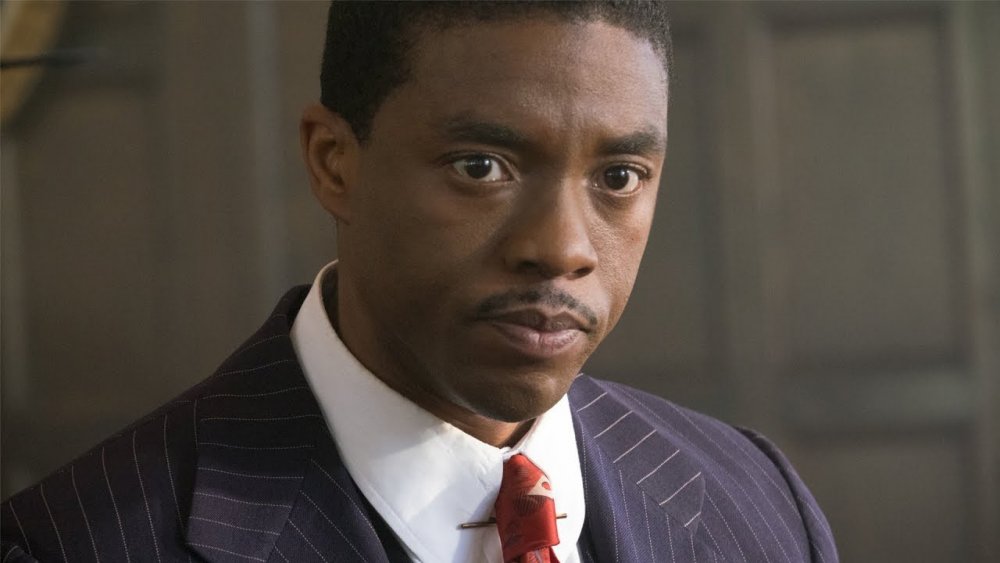 A third biopic stands very near the top of Boseman's formidable filmography, the 2017 legal historical drama Marshall. In the film, Boseman plays the famous civil rights lawyer and first Black Justice of the Supreme Court of the United States, Thurgood Marshall. Instead of attempting an exhaustive account of Marshall's astounding career, Reginald Hudlin's film centers around one case in particular: State of Connecticut v. Joseph Spell, a criminal prosecution in which a Black chauffeur (Spell) was wrongfully accused of raping a White woman. Marshall defended Spell and got him acquitted. 
After premiering at Boseman's alma mater, the HBCU Howard University, Open Road Films took Marshall out for a limited theatrical release. Though the film wasn't exactly a box office smash like 42, most critics once again lavished praise on Boseman for his considerable skill inhabiting the skin of an important — and under-explored — historical figure. The 80% fresh rating on Rotten Tomatoes speaks to the film's overall quality, while Rolling Stone's Ryan Travers described Boseman's performance specifically as the "dramatic lightning" that illuminates the entire feature.
Chadwick Boseman will always be the Black Panther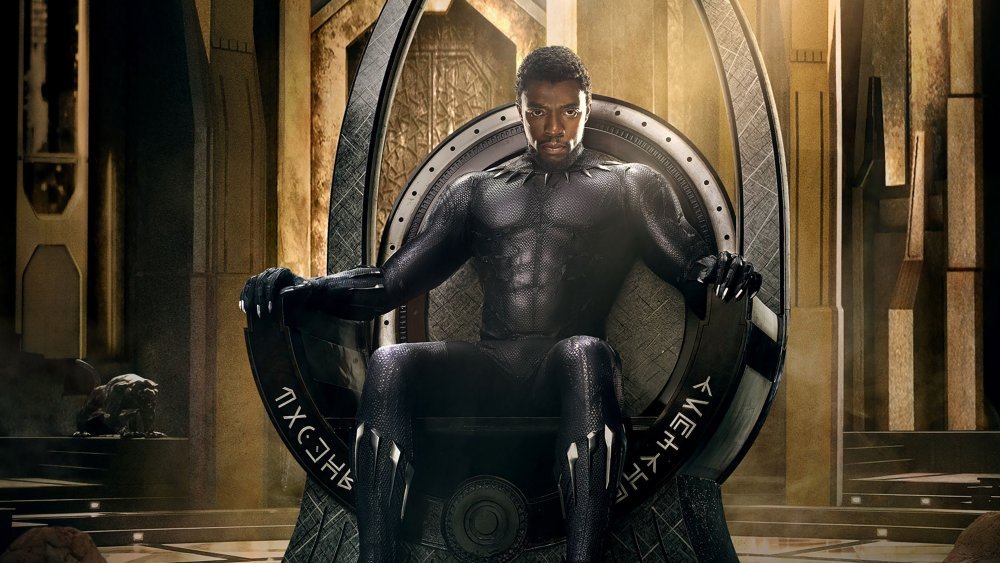 Disney/Marvel Studios
If there is one role for which Chadwick Boseman will always be remembered (and it certainly seems likely that there are many more), it's without a doubt King T'Challa a.k.a. Black Panther. Boseman upended the well-established MCU when he burst onto the scene as the titular King of Wakanda in 2018's Black Panther. For any moviegoer who felt the tried-and-true superhero formula was starting to get a bit old, Black Panther and Chadwick Boseman proved that an injection of new talent is all it takes to reinvigorate a form. Aside from becoming the first Black superhero to star in his own Marvel film, Boseman led the MCU to its first Oscar nomination. As a result, there's little to say about Black Panther that hasn't already been said. 
It's hard to grapple with the reality that such a bright star has left us so soon. Chadwick Boseman was an inspiration to millions, and with the recently announced Yasuke and Little Rock Nine — not to mention the now-upended Black Panther 2 – his future domination at the box office was all but assured. His portrayal of the King of Wakanda is so beloved that fans have already begun petitioning Disney and Marvel Studios not to re-cast the role in the wake of Boseman's death. It certainly seems like a fitting tribute to the late actor to lay King T'Challa to rest right beside the man that brought him into the MCU in the first place.