These Are The 7 Movies Chadwick Boseman Made While Fighting Colon Cancer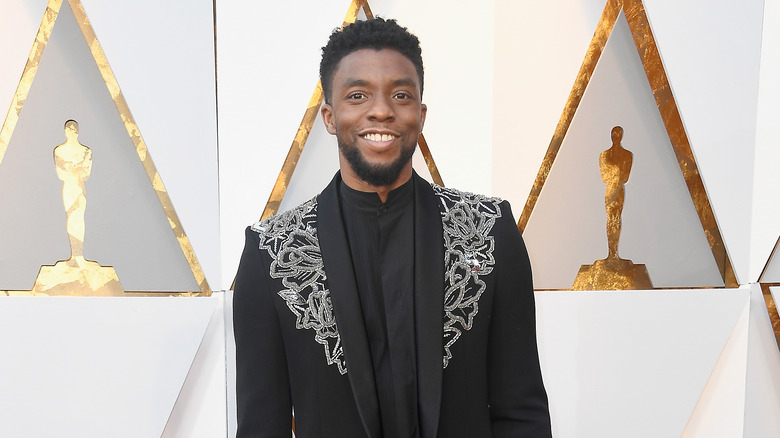 Frazer Harrison/Getty Images
The world was left shocked and saddened on August 28, 2020 when Marvel Cinematic Universe star Chadwick Boseman, best known for originating the role of the Black Panther, died at the tragically young age of 43. For the first time, in the wake of his untimely passing, Boseman's family revealed that the superhero had been living with and treating stage IV colon cancer for four years. Boseman kept his diagnosis entirely private, and clearly, he wanted to keep his struggle a secret from the world.
Astonishingly, the statement confirmed that, while undergoing treatment, Boseman filmed some of his biggest movies, from important biopics to MCU staples to Spike Lee joints. It's impossible to understate how much strength and sheer will it must have taken for Boseman to film some of his most physically demanding projects, including a standalone MCU film, while being treated for cancer, and as we mourn the loss of this talented actor, these movies will remain a testament to his talent, perseverance, and fighting spirit. Here are all seven of the movies that Chadwick Boseman made during his fight against aggressive colon cancer.
Marshall (2017) took Chadwick Boseman to court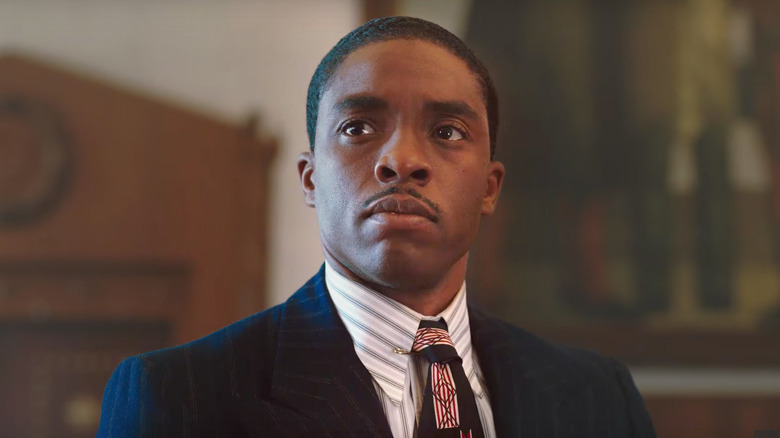 Open Road Films
After appearing in several other biopics — including 2013's 42 and 2014's Get on Up, where he played Jackie Robinson and James Brown, respectively — Boseman continued this tradition by playing pioneering Supreme Court Justice Thurgood Marshall in 2017's Marshall. Directed by Reginald Hudlin, the film focuses specifically on one of the earliest and most important cases of Marshall's career, State of Connecticut vs. Joseph Spell. Connecticut vs. Spell concerned a Black man who was falsely accused of sexually assaulting a wealthy white woman. After that particular case, in which Marshall passionately fought to prove Spell's innocence, he went on to become the first Black justice on the Supreme Court of the United States.
Marshall performed well with critics, who frequently singled out Boseman's central performance; Peter Travers of Rolling Stone said that the film succeeded based on "Boseman's dramatic lightning." By this point, Boseman had already proved he was king of the biopic, despite his difficult, ongoing illness.
Chadwick Boseman reinvented the superhero genre in Black Panther (2018)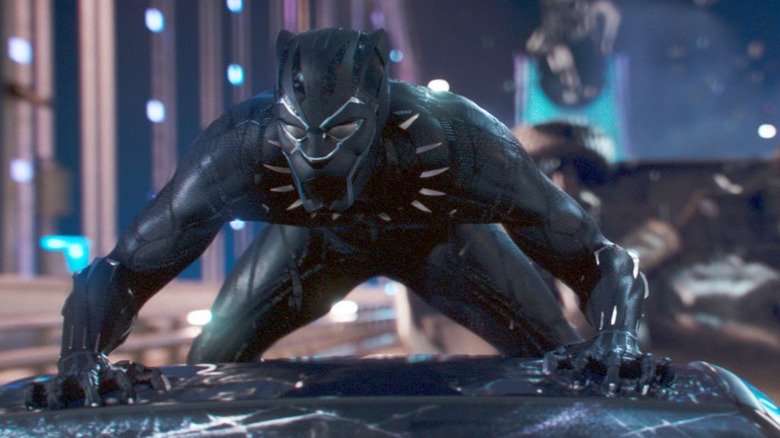 Disney/Marvel Studios
The first standalone film for the MCU that featured a Black superhero as its protagonist had a lot to prove, and thanks to Boseman and director Ryan Coogler, 2018's Black Panther still managed to surpass even the highest of expectations. A critical smash that also crushed the box office — and even won multiple Academy Awards — Black Panther is the first solo film to star Boseman's T'Challa, the young king of Wakanda who also masquerades as the vigilante known as the Black Panther. Imbued by the power of the mythical Black Panther and aided by the incredible technological prowess of Wakanda, which the country keeps secret from the rest of the world, T'Challa seems unstoppable ... until his cousin, Erik "Killmonger" Stevens, who feels utterly wronged by Wakanda, returns to challenge T'Challa for the throne.
Superhero movies require plenty of suspension of disbelief, and as a result, sometimes they can feel fake or forced, but Black Panther succeeds largely thanks to Coogler's careful, loving direction and Boseman's grounding central performance. Most importantly, Boseman takes this legendary, superhuman figure and makes him feel like a real person, infusing him with a lightness and serious intensity all at the same time. Black Panther appeared in plenty of MCU properties, but Black Panther turned out to be one of the best — and most culturally important — standalone outings in the cinematic universe's history.
Boseman's King T'Challa joined the fight against Thanos in Avengers: Infinity War & Endgame (2018/2019)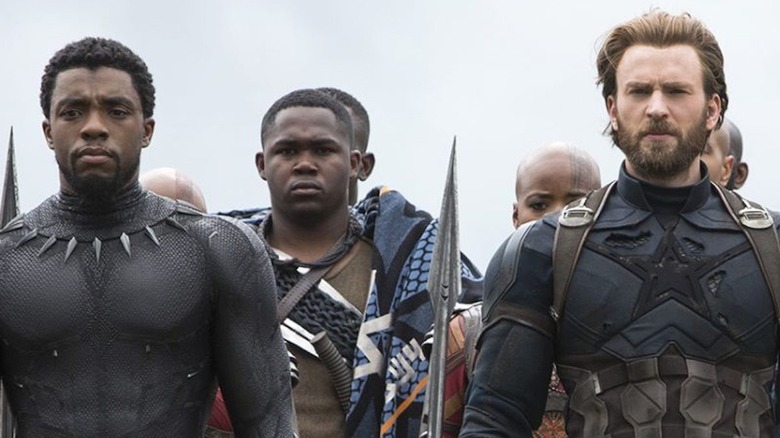 Disney/Marvel Studios
After the events of Black Panther, T'Challa makes the decision to open up about Wakanda's true power, inviting the world to see their technological advances. However, he doesn't expect that one of the biggest battles for humanity will be fought on their land. In 2018's Avengers: Infinity War, the climactic final battle against Thanos (Josh Brolin) takes place in Wakanda, but the heroes ultimately lose, leading Thanos to snap his fingers and eradicate half of all living creatures with the help of his Infinity Stone-packed Gauntlet. As a result, T'Challa finds himself randomly chosen as one of the fallen, leaving Wakanda bereft. Thankfully, in 2019's Endgame, which was filmed at the same time as Infinity War, the remaining heroes figure out a way to bring back their fallen friends, and naturally, T'Challa — flanked by sister Shuri (Letitia Wright) and general Okoye (Danai Gurira) — is the first to return to the world of the living.
Not only does Boseman get an emotional moment before battle in Infinity War as he leads Wakanda into the fray, proving his mettle as their king, but he also gets the first entrance back into the real world, making it clear that he's an audience favorite. Infinity War and Endgame are huge ensemble films, but thanks to Boseman, T'Challa stands out from the pack.
Chadwick Boseman joined the NYPD in 21 Bridges (2019)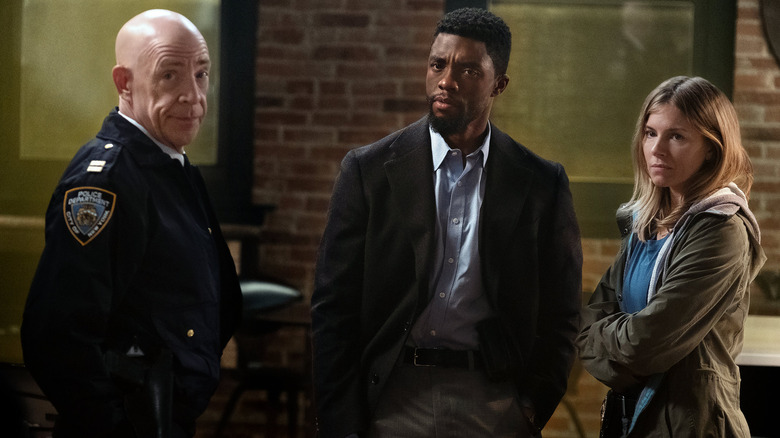 STXfilms
After the one-two punch of Infinity War & Endgame, Boseman took a brief breather from the MCU with 21 Bridges, in which he plays an NYPD detective alongside stars like Sienna Miller, J.K. Simmons, and Taylor Kitsch. After two criminals kill police officers during a heist, Detective Andre Davis, played by Boseman, is tasked with stopping the men as quickly as possible. To try and prevent them from escaping, he shuts down all 21 bridges within Manhattan to trap the duo on the island, hunting them throughout the night.
It's no surprise that leading roles like 21 Bridges came along in the wake of Boseman's work in the MCU, and naturally he was praised for his central performance, with critics calling him an "easy leading man" and saying that he "elevate[s] the material" and "carries off the drama with style and flair." 21 Bridges may have been a standard cop drama at face value, but clearly, Boseman made it into something special.
Spike Lee enlisted Boseman for Da 5 Bloods (2020)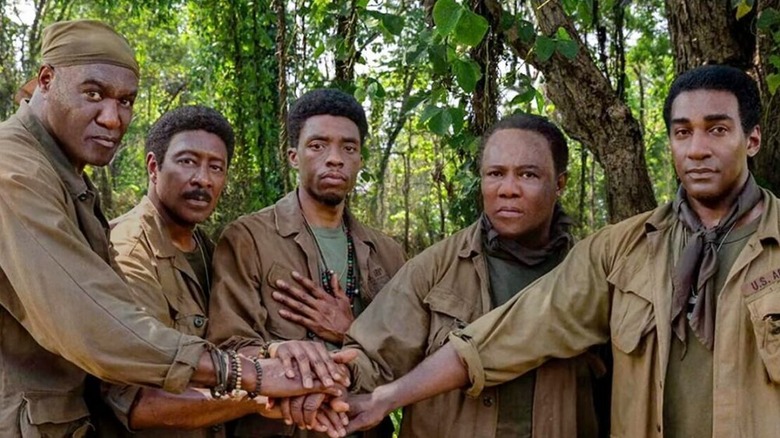 Netflix
As COVID-19 swept through the world in early 2020 and forced movie theaters to close and aspiring moviegoers to stay home, big releases that would have otherwise seen a theatrical release ended up going directly onto streaming platforms, including Spike Lee's latest effort, Da 5 Bloods. The story of a group of elderly Vietnam veterans who return to the empty battlefield to find treasure — as well as the squad leader they buried there — Da 5 Bloods plays with time, especially as it pertains to Boseman's character, "Stormin'" Norman Earl Holloway. In fact, Norman is the lost squad member the titular "5 Bloods" are searching for. Along the way, they grapple with their past, present, and future as they try to do right by their fallen comrade.
Boseman's role is small yet pivotal in Da 5 Bloods, and ultimately, nobody could explain why he was chosen for this vital role better than Lee himself. As Lee told writer David Sims in The Atlantic ahead of the film's 2020 release, "Here's the thing for me. This character is heroic; he's a superhero. Who do we cast? We cast Jackie Robinson, James Brown, Thurgood Marshall, and we cast T'Challa. Chad is a superhero! That character is Christlike! Notice the way [the cinematographer Newton Thomas Sigel] shot him. There's light from heaven coming down from above on him."
Chadwick's last performance is forthcoming in Ma Rainey's Black Bottom (2020)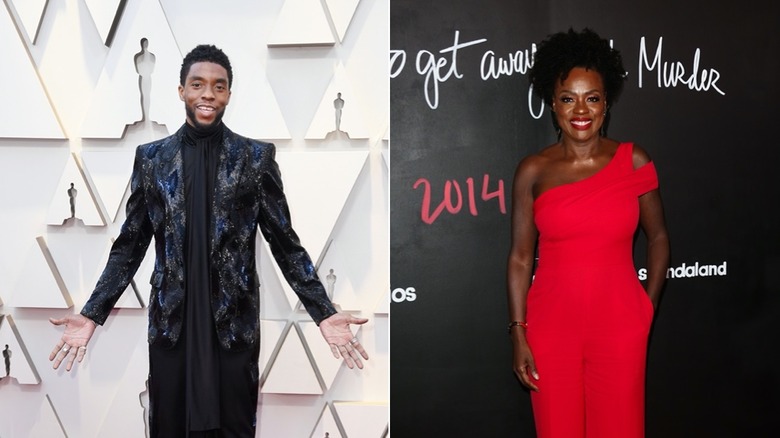 Frazer Harrison, Paul Archuleta/Getty Images
Boseman may be gone, but one of his films has yet to be released. Based on a play by the same name written by famed Black playwright August Wilson — who penned classics like Fences — Ma Rainey's Black Bottom will mark Boseman's final film role, casting him opposite Academy Award winner Viola Davis.
The story of one day in the studio with famed recording artist Ma Rainey (Davis) and her willful trumpeter Levee (Boseman), Ma Rainey's Black Bottom will certainly make waves when it hits Netflix, though that moment has been delayed, since the project's first limited release has been pushed back out of respect for Boseman. Though a virtual preview was originally scheduled for press on August 31, 2020, critics will have to wait a little longer to experience Ma Rainey's story, which may mean fans will have to wait as well. As of this writing, there's no word on whether or not Ma Rainey's Black Bottom, which is scheduled to drop in late 2020, will be delayed as well.