The MCU Reacts To Chadwick Boseman's Death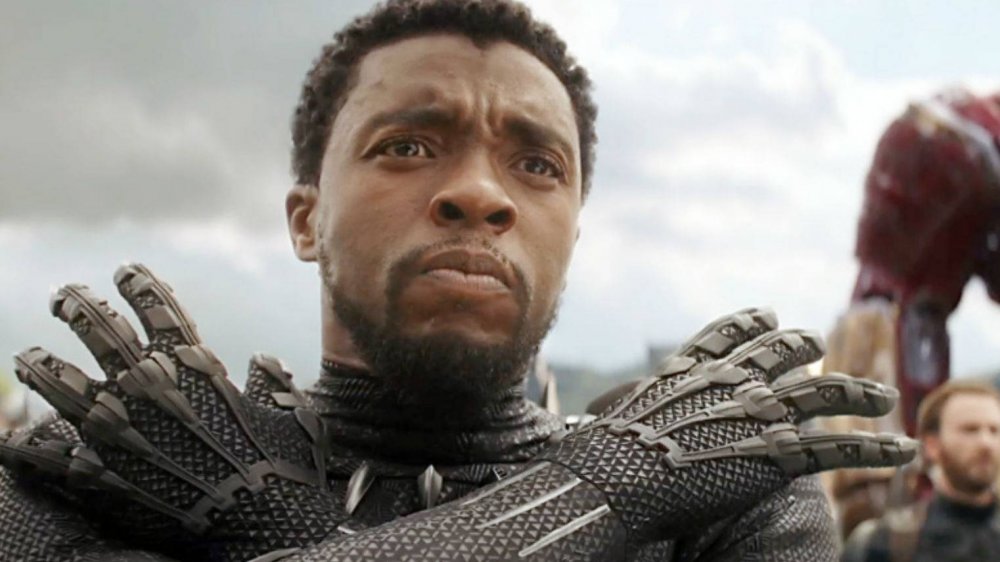 Marvel Studios
On Friday, August 28, 2020, the bright Marvel Cinematic Universe became less so when news of Black Panther star Chadwick Boseman's death was announced in a statement issued by his family. 
The talented actor, best known for his career-defining role as King T'Challa across four Marvel movies including his 2018 standalone feature that became the first-ever Marvel film to win an Oscar, tragically lost a long battle with colon cancer and passed away at just 43 years old. Having been diagnosed in 2016, around when his time in the Marvel movie world was taking off through his appearance in that year's Captain America: Civil War, Boseman fought against the aggressive illness for four years as it advanced from stage III to stage IV. He kept his illness hidden from the public, battling bravely behind closed doors. Boseman's family confirmed that, like the true beacon of strength Boseman consistently proved himself to be, the star filmed many movies during and between surgeries and chemotherapy treatments. He passed away in his home, surrounded by his wife and his family. 
As the world looks back on this brilliant performer's legacy — marked with astounding turns in films like Marshall, 42, 21 Bridges, the underrated Get on Up, and many more — Boseman's fellow Marvel Cinematic Universe cohorts and the minds behind the franchise are honoring his memory in particularly touching ways. Here's how the MCU has reacted to Chadwick Boseman's untimely death.
Chris Hemsworth is heartbroken over losing Chadwick Boseman
David M. Benett/Getty Images
Taking to Instagram, Thor actor Chris Hemsworth shared a photo of himself with Boseman — writing in the caption that the Black Panther star, whom he appeared alongside in Avengers: Infinity War and Avengers: Endgame — was a truly special person.
"Gonna miss you mate. Absolutely heartbreaking," wrote Hemsworth. "One of the kindest most genuine people I've met. Sending love and support to all the family xo RIP @chadwickboseman."
Chris Evans pens touching message following Chadwick Boseman's death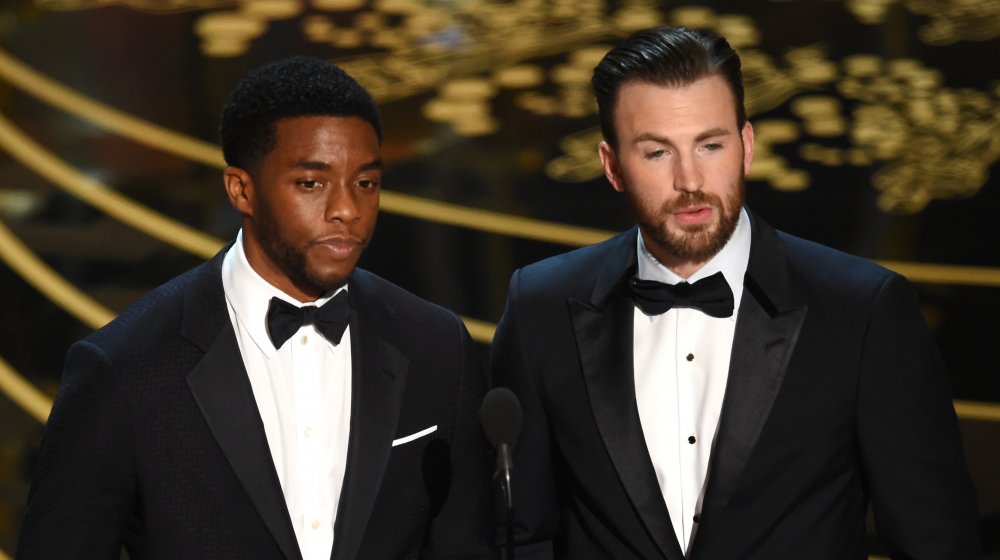 Kevin Winter/Getty Images
Another of the MCU's Chrises honored Boseman's memory with an emotional post shared to his social media. On Twitter, Captain America actor Chris Evans wrote, "I'm absolutely devastated. This is beyond heartbreaking. Chadwick was special. A true original. He was a deeply committed and constantly curious artist."
Evans — who shared the screen with Boseman in three of the latter's four MCU appearances: Captain America: Civil War, Avengers: Infinity War, and Avengers: Endgame — continued, "He had so much amazing work still left to create. I'm endlessly grateful for our friendship. Rest in power, King." He added a blue heart emoji in the caption, which accompanied two photos of Evans and Boseman together.
Robert Downey Jr. says it's now #ChadwickForever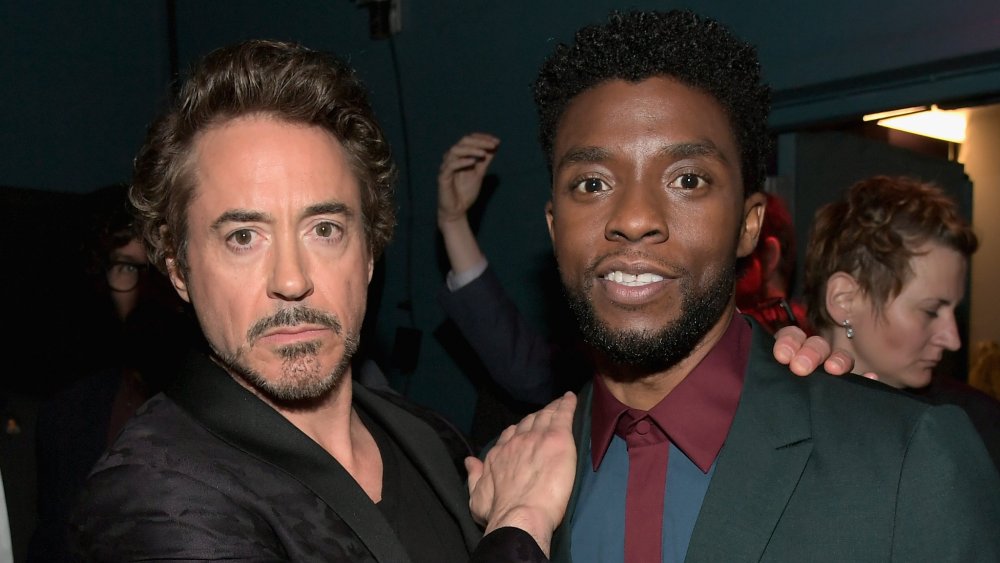 Charley Gallay/Getty Images
Iron Man star Robert Downey Jr. took to both Twitter and Instagram to share his condolences and express his grief over Boseman's death. Putting a personal and poignant spin on the powerful phrase uttered by the Wakandan people in Black Panther, "Wakanda forever," Downey Jr. wrote that it's now #ChadwickForever.
He shared a heartwarming GIF of himself crumpling into a ball of laughter, resting his head on Boseman's shoulder and hugging his arm, as Boseman smiled at the camera and said what we can only imagine was pretty hilarious — as was the norm for Boseman.
"Mr. Boseman leveled the playing field while fighting for his life... That's heroism," wrote Downey Jr. "I'll remember the good times, the laughter, and the way he changed the game... #chadwickforever."
Angela Bassett cherishes her friendship with Chadwick Boseman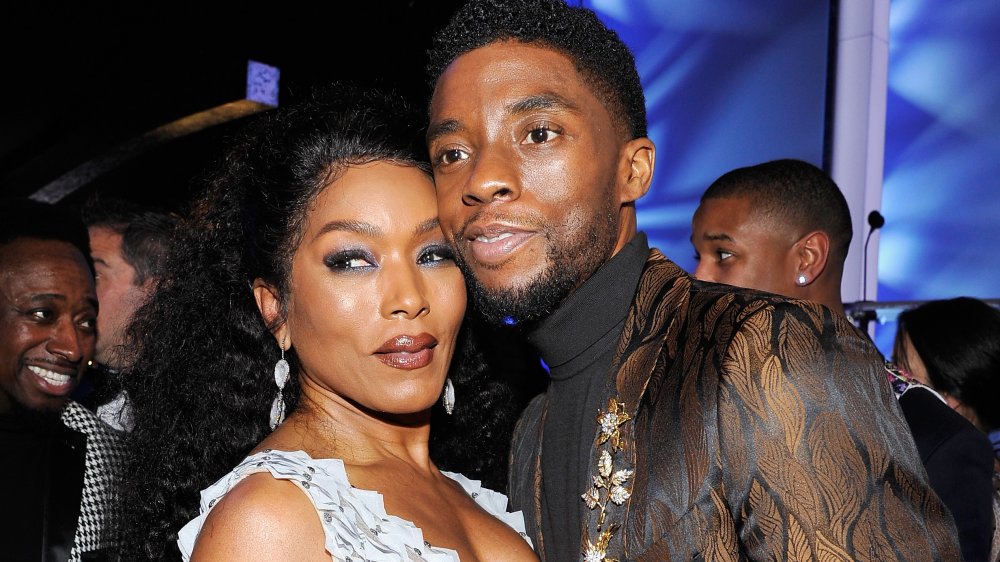 John Sciulli/Getty Images
Angela Bassett joined the MCU with Black Panther, in which she played one of the most important people in King T'Challa's life: his mother and adviser, Ramonda. For Bassett, the bond that she formed with Boseman was more than just professional — it was one of true friendship that felt like destiny. In an Instagram post, the actress shared an anecdote about how she and Boseman actually met years before Black Panther, when Boseman was the student escort for Bassett when she received an honorary degree from Howard University.
"It was meant to be for Chadwick and me to be connected, for us to be family. But what many don't know is our story began long before his historic turn as Black Panther. During the premiere party for Black Panther, Chadwick reminded me of something. He whispered that when I received my honorary degree from Howard University, his alma mater, he was the student assigned to escort me that day. And here we were, years later as friends and colleagues, enjoying the most glorious night ever! We'd spent weeks prepping, working, sitting next to each other every morning in makeup chairs, preparing for the day together as mother and son," Bassett wrote. 
She continued, "I am honored that we enjoyed that full circle experience. This young man's dedication was awe-inspiring, his smile contagious, his talent unreal. So I pay tribute to a beautiful spirit, a consummate artist, a soulful brother. . . ' thou aren't not dead but flown afar. . .' All you possessed, Chadwick, you freely gave. Rest now, sweet prince. #WakandaForever."
Sterling K. Brown is left speechless over Chadwick Boseman's death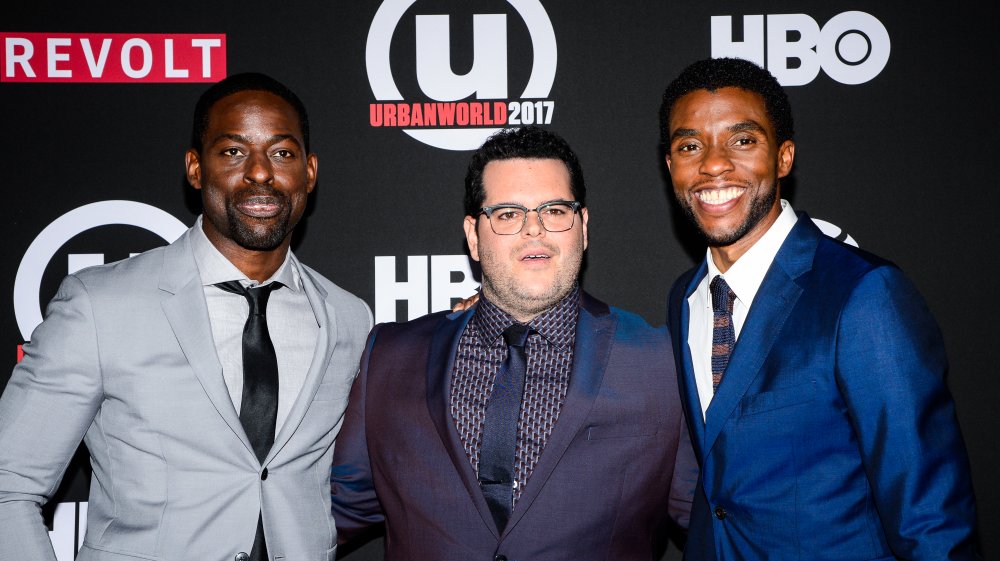 Ray Tamarra/Getty Images
In Black Panther, Sterling K. Brown portrayed N'Jobu, the father of Michael B. Jordan's Eric "Killmonger" Stevens and the paternal uncle of Boseman's King T'Challa. The actor took to Twitter in the wake of Boseman's death to thank him for being a bright light in the world, though Brown admitted he was speechless over the news.
"I don't have words. Rest In Peace, Bruh. Thank you for all you did while you were here. Thank you for being a friend," tweeted Brown. "You are loved. You will be missed." He ended the tweet with a pair of fist-bump emojis to symbolize his and Boseman's hands.
Zoe Saldana writes touching tribute to Chadwick Boseman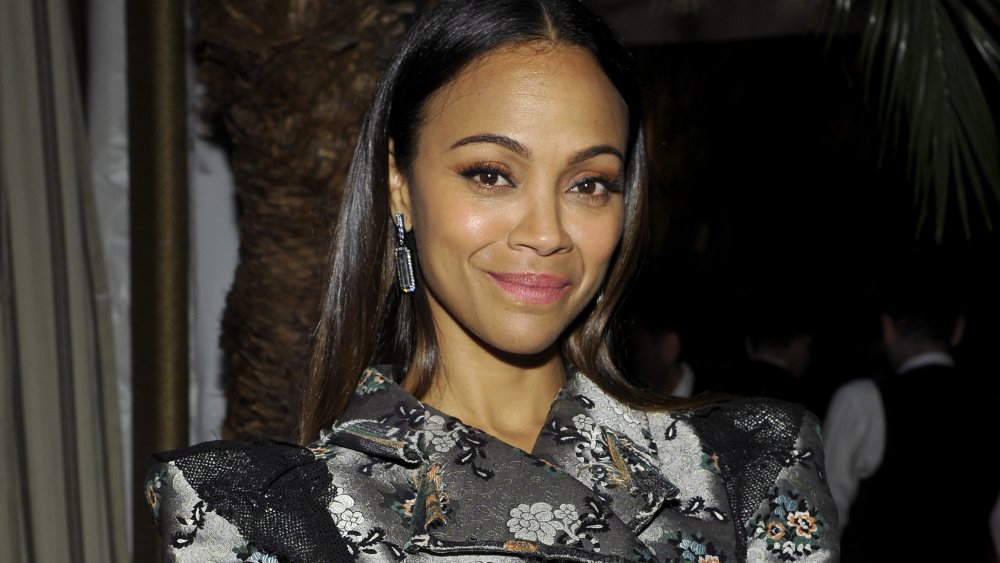 John Sciulli/Getty Images
Though Gamora actress Zoe Saldana only shared a few minutes of screen time with Boseman in Avengers: Infinity War and Avengers: Endgame, those moments will stick with her forever. Saldana shared to her Instagram page an emotional tribute to Boseman, writing that his death has affected her in a big way and that she will always remember Boseman's kind heart and bright demeanor.
"Rest in Power King T'Challa. My heart is so heavy right now. Your passing has hit me hard. I will tell my sons about you forever. You were one of the classiest men I have ever met in my life. It was an honor to have shared minutes with you on screen and to have crossed paths with you during press," Saldana wrote in the caption of a carousel of photos of Boseman. "Though our acquaintance was light you always left a lasting impression because of your energy, poise and gentle manner. May the Universe deliver you to your promise[d] land brother."
She added an extra message in Spanish: "Que en paz y en poder logres descansar finalmente. Con lo poco que estuviste aquí, dejaste un legado increíble!!!" This translates to English as, "May you finally rest in peace and in power. With what little you were here, you left an incredible legacy !!!"
Chris Pratt honors Chadwick Boseman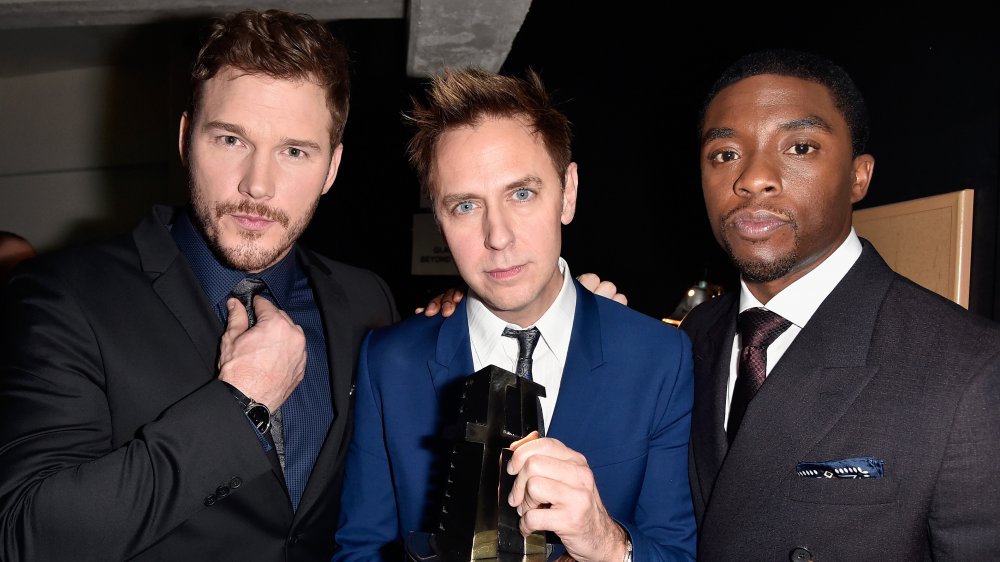 Frazer Harrison/Getty Images
Chris Pratt, who portrays Peter Quill (aka Star-Lord) in the MCU, shared a short but sweet message following the news of Boseman's passing. 
On Instagram, accompanying a black-and-white photo of Boseman smiling his million-watt smile, Pratt wrote, "My prayers go out to Chadwick's family and loved ones. The world will miss his tremendous talent. God rest his soul. #wakandaforever."
Brie Larson remembers Chadwick Boseman fondly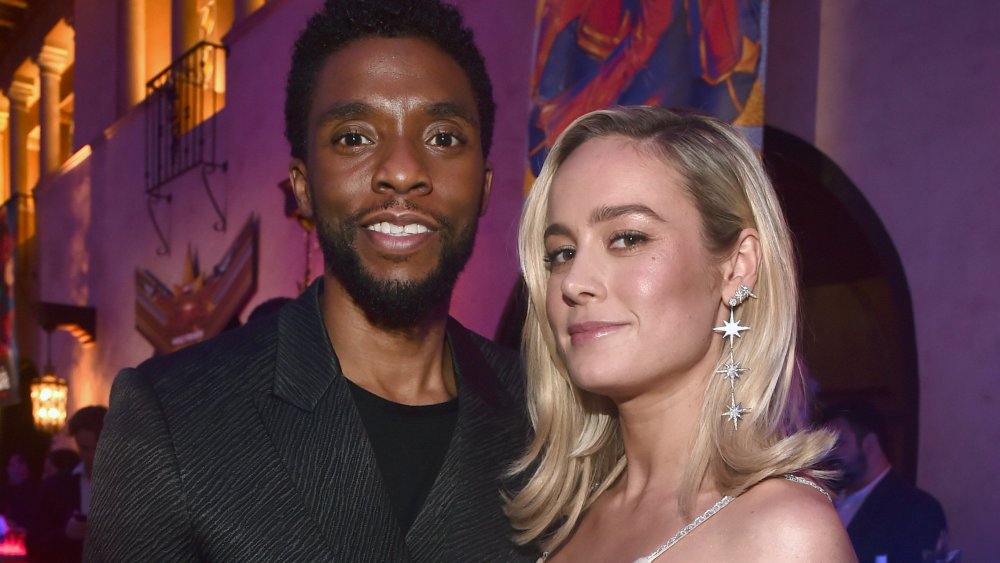 Alberto E. Rodriguez/Getty Images
Captain Marvel actress Brie Larson is another MCU star who didn't share a whole lot of scenes with Boseman's Black Panther (that epic battle sequence in Avengers: Endgame comes to mind, for sure), but the time the two spent together behind the scenes allowed for a friendship to form. Larson took to Instagram to tribute Boseman and remember the fond memories they made.
"Chadwick was someone who radiated power and peace. Who stood for so much more than himself. Who took the time to really see how you were doing and gave words of encouragement when you felt unsure. I'm honored to have the memories I have. The conversations, the laughter," she shared. "My heart is with you and your family. You will be missed and never forgotten. Rest in power and peace my friend."
Mark Ruffalo says Chadwick Boseman was one of the greats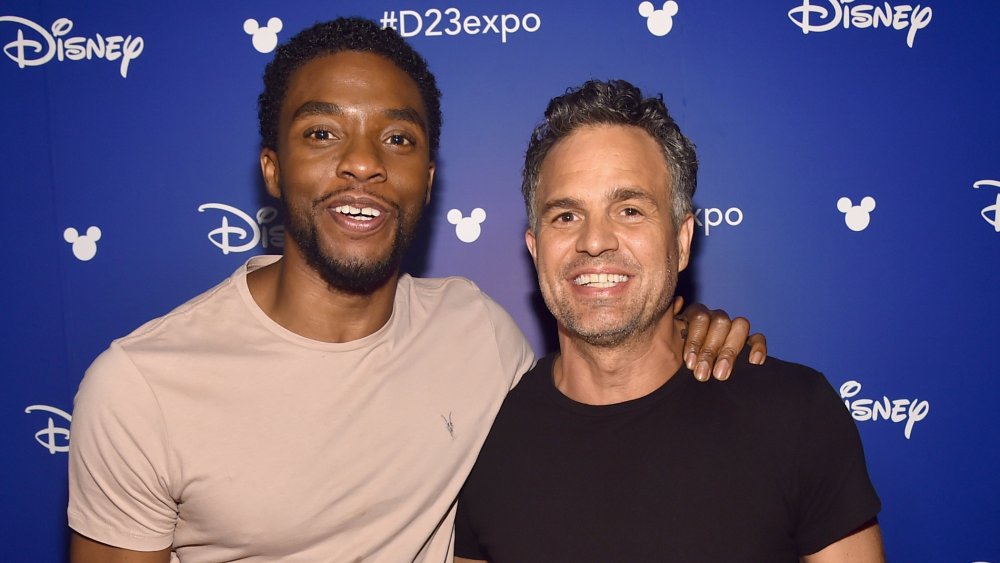 Alberto E. Rodriguez/Getty Images
Bruce Banner star Mark Ruffalo, who had some memorable and hilarious moments with Boseman's King T'Challa in the MCU, honored his fellow MCU actor with a tribute shared to Twitter.
"All I have to say is the tragedies amassing this year have only been made more profound by the loss of #ChadwickBoseman. What a man, and what an immense talent," wrote Ruffalo. "Brother, you were one of the all time greats and your greatness was only beginning. Lord love ya. Rest in power, King."
Don Cheadle's tribute to Chadwick Boseman is especially touching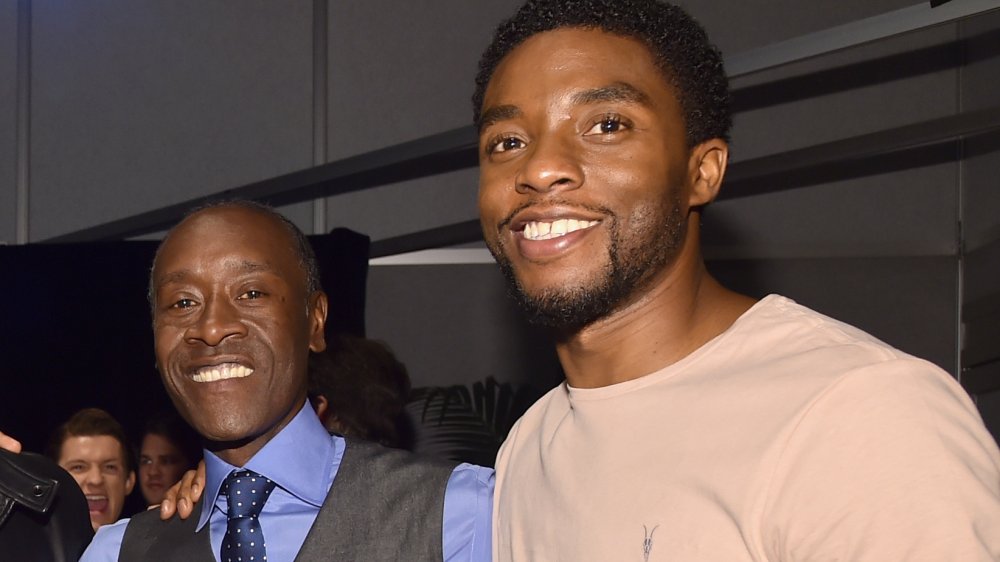 Alberto E. Rodriguez/Getty Images
News of Boseman's passing hit Don Cheadle, the actor who has played James "Rhodey" Rhodes (aka War Machine) in the MCU since 2010's Iron Man 2, especially hard. Cheadle and Boseman actually share a birthday: November 29, with Cheadle having been born in 1964 and Boseman in 1976. The two developed a meaningful friendship over the years, with Cheadle ultimately remembering Boseman as "light and love."
"I will miss you, birthday brother. you were always light and love to me. my god ...," Cheadle wrote on Twitter, adding peace sign, heart, raised fist, and hands-across-chest emojis to signify the iconic "Wakanda forever" gesture seen in Black Panther. He added in the caption, which accompanied a photo of the two stars together at a sporting event, "Forever and ever."
Taika Waititi's message to Chadwick Boseman following his death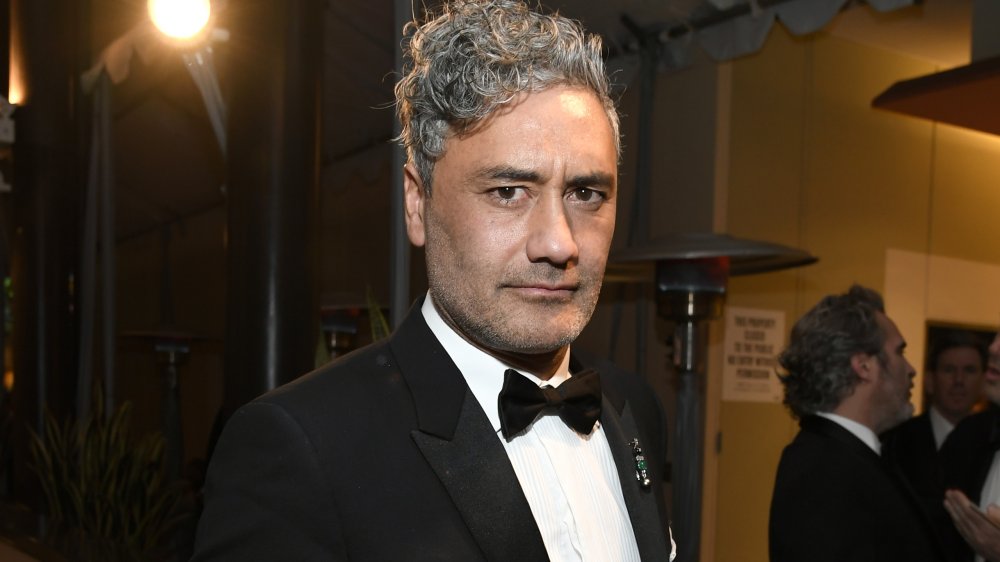 Kevork Djansezian/Getty Images
Thor: Ragnarok director Taika Waititi, who also brought to life Korg and Surtur (via motion-capture work) in the 2017 film, shared a powerful message in response to Boseman's passing. "Devastating news. We lost a great one," wrote Waititi on Twitter. 
He added at the end of the tweet, "Takoto mai rā e Āriki," a Maori phrase that roughly translates to English as, "Lie down, Lord."
Marvel Entertainment reacts to Chadwick Boseman's death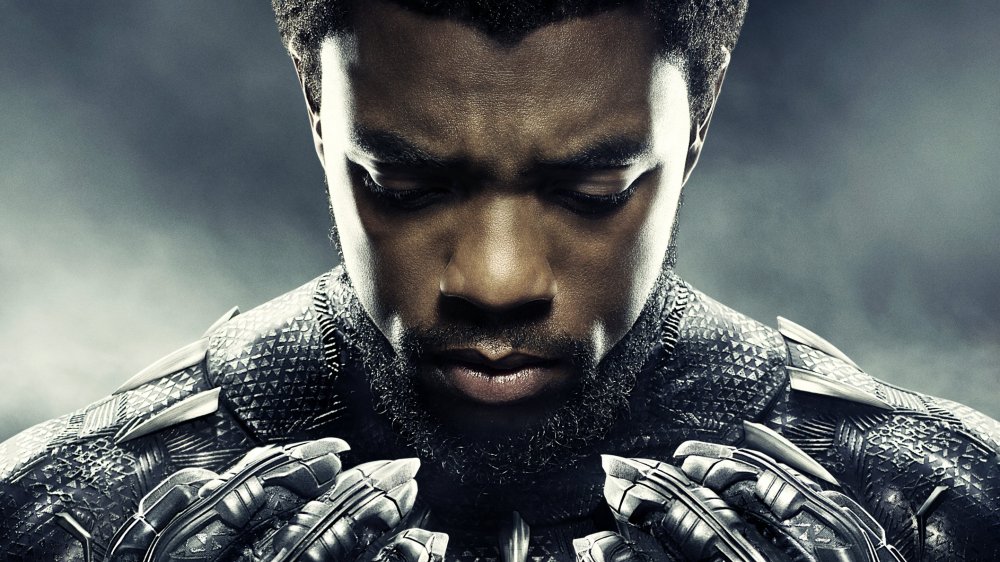 Marvel Studios
The official Twitter account for Marvel Entertainment issued a short yet impactful statement following Boseman's death. 
"Our hearts are broken and our thoughts are with Chadwick Boseman's family. Your legacy will live on forever. Rest In Peace," the account shared in the caption of a promotional photo of Boseman dressed in his signature Black Panther costume.
Former Disney CEO Bob Iger honors Chadwick Boseman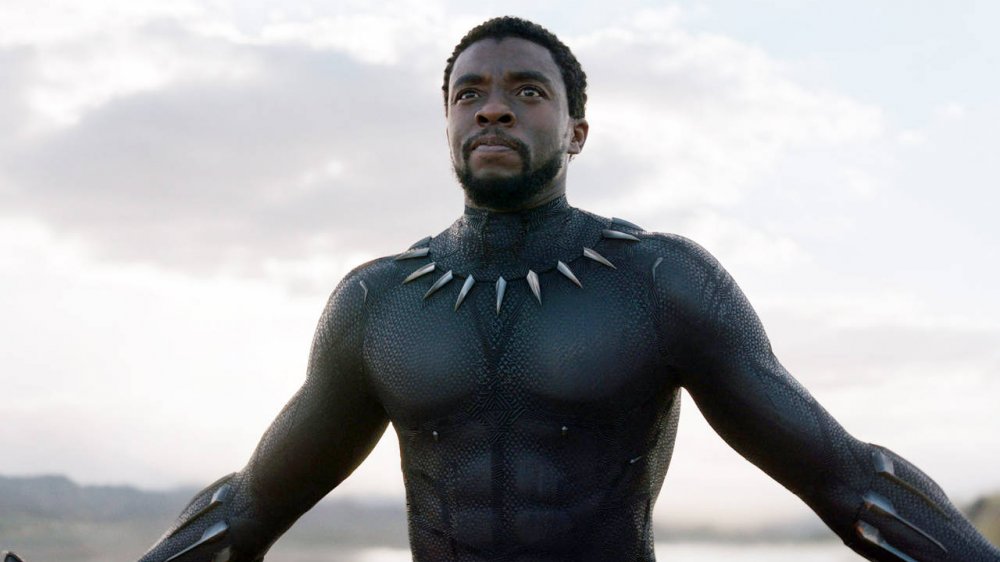 Marvel Studios
Bob Iger — the former CEO and current executive chairman of the Walt Disney Company, which owns Marvel Studios — took to Twitter to pen a tribute to Boseman that spanned several tweets.
"We are all heartbroken by the tragic loss of Chadwick Boseman — an extraordinary talent, and one of the most gentle and giving souls I have ever met. He brought enormous strength, dignity and depth to his groundbreaking role of Black Panther; shattering myths and stereotypes, becoming a long-awaited hero to millions around the world, and inspiring us all to dream bigger and demand more than the status quo," wrote Iger. "We mourn all that he was, as well as everything he was destined to become. For his friends and millions of fans, his absence from the screen is only eclipsed by his absence from our lives. All of us at Disney send our prayers and heartfelt condolences to his family."
Kevin Feige's tribute to Chadwick Boseman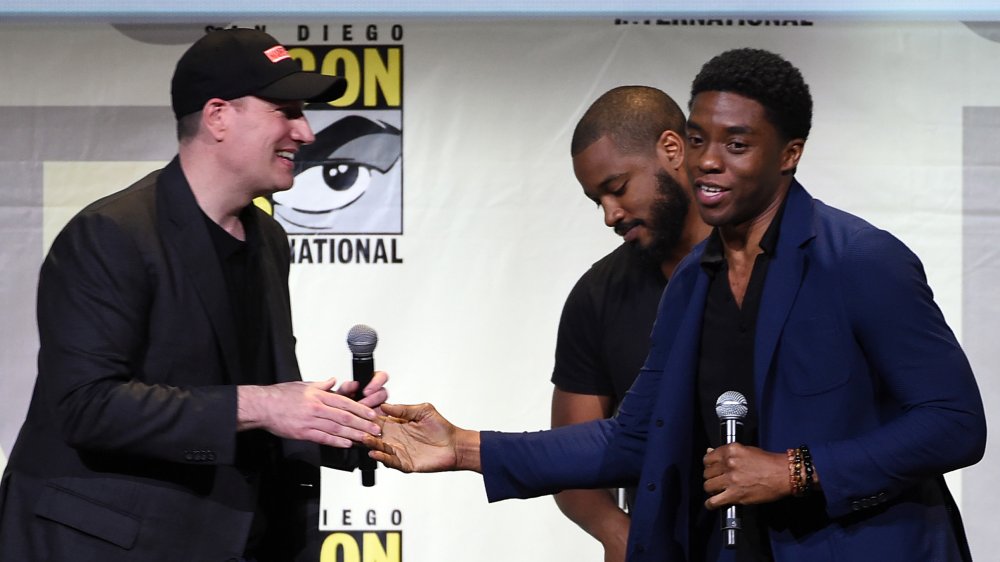 Kevin Winter/Getty Images
Marvel Studios president and chief creative officer of Marvel Entertainment Kevin Feige shared an emotional tribute to Boseman in light of his tragic passing.
"Chadwick's passing is absolutely devastating. He was our T'Challa, our Black Panther, and our dear friend. Each time he stepped on set, he radiated charisma and joy, and each time he appeared on screen, he created something truly indelible. He embodied a lot of amazing people in his work, and nobody was better at bringing great men to life. He was as smart and kind and powerful and strong as any person he portrayed," said Feige (via The New York Times). "Now he takes his place alongside them as an icon for the ages. The Marvel Studios family deeply mourns his loss, and we are grieving tonight with his family."