The New Logo For The Batman Explained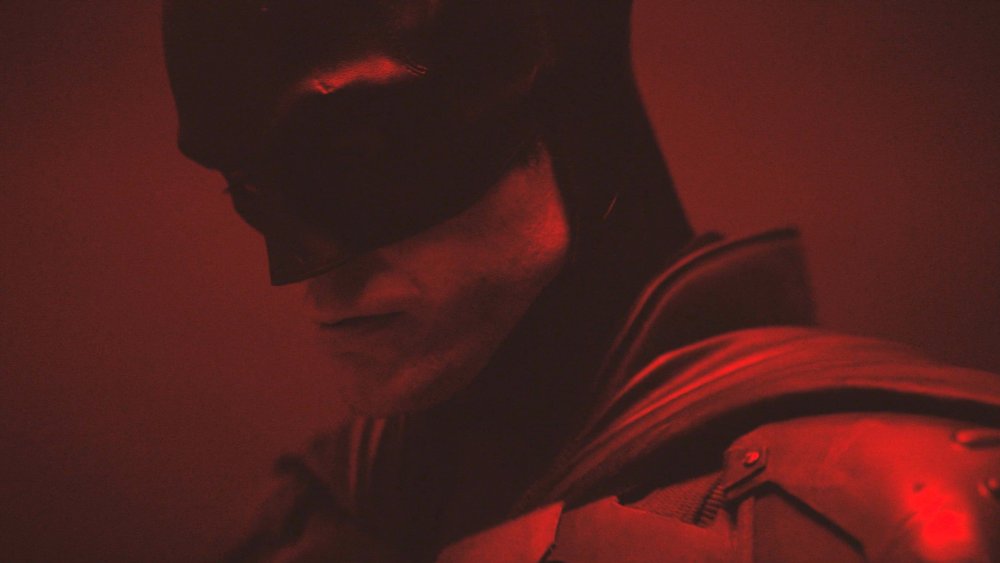 Warner Bros./DC Films
Bat-fans just got a little treat ahead of this weekend's DC FanDome.
The Batman writer-director Matt Reeves took to Twitter to post a pair of one-sheets for his upcoming flick, one sporting the official logo and one featuring an artistic rendition of star Robert Pattinson in full Bat-mode by artist and DC comics Chief Creative Officer Jim Lee.
Both pieces of artwork are bathed in the same blood-red hue from that camera test footage that was released this past February, and the new logo contains one of the most interesting elements of that clip. Against a black background, the film's title is rendered in a stark, blocky font, with what at first glance appears to be a stylized image of a bat within the letters. That's not, however, what's actually going on — it's the actual emblem from the new Batsuit, the one that really, really appears to have been crafted from a disassembled gun. We'll literally eat our hats if it's not the gun that killed Bruce Wayne's parents, and its prominent placement in the new logo — along with that seething red color scheme — suggests to us that we'll be seeing a more tortured, flat-out angrier version of the Dark Knight than we have yet seen onscreen. Check it out:
Then, there's Lee's rendition of Pattinson's Caped Crusader, which is ... well, freaking awesome, of course, because Jim Lee is a legend for a reason. It depicts Bats perched atop a gargoyle high above the Gotham streets, and while photos from the flick's set have previously revealed pretty much every aspect of the new Batsuit, there is one very interesting detail here: The comic-accurate white eyes, which we're really hoping make it into the finished film.
As amazing as these new images are, we're optimistic that they're just the appetizer for the main course that will be served during The Batman's panel at virtual convention DC FanDome this weekend.

What can we expect from DC FanDome's The Batman panel?
So far, we know very little about that panel, which conventioneers can catch at 8:30 PM Eastern time on Saturday, August 22 (and again at 4:30 AM the next morning). What we do know: It will be a slight one, consisting only of Reeves participating in an "in-depth discussion" about the upcoming flick with host, "fangirl," and Archer star Aisha Tyler. The pre-taped presentation will be 30 minutes long, and will feature "a surprise (or two) for the fans."
That certainly doesn't give away much, but it's safe to say that Reeves isn't going to talk for 30 minutes without revealing anything, so there are a few things we're thinking he might address. First, it's been heavily rumored based on set photos and minor leaks that The Batman is taking its narrative cues from the 1996-1997 limited series The Long Halloween; hopefully, Reeves will either confirm this or put it to rest. Second, we'd like to know more about just where in his Bat-career this version of Bruce Wayne is, with his suit made largely from repurposed materials and a Batmobile crafted from an American muscle car.
Last, but certainly not least, we'd love to hear Reeves discuss how this film fits into the larger DC Extended Universe. We know that director Andy Muschietti's upcoming Flash film will feature multiple Batmen from alternate realities, including Ben Affleck's and Michael Keaton's versions. Is there any chance whatsoever that Battinson could pop in to that Bat-party?
Oh, and as to those mysterious surprises: While it's been reported that The Batman has about three months of shooting left (and should resume production very soon), we know that at least some footage was shot before the COVID-19 pandemic brought film and television production around the world to a screeching halt. Mr. Reeves, we have but one request. Please, sir ... might we have a trailer?
We'll soon find out. Keep it right here, because Looper will be shouting from the virtual rooftops with all the news to come out of DC FanDome all weekend long.