Films To Watch If You Love Lucifer
This content was paid for by Netflix and created by Looper.
Just when we thought we'd seen every possible spin on the police procedural, Fox went and threw the Devil himself into the mix. Lucifer premiered on the network in 2016, with Brit Tom Ellis playing the charismatic former guardian of Hell, and Lauren German as LAPD detective Chloe Decker, the only one who can resist his charms — at least initially.
Appropriately for a show about immortal beings, Lucifer has survived not one but two cancellations. The first came after season three, when Fox announced it wouldn't renew Lucifer, despite a cliffhanger finale. Fans with sympathy for the Devil and the show revolted, and Warner Bros. (who produced the series) saw an opportunity to sell it elsewhere. It was ultimately resurrected by Netflix, who recognized the outpouring of support as a very promising omen.
However, a month after season four hit the streaming service, Netflix announced the fifth would be Lucifer's last. But a year later, in June 2020, divine — or otherwise — intervention struck Netflix, and Lucifer was renewed for season six. This time, it really is final.
If you've developed a taste for well-meaning (ish) Satan with a sense of humor, Netflix has plenty of movies to compliment Lucifer. From teenagers summoning demons to supernatural beings mingling with humans and another Neil Gaiman adaptation, here are the films to watch if you love Lucifer.
Florence Pugh and co. underestimate ghosts in Malevolent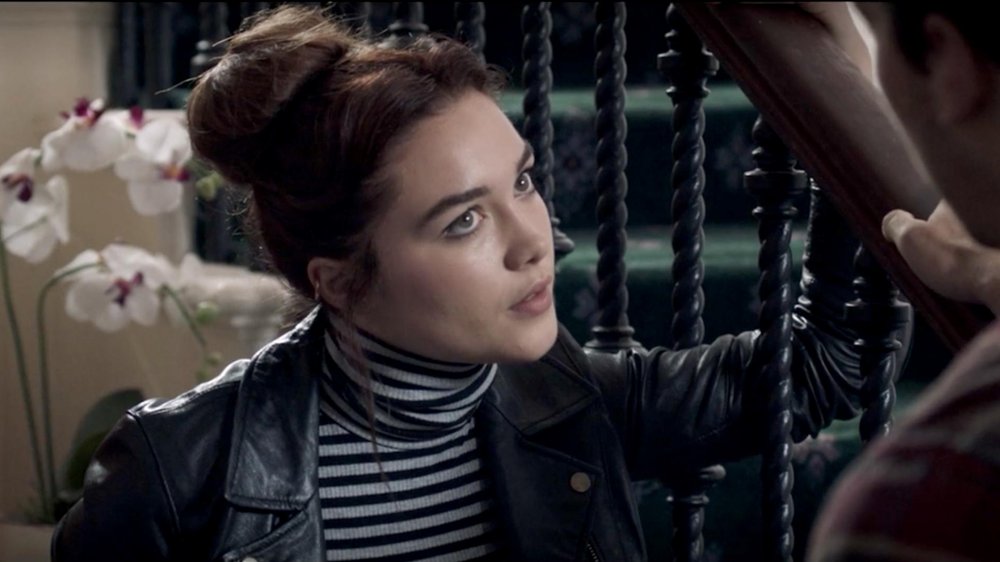 Part of the fun of Lucifer is watching mortals interact with supernatural beings, especially when they are initially skeptical about the existence of things like angels and demons. That dynamic also plays out in Malevolent, a 2018 British horror movie based on a screenplay by Eva Konstantopoulos and Ben Ketai, adapted from Konstantopoulos's novel Hush.
The premise is Ghost Hunters except, oops, the ghosts are real. Siblings Angela (Florence Pugh) and Jackson (Ben Lloyd-Hughes) run a scam operation, presenting Angela as a medium (as their late mother claimed to be) and pretending that they can rid haunted houses of their ghosts.
Strapped for cash and despite Angela's instincts, they take a job for a woman (Celia Imrie) who owns a creepy orphanage. It turns out that years ago, some of her foster children were found dead with their mouths sewn shut, supposedly at the hands of her creepy son Herman (Niall Greig Fulton). Naturally, she now hears girls screaming. Angela, Jackson and their two accomplices gradually realize that not only are the screams coming from real ghosts, but they are in very real danger of becoming victims themselves.
This was before Florence Pugh's Very Good Year — 2019 — in which she turned one of literature's most despised characters into an unlikely heroine in Little Women, and gave everyone nightmares about bear skins and Swedish cults in Midsommar. Malevolent isn't as suspenseful as Midsommar — but the scares, like the movie's ghosts, are very real.
The devil worship is coming from inside the house in The Babysitter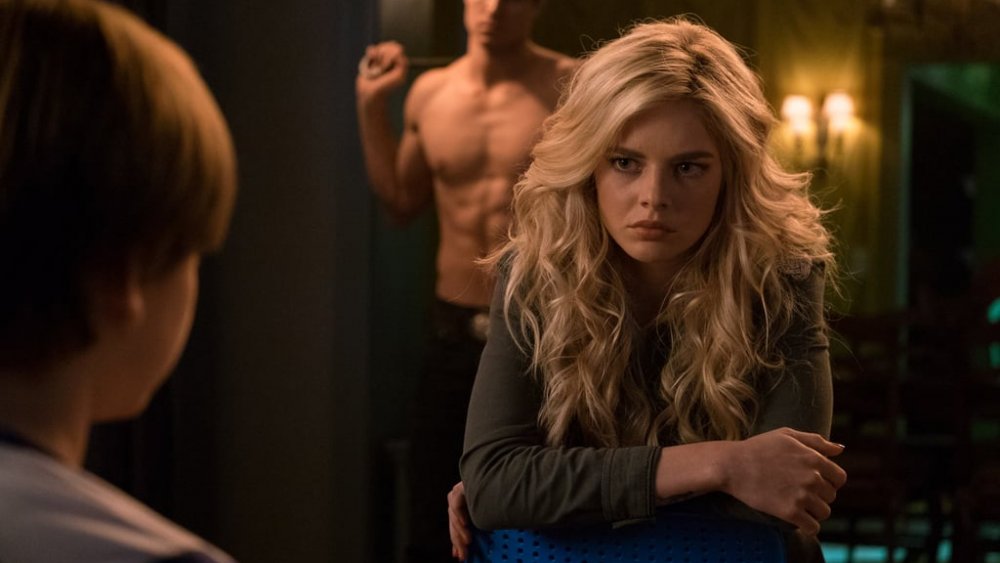 The Devil doesn't make an appearance in Netflix's horror-comedy The Babysitter (not to be confused with Netflix's The Baby-Sitters Club), but a group of his followers are the main villains.
Cole (Judah Lewis) is your typical weedy 12-year-old enamored with his hot babysitter Bee (Samara Weaving). That is, until she invites her friends over to his house and murders one of them so she can collect his blood for their Devil-worshipping ritual — and Cole is next on their list of human sacrifices. What follows is a horror version of Home Alone, in which the would-be burglars are replaced by suspiciously mature Satanic high schoolers.
Like Lucifer, The Babysitter treats its devilish theme with unyielding dark humor, and it notches up the gore by 11. The cast is a Gen Z who's-who: the gang of teens includes former Vine star Andrew Bachelor (a.k.a. King Bach) and model, actress and general famous person Bella Thorne as the token horror movie cheerleader. And if you're wondering why Bee from The Babysitter looks so familiar, you may recognize Weaving from her breakout performance in another horror-comedy, Ready or Not, a brief role in Three Billboards Outside Ebbing, Missouri, or from the hit Netflix series Hollywood. (Or you're mistaking her for Margot Robbie.)
The Babysitter is fun, it's tongue in cheek, and it ticks all your Devil-worshipping horror must-haves, but in a satisfying wink-wink way. It did so well that there's already a sequel in the works.
Bubble boy meets Satan in Eli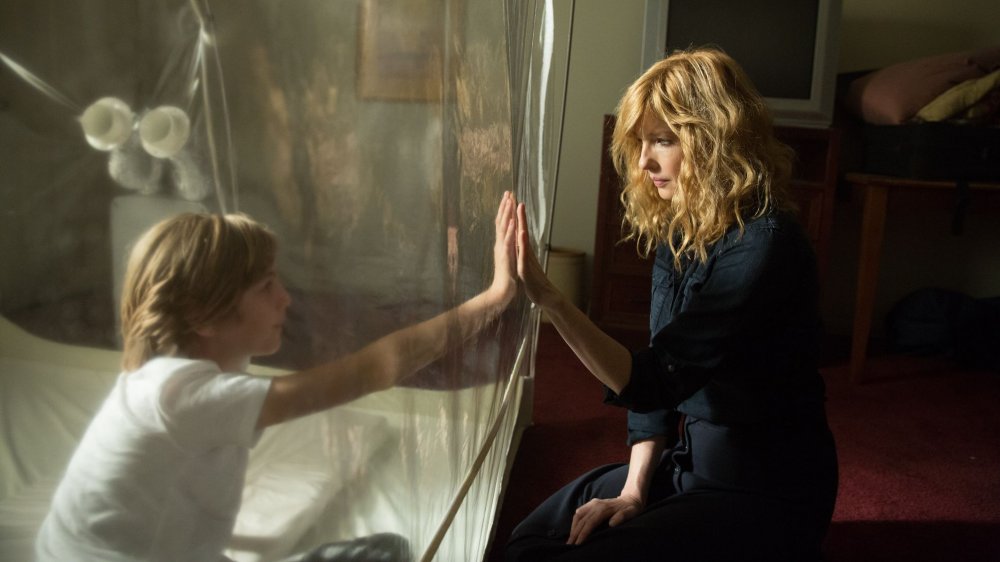 At first glance, 2019's Eli looks more like the story of a bubble boy with a dash of poltergeist. But wait for the twist and you'll understand the Lucifer link.
Young Eli (Charlie Shotwell) has severe allergies that mean he has to wear a protective suit at all times. When he joins a medical program run by Dr. Isabella Horn (Lili Taylor) for kids with similar conditions, it initially seems great. But soon, Eli starts to experience creepy specters and supernatural events. He learns that all of Dr. Horn's other patients have died during the third stage of treatment, and she has a secret room full of religious objects, which trigger his allergies.
Shortly after, Eli's mother Rose (Kelly Reilly) discovers the bodies of Dr. Horn's previous patients, all tied up and interred with religious symbols. If those are enough spoilers for you, skip the next two paragraphs.
Rose confronts Dr. Horn, who reveals that Eli, like her other patients, is a son of the Devil. Rose made a pact with Satan in exchange for a child, whom he promised would be non-Devil-like. Shockingly, the Devil lied, and Eli's allergies are actually his true nature coming out — and he's not done yet.
Directed by Ciarán Foy — who also worked on The Haunting of Hill House — Eli shakes up the usual Devil myth. Unlike Lucifer, it leans into the evil side that comes with being a demon — for when you want to shudder with fear instead of laughter.
Stardust was also adapted from a Neil Gaiman work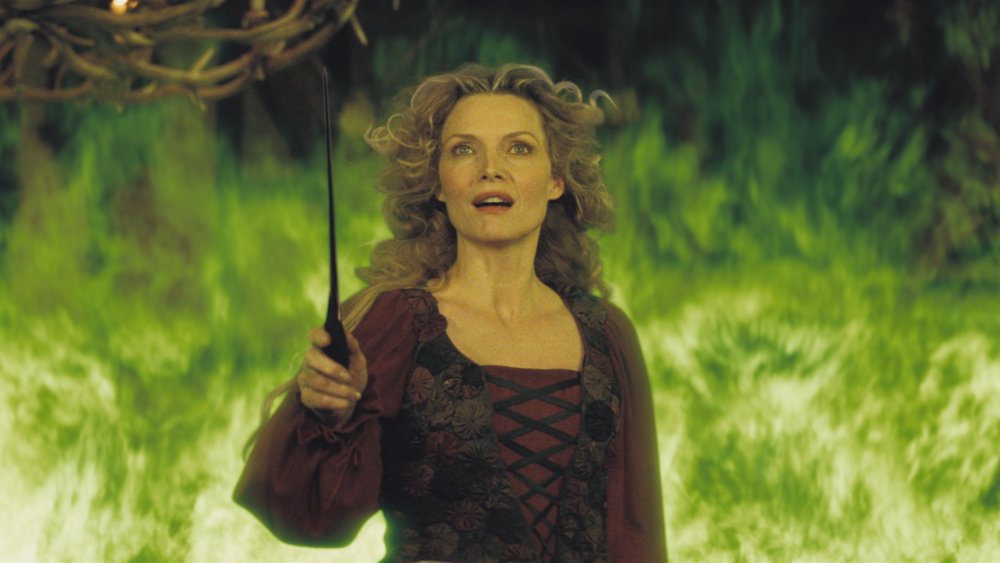 Lucifer — of Lucifer, not the Bible — started as a supporting character in The Sandman, a comic series created by British author Neil Gaiman which is reportedly getting its own Netflix adaptation. Lucifer was later granted his own self-titled spinoff series, which ran for 75 issues.
Stardust was also adapted from a work by Gaiman, in this case a novel of the same name, published in 1997. And it also depicts humans dealing with magical beings in disguise.
Tristan (Charlie Cox) leaves his small village of Wall for the magical kingdom of Stormhold, hoping to capture a fallen star. But out of the sky, the star is not a ball of fusing gas molecules: it's a woman, Yvaine (Claire Danes). Meanwhile, a witch (Michelle Pfeiffer) sets out to find the star, so she and her sister witches can eat its heart and restore their youth and power. Plus, the old king has just died, causing a power struggle between his remaining sons. The victor, Septimus (Mark Strong), also wants the star, who currently has the magical stone he needs to claim his throne, and can grant him immortality.
In addition to Danes, Pfeiffer, Strong and Daredevil's Charlie Cox, the rest of the Stardust cast includes Robert De Niro, Peter O'Toole, and a gang of famous British actors. It brings a quirky humor to the fairytale fantasy genre — as Lucifer does for police procedurals.
Bleach turns the philosophy of the afterlife into an action movie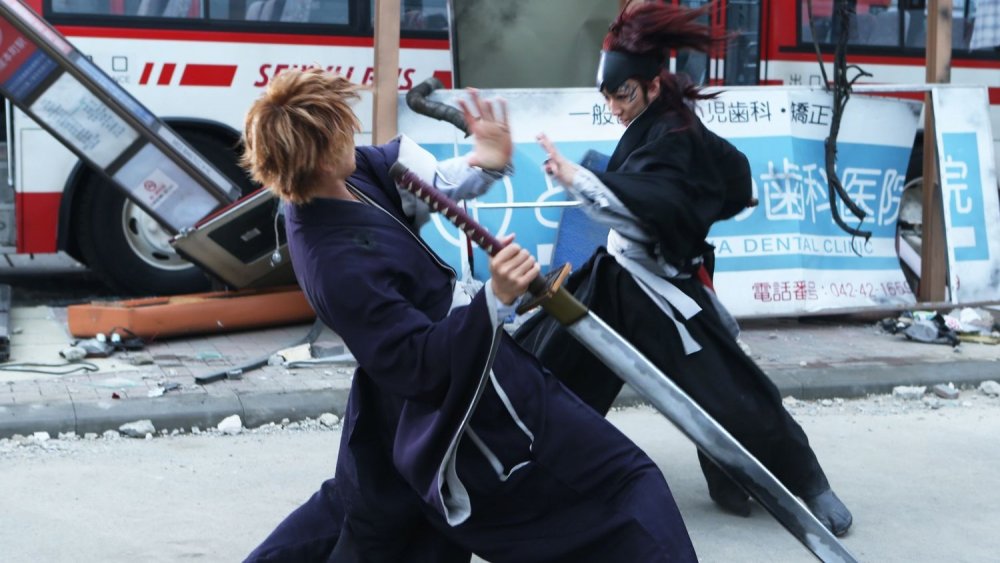 There's no Devil causing trouble in Bleach — but there are supernatural beings roaming Earth in human form (and otherwise). The 2018 movie is a live-action feature adaptation of the manga comic of the same name by Tite Kubo, which was a big hit during its run from 2001 to 2016. It was also adapted into a popular anime series, which was canceled in 2012 but is scheduled for a reboot in 2021.
Ichigo (Sota Fukushi) appears to be your average 15-year-old, except he can see ghosts. Then he encounters Rukia (Hana Sugisaki), a Soul Reaper: a spirit guide who brings the souls of the departed to the Soul Society. Left among humans for too long, souls turn into monstrous creatures called Hollows, which feed on other souls and cause general monster-like damage. Soul Reapers battle Hollows and purify them so they can join the Soul Society.
When Rukia is injured while fighting a Hollow, she transfers her Soul Reaper powers into Ichigo. Since transferring them back to her would kill him — until he's amassed enough Reiyoku energy from battling Hollows — he subs in for her. Unfortunately, the other Soul Reapers have other ideas, leading Ichigo to agree to take on the most fearsome Hollow of all, the Grand Fisher.
Bleach, like Lucifer, is a slick, modern and fun take on traditional concepts like souls, demons and spirit guides, and the havoc they cause for humans.
May the Devil Take You did not come to play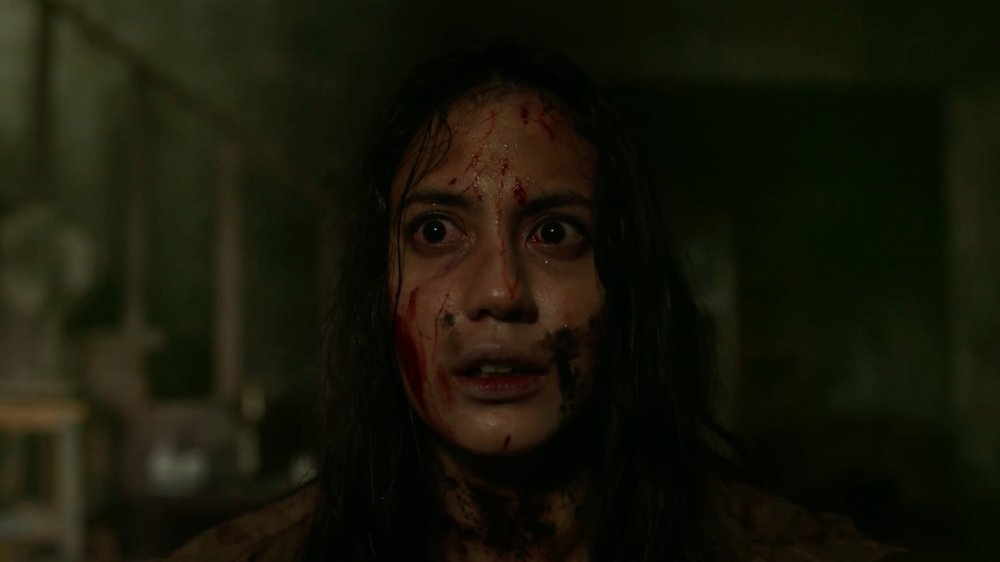 Where Lucifer's version of the Devil is mischievous but charming, May the Devil Take You's portrayal is closer to the traditional merciless, soul-seizing monster.
The movie starts with Lesmana (Ray Sahetapy) making a pact with the Devil in the basement of his villa. He receives riches in his lifetime — which he squanders — in exchange for his soul after death. The usual.
Ten years later, Lesmana is gravely ill, and his estranged daughter Alfie (Chelsea Islan) grudgingly visits him in hospital, where she witnesses a spirit waiting to drag him to hell. She returns to their now-dilapidated villa, alongside her half-siblings and stepmother Laksmi (Karina Suwandhi), with whom she has a rough relationship. But when they open the basement door — nailed shut and covered in charms — they unleash the spirit Lesmana conjured years before, which starts possessing and picking them off one by one. Cue lots of veiny faces, blood vomiting, head-spinning, and creatively grim deaths.
May the Devil Take You was directed by Timo Tjahjanto, who is best known for his gore-heavy action movies as one half of the (non-related) Mo Brothers. He also directed the widely acclaimed thriller The Night Comes for Us in 2018 — one of the hidden action gems on Netflix you need to watch. If you miss the old-school Devil (pure evil, into possession, side effects include ability to climb walls Spider-Man-style), this is a nice, gory complement to Lucifer. Watch out for the sequel...
Demonic reminds us why humans shouldn't get involved with demons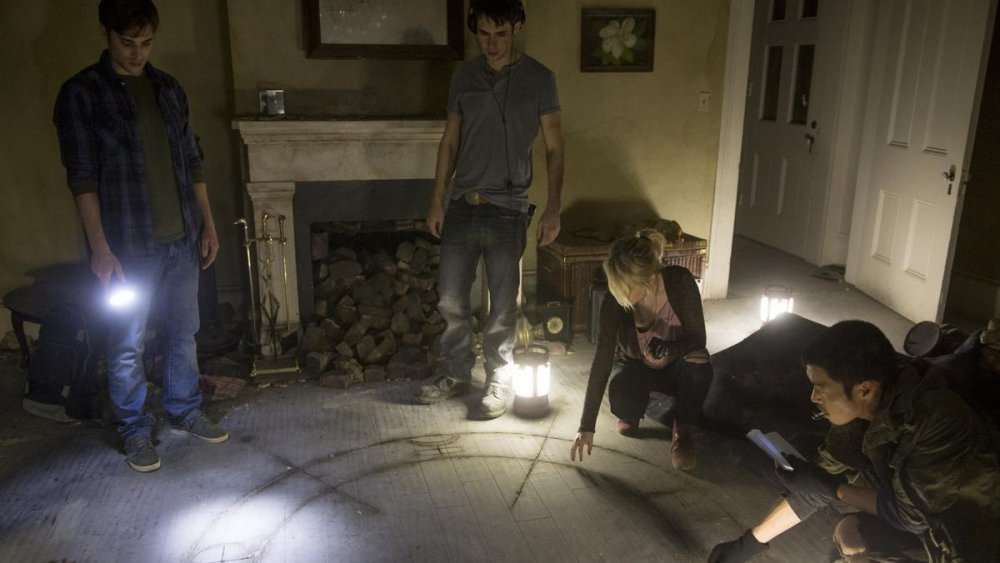 If Lucifer proved anything, it's that demons cannot resist the human world — and Demonic reminds us that humans likewise cannot resist poking around with demonic spirits.
Six wannabe ghost hunters plan a seance in an abandoned house, the site of a previous seance that ended in a massacre and suicide. Despite multiple supernatural red flags, they proceed, gathering around a pentagon-style seal carved into the floorboards of one room.
The movie is a whodunit horror played out through found footage (updated for the 21st century). Police find three of the students' bodies and one survivor, John (Dustin Milligan), leaving two still missing. While psychologist Dr. Elizabeth Klein (Maria Bello) tries to get John to tell her what happened, detective Mark Lewis (Frank Grillo) and his team examine the footage the kids left behind for clues. Skip the next two paragraphs if you don't want any more spoilers.
Dr. Klein and Detective Lewis realize at about the same moment that John is, in fact, not John, but a demon using him as a convenient ride. The seal was used to trap the demon in the house, but it possessed John during the seance, murdered the others, then had him commit suicide. In the end, the demon vanishes into John's pregnant girlfriend, ready to be reborn.
Like Lucifer, Demonic combines the demon genre with the police procedural — except in this case, the demon is on the other side of the law.
The Devil and Father Amorth is the 'true' story of demonic possession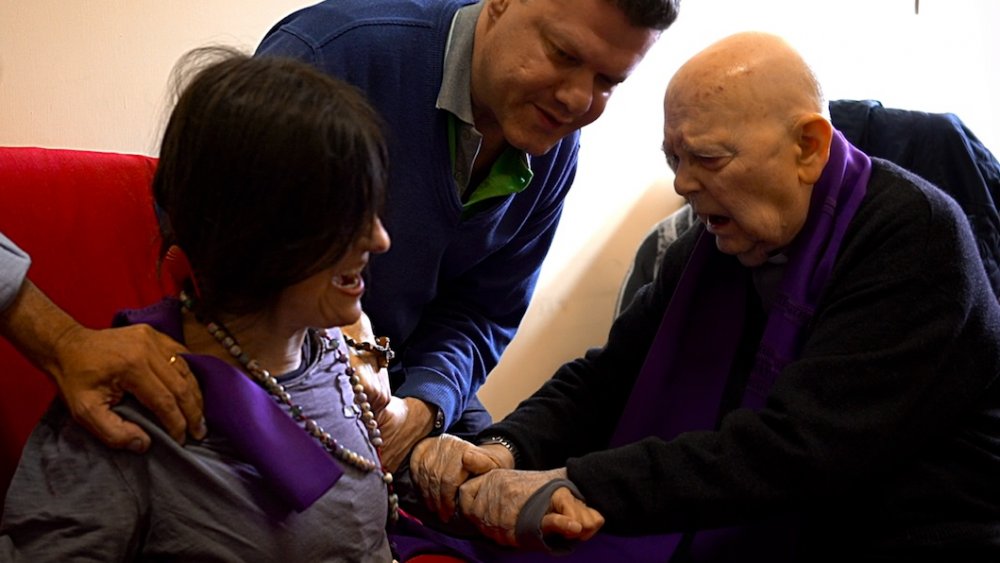 If your only complaint about Lucifer is that it's not realistic enough, you'll appreciate the 2017 exorcism documentary — yes, documentary — The Devil and Father Amorth.
The movie has an excellent pedigree: it's directed and hosted by William Friedkin, director of 1973's genre-defining movie The Exorcist. (And The French Connection, the movie that single-handedly made car chases A Thing.) The untold truth of The Exorcist is that the story was based on a "real" exorcism, and Friedkin is still interested in the reality behind the special effects.
In the documentary, Friedkin revisits several of The Exorcist's shooting locations, and interviews William Peter Blatty, who wrote the movie's  screenplay based on his own novel. But the main purpose of the film is to showcase the supposed God-given talents of the titular Father Amorth, an Italian Catholic priest who claimed to have exorcised tens of thousands of demons from their unwilling hosts during his (very long) lifetime. (He died at the age of 91 in 2016.) Since The Exorcist was his favorite movie (no surprises there), he agreed to let Friedkin document one such exorcism, the 11th for that particular "patient." But the most shocking encounter supposedly happened offscreen.
Where Lucifer is knowingly funny, The Devil and Father Amorth is unwittingly so. Unless, of course, you believe that he really is casting out demons, in which case it's even scarier than the movie that launched it (and a thousand other possession narratives.)
Humans and fantasy beings join forces to solve crimes in Bright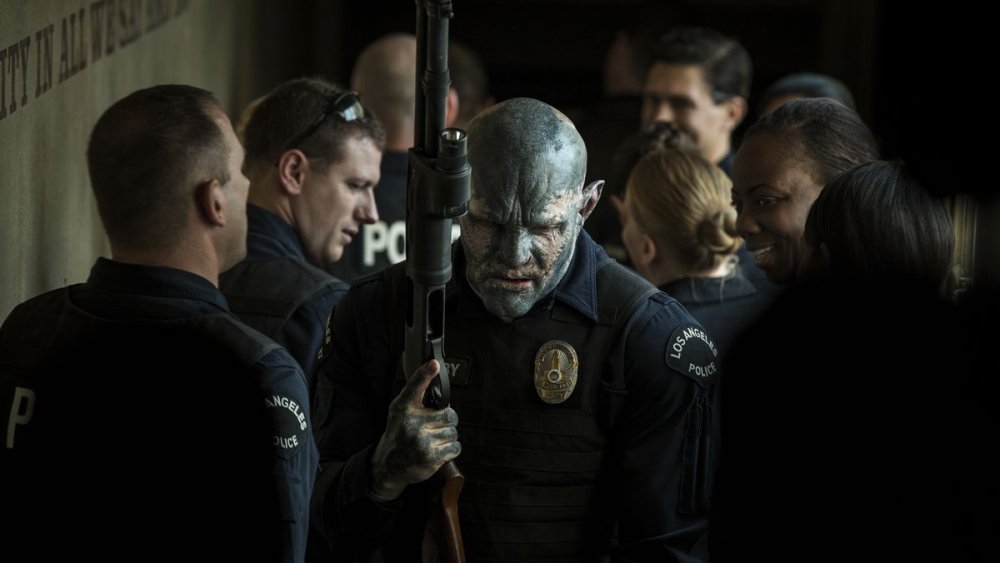 In Lucifer, it often takes a display of supernatural ability, wings, red flashing eyes, or full-on demon faces to convince humans that they are, in fact, talking to the Devil. But in Bright, beings like orcs, elves and fairies not only walk among humans, they do so openly (if not always smoothly.)
Human LAPD officer Daryl Ward (Will Smith) is less than pleased to be teamed with the first orc cop in the U.S., Nick Jakoby (Joel Edgerton). Not only are orcs looked down on by the other races, but Ward suspects that Jakoby helped an orc who was suspected of wounding Ward to escape arrest.
One night, the duo is called to a disturbance which leaves only one survivor: an elf girl, Tikka (Lucy Fry). She has a magic wand, a rare object which most beings cannot wield without dying. Those who can are called Brights. It turns out she's protecting the wand from a group of beings who are trying to resurrect the defeated Dark Lord, a figure many don't even believe exists. The trio are hunted, they escape, they fight various enemies, and Ward and Jakoby ultimately become friends and understand each other better.
Jakoby isn't the Devil or a demon, like Lucifer, but if you enjoy watching an LAPD officer solving crimes of an existential nature alongside beings that are not entirely of this world, Bright is a fun way to do it.
Like Lucifer, The Witches walk among humans in a cunning disguise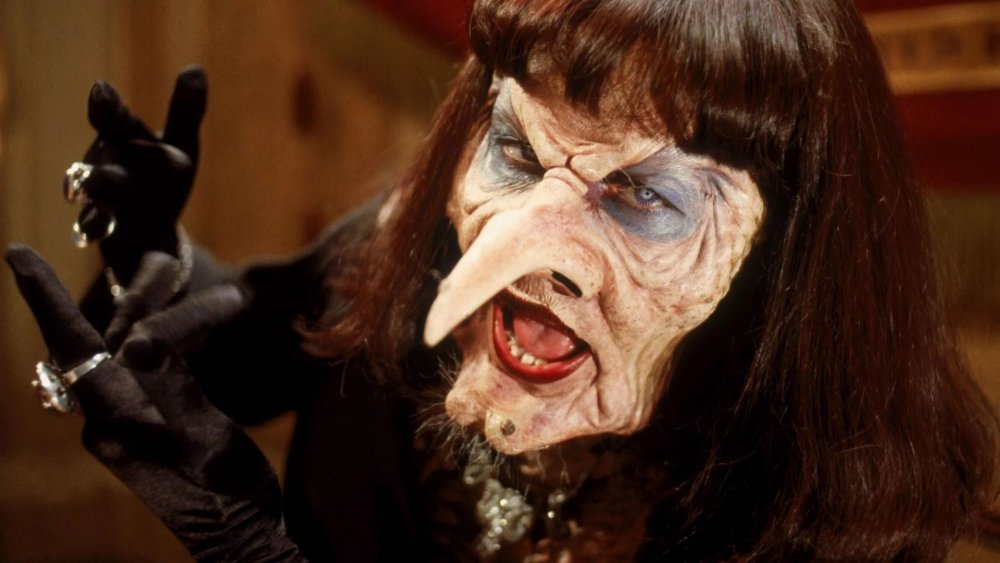 If you believe TV and movies, humans scare easy, so it's necessary for supernatural beings to hide their real, terrifying likenesses in clever disguises. This is true for Lucifer and for the witches in The Witches, an adaptation of Roald Dahl's children's book. (If you've spotted the Charlie and the Chocolate Factory details that only adults notice, you already know that Dahl stories are creepier than your average kid-friendly yarn.)
Orphan Luke (Jasen Fisher) is warned about witches by his grandmother Helga (Mai Zetterling). They hide their large claws, toeless feet, oversized nostrils and bald heads under disguises — and they hate children.
On vacation, Helga and Luke unknowingly book into the same hotel as a convention of witches. Luke discovers their plot to turn all the children in the world into mice by spiking candy with a magic potion. Before he can warn anyone, the witches catch him and force him to drink the potion, turning him into a mouse. However, with Helga's help, Luke tricks the witches into eating soup dosed with the potion. They all turn into mice and are killed by the hotel staff — except one disillusioned witch, who transforms Luke back into a human.
Anjelica Huston reclaims her throne as the Queen of Family Horror as the Grand High Witch. The Witches is as fun and silly as Lucifer, with a touch of The Goonies.