What The Cast Of Demolition Man Is Doing Today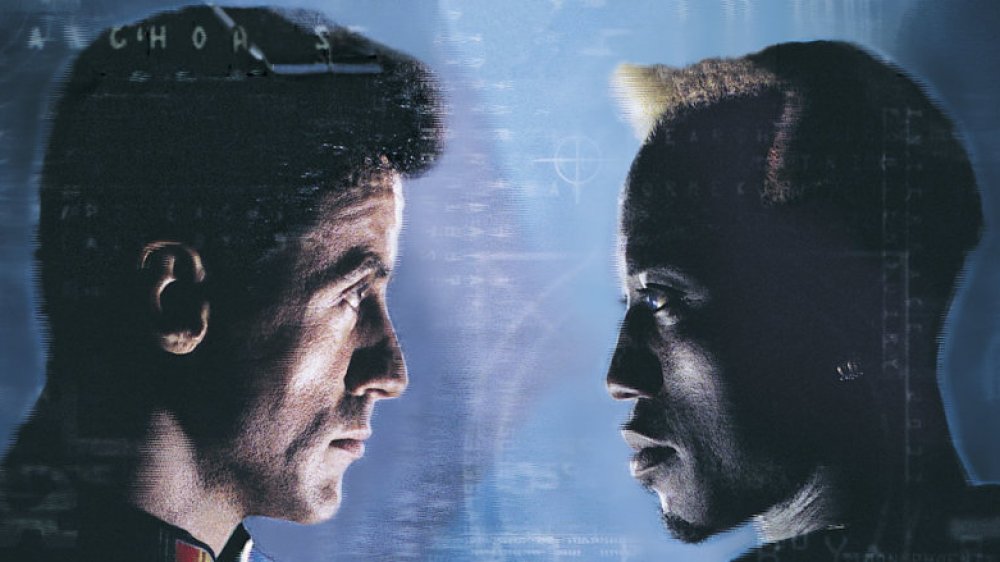 In 1993, Marco Brambilla made his directorial debut with the sci-fi action film Demolition Man. Sylvester Stallone stars as John Spartan — a former Los Angeles cop cryogenically frozen in the year 1996 as punishment for the deaths of civilians he was trying to save from his nemesis Simon Phoenix (Wesley Snipes). When Phoenix unexpectedly escapes in the year 2032, he finds a world unprepared for him. Violent crime has been completely eradicated and even the police of this supposedly utopian future have no idea how to handle him. Spartan is unfrozen to help the authorities catch Phoenix, and along the way Spartan discovers some of the bizarre ways in which the world has changed: In 2032, every restaurant is Taco Bell, people are disgusted by physical contact with each other, and toilet paper has been jettisoned for the mysterious Three Seashells.
In a lot of ways, Demolition Man has proven more prophetic than anyone involved in the film ever meant it to be. But that isn't the only reason it remains relevant. Along with the unique world-building and entertaining action, one of the keys to Demolition Man's success was a great cast. And unlike a lot of films that are more than a couple of decades old, a lot of cast are still very much active in the entertainment industry — one of them was even governor of Minnesota!
For more specifics, keep reading to learn what the cast of Demolition Man is doing today.

Sylvester Stallone is still going strong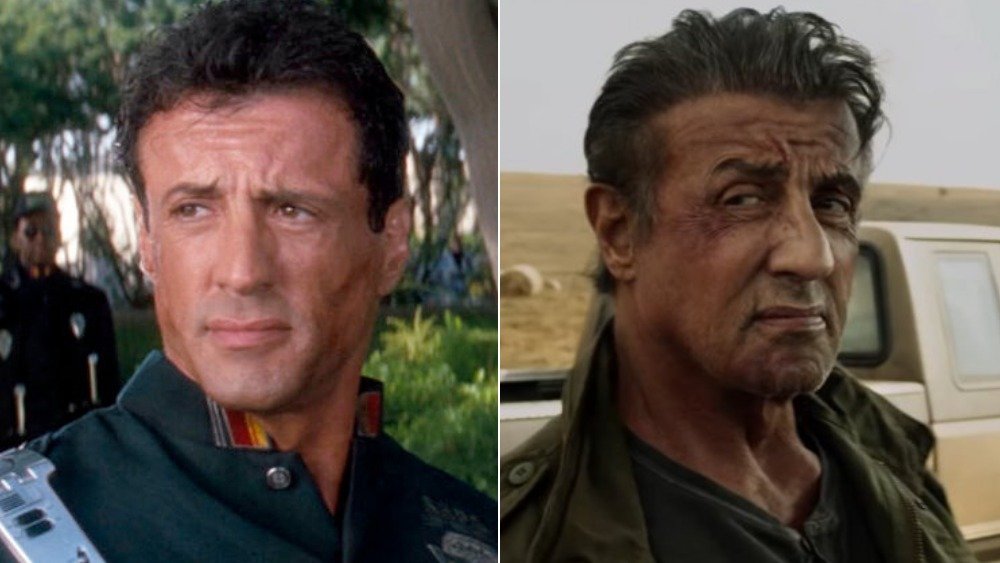 While you can't exactly say Sylvester Stallone "hasn't aged a day" since he played John Spartan, if you were to say he hasn't slowed down at all, that'd be a tougher claim to counter. Decades have passed since the release of Demolition Man, and Stallone still has a pretty full work schedule, with many projects that seem just as physically demanding as the 1993 flick. Among other things, he still stars in the action star battle royale Expendables franchise, as escape artist Ray Breslin in the prison action thriller Escape Plan movies, and in 2019 he ended the Rambo series with Rambo: Last Blood. Not to mention that while he isn't the one in the ring anymore, he continues to reprise the iconic role of boxer Rocky Balboa as Adonis Johnson's (Michael B. Jordan) manager in the Creed films.
Apparently, he isn't quite done with the role of John Spartan, either. In a May 2020 Instagram video, Stallone told his followers that Demolition Man 2 is in development. "We're working on it right now with Warner Brothers," Stallone said. "It's looking fantastic. So that should come out, that's going to happen." In fact, it's possible a sequel could've happened much sooner, but Stallone and Warner Bros. had some issues to work out. Stallone sued the studio in 2017, claiming it still owed him millions from his percentage of the profit gross. They reached an undisclosed settlement in 2019, presumably opening the doors to discuss the sequel.
Wesley Snipes has had a rocky road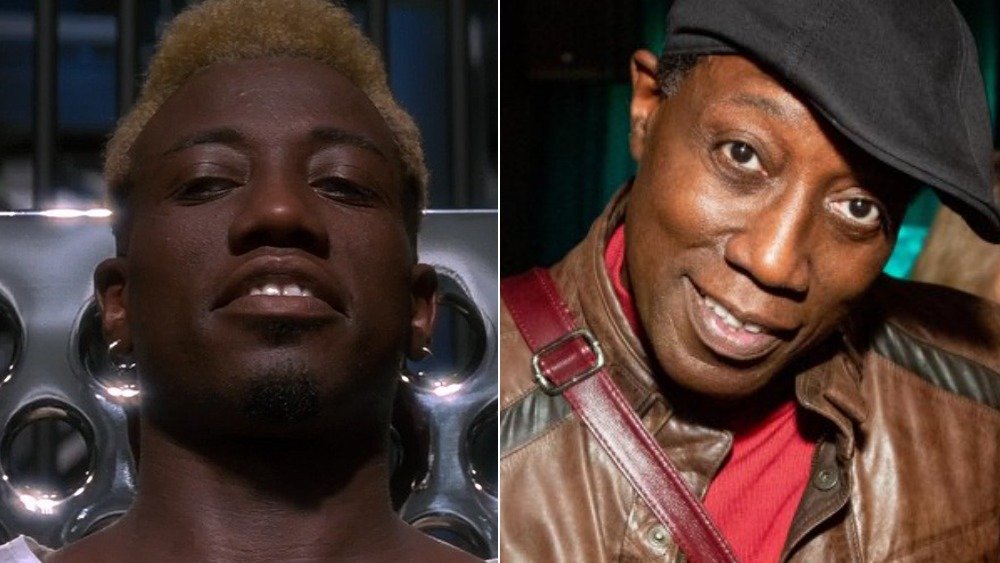 Getty Images
Wesley Snipes kept himself busy through the '90s and early aughts, most notably in a trilogy of films as the Marvel Comics vampire hunter Blade. However, during that time Snipes earned a reputation for being difficult to work with, particularly while making 2004's Blade: Trinity. Snipes' Trinity co-star Patton Oswalt dished on the lead's bizarre on-set behavior in a 2012 AV Club interview. In a scene now famous for its horrible CGI, Snipes refused to open his eyes and so a digital, obviously fake rendering was used. 
The United States government dropped a serious hurdle in his career path when Snipes was convicted on three counts of willful failure to file federal income tax returns and was sentenced to three years in prison. Snipes served out most of his sentence in a medium-security federal prison, and was released in April 2013 to serve his final 3 months under house arrest. 
Since his release, Snipes has been working to rebuild his career. He scored regular spots on the short-lived crime drama The Player and as ruthless executive Damon Moore in Paper Empire. Among other films, he starred in 2014's The Expendables 3, the Netflix original film Dolemite is My Name, and signed on for the Eddie Murphy-led sequel Coming 2 America. While in 2019 it was announced that it would be Mahershala Ali who would play Blade in the MCU, Snipes reprised the role in a cameo for the vampire mockumentary series What We Do in the Shadows. 
Demolition Man was just the start of Sandra Bullock's career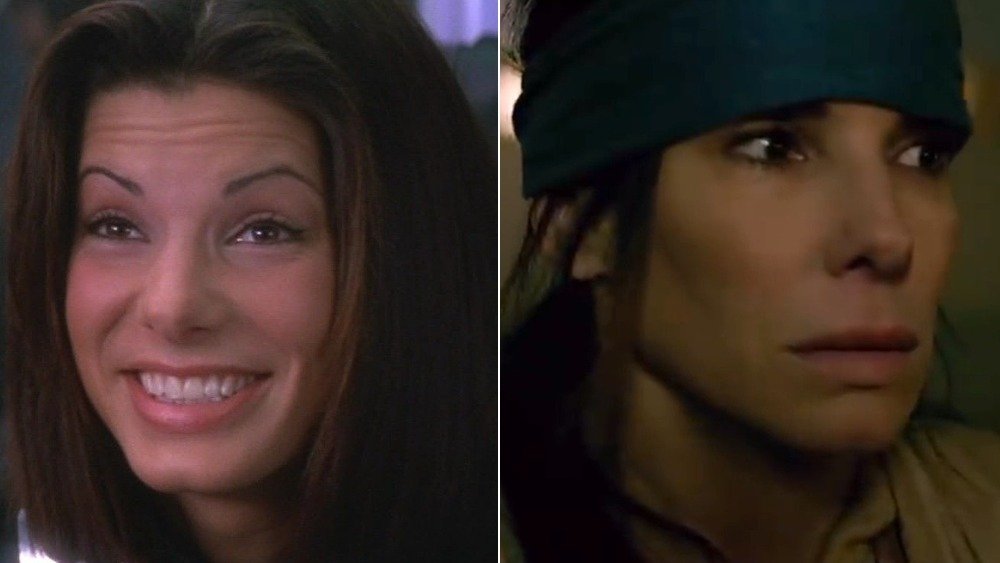 Sandra Bullock wasn't the household name she is now when she played San Angeles Officer Lena Huxley in Demolition Man. In fact, she wasn't even the first choice for the role: Lori Petty was initially tapped to play Huxley, but was fired a few days into filming. A year after Demolition Man, Bullock scored her breakthrough role opposite Keanu Reeves in the action thriller Speed; since then, the arc of her career has mainly gone in one direction — up. Some of her more memorable roles include a passionate law student in the 1996 legal drama A Time to Kill, an FBI agent undercover at a beauty pageant in 2000's Miss Congeniality, and an executive who pushes her assistant into giving her a green card marriage in 2009's The Proposal. 
Bullock won her first Oscar for Best Actress for her role in 2009's The Blind Side, in which she plays Leigh Anne Tuohy, who takes in the homeless Michael Oher (Quinton Aaron). She would later be nominated in the same category for the tense 2013 thriller Gravity, in which she plays Ryan Stone, an astronaut adrift in Earth's orbit. In 2018, she starred as Debbie Ocean in Ocean's 8 — the first female-led entry in the Ocean's franchise — and as Malorie in the Netflix original post-apocalyptic thriller Bird Box.
Benjamin Bratt remains a regular fixture on the big screen and TV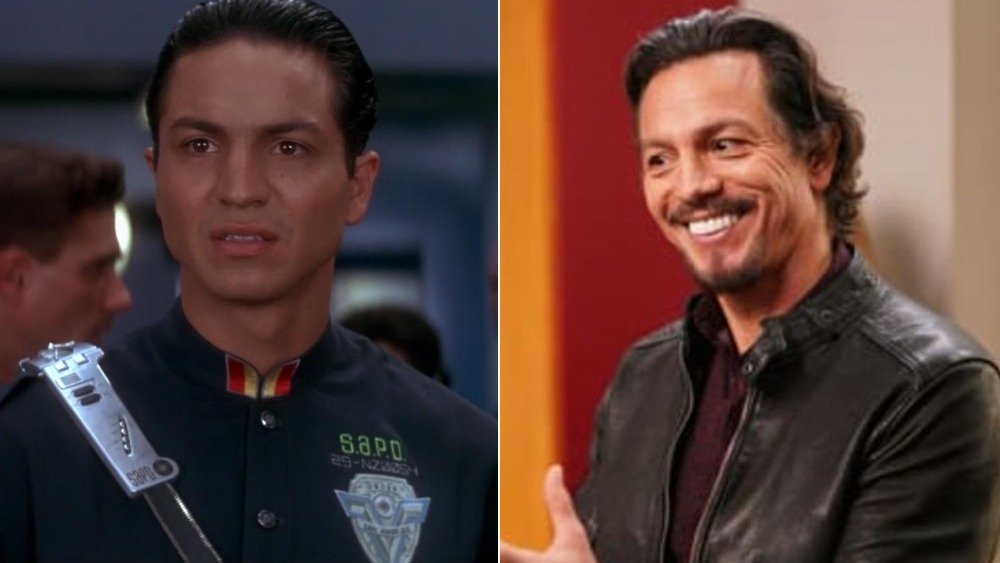 If you only see Demolition Man after some of Benjamin Bratt's later work, it's a little surprising. Bratt usually plays fairly confident guys, while as Demolition Man's Officer Alfredo Garcia, he's initially just as shaken and unprepared for the news of the MurderDeathKills spread by the escaped Simon Phoenix as everyone else. By the end of the flick — after spending enough time with John Spartan and Edgar Friendly (Denis Leary) — he seems just as enthused about wielding Spartan's 20th century brand of violence as Lena Huxley.
Demolition Man was one of the films that altered the course of Bratt's career. He was offered more high-profile film work after Demolition Man, which ultimately led to one of the roles he'll likely be remembered for — Detective Rey Curtis on Law & Order. He's continued to work on film and TV since leaving Law & Order behind, including playing the drug lord Juan Obregón in the acclaimed 2000 crime drama Traffic and a recurring role as the often irresponsible and disappointing bio-dad of Manny (Rico Rodriguez) on the sitcom Modern Family.
Bratt's also got some impressive voice work under his belt. He was the voice of cameraman Manny in 2009's Cloudy with a Chance of Meatballs and the 2013 sequel, a more ruthless version of Superman in 2015's Justice League: Gods and Monsters, the villainous El Macho in 2013's Despicable Me 2, and famous musician Ernesto de la Cruz in 2017's Coco.
Nigel Hawthorne left a heavy mark on the worlds of stage and screen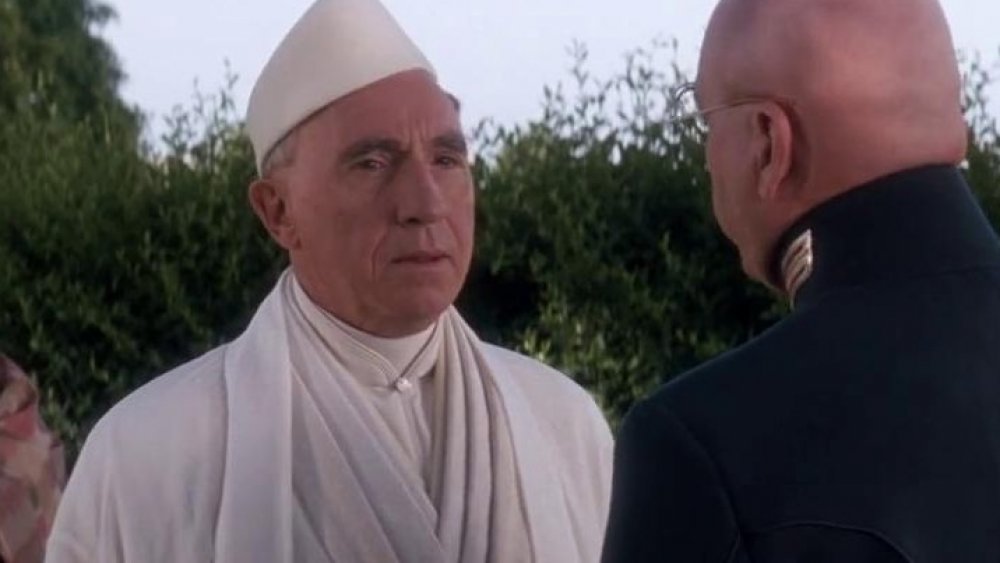 While the greatest physical threat to any of the heroes of Demolition Man may be Simon Phoenix, the true villain is Dr. Raymond Cocteau — the architect of this "brave new world," and the man who secretly arranges for Phoenix to be released from prison so he can assassinate Edgar Friendly. Cocteau is played by Sir Nigel Hawthorne, an accomplished veteran of stage and screen who began his career in the '50s. 
In the decade following Demolition Man, Hawthorne starred in some of the roles for which he would be most fondly remembered, including the spineless President Martin Van Buren in Steven Spielberg's 1997 historical drama Amistad and the mentally ill King George III in 1994's The Madness of King George. He was nominated for an Oscar for Best Actor for his portrayal of George III, and in the lead-up to the awards ceremony he was outed as gay in the press. In spite of a reputation as a very private man, Hawthorne confirmed the reports during the ceremony and would later be more open about his sexuality, in interviews as well as his autobiography Straight Face. 
Sir Hawthorne is, sadly, no longer with us. He passed away from a heart attack in 2001 after a battle with pancreatic cancer. 
Denis Leary is still eating meat and proud of it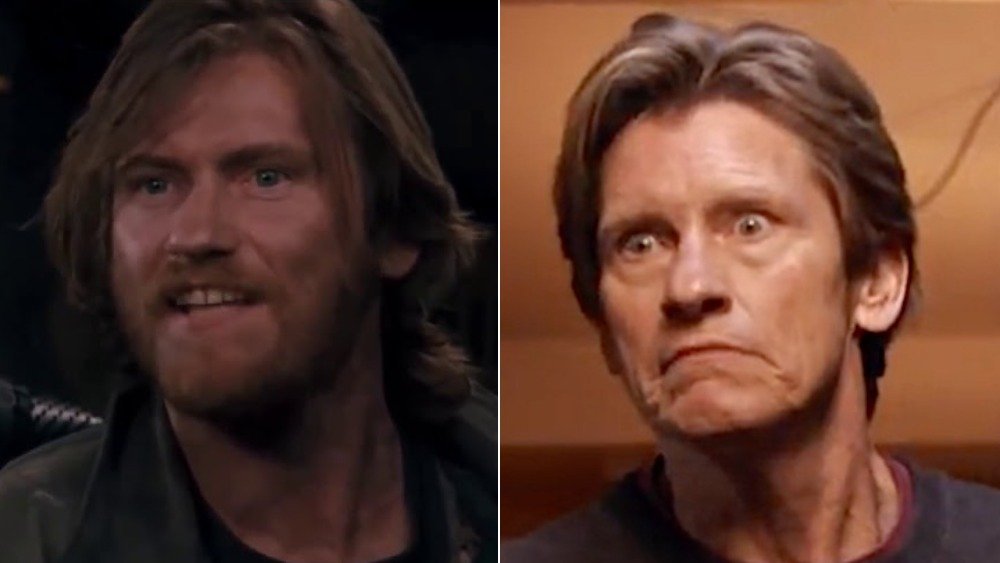 When Demolition Man was released, Denis Leary was at the height of his popularity. He had become a regular fixture on TV, having gained notoriety for his provocative stand-up special No Cure for Cancer which featured him delivering his bits while chain-smoking, and even getting his own MTV Unplugged special. In Demolition Man he plays Edgar Friendly, a man who leads the underground "rebels" who refuse to live by Dr. Cocteau's rules. They swear, they touch, and they eat meat. Unsurprisingly, right after John Spartan finds Friendly in the sewers, Leary does a bit of his stand-up for the heroes. 
In the mid-'90s and early aughts, most of Leary's work stayed on the big screen. Some of his more memorable film roles in this period were the thief Gus who takes a family hostage and consequently forces them to confront their biggest problems in 1994's The Ref and Detective Michael McCann in the 1999 thriller The Thomas Crown Affair. 
In the mid-aughts Leary began to focus more on television, most notably on the dramedy Rescue Me, following the lives of New York City firefighters. Along with playing the lead Tommy Gavin, Leary created the series, wrote for it, and produced it. He took a similar hands-on approach with the less successful Sex & Drugs & Rock & Roll in which he played an aging rock star. His most recent TV work is as the lead in The Moodys — an American remake of a hit Australian sitcom. 
Rob Schneider remains Rob Schneider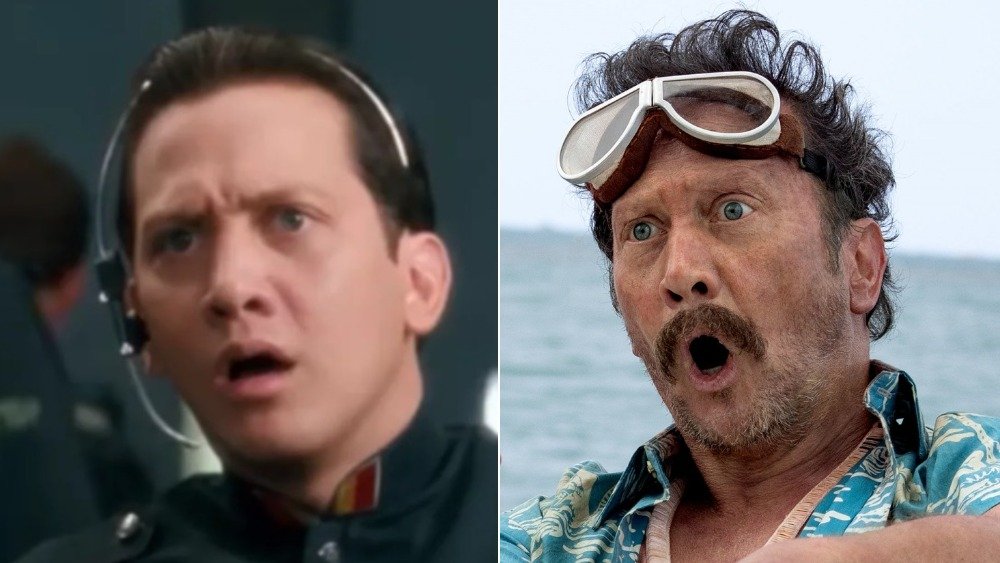 When he played Officer Erwin in Demolition Man – the man who, among other things, is the first to cackle at the realization that the macho John Spartan has no idea how to use the Three Seashells — he was still a regular on NBC's Saturday Night Live. He left the comedy sketch show in 1994, and his first post-SNL film was yet another futuristic action flick led by Sylvester Stallone: Schneider starred as the comic relief hacker Fergie in 1995's Judge Dredd, a film known for one of the worst comic book hero casting decisions ever. 
In the late '90s and early aughts Schneider made a stab as a leading man in comedy. His 1999 film Deuce Bigalow: Male Gigolo was a hit, though most of his following attempts — including the 2005 sequel Deuce Bigalow: European Gigolo – either flopped or barely broke even. Still, Schneider's never stopped working, though in most cases he's played relatively minor roles, often with other SNL alums. In 2020, he starred in the Netflix original The Wrong Missy alongside David Spade. 
Schneider's also made a couple of attempts to dramatize his real life on television, though neither has seemed to stick. Rob was canceled by CBS after a single season. Netflix's Real Rob's second season became available for streaming in 2017, with no word of whether or not the series will continue.
Glenn Shadix suffered more than his share of tragedies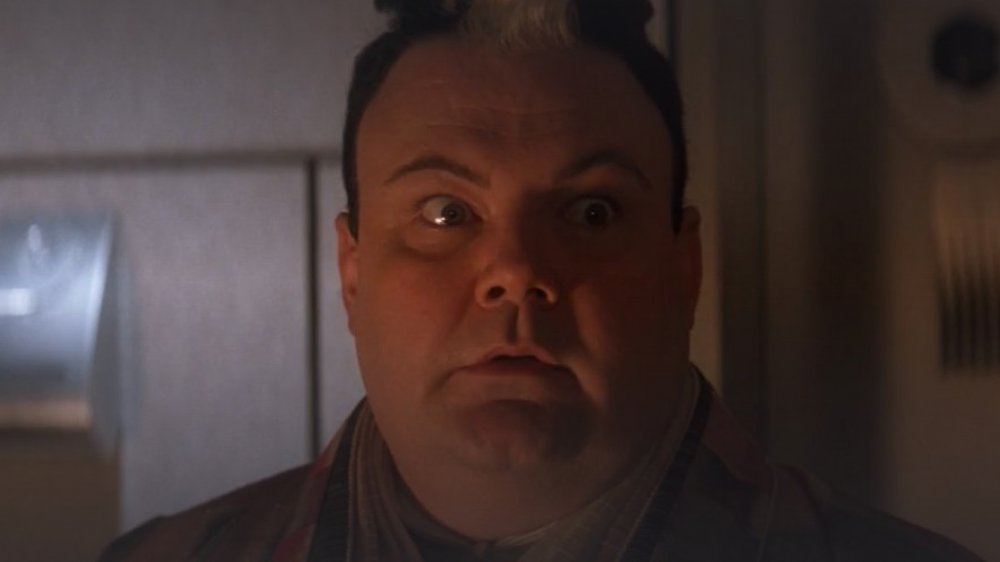 Glenn Shadix played Bob in Demolition Man – the personal assistant to Dr. Cocteau, and one of the only other people who knows about his superior's secret alliance with Simon Phoenix. Towards the end of the movie when Cocteau is murdered, Bob quickly makes himself valuable enough to Simon Phoenix and his goons to save his own skin. Even if you've never seen Demolition Man, you may remember him from an earlier film — he played the interior decorator and amateur paranormal investigator Otho in the 1988 comedy Beetlejuice. 
While you may have seen Shadix in work after Demolition Man – e.g. as the building inspector in 1996's Multiplicity, as Val Templeton in the HBO series Carnivàle, or in any number of TV one-offs — it's much more likely you've heard his work. The same year he appeared in Demolition Man, he was the voice of the Mayor in The Nightmare Before Christmas. Between the early '90s and mid-aughts he built a prolific voice acting career. He voiced the alien Nimbar in Tattooed Teenage Alien Fighters from Beverly Hills, the loan shark Lonnie on The Mask cartoon, and both the Brain and Monsieur Mallah on Teen Titans. 
After retiring from Los Angeles, Shadix tragically lost his Alabama home to a fire in 2008. Two years later, he passed away after falling and hitting his head on his kitchen floor. He was 58.   
Troy Evans copes with handshakes better these days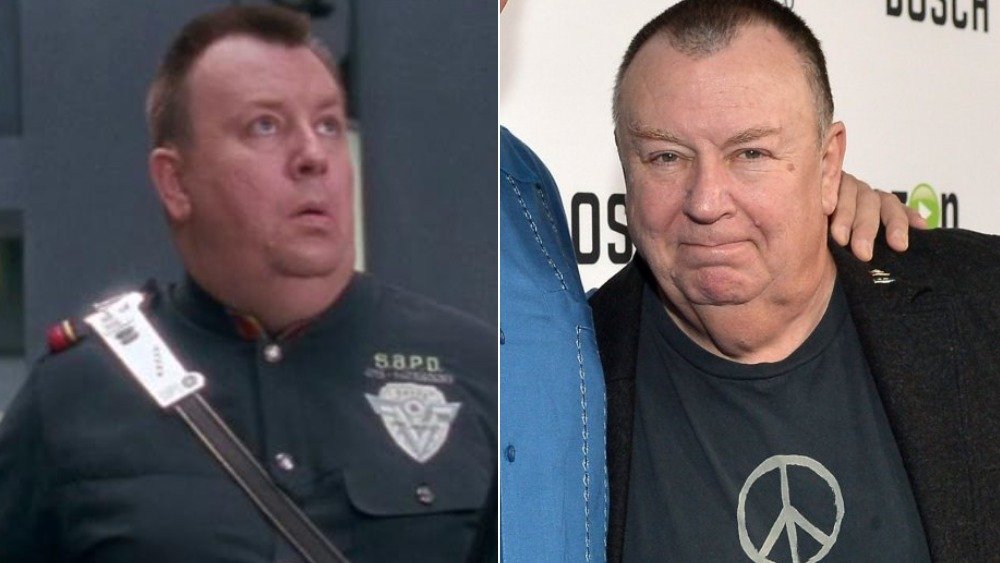 Troy Evans doesn't exactly have a huge role in Demolition Man. In fact, we never learn his name. The credits list him as "Tough Cop," though considering the police of 2032, it seems likely the word "tough" is being used relatively. Evans does, in spite of his small role, represent something of a landmark in the life of John Spartan. He's the first person Spartan touches — shaking his hand when Evans' character introduces himself — an act that shocks the gathered police since any kind of physical touch is taboo in this "utopian" future.
Evans has been a character actor for years and he's still working regularly on the big and small screens. The year after Demolition Man he appeared in the comedy Ace Ventura: Pet Detective as Roger Podacter — the Miami Dolphins' head of operations and a murder victim early in the film. Any ER fans should recognize him as Frank Martin, the desk clerk at County General Hospital. In more recent years he landed the recurring role of LAPD's Detective Barrel Johnson of the Hollywood division on the Amazon Prime original police procedural Bosch.
Bob Gunton is still playing people you don't like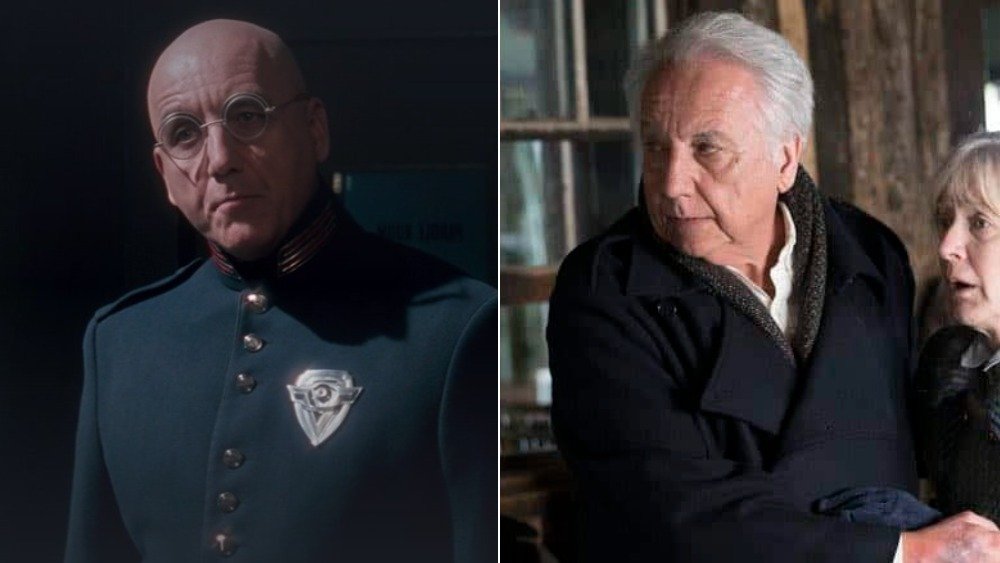 No cop movie — whether it takes place in a future where old commercial jingles are on the pop charts or not — is complete without a belligerent superior who's ready to take the hero's badge and gun at a moment's notice. In Demolition Man, that honor goes to Bob Gunton, who plays San Angeles police chief George Earle, an intolerant bureaucrat who's ready to throw John Spartan right back in the freezer as soon as he thaws out.
Gunton is a fantastic character actor who's been working in the entertainment industry since the early '80s. Some of his most well-known roles include Presidential cabinet member Ethan Kanin on the thriller 24 and the crime lord Leland Owsley on Netflix's Daredevil. But the role most remember him best for is one that came a year after Demolition Man – the tyrannical and terrifying Warden Norton in The Shawshank Redemption.  
He continues to keep busy mostly in one-offs and recurring television roles for series like The Blacklist, Project Blue Book, and Elementary.
Jesse Ventura ran for governor, and won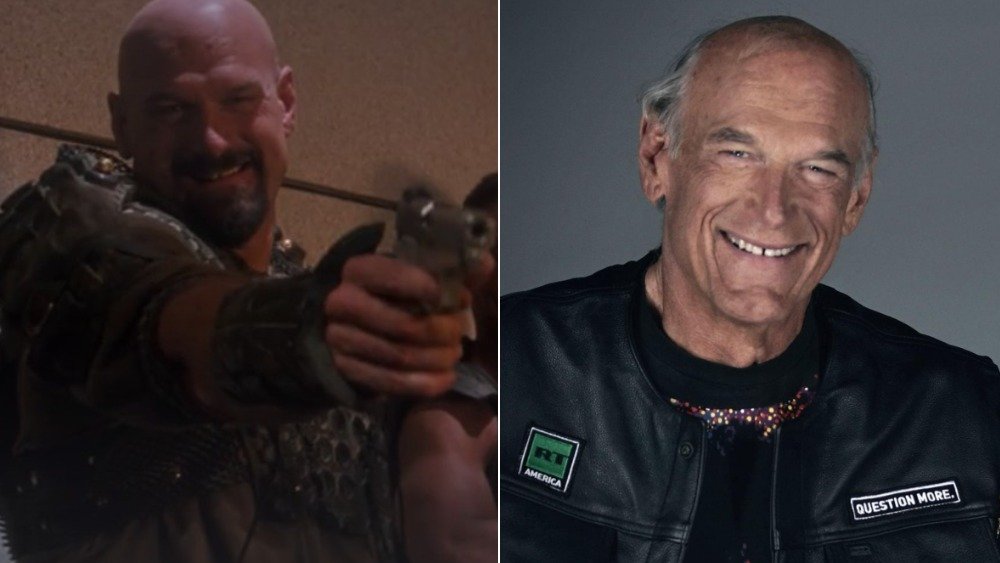 Former pro wrestler Jesse Ventura doesn't have a central role in Demolition Man. He's merely the most recognizable of Simon Phoenix's unfrozen henchmen. But his character does have the honor of being the one who murders Raymond Cocteau at Phoenix's orders. 
After Demolition Man, Ventura's non-wrestling acting work wasn't very extensive, though there are some fairly memorable roles. He played himself in 1994's Major League II, an Arkham Asylum guard in the great superhero bomb Batman & Robin, and a bizarre Man in Black partnered with Jeopardy! host Alex Trebek in an episode of The X-Files. He hosted a number of shows, including TruTv's Conspiracy Theory with Jesse Ventura and Ora TV's Off the Grid.
In a move that few might have guessed while he was still in the wrestling ring, Jesse Ventura became a politician. In fact, when he appeared in Demolition Man, he was also serving as the Mayor of Brooklyn Park, Minnesota. In 1998, he shocked everyone by winning the gubernatorial race of Minnesota under the banner of the Reform Party. His term as Minnesota Governor ended in 2003, when he declined to run for reelection.