The Untold Truth Of Jeopardy!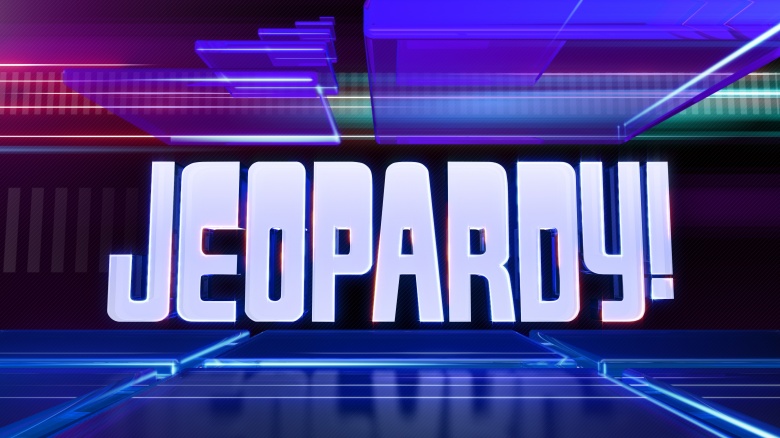 After its initial run in the 1960s and 1970s, Jeopardy! returned to TV in 1984. Ever since, it's aired nightly in syndication across the country, consistently ranking as one of the most-watched game shows on TV. Part of its appeal lies in its reverse format: contestants are given answers and have to provide the questions to match, always making sure to phrase their response in the form of a question. 
But perhaps the greatest secret to the show's success was longtime host Alex Trebek, who sadly passed away on November 8, 2020, after a battle with stage 4 pancreatic cancer. Here's a look behind the scenes of one of the fastest-moving — and toughest — game shows in TV history.
It helped revive the TV quiz show
In the early 1960s, the TV game show was virtually dead — the quiz show cheating scandal of the 1950s meant networks and audiences alike no longer believed question-and-answer shows were legitimate. Nor were networks keen on producing shows under new, strict Federal Communications Commission guidelines to ensure that game shows were fair and real. But in 1963, TV producer, talk show host, and musician Merv Griffin had an appointment to pitch new shows to NBC, and he thought the time was right for a revival. He knew that for the network to bring a new game show into production it would have to have an irresistible hook.
Griffin credits his wife Julann for giving him the idea that put his proposal over the top. While on a flight from Minnesota to New York, she suggested a show in which the contestants are given the answers by the host, and they had to come up with the questions. (A somewhat similar show called CBS Television Quiz aired from 1941 to 1942, but as TV only reached a few thousand people at the time, it's unlikely either Griffin had ever heard of it.) NBC loved the idea, and the first iteration of Jeopardy! went on the air as part of NBC's daytime lineup in 1964. It ran for 11 years and was hosted by Art Fleming, who also hosted two unsuccessful revivals in 1974 and 1978. The current version debuted in 1984 with host Alex Trebek, along with a more modern-looking set: answers and questions appeared on TV monitors instead of pre-printed on cardboard signs. At the time of Alex Trebek's death in 2020, he had hosted the show for a record-setting 36 consecutive seasons.
Why Jeopardy! returned in the 1980s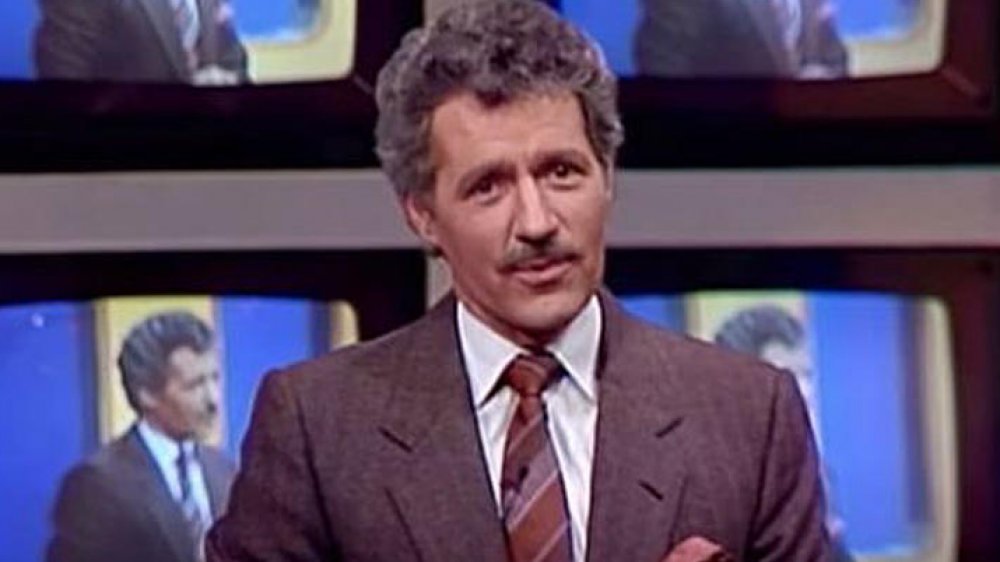 Jeopardy! had run on television for over a decade in its original, Art Fleming-hosted version in the '60s and '70s. Then it reappeared briefly in the late '70s, only for creator Merv Griffin to revive it in the mid-1980s, just in time for the fall 1984 TV season and with host Alex Trebek, at the time best known to American audiences for the NBC daytime game show Battlestars. There was little that suggested a new Jeopardy! would work or if it was even something fans wanted. However, the impetus for getting what would turn out to be one of the longest-lasting programs in TV history (36 seasons and counting) was that Griffin wanted to cash in on the success of his other game show, one with a much different (and arguably easier) format. 
See, Griffin had brought Wheel of Fortune into pre-primetime TV in 1983. That show, hosted by Pat Sajak and Vanna White, had proven extremely popular, ranking as the #1 show in syndication, and Griffin wanted to pair it with another show to offer stations a full hour of evening game show entertainment. All these years later, Jeopardy! and Wheel of Fortune are still produced in the same facilities, and they air in tandem on numerous TV stations. Evidence would also suggest that Jeopardy! became as big as it did because, in the mid-1980s, America was in the middle of a trivia craze, brought on by the popularity of the board game Trivial Pursuit.
Becoming a contestant is a rigorous process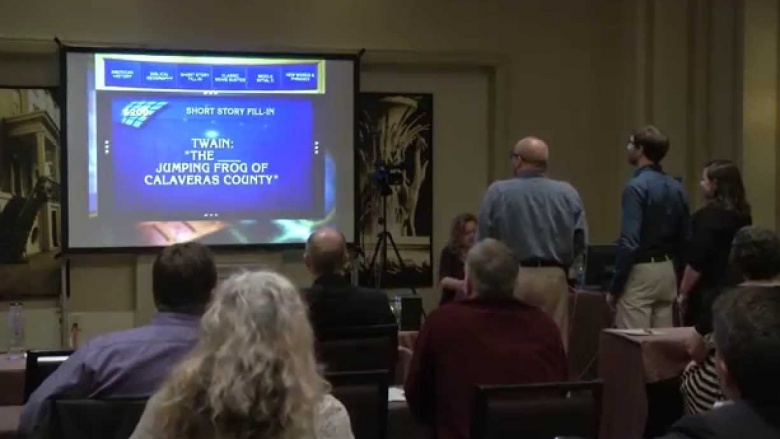 Each year, Jeopardy! offers a contestant test online. It consists of 50 general knowledge questions, and applicants have about 15 seconds to answer each question. If the contestant does well enough (they probably have to get close to 100 percent), a few weeks later they'll be contacted by a contestant coordinator and invited to a live audition with 20 to 30 other people, held in hotel ballrooms in a handful of cities. It's up to the potential contestant to get themselves to the grueling, three-hour, three-part audition. Part one is another 50-question written test. Part two is a mock game of Jeopardy!, including a computerized board and buzzers, just like on TV. Scores aren't kept—it's a test to see if contestants speak loud and clear, don't freeze up, and keep the game moving along. Part three is an interview with a panel of producers.
The point of the whole rigamarole is basically to see if the contestant is engaging enough to make for good TV. If they do well with all three tests, a month or two later they'll get another phone call with the news that they're officially in the Jeopardy! contestant pool. Sometime within the next 18 months, they'll get yet another call inviting them to come to Culver City, California on a specific date to tape their episode. Again, the contestant has to get there on their own dime. Out of an estimated 100,000 people that take the Jeopardy! test, only 3,000 get an audition. And out of those 3,000, only 300 make it onto the actual show. That's a 0.3 percent success rate.
Let's meet the contestants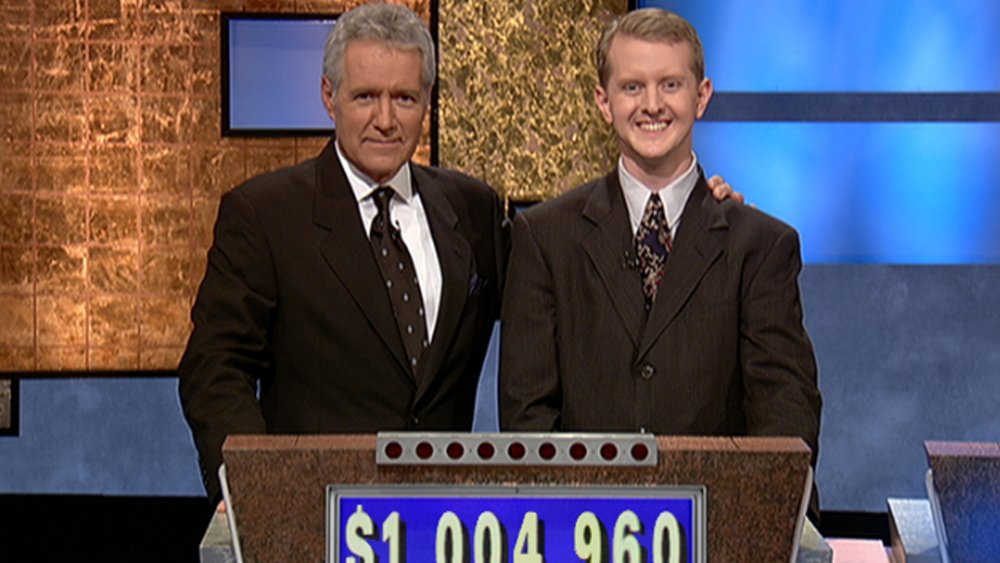 Getty Images/Getty Images
Auditioning for Jeopardy! involves more than just showing off one's smarts and the ability to buzz in really fast. Contestants also have to prove to producers that they'll make good TV. After all, at the end of the day, Jeopardy! is a form of broad, mainstream, widely appealing entertainment. So how do the producers figure out who will make an fascinating contestant?
Well, prospective Jeopardy! players fill out forms with plenty of personal information. Jeopardy! producers want to know what makes contestants interesting — weird family stories, how they met their spouse, a quirky celebrity encounter, strange talents, weird accomplishments, and other such conversation starters. Whatever jumps out becomes the basis of the contestant's personal story during that segment in the middle of each Jeopardy! episode when the gameplay comes to a halt. 
It was here that host Alex Trebek would chat with the players for a little while. Prior to this, producers would give Trebek a card that listed a few of the interesting stories contributed by the contestant and which one he'd actually ask about would be entirely up to him in the moment.
Alex Trebek and the contestants were kept far apart from each other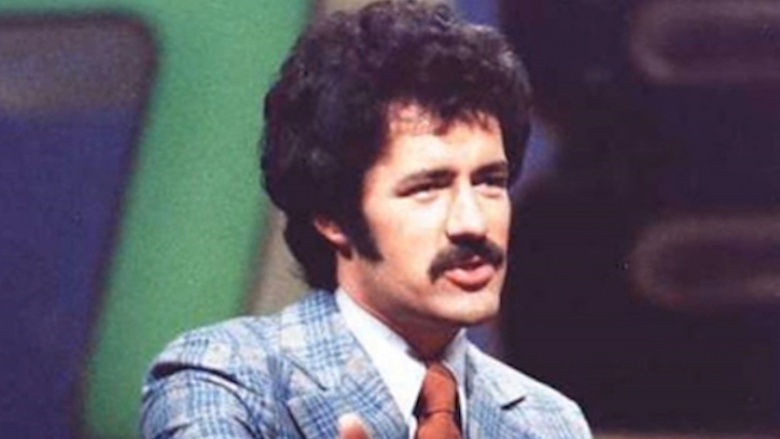 Since the quiz show cheating scandals of the 1950s, game shows like Jeopardy! have had to be very transparent to make sure no cheating occurs. Under FCC rules, quiz show hosts must not interact with contestants at all before the game. To that end, host Alex Trebek's dressing room was on the other side of the studio complex, and contestants were kept in a holding area with snacks and water right behind the set. Trebek didn't see the contestants until the episode began taping, the announcer called his name, and he came out onto the soundstage.
Once it begins, the show is shot in real time, with commercial breaks factored into the process. During those pauses, Trebek re-recorded any question reads he may have flubbed during the previous segment, and took questions from the audience — but he still didn't interact with contestants, because the show was still technically taping. At the end of each episode, while the credits rolled, the three contestants stood in the front of the stage, talking with Trebek. Once the credits stopped rolling and the director gave an "all clear," Trebek left the set immediately. To fraternize further would be untoward, as one of the three is still a contestant: the "returning champion" for the next episode.
The secrets of Jeopardy!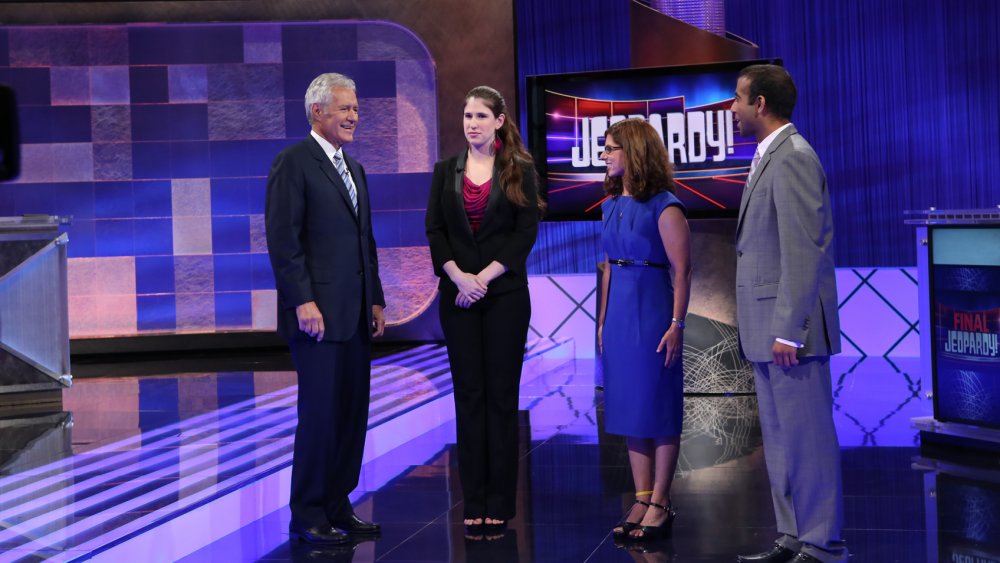 Handout/Getty Images
Jeopardy! is such an enduring classic because it so effectively and attractively delivers what makes a game show so special and irresistible. It features three regular people on a brightly colored, intensely lit stage winning money amidst a futuristic array of video screens, loud sound effects, and a screaming studio audience. All of that is carefully crafted magic, honed into a well-oiled machine after thousands of produced episodes over the years. 
So what's Jeopardy! like behind the scenes? Well, perhaps most notably, Jeopardy! winners don't really return to the show to defend their title the next day. They come back about an hour or two later. According to contestant Terri Pous (via Buzzfeed), an entire week's worth of Jeopardy! episodes tape in one day. Contestants bring a change of clothes in case they need to come back "tomorrow," creating the illusion of time passing. And those mysterious, feared "judges" that Alex Trebek will use to help determine the rightness of a vague response? Those are a couple of the show's question writers and an executive producer.
How do they answer questions so fast?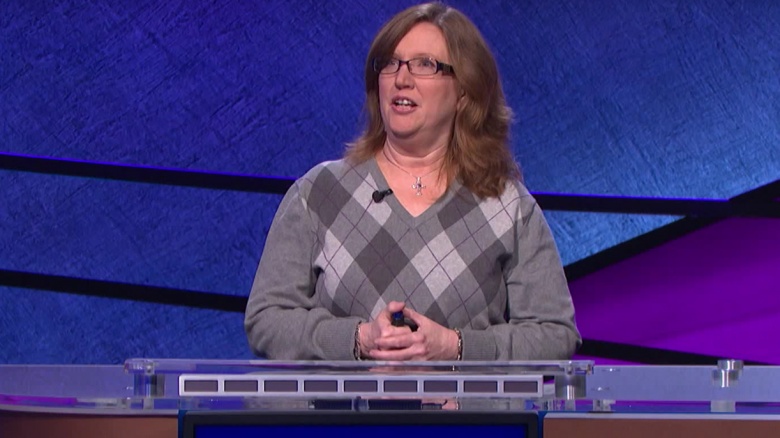 Contestants don't have to read the clue on its little monitor from all the way across the set. Instead, the selected clue fills up the entire bank of monitors, while viewers at home just see the text of each clue fill up their screen. Jeopardy! contestants are generally a smart bunch, not to mention fast readers, so they've got the clue read and a response ready to go before the host has finished reading it. But they have to wait until he stops speaking to ring in with their buzzer: on each side of the monitor bank are a series of lights that turn on as he starts to read. As he goes along, the lights go out one by one, and when he stops, they're all off. Only then do contestants get a chance to ring in. If they try before the lights have all gone out, they're locked out of responding to that clue.
Thinking music is lucrative music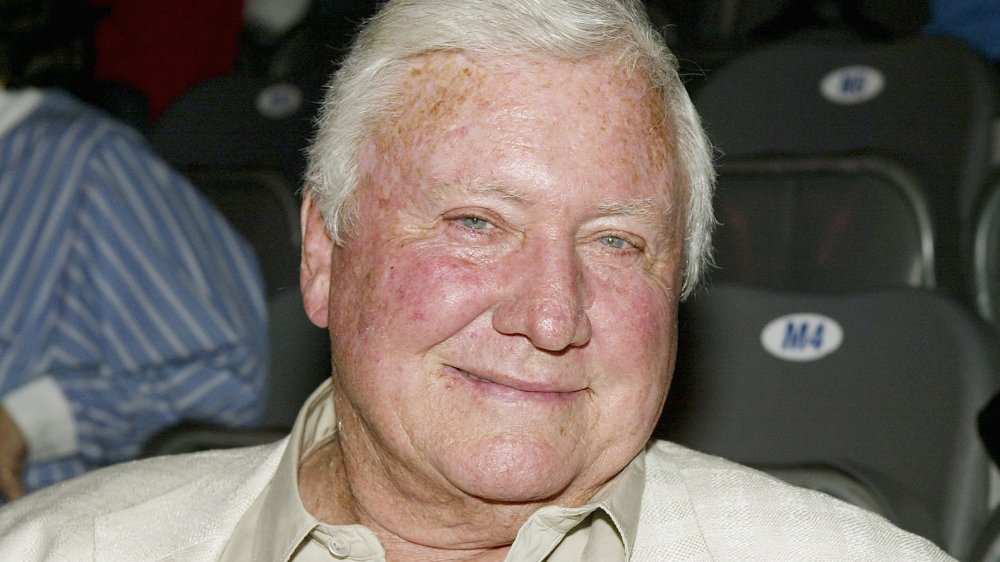 Kevin Winter/Getty Images
Contestants can earn a lot of money on Jeopardy! Winning a single episode can get tens of thousands of dollars, and if they keep on proving victorious in subsequent appearances, then the sky's the limit as far as how much cash can come their way. But it's likely nobody will ever win as much money on Jeopardy! as the show's creator, Merv Griffin, made just from writing the show's theme song. 
Due to music performance rules and regulations, every time an episode of Jeopardy! used the tune — either in its fanfare-enhanced form at the beginning or end of the show or in its stripped-down, urgent form underscoring the "Final Jeopardy" response-writing time — Griffin got paid. By 2005, he estimated to The New York Times that the 30-second piece of music had earned him somewhere in the neighborhood of $80 million. That's an incredible return on a time investment. The classic song — which is titled "Think!" — was originally composed by Griffin as a lullaby for his son. Originally called "A Time for Tony," it took him less than a minute to write it.
The prizes: cash and a photograph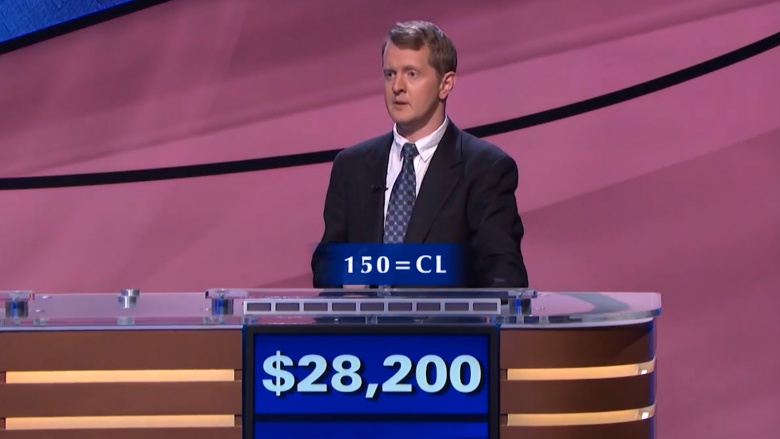 The prize for the first-place contestant is the actual amount on their money board at the end of the game — and they get to keep going on subsequent episodes until they lose. No matter what the board says for the second- and third-place finishers, however, they're awarded a flat amount, even if it's a dollar less than first place, or nothing at all. Second place fetches $2,000 and third place gets $1,000, arriving via check after the contestant's episode airs. Also arriving in the mail, but a few weeks after taping: the show's sole "fabulous parting gift." While Jeopardy! no longer awards cases of Turtle Wax or Rice-A-Roni, contestants do get a special keepsake: A picture frame that says "Jeopardy!" on it, along with a photo of themselves taken on the Jeopardy! set with the host.
Ken Jennings is here to stay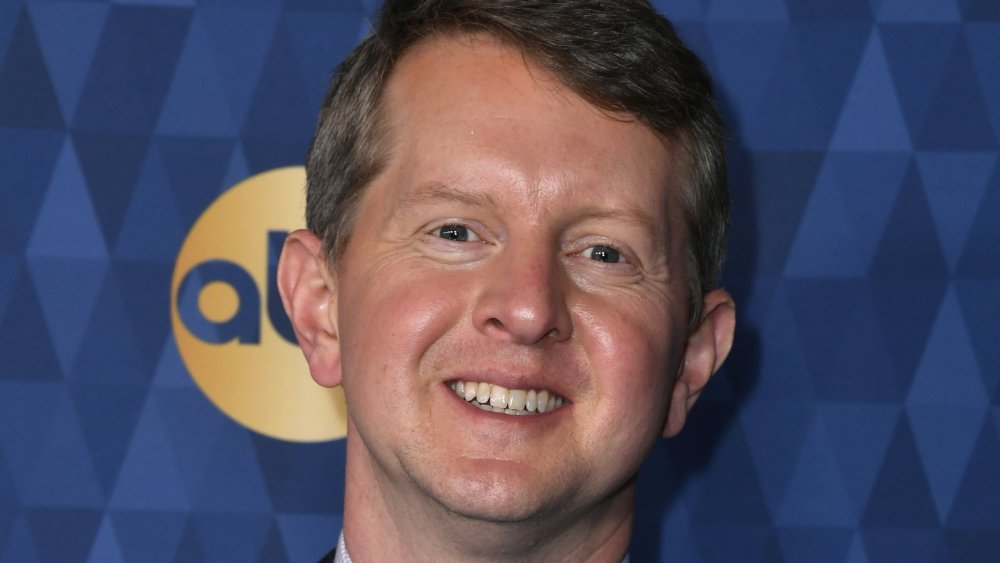 Frazer Harrison/Getty Images
With the exception of host Alex Trebek, the most notable name to ever find lasting celebrity because of their association with Jeopardy! is Ken Jennings. From June to November 2004, the former Salt Lake City-based computer programmer made a run for the ages on the quiz show, winning a remarkable 74 straight episodes and winning a total of $2.5 million. 
Jennings was also a charming, witty, and self-deprecating individual, which only made viewers want to cheer him on more. Jennings reignited interest in what by that point was a 20-year-old game show, and Jeopardy! worked hard to get him back into the fold as often as possible over the next decade and a half. He won an additional $500,000 in an "Ultimate Tournament of Champions" in May 2005, competed against fellow champ Brad Rutter and a supercomputer in 2011, took home $100,000 in the 2014 "Battle of the Decades," another $100,000 in the 2019 "All-Star Games," and finally, in 2020, he took home a cool million bucks when he won Jeopardy's "The Greatest of All Time" primetime-televised tournament in 2020.
Shortly thereafter, and perhaps because there's nobody left for Jennings to beat on Jeopardy!, Jennings actually got a job with Jeopardy! The show hired him as a consulting producer, a role which includes helping get the show together, reading clues on the air in prerecorded videos, and serving as the game's "general ambassador."
They lost on Jeopardy!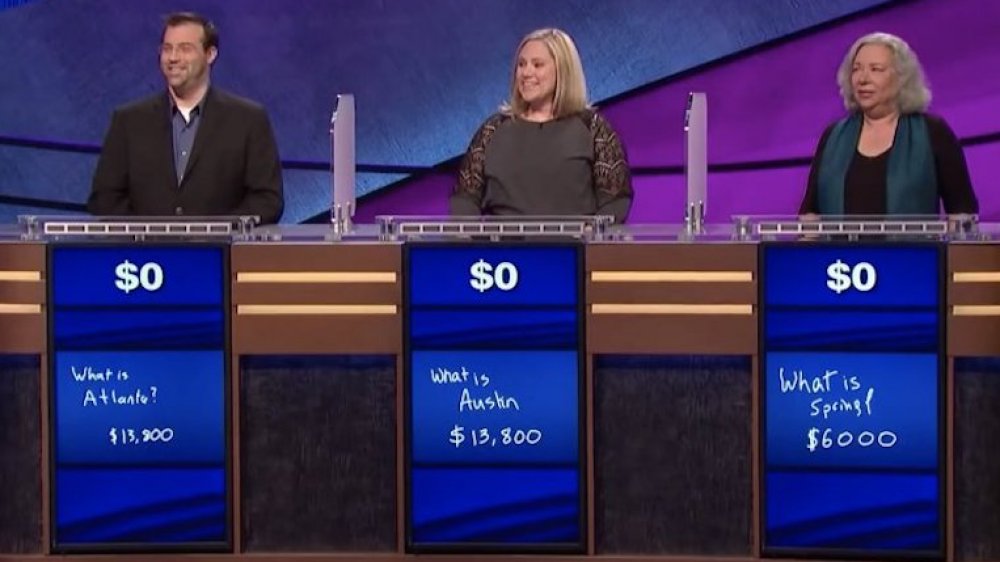 By its very nature as a game show, Jeopardy! follows a tried and true formula in which each episode crowns a winner — the person with the most money after two rounds of regular gameplay and then the one-question "Final Jeopardy" sequence. But not every show works out to that end. About a half-dozen times since the show's beginning, all three contestants walked away with zero cash, either winding up with no money or in the negative dollar figures when all is said and done. (In this situation, there's no "returning champion," and the next episode brings in three all-new contestants.)
For example, in a January 2016 episode, all three contestants entered "Final Jeopardy," with two tied at $13,800 and the other with $6,000. The correct response was Little Rock, Arkansas, as the category was "State Capitals" and the clue concerned the location of the Bill Clinton Presidential Library. Third-place contestant Randi wrote down "Springfield," and since she bet all of her winnings, she lost everything. Co-leader Mike similarly answered incorrectly — scribbling "Atlanta" — and also had wagered everything. Fellow game leader Claudia did the same thing, betting all her cash and incorrectly giving "Austin" as her answer. That left a three-way tie for first and last place, as everyone wound up with $0.
Jeopardy! isn't child's play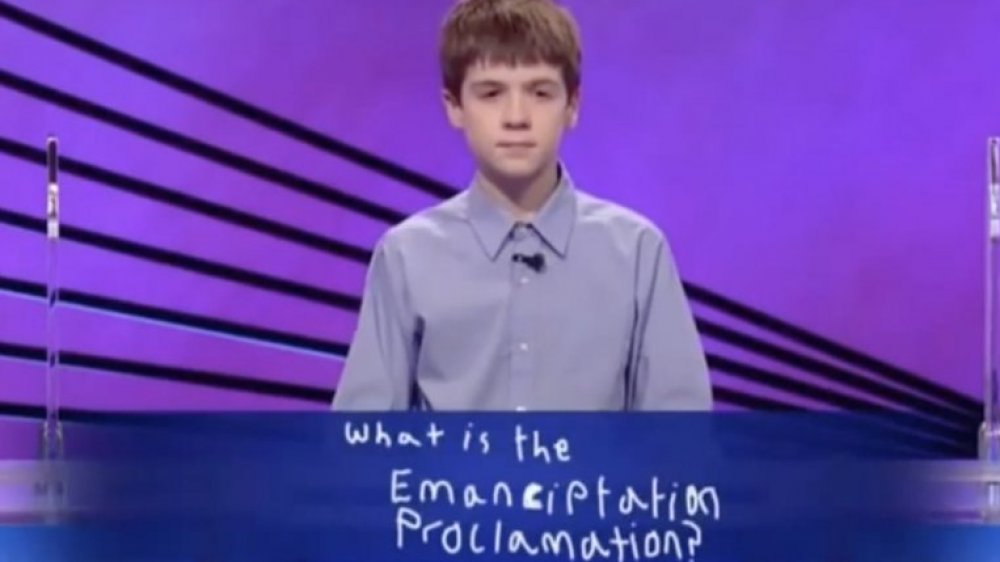 The average season of Jeopardy! episodes featuring a smarty-pants cross-section of the general population is broken up with the occasional theme week. College students, all-time champions, and teenagers are invited to compete for a big cash prize, and in July 2013, Jeopardy! held a special "Kids Week," giving tweens the chance to compete in the show's notoriously competitive and stressful environment. That's how 12-year-old Thomas Hurley of Connecticut (whose stated career aspiration is to one day take Alex Trebek's job) made it onto Jeopardy!
Hurley held his own with his fellow young trivia combatants, making it all the way to "Final Jeopardy," where he received this clue – "Abraham Lincoln called this document, which took effect in 1863, 'A fit and necessary war measure.'" The correct response was the Emancipation Proclamation, and that's what Hurley scrawled on his answer screen. Well, that's what he clearly tried to write — he misspelled part of it, scribbling "Emanciptation Proclamation." But in the intense rules of Jeopardy!, which apply even during "Kids Week," misspelled responses in "Final Jeopardy" are wrong responses. 
"That's unfortunate," Trebek curtly stated. "The judges are ruling against you." Hurley lost his $3,000 wager, taking his score down low enough to allow competitor Skyler Hornback (who correctly spelled "Emancipation") to win the game and $66,000.
What are ... pranks?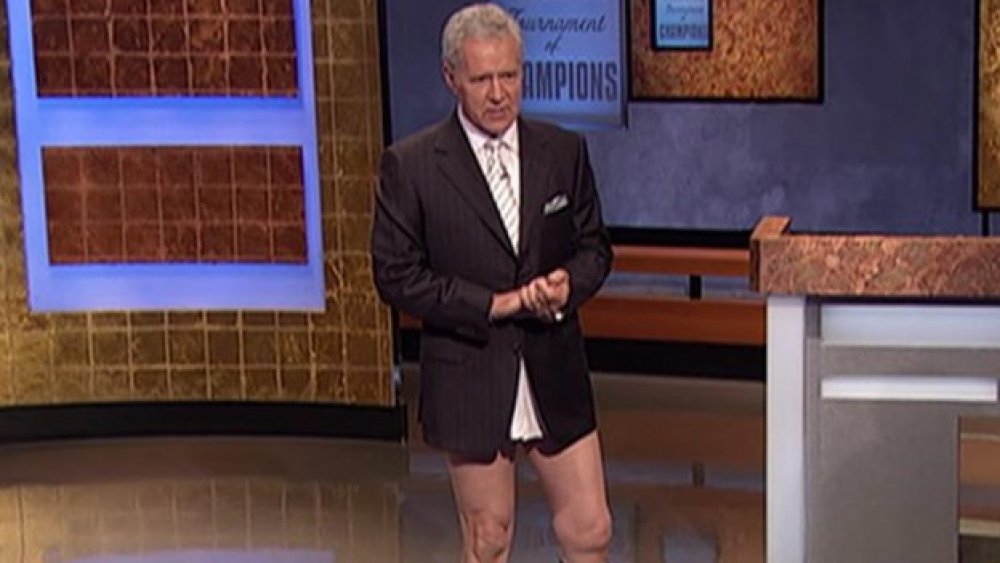 Even though Art Fleming was the original host of Jeopardy!, the game ultimately became synonymous with Alex Trebek. He began hosting Jeopardy! in 1984 and did so until 2020, filming episodes just weeks before his death. In 2014, he set a Guinness World Record for most episodes of a game show hosted by one person — 6,829. (He'd eventually host over 8,000.) During that entire 36-year span, Trebek only ever tapped out once and let somebody else host. The reason? The pursuit of laughter and amusement. In 1997, Pat Sajak hosted Jeopardy! He's best known as the host of that other popular and long-running nightly game show, Wheel of Fortune ... which on that night was hosted by Trebek. This one-time switcheroo aired on April 1, 1997 — April Fool's Day.
Trebek pulled that prank on audiences, while in 2005, some contestants pulled a fast one on him. In 2005, Jeopardy! staged an "Ultimate Tournament of Champions," bringing back all-time winners Ken Jennings, Brad Rutter, and Jerome Vered to compete for $2 million and "greatest of all time" status. Before the final segment of the three-game tourney, the contestants sent word to Trebek that to relieve stress, they'd play without pants. Trebek, in a show of solidarity with his show's best-ever contestants, thought he'd host pantless, too. And so, he came out on stage at the beginning of the episode without trousers, and he asked the crew to get a shot of the contestants behind their podiums. They did and revealed ... three guys wearing pants. Prank completed.
Who could possibly replace Alex Trebek?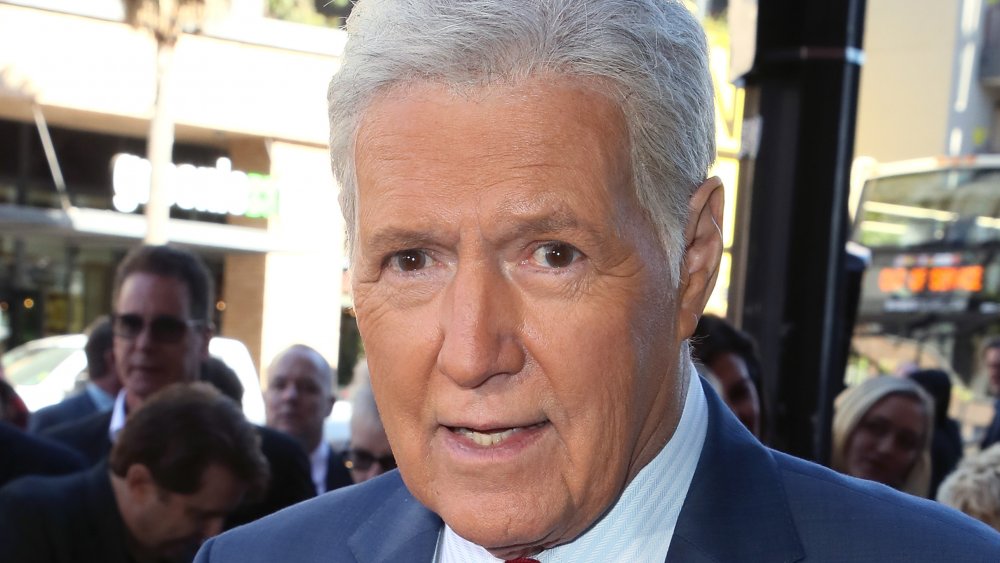 David Livingston/Getty Images
In July 2020, Jeopardy! host Alex Trebek gave Good Morning America viewers an update on his ongoing battle with pancreatic cancer. He also gave a nod toward the inevitable. Facing his 80th birthday and a potentially fatal health crisis, Trebek addressed the issue of his eventual replacement as the host of Jeopardy! "I joke with the audience all the time, and I say, 'Betty White,' because they want somebody younger, somebody funnier," he said of the Golden Girls actress, a friend and fellow Emmy winner as the host of the game show Just Men! in 1983. 
White may be funnier than Trebek, but she isn't younger — she's pushing 100. Joking suggestions aside, Trebek recommended two potential replacements to Jeopardy! producers. He told TMZ that he thinks Alex Faust, the play-by-play announcer for the NHL's Los Angeles Kings, would do a great job. His other hand-picked selection was Laura Coates, a legal analyst for CNN. As of November 2020, in the days after Trebek's passing, the Jeopardy! showrunners hadn't yet made a decision about the future of the show.