The Entire 'Rocky' Story Finally Explained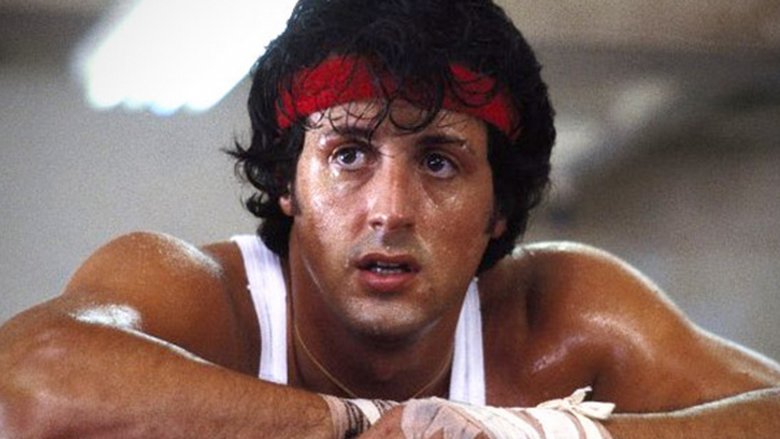 In the pantheon of inspirational sports movies, it's no secret that the Rocky franchise stands head-and-shoulders above the rest. The story of an intrepid southpaw from Philadelphia, the series follows Rocky Balboa across eight installments, and over the years, it's become one of the most beloved franchises in film history.
After all, Rocky is the perpetual underdog who overcomes any obstacle in his path, whether he's jogging up a lot of stairs, battling cancer, or knocking out some pretty heinous opponents. In every film, he proves his grit, determination, and rock-solid jaw. And since it's been over 40 years since the boxer first stepped into the ring against Apollo Creed, it's worth taking a look at Rocky's story from beginning to end. More importantly, it's worth highlighting the friends, family, and loved ones that he's scooped up along the way to his status as a sports movie legend. To help keep track of Balboa's sprawling and epic journey, here's a rundown of his entire story.
Rocky gets his shot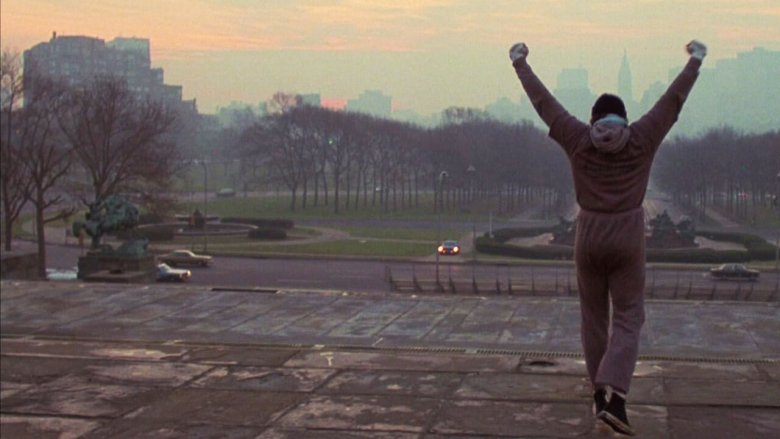 When we're introduced to Rocky Balboa in 1975, he's a far cry from the legendary champ fans know and love today (even if his wardrobe hasn't changed one bit). He's a fighter, sure. However, he makes ends meet as a collector for a local loan shark. But when the U.S. Bicentennial comes about, Rocky is thrust into the spotlight, meeting the characters that will shape his life for years to come.
He's pulled out of obscurity by heavyweight champion Apollo Creed, who may loom as large over the franchise as Balboa himself. Creed's opponent backs out of a planned fight, so the showboating boxer offers Rocky a whopping $150,000 to take him on. What he wasn't counting on was Rocky having more heart than anyone else in the game.
Rocky begins an unorthodox training regimen that sees him running up the steps at the Philadelphia Museum of Art, punching the heck out of meat, and guzzling raw eggs. Along the way, he falls in love with Adrian Pennino, while also dealing with her hot-headed brother, Paulie. But despite Paulie's alcoholism and bad attitude, he's Rocky's BFF, and when it comes time for the fight against Apollo, Paulie is sitting ringside, cheering Rocky on.
Rocky also befriends Mickey Goldmill, a tough-as-nails boxing trainer who whips the Italian Stallion into shape with some tough love and even tougher training. Although Rocky ultimately loses the fight, he gets the girl and the respect of the boxing community, which propels him to bigger and better things.
The rematch with Apollo Creed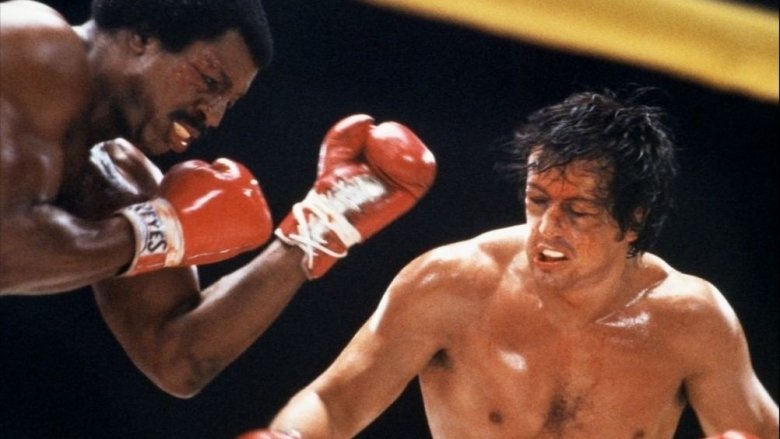 Rocky II opens on New Year's Day, 1976, the same night of the fight from the first film. Creed and Balboa are rushed to the hospital where the champion is surprised to hear that people believe he carried Rocky. Balboa is forced to ignore the champ's cries for a rematch when he learns that fighting again could mean permanent blindness. 
Thanks to his rise to fame, Rocky finally gets a little money to his name. This allows him to propose to Adrian, who reveals she's pregnant shortly after their wedding. Just like that, Rocky is a dad, and Paulie is a weird uncle. 
However, in the second film, we see just how massive Creed's ego really is. Despite offers for more professional fights, he becomes obsessed over hate mail about his match with Rocky. He goads the Stallion into a rematch, which Rocky reluctantly accepts after learning that weddings are expensive and doing commercials isn't half as fulfilling as winning matches.
Mickey, who took a back seat after Rocky retired, understands the health concerns the fighter faces and initially declines to help him train. It's not until Creed's taunts go a bridge too far that he decides to help. And after the birth of his child, Robert, Rocky goes after Creed with renewed vigor. The vicious fight ends with both men getting knocked down, but only Rocky finds his feet before being counted out. Just like that, Rocky Balboa is the new heavyweight champion of the world.
The story gets rough in Rocky III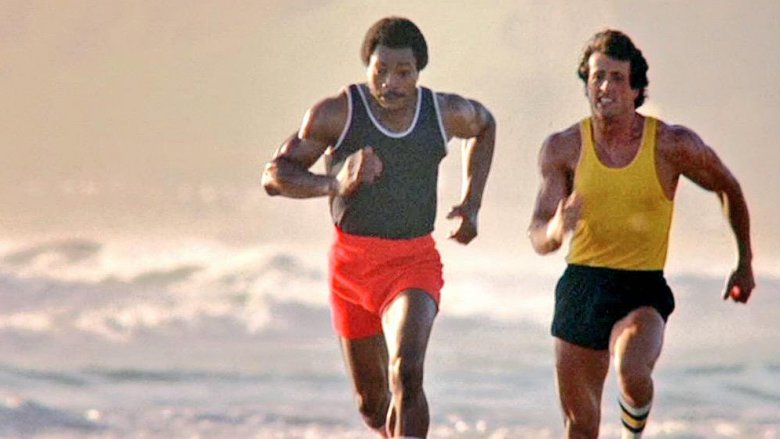 Five years after taking the heavyweight championship from Apollo, Rocky's life is pretty different. Yeah, Adrian, Robert, and Paulie are still around, and Mickey is still working as Rocky's trainer. But after ten successful title defenses, Rocky is rolling in the dough. With money in his pocket, a growing family, and a successful career at his back, Rocky is about to retire when a young, "hungry" fighter named James "Clubber" Lang (expertly played by Mr. T) accuses him of taking easy title fights. 
Mickey reveals that Lang is right about his fights being handpicked, prompting the champion to accept Lang's challenge. However, as Mickey feared, fame has made Balboa lose his edge. Before their big fight, Lang confronts Rocky backstage and shoves Mickey, causing the old man to have a heart attack. Furious and distracted by his trainer's condition, Rocky loses the championship fight in the second round. However, he lies to Mickey about the outcome, and the boxing trainer dies peacefully backstage.
You'd think the death of a main character would be big enough for a single film, but Rocky III also marks the turn of Apollo Creed from an antagonist to best friend. After witnessing the loss to Clubber, Creed takes Rocky to L.A. and, along with trainer Tony "Duke" Evers, teaches him to fight using a more Muhammad Ali-style of boxing. After Apollo helps him shake off the depression of losing Mickey, Rocky finds the eye of the tiger and defeats Lang in a 1982 rematch. The film ends with Rocky and Apollo solidifying their friendship with a friendly sparring match.
Rocky's Cold War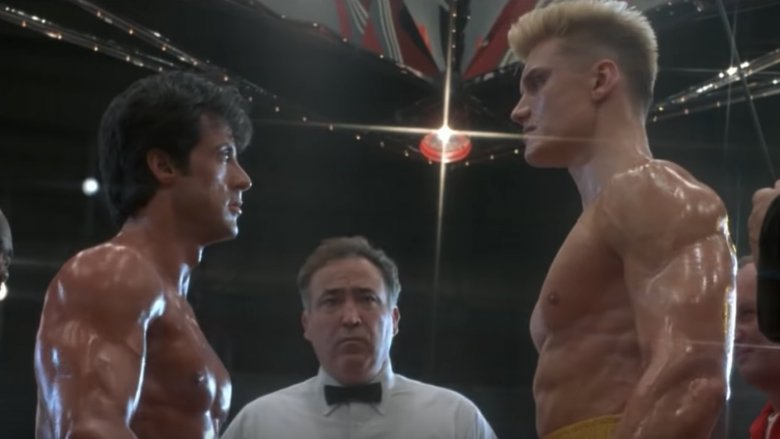 In 1985, a Russian boxer named Ivan Drago is given unlimited resources by the Soviet Union to prove that his athleticism is unparalleled by any American. This obviously doesn't sit well with Apollo Creed, whose two biggest trademarks are patriotism and egomania. 
So the two fight in an exhibition that results in the highly trained Russian killing Creed in the ring. It's one of the more devastating moments in the franchise as Rocky feels immense guilt for not throwing in the towel, despite Creed's last words being a warning not to do so. 
Wanting revenge, Rocky challenges Drago to a fight, which he only accepts on the condition that it takes place in Russia. A grieving Balboa is accompanied by Paulie and Duke, who reveals he raised Apollo and feels like he lost a son. Together, they train in very simple, grounded ways compared to Drago's regimen of high-tech machines and steroids. Over time, Duke solidifies himself as one of Rocky's best trainers, constantly encouraging him to feel "no pain" against the Russian and to "chop him down." 
Adrian watches as her husband wins over the hostile Soviet crowd. Eventually, the Italian Stallion knocks Drago out in the 15th round, right in front of the Soviet premier. He then offers a now-famous speech about finding peace between the rival nations. And with that, Rocky has perhaps his greatest victory under his belt, but at the cost of his best friend.
Rocky fights a young Gunn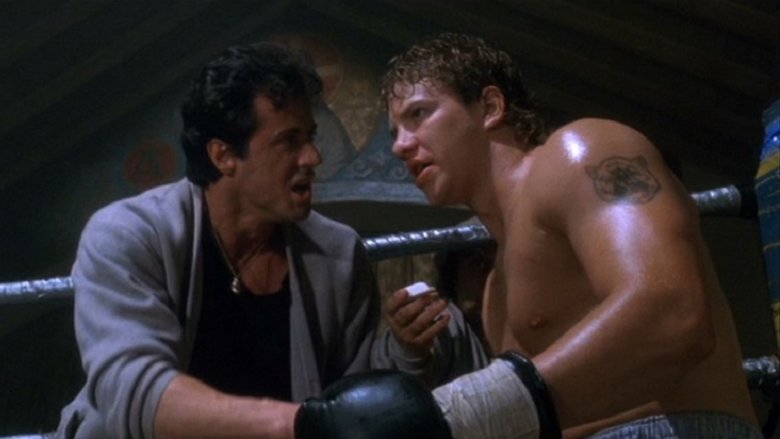 Most of Rocky's battles until this point have been physical and in the ring. Rocky V breaks the mold and finds the champion struggling with retirement and fatherhood. Being a dad is especially hard now that Robert Balboa is a teenager. Making things even more complicated, Rocky and Adrian return from Russia only to find out that their finances have been mismanaged, and the family no longer has the glitz and glamour they once enjoyed. Plus, Rocky learns that he's got a major brain injury, forcing him to lay down the gloves.
So Rocky reopens Mickey's gym and lives vicariously through a young up-and-comer named Tommy Gunn. The fulfillment he gets out of training Gunn causes Rocky to neglect his real son. As a result, Robert ends up on the wrong side of the tracks and starts spiraling out of control. 
It's up to Adrian and Paulie to ground Rocky and show him what's important. His wife reminds him that any boxer could've stood against Ivan Drago, but it was Rocky's unique spirit that allowed him to win. After a stunning betrayal by Gunn, Rocky focuses on fatherhood and wins back the affection of his son. Things culminate in a brutal street fight with Tommy after he punches Paulie in the face. However, the real heroes of this movie are the people in Rocky's orbit. Although Adrian and Robert have been in the franchise for a while, it isn't until Rocky V that their full impact on his life is really shown.
Rocky comes back for one more round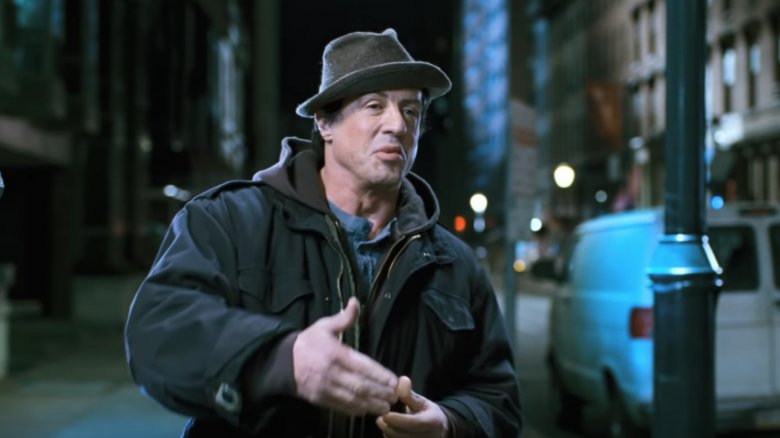 After beating Tommy Gunn, Rocky disappears from the boxing world for quite a while. And in Rocky Balboa, we find the fighter in his late 50s, retired and running an Italian restaurant. However, the biggest change in his life is the death of his beloved wife, Adrian, four years prior due to cancer.
The grieving former champion spends his time regaling patrons with stories of his glory days and losing focus on his relationship with his son. Fortunately, all that changes after ESPN broadcasts a computer-simulated fight between an in-his-prime Rocky and the new heavyweight champion, Mason "The Line" Dixon. After the simulated fight inspires Rocky to get back into boxing, Dixon's promoters smell an opportunity to pit the two against each other in a charity exhibition in Las Vegas. (Yeah, that brain damage from Rocky V just kind of disappears.)
With the help of Duke and his renewed relationship with Robert, Rocky goes toe-to-toe with Dixon and, thanks to his strength training, is able to go the distance with the younger fighter. In the end, the bout goes to a split decision. As Rocky leaves the arena, Dixon is declared the winner, but Rocky takes the real victory, having renewed his confidence in himself and having proved to the world that he's still got it.
It's Creed's story now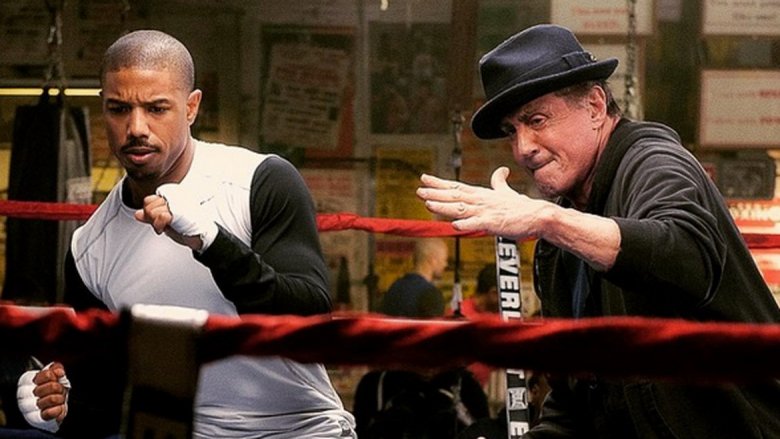 Creed initially takes the audience back to 1998, where Adonis "Donnie" Johnson learns that he's the product of an extramarital affair between his mom and Apollo Creed. Mary Anne, Apollo's wife, agrees to take in the troubled youth and raise him. Cut to 2015, when Adonis is ready to follow in his dad's footsteps and become a boxer. However, when no one will train him, he goes to Philadelphia to seek out Rocky. 
Much like Rocky was picked from obscurity by Apollo, Adonis is picked by the current champion, "Pretty" Ricky Conlan, as his last fight before a prison sentence. While Creed and Rocky train for the match, Balboa reveals he's been diagnosed with the one opponent he can't beat through grit or punches: non-Hodgkin's lymphoma.
At first, Rocky refuses to seek treatment, but Adonis encourages him, saying he won't fight unless Rocky fights. So the Italian Stallone decides to battle his cancer as young Creed faces the champion in Liverpool. Adonis, with his new love Bianca, trains hard for the fight, and the bout ends up mirroring his dad's first match with Balboa. Creed is grossly outmatched, but he simply refuses to go down. He receives blow-after-blow from the stronger fighter, but gets more licks in than anyone would've thought thanks to some inspirational ringside words from Rocky. Just like his new mentor, he loses the match but ends up winning the respect of the crowd and the boxing community. 
More than anything, Adonis comes to terms with himself and his father's legacy, and he gives a sense of purpose and meaning to Rocky's life.
Like father, like son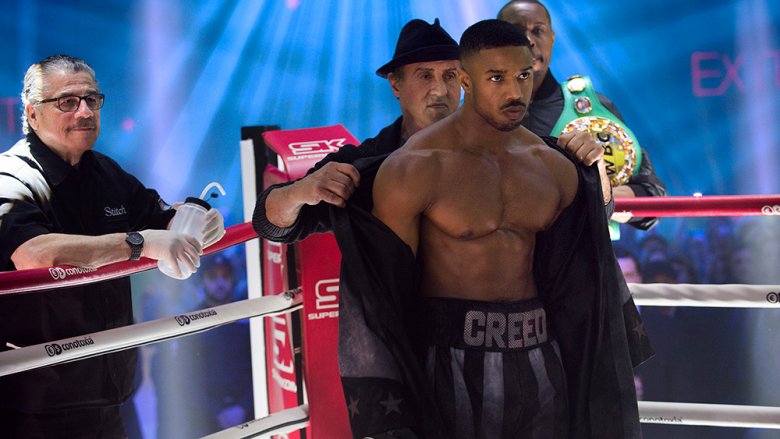 After bringing the son of his greatest opponent into the world of boxing, Rocky's other great opponent returns with a scary challenger. In 2018, three years after Adonis' loss from the first film, he's become a champion, with Rocky and Bianca at his side (special shout-out to "Little Duke," as well). But just when Adonis' career is taking off, Ivan Drago returns with his kid, Viktor, to challenge him. 
This is an especially personal bout for both Adonis and Rocky, as Drago killed Apollo in the ring, and his son doesn't seem any more merciful. Following a similar arc to Rocky III, Creed II sees an unfocused Adonis lose to the fiercer contender, only to spend the movie preparing for a rematch. Meanwhile, Rocky is able to confront Drago decades after defeating him in Moscow. It turns out those years haven't been kind to Drago, who was ostracized from Russia after losing so horribly. 
Ironically, Drago ends up throwing in the towel on his son's fight after learning that he's been trying to win over fair-weather friends for decades. His sacrifice inspires Rocky to head to Vancouver to reconcile with his estranged son, while Creed welcomes his first child with Bianca. In what could very well be the last chapter of the Rocky story, the boxer has won all his battles, trained someone to carry on his legacy, and even has a grandson to look after.