Tom Holland's First Time Meeting Stan Lee Was Absolutely Hilarious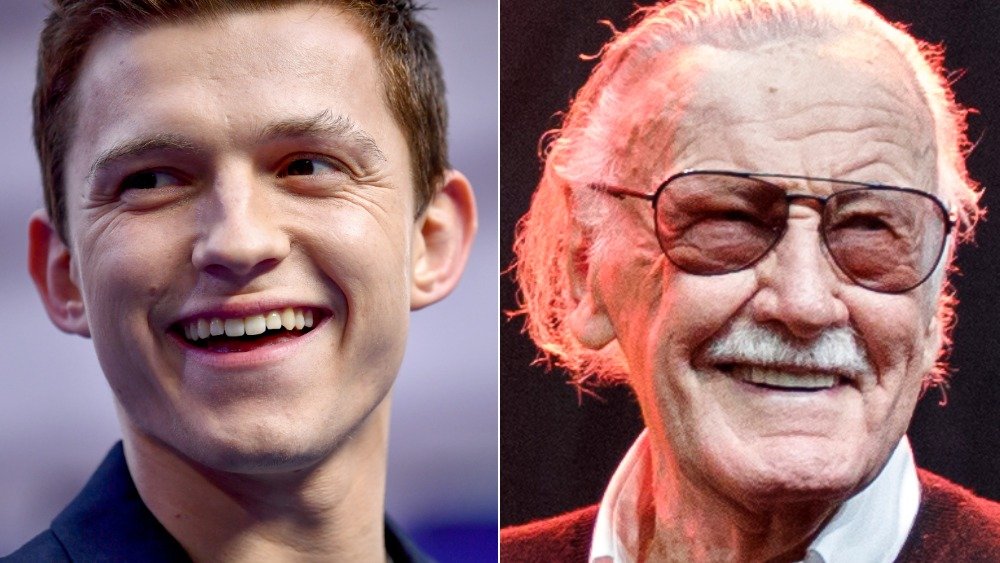 Gareth Cattermole, Rich Polk/Getty Images
Leave it to Stan the Man to welcome a new star to the Marvel Cinematic Universe with a bit of trademark irreverence.
In a recent Instagram Q&A, writer-director James Gunn — the steward of Marvel's Guardians of the Galaxy franchise — revealed that he was the one to formally introduce Tom Holland, the MCU's Spider-Man, to the character's co-creator, the legendary Stan Lee (via CinemaBlend). If, like us, you remember Lee just as fondly for his witty way with words as for all of the awesome characters he had a hand in creating, the details of his meeting with Holland won't come as a surprise.
Gunn said that the introduction took place shortly after Holland, only 19 years old at the time, was cast as Peter Parker. The young star was gearing up to make his debut alongside nearly the entire MCU in Captain America: Civil War, and was probably shaking in his boots in Lee's presence. Perhaps sensing a bit of anxiety, Lee disarmed Holland with a razor-sharp zinger.
"I introduced Stan to Tom Holland just after Tom was hired to play Spider-Man," Gunn remembered. "Stan says to him, 'Yes, of course! I hear you're great! Personally, I don't see it!' And we all died laughing."
It's easy to see how Holland, a bit of a cut-up himself, would have been put completely at ease by that gentle roasting. 
Lee passed away in 2018 at the ripe old age of 95, but before he did, he appeared in brief cameos in every single MCU film — up to and including Avengers: Endgame. As such, virtually every one of the MCU's stars got to meet him at some point, and they all have their own stories to tell about the comics giant.
Stan Lee always had encouraging words for MCU stars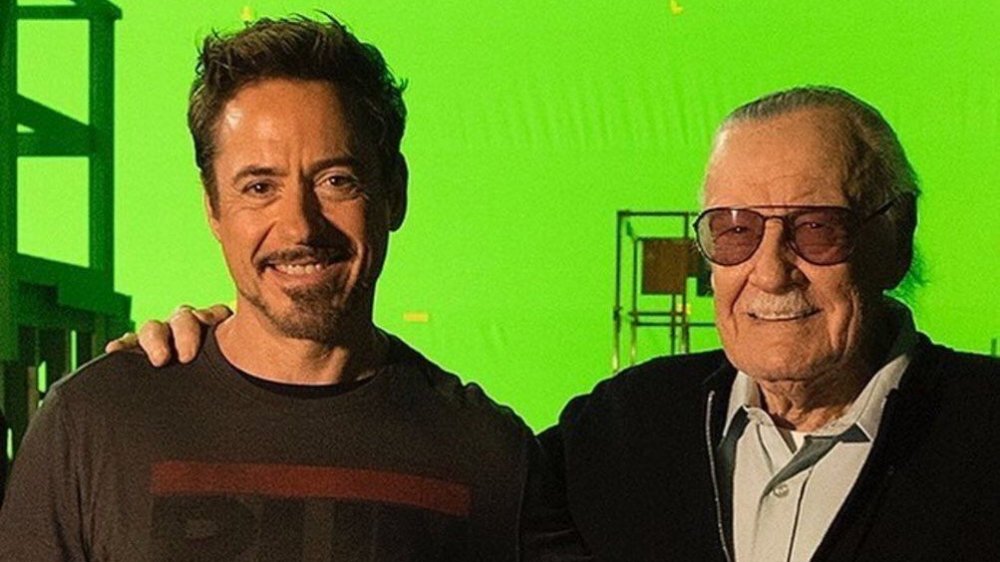 Lee always appeared to be uniformly thrilled with the way Marvel Studios cast his creations, and he wasn't shy about letting them (and everyone else) know it. At Rhode Island Comic-Con in 2017, Lee was asked who he thought did the best job of embodying their character in the MCU. While an obvious answer leaped to mind, it was clear that Lee was having a hard time pinning down just one.
"[Robert Downey Jr.] was born to be Iron Man, you know? He'd be on the top of the list," Lee said (via ComicBook). "But I have to say, whoever does the casting for Marvel is a genius. For instance, I can't picture anyone being better than [Chris Hemsworth at playing] Thor. [Chris Evans as] Captain America? You couldn't beat him."
Even some of the MCU's more minor players have stories about the words of encouragement Lee offered them. Karen Gillan — who portrayed Nebula in the Guardians of the Galaxy series and the two most recent Avengers movies — has told the story of her first meeting with Lee, as she waited in full makeup in her trailer to be called to set. Lee dropped by, wanting to check out the makeup, to which he gave his seal of approval. When Gillan told him she was about to shoot a big fight scene, he gave her a thumbs up and said, "Knock 'em dead!" Gillan remembered, "That's the coolest thing that's ever happened to me."
Mark Ruffalo (who portrays Bruce Banner) and Benedict Wong (who plays Doctor Strange ally Wong) have also shared their stories of meeting Lee, with both of them recalling that he deflated their nervousness by telling them how awesome they were. A bit different from the way he greeted Holland — but then again, that was all in good fun. Asked about Holland at Denver Comic-Con in 2016, Lee didn't hold back: "Oh, he's wonderful! I was with him the other day. He is great! I can't believe it. It's as if we created a living being to be Spider-Man, and it turned out to be him." 'Nuff said.