Jackpot Movie - What We Know So Far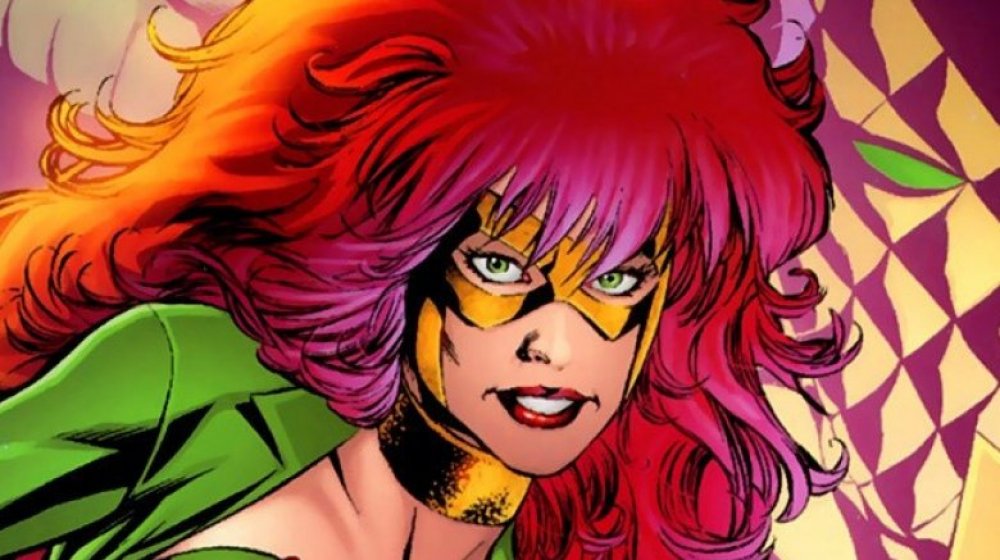 Marvel Comics
Sony's adding yet another name to its ever-growing roster of web-slingers.
The studio behind the hit animated feature Into the Spider-Verse, the Tom Holland-led Spider-Man MCU tie-in solo films, and dark new avenues like Venom and Morbius is breaking ground on a new script for Jackpot, a film Sony first announced it was developing way back in 2018. Now, the project finally has some momentum — according to Deadline, the project will be written by comic book writer, screenwriter, and TV producer Marc Guggenheim. Its focus is on the scientist-turned-hero who first appeared in May 2007 as part of Spider-Man: Swing Shift, a Free Comic Book Day issue written by Dan Slott with art by Phil Jimenez.
In the decade-and-a-half since Jackpot's debut, more than one woman has donned the title, but the first was Sara Ehret, a scientist with a focus on gene therapy. Ehret is pregnant when she's accidentally exposed to "Lot 777," a virus that re-writes her cells. Though it has no effect on her daughter, who is born healthy, it gives her the power of superhuman strength.
The news of a Jackpot movie comes on the heels of another announcement from Sony, which will see S.J. Clarkson, once tapped to direct the now-shelved Star Trek 4, helming a different female-centric live-action Spider-Verse movie. It will feature a currently unconfirmed character, though rumors suggest its Madame Web (via Variety). The timing of both announcements is interesting, if only to mark the Spider-Verse's first female-led standalone movies beyond its in-development animated Spider Gwen feature.
Little is confirmed about that project beyond its director, and the same could be said for the Guggenheim-scripted Jackpot film. But here's everything we know about the Spider-Verse's most powerful spider-mom.
When is Jackpot's release date?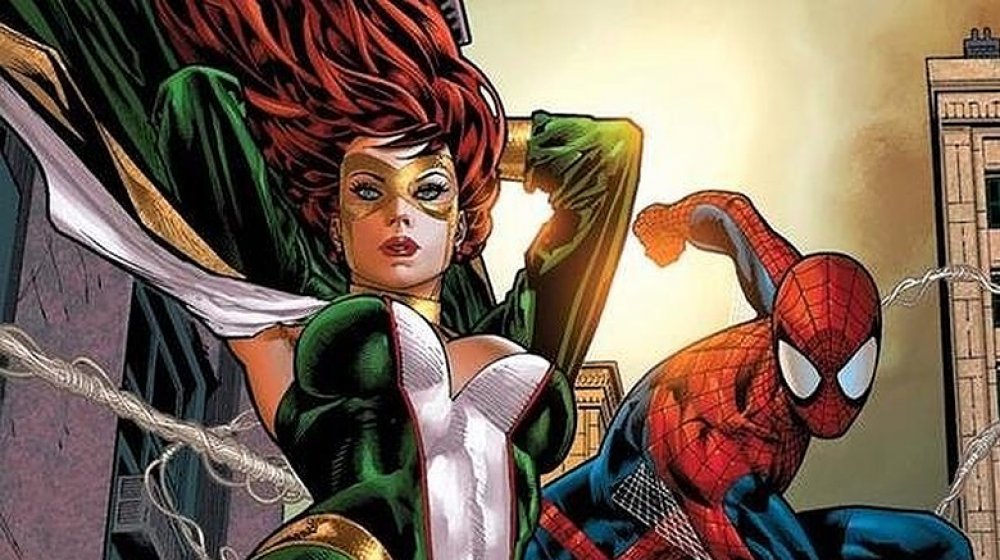 Marvel Comics
After the major box office success of its live-action Spider-Man reboot and its Oscar win for the Miles Morales-led Spider-Man: Into the Spider-Verse, Sony has spent the last several years ramping up its superhero slate. Its next spider-related projects include the Venom sequel Let There Be Carnage and the Jared Leto-led Morbius, a vampiric part-time ally, part-time villain to Spider-Man. Like most of Hollywood's 2020 slate, those have had their release dates pushed back, meaning that the rest of the Spider-Verse may experience some further delays as well, much like the domino effect the industry shutdown has had on the MCU.
The announcement that Jackpot would be joining this ever-growing roster is exciting, but as of now, the only creative attached to the project is Guggenheim. Penning a script can take months or even a year, depending on creative approvals from the studio. Meanwhile, a director must be tapped and a cast formed before a months-long shooting schedule and post-production process takes place. Ideally, there will be no hiccups at any point in this process. Anything from cast reshuffling to creative indecision could sidetrack a blockbuster — even in the best of times, when there isn't a total industry interruption to recover from.
With projects already in development for Kraven the Hunter, Silk, and Nightwatch, it could very well be a few years before we see Jackpot on the big screen.
What is the plot of the Jackpot film?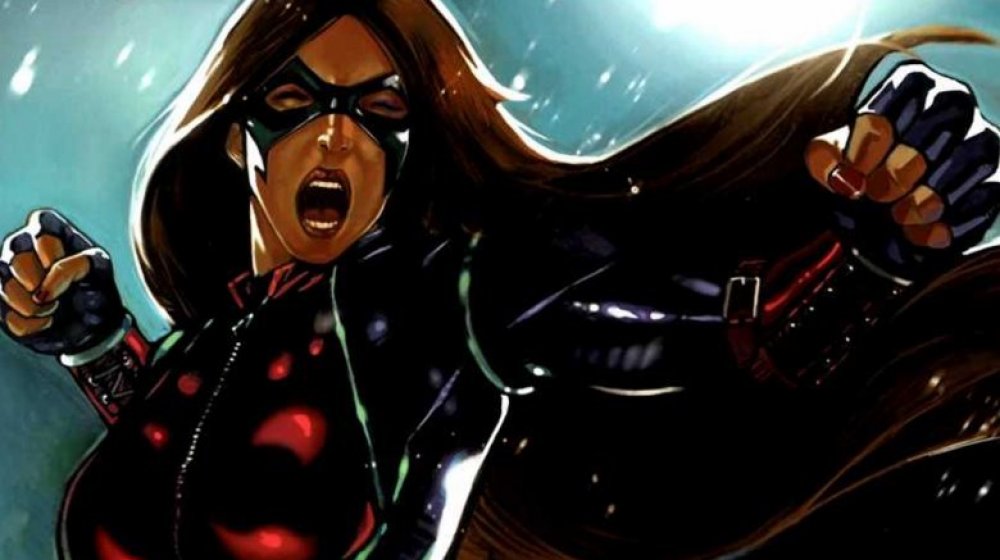 Marvel Comics
With multiple female-centric Spider-Verse films currently in development, the addition of Jackpot as yet another is refreshingly unceremonious. That doesn't mean her entry into Sony's Universe of Marvel Characters isn't compelling. Jackpot's storyline is as much about her superhero life as her personal one, including her role as a mother. Her experience as a family woman is an important part of her origin story and at the center of her time as a hero in ways good and bad, making her an exciting addition to the genre's growing presence of big-screen heroines.
After being exposed to Lot 777, Sara goes into a coma for four months. Upon waking, she realizes she's developed superhuman strength. After having her baby, the Brooklyn-based hero joins a government-sanctioned superhero initiative, but despite her powers, she fails to develop a passion for world-saving. So when a woman named Alana Jobson is willing to pay to take on the Jackpot codename, Sara is happy to part with it and return to her normal life. But Alana is just a regular human using a dangerous cocktail of enhancement drugs, including Mutant Growth Hormone, to mimic the powers of her predecessor. When Alana dies during a mission, Spider-Man seeks out Sara and, after essentially reminding her that with great power comes great responsibility, convinces her to return to life as a superhero. This eventually leads to the death of her husband after a pair of villains discover her real identity, and to protect herself and her daughter, she assumes the name Alana Jobson.
This is much of the plot of the Jackpot comic series, which Guggenheim wrote for. As Sony's announcement of a Jackpot project doesn't include any plot details, it's still unclear what, exactly, the film's focus will be. But Sara's fraught relationship to her heroic identity would undoubtedly make for great on-screen drama.
Who will star in the Sony's Jackpot feature?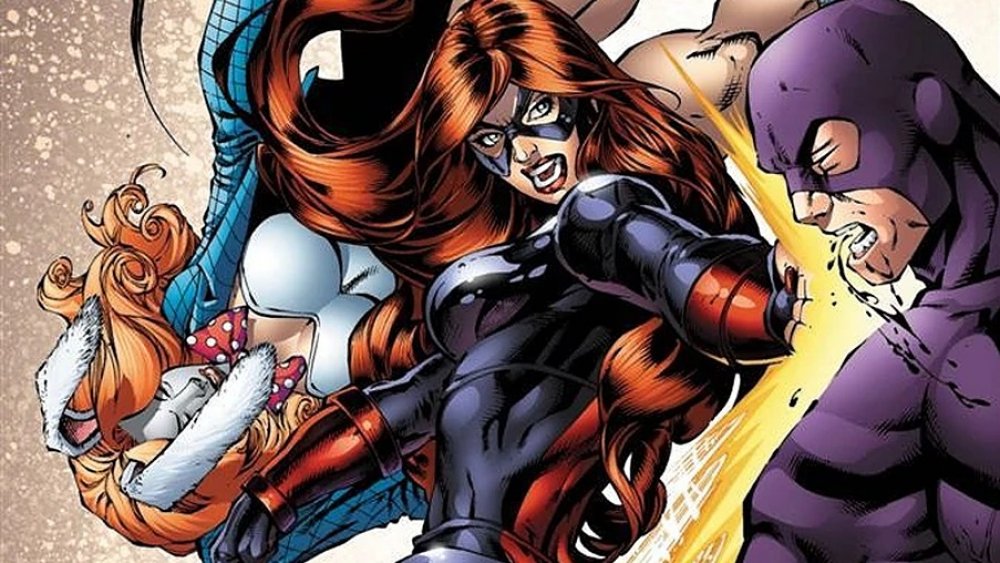 Marvel Comics
Ehret's journey to becoming a web-slinger is certainly fraught, as the reluctant Brooklyn-based crime-fighter tries to balance her everyday responsibilities as a scientist, mom, and wife with the dangers of being a superhero. She's the kind of character that scribe Mark Guggenheim is primed for. The writer and producer's comic book credits include Aquaman, Superman/Batman, and fittingly, Amazing Spider-Man. His screen resume features projects like the CW's Arrow and its Arrowverse spin-off, Legends of Tomorrow, which will see Guggenheim make his directorial debut. There's also that Green Lantern movie Ryan Reynolds loves to not talk about.
While Guggenheim might be ready to tell Jackpot's story, he's only just begun shaping it. With the script still in the early stages, there's no one attached to the project beyond him. So there's practically nothing in the way of casting news — even of the rumor variety. However, the film will likely not only need to fill the super-strong shoes of its lead, but her daughter, and depending on where the story begins, her husband. Alana, who develops romantic feelings for Sara despite never revealing them, could also potentially appear. The villains whose actions help guide Sara's entire journey with her superhero persona would also be key. That includes Alana's killers, Commanda and Blindside. There's also Rose, a crime lord persona taken up by Sara's fellow scientist Dr. Phillip Hayes, and his hired goon, Boomerang. The latter two are responsible for the death of Sara's husband.
While it's not clear what Jackpot's story will focus on, it will be interesting to see which characters Guggenheim pulls together to craft her big-screen debut.