The Self-Imposed Rule Spider-Man: Into The Spider-Verse Had To Follow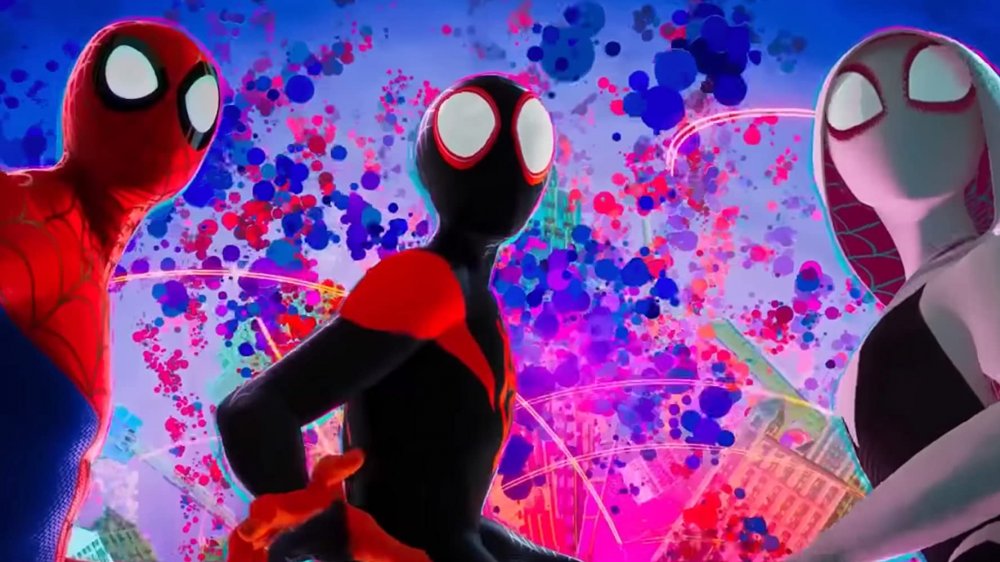 Sony Pictures
When the Oscar-winning film Spider-Man: Into the Spider-Verse swung into theaters in December 2018, it was a comic book movie game-changer. Not only did the animated film prove Sony Pictures could viably expand its Spider-franchise outside of a direct Marvel partnership (and Peter Parker as the central character), but it also revealed that the superhero genre had only scratched the surface of how it could tell its stories. 
Beyond debuting its Brooklyn-born Afro-Latino heart of gold lead Miles Morales (Shameik Moore) to the masses and featuring the big screen's largest gathering of Spidey incarnations yet, the movie's visuals took animation to a tingle-inducing new level. The fresh animation style combined elements of the superhero's print origins with computer graphics, creating a bold visual style that felt like a comic come-to-life. 
But those who have seen the film that nearly featured a Tom Holland cameo recall that some aspects of its style — including color-popping graphics, thought balloons, and wavy lines — weren't mixed in with the computer-animated graphics the entire time. And there's a reason for that: It was a rule that the movie's creative team made themselves follow.
During a live-tweet and watch party for the critically-acclaimed movie held Wednesday, March 6, Spider-Man: Into the Spider-Verse co-producer Christopher Miller revealed why the film delayed using its signature look — not going all-out on its comic-book-inspired elements until a certain point in the story.
When asked by a fan whether the team had any guidelines for using visual elements like dialogue boxes or whether they "just went by feel," Miller shared the major rule that determined when audiences would first experience the innovative style. "One rule was no dialogue boxes or anything too comic book-y until after Miles is bitten," Miller tweeted. 
Adding the comic-y elements to the movie's more realistic visuals before that major character development might not have hurt, but it did underscore what the film's director's wanted Miles' introduction into the superhero big-screen big leagues to mean.
Miles Morales is radically different than Peter Parker — so his movie had to be, too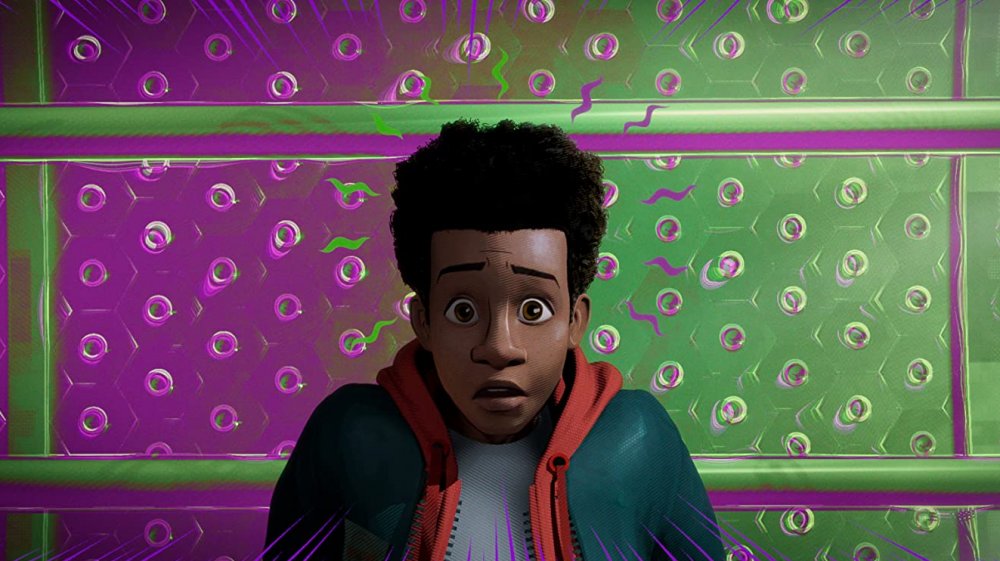 Sony Pictures
Into the Spider-Verse's three directors — Bob Persichetti, Peter Ramsey, and Rodney Rothman — were dedicated to taking their film in a direction neither animated or live-action superhero features had gone before. To do that, they spent four years making the film, with an animation staff that at one point featured as many as 177 people — 107 more than Pixar's Monsters University and 150 more than Disney's original Toy Story (via Business Insider). Animating just a second of footage took a week — one-fourth of the typical production rate — which was a result of the team's decision to toss out most of the animation process pipeline that has guided the medium for decades.
The film's team borrowed from older animation styles and combined them with modern ones, as well as comic art techniques to create the Spider-Verse. Two-dimensional ink lines were layered over three-dimensional art, comic panels made out of webbing served as background, and comics' onomatopoeia — or words that visually represent action like motion and sounds — crashed onto the screen. The staff animated not just in ones, but in twos — making characters' movements more pronounced and drawn out, emphasizing a character's physicality and personality. "If you freeze any part of the movie at any time, it will look like an illustration with hand-drawn touches and all," co-writer and co-producer Phil Lord told Business Insider. 
But Spider-Man: Into the Spider-Verse doesn't just look distinctly different from other animated movies because it could. It's because the film's directors knew Miles is so unlike any leading and live-action MCU Spidey that had come before him, and that should be reflected in the visual style of the movie centered around him. "That made it doubly important for the film to look new, so viewers would feel like they're seeing Spider-Man for the first time," Ramsey told The New York Times. "We couldn't rest on the conventions of animated films as we've known them."