Why Nik From Extraction Looks So Familiar
This content was paid for by Netflix and created by Looper.
As it continues to change the way people watch movies, Netflix is continuing to up the ante in terms of just how big its original movies can be. The streamer has done so by lining up directors like Bong Joon-ho, Alfonso Cuarón, Martin Scorsese, and Michael Bay to bring wildly ambitious projects to the platform. The latest A-listers to take the streaming plunge are Avengers: Endgame helmers Anthony and Joe Russo, who've produced Netflix's high-octane flick Extraction. (Joe also wrote the script.) In doing so, they even brought along one of their mightiest heroes, Chris Hemsworth — a.k.a. the God of Thunder, Thor.
Set within the nasty world of arms dealers and drug traffickers, Extraction (directed by the Russos' Endgame stunt coordinator Sam Hargrave) follows a mercenary named Tyler Rake (Hemsworth), tasked with recovering a kidnapped boy who's unwittingly become the pawn in an ongoing battle between local drug lords. As you might expect, the titular extraction doesn't go as planned. With Rake on the run — and seemingly being cut loose by his employers — a race for survival incurs as he desperately attempts to find a way out for both himself and his young target. 
Amid the requisite action-flick bluster, Hemsworth touches base with a supporting cast that features some familiar faces. While Stranger Things fans will immediately recognize David Harbour's mug in Extraction, we're betting many of you will also be trying to place the face of the woman who portrays Rake's handler, Nik. It belongs to Iranian-born actor Golshifteh Farahani. Here's why Nik from Extraction looks so familiar.  
Golshifteh Farahani saw zombies ravage Paris in The Night Eats the World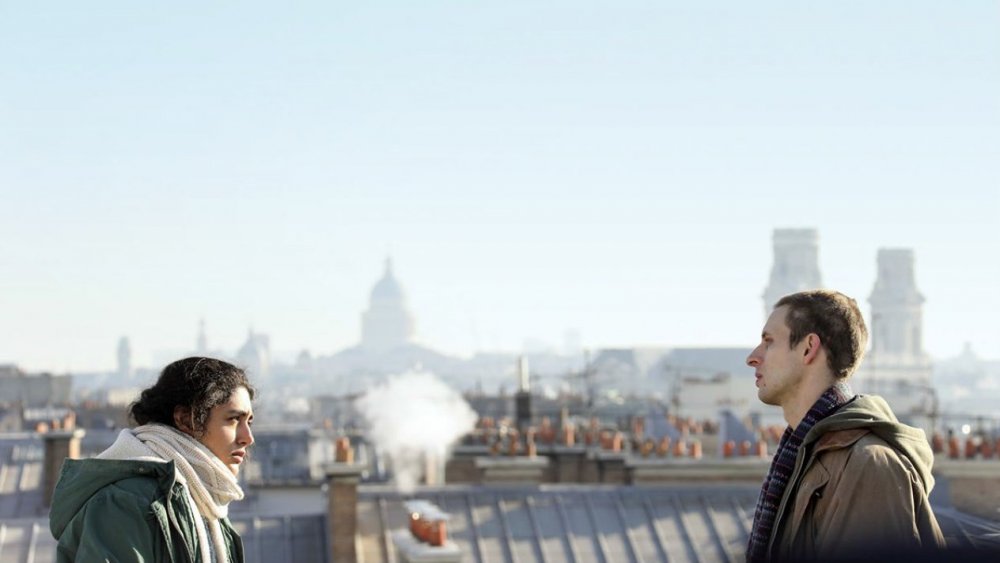 Canal+/WTFilms
Over the course of the last decade, horror movie lovers have been treated to no end of films about undead masses laying waste to humanity and running amok in a post-apocalyptic landscape — so much so, that the zombie genre itself has become a bit stale in recent years. But every now and again, up turns a zombie flick that takes a bold new approach to the subject and breathes new life into the realm of z-fiction. While Dominique Rocher's 2018 stunner The Night Eats the World didn't reinvent the zombie genre, it brought a lot of fresh energy to the mix.
Set in modern day Paris, the film follows the travails of Sam (Anders Danielson Lie) who, after a night of heavy partying, wakes to find the city overrun with flesh-eating ghouls — and virtually no sign of human life left. With no other option, he barricades himself inside and tries to make a go of the apocalypse solo. Of course, surviving the end times on your own is far from easy, and Sam quickly begins to spiral into a darkness he may not emerge from. His fortunes seemingly change for the better with the unexpected arrival of Sarah, another sole survivor. 
Golshifteh Farahani portrayed the brave Sarah in The Night Eats the World, and if you want to know how things turn out for Sam and Sarah in the film, you're going to have to find out for yourself.
Golshifteh Farahani was all but unrecognizable in Pirates of the Caribbean: Dead Men Tell No Tales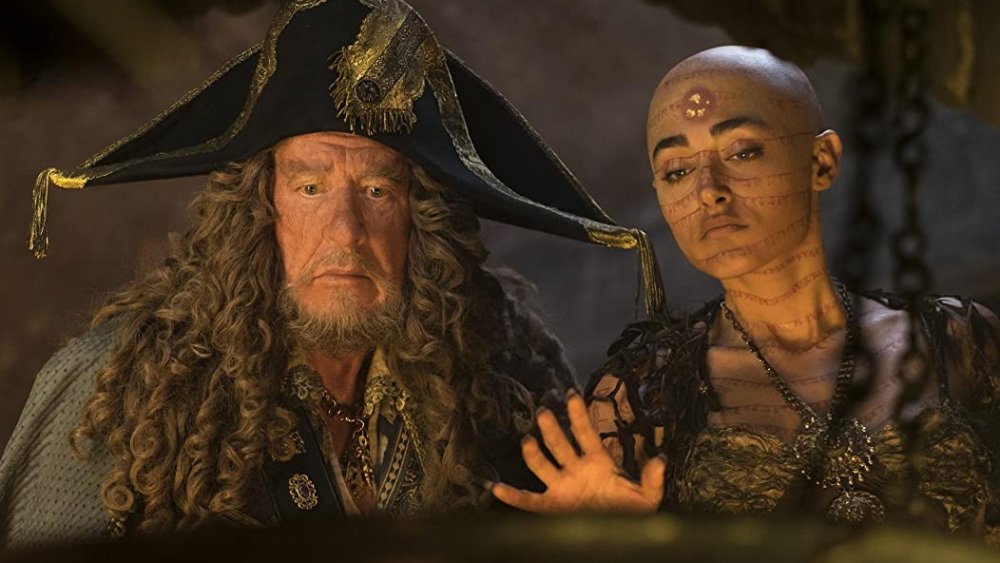 Walt Disney Pictures
While The Night Eats the World proved a tasty morsel of z-fiction goodness for the indie set, it followed up a big-scale project Golshifteh Farahani worked on the year prior. In 2017, the actress set sail with Disney for Pirates of the Caribbean: Dead Men Tell No Tales.
Though the film was hardly a critical smash, for many viewers, Dead Men Tell No Tales proved a welcome return to the spirit of the original Pirates of the Caribbean after a handful of increasingly boorish sequels. That had much to do with the swaggering antics of Johnny Depp, who reprises his role of Captain Jack Sparrow for the film, which follows Sparrow and Geoffrey Rush's Captain Barbossa on their quest to retrieve Poseiden's fabled trident. The star-studded Dead Men Tell No Tales also sees the return of several original cast members, including Keira Knightley and Orlando Bloom, not to mention a bevy of impressive new faces including Javier Bardem, Brenton Thwaites, and David Wenham. 
Among those new franchise faces is Farahani, who's all but unrecognizable sans hair and covered in tattoos in the role of sea witch Shansa. As it happens, she's also one of the most memorable characters in a franchise that, for all its unabashed silliness and epic spectacle, may have seen its final offering.
Golshifteh Farahani drove Adam Driver to poetry in Paterson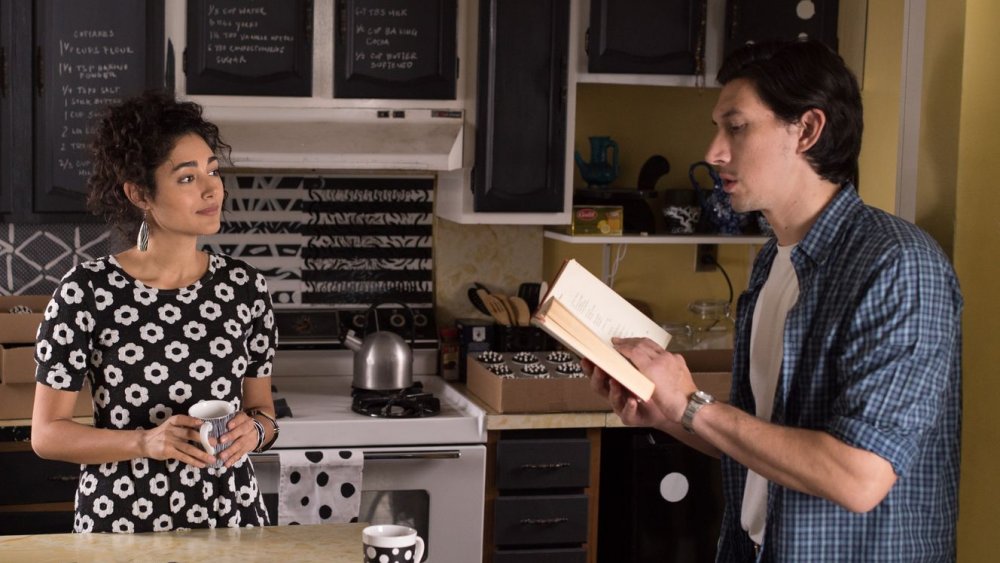 Amazon Studios
There are few names on the indie film scene that carry quite as much reverence as Jim Jarmusch. Since quietly emerging with 1984's free-wheeling dramedy Stranger Than Paradise, Jarmush has applied his singular style to a dozen feature films, each of which has further established him as an auteur of unflappable vision whose work simply oozes cinematic cool. Along the way, Jarmusch has founded fertile relationships with big-screen paramours like John Lurie, Tom Waits, and Bill Murray. 
Most recently, Jarmusch hit it off the one and only Adam Driver, who portrays the kindly bus driver Paterson in the director's 2016 drama Paterson. Set in Paterson, NJ, the film finds Driver playing a gifted poet who's day job is piloting a bus around the titular city. It also finds him discovering uncommon beauty in the seemingly everyday aspects of the world, reflected in the poetry he crafted throughout.
When Paterson isn't finding poetic inspiration in the world passing by his windshield, he frequently finds it at home, where his impetuous wife Laura almost manically trips from one minor obsession to the next. Farahani plays Laura, bringing a bright energy to the otherwise ponderous film. Her character inspires one of Paterson's most vividly realized romantic works just before her mean-spirited little pooch goes and gobbles it up.
Golshifteh Farahani lived by night in Eden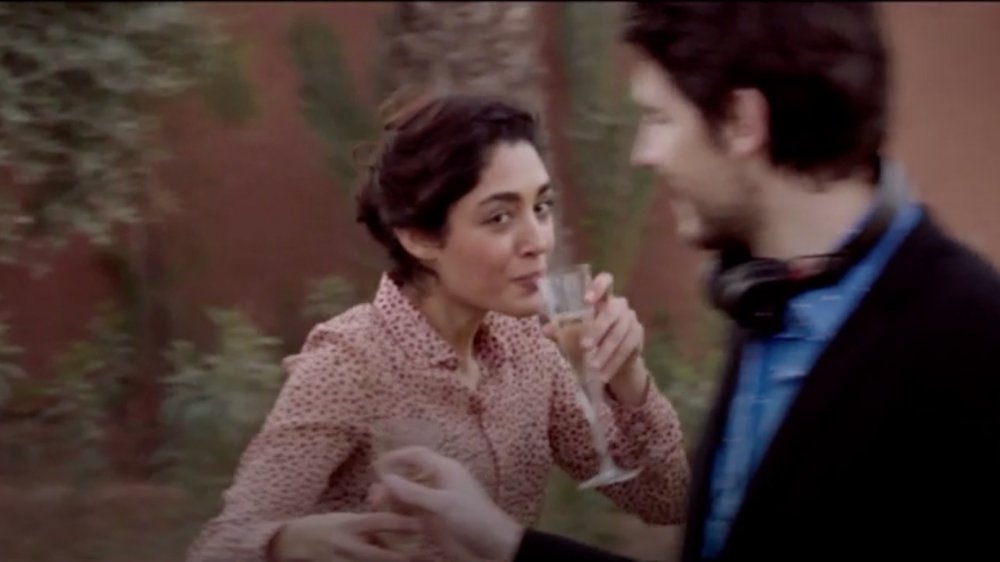 CG Cinéma
Fans of Parisian filmmaker Mia Hansen-Løve will recognize Golshifteh Farahani from the director's 2014 film Eden, a beautiful and breezy indie masterpiece. Based largely on the experience of Hansen-Løve's own brother, the film tells the story of an aspiring DJ named Paul (Félix de Givry), who spends his formative years spinning grooves for night-clubbers all across Europe. Less a proper film than a cinematic mix tape dropped by your favorite DJ, Eden unfolds with a not-quite-tragic sense of stylish whimsy with disparate narratives and time-frames rising and falling like the propulsive beat of the next track.
That narrative approach means Eden finds the young DJ encountering new places and faces throughout — with indie ingenues like Greta Gerwig, Brady Corbet, and Arsinée Khanjian all making appearances in the man's life. Farahani turns up briefly but memorably by Paul's side as Yasmin.
Golshifteh Farahani stole Leo's heart in Body of Lies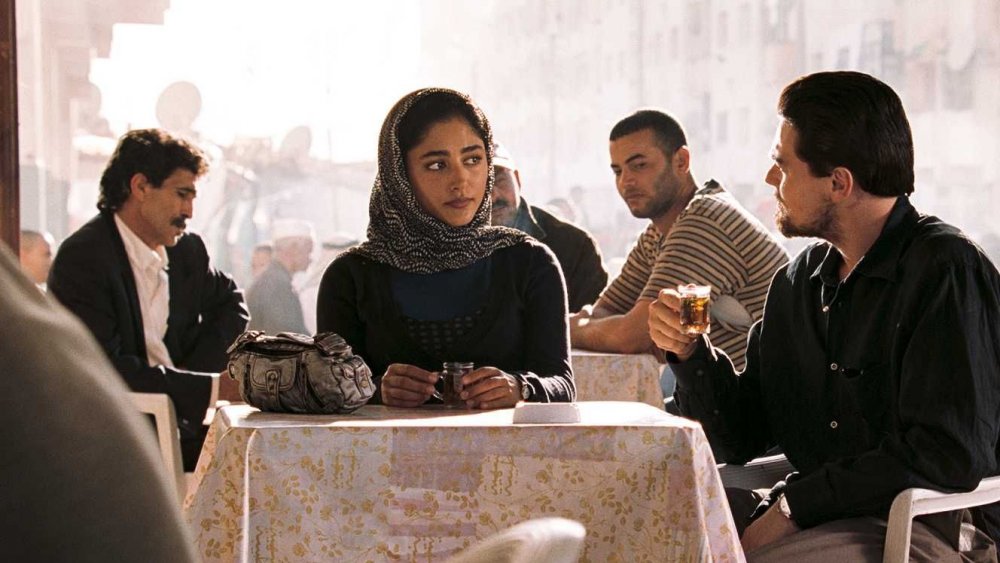 Warner Bros. Pictures
Even as Golshifteh Farahani has featured in films large and small throughout her career, it's likely most American audiences had their first encounter with the actress when she appeared in Ridley Scott's 2008 political thriller Body of Lies. While Fahrani frequently stole the show from lead actor Leonardo DiCaprio, her character, a nurse named Aisha, stole the heart of DiCaprio's character, CIA field officer Roger Ferris. Aisha's disappearance in the film sets in motion a tragic final act that nearly costs Ferris his life. 
Set in the Middle East, Body of Lies also features a winning turn from Russell Crowe (who plays DiCaprio's smooth-talking, double-dealing handler Ed Hoffman), and a pair of intriguing performances from Mark Strong (Shazam!) as intelligence chief Hani Salaam and Oscar Isaac (who'd yet to see his Inside Llewyn Davis breakout) as Ferris' CIA associate Bassam.
What you may not know about Farahani's involvement in Body of Lies is that it didn't sit well with government officials in her home country of Iran. After appearing in the film, she was barred from leaving the country for six months as punishment. Once she was allowed to leave Iran, Farahani has never returned. Even as she continues to wow in thrillers like Extraction, she also continues of fight for individuals' rights in Iran — both on screen and off.