GoT Creators' Star Wars Exit Was A Long Time Coming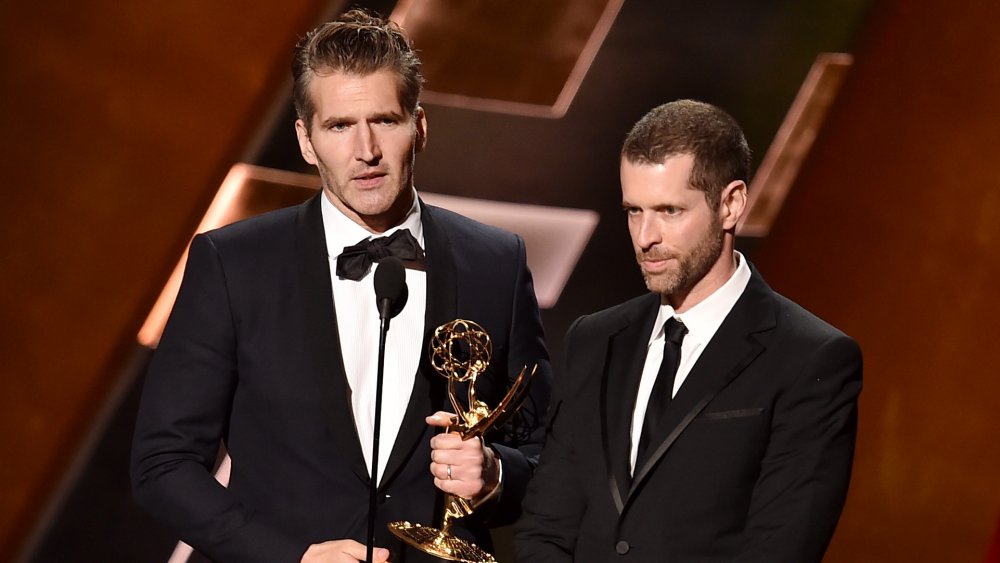 Kevin Winter/Getty Images
The latest creatives to depart the Star Wars universe may have been on their way out the door for some time.
According to The Hollywood Reporter, Game of Thrones alumni David Benioff and D.B. Weiss' recent departure from the Star Wars franchise may not have been so recent after all, as the move appears to have been in the works for a couple months.
Anticipation started to mount in February of 2018 when news broke that Benioff and Weiss, who hadn't yet completed their final Thrones season for HBO, would write and produce a full Star Wars trilogy separate from the universe's central Skywalker Saga (which will close out its decades-spanning run with Star Wars Episode IX: The Rise of Skywalker in December). However, once the final season of Game of Thrones actually dropped, loyal Star Wars fans took to the Internet in droves to express their righteous discontent, even going so far as to petition Lucasfilm to fire the pair in favor of better writers.  
Those fans are probably feeling pretty vindicated over the news that Benioff and Weiss have been canned, a decision which has reportedly been a long time coming. THR reports, via unnamed inside sources, that the shakeup had been "brewing since August," after Lucasfilm president Kathleen Kennedy began to doubt whether the duo could split their time between their Star Wars responsibilities and their super-lucrative Netflix deal, which they signed in August of this year. 
The pair famously held off on starting any work on Star Wars until they finished production on the final Game of Thrones season, which wrapped in July of 2018 — and it's worth noting that this apparent caution nevertheless resulted in a super-short, poorly received swan song for the massive hit series. This may have prompted Kennedy to reevaluate whether the pair could tackle more than one project at a time, something they have yet to do — and to ultimately decide not to take the gamble.
Indeed, time constraints seemed to be the main issue driving Benioff and Weiss' Star Wars exit, as far as the pair themselves are concerned. In a statement released to Deadline, they noted that they were regretfully stepping away from Star Wars to prioritize other projects, since their shared plate had become incredibly full. Kennedy also noted that the Thrones showrunners would be welcomed back to Lucasfilm "when they are able to step away from their busy schedule to focus on Star Wars."
Considering that Netflix spent $250 million dollars to secure original exclusive content from Benioff and Weiss, it's possible that the streamer put a bit of pressure on the pair to prioritize that deal over their Lucasfilm gig. The whole situation likely wasn't helped by the fact that tensions have run high between Disney and Netflix of late, with the former methodically beginning to pull its titles from the latter in favor of their upcoming streaming service Disney+.
Benioff & Weiss may not have been up to the task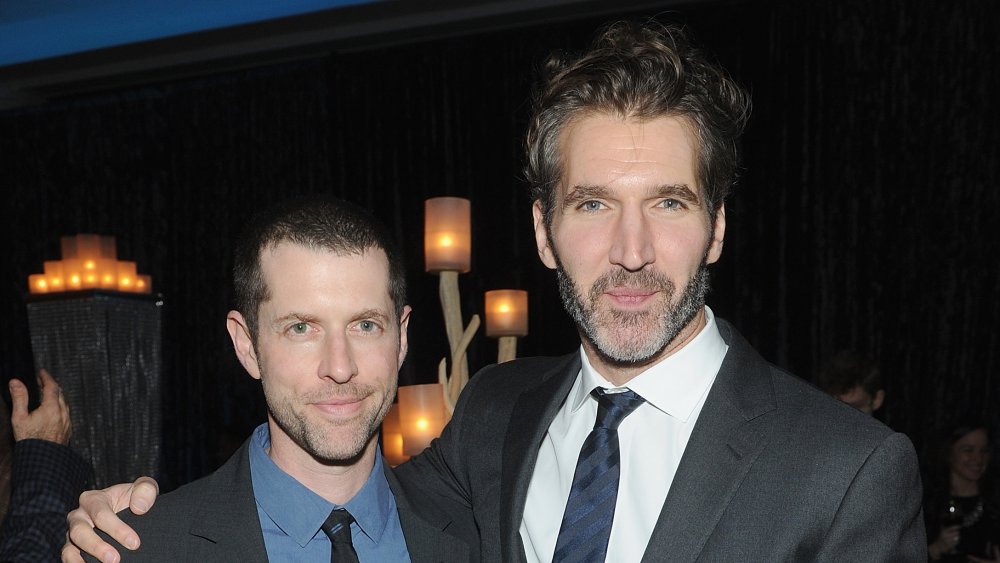 Jamie Mccarthy/Getty Images
With all of this in mind, it's entirely possible that Benioff and Weiss' exit is for the best; after that extremely disappointing grand finish for Game of Thrones, the storytellers might not have been prepared for a project as ambitious as a Star Wars trilogy. 
As everyone now knows, the highly anticipated final season of GoT didn't exactly stick the landing. Thanks to poorly executed choices, bizarre character decisions, and a rushed feel to the final six episodes, fans and critics alike felt more than a little let down by the show's ending. Between former heroine Daenerys (Emilia Clarke) going insane with basically no preamble, to Bran Stark (Isaac Hempstead-Wright) inexplicably taking over control of the Seven Kingdoms, viewers were loudly disappointed in Game of Thrones' last hurrah. 
To make matters worse, "The Iron Throne," the series finale penned and directed by Benioff and Weiss, was met with dismal viewer ratings when it aired, and flat out ridicule when its script was eventually released ahead of the 2019 Emmys. (The show did go on to win Outstanding Drama, but Benioff and Weiss lost statues for directing and writing, both of which they had won for previous seasons.)
In the aftermath of Thrones' poorly received finale, the duo have largely laid low — both said they planned to get "extremely drunk" while it aired, and they pulled out of their final Game of Thrones San Diego Comic-Con panel just days beforehand — but they recently resurfaced just days before the Star Wars news broke, although not in a good way.
Earlier this week, it was reported that during a panel at the Austin Film Festival, Benioff and Weiss admitted that they basically had no idea what they were doing when they began working on Thrones. Seemingly intent on confirming every terrible suspicion the GoT fan base ever had about them, Benioff and Weiss referred to their work on the series as an "expensive film school," and expressed puzzlement at what could have possessed the novels' author George R.R. Martin to "[trust them] with his life's work."
All things considered, Lucasfilm's decision to part ways with the duo is starting to look more and more like the right one. It's not like the studio doesn't have more talent lined up to usher Star Wars into its next phase: The Last Jedi director Rian Johnson is still (for the time being) laboring away on a trilogy of his own, and it was recently announced that Marvel Studios head honcho Kevin Feige will hop across the hall to produce at least one film in the franchise.
First, though, we'll all get to witness the end of an era next month. Star Wars Episode IX: The Rise of Skywalker hits the big screen on December 20.