Game Of Thrones Wins Outstanding Drama Series At 2019 Emmy Awards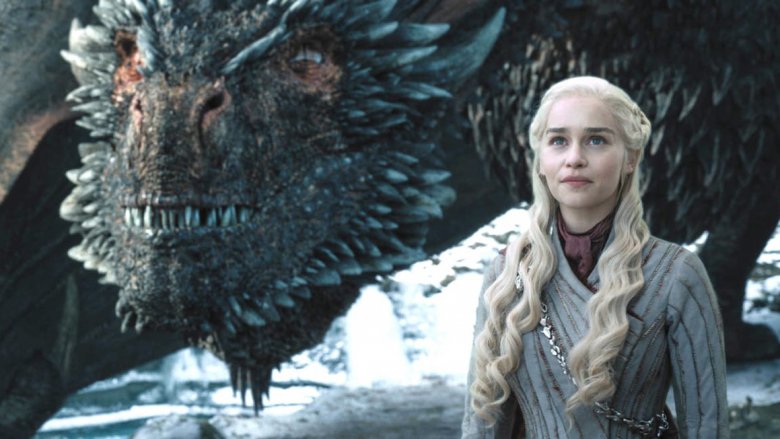 When you play the game of thrones, you either win or you die. At this year's Emmy Awards, the former happened. 
Game of Thrones indeed won the coveted Outstanding Drama Series award at the 2019 Emmys on Sunday, September 22. 
The series, which closed out its eight-season run with a divisive finale in May, faced off against Better Call Saul, Bodyguard, Killing Eve, Ozark, Pose, Succession, and This Is Us to take home the golden Emmy. 
Why some people are upset about Game of Thrones' 2019 Emmy win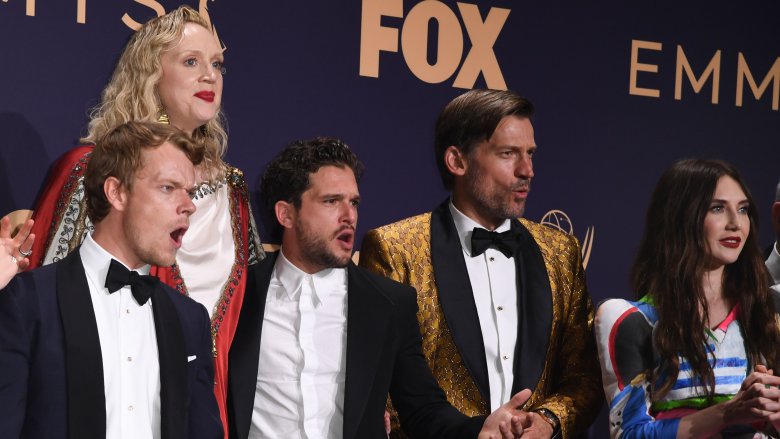 Robyn Beck/Getty Images
An Emmy win everyone's happy about? Amazing! An Emmy win that sparks mild outrage? Not unheard of, but there's something odd about this reaction when it comes to Game of Thrones. 
Granted, not everyone liked how the series reached its ultimate end, so some viewers at home were angry about Thrones winning Outstanding Drama Series over another show they thought was more deserving. But many more were upset for a much different reason: Game of Thrones' 2019 Emmys win spoiled the ending of the series. 
To honor the series on its near-10-year run on television, the Emmys ceremony played a highlight reel of sorts to commemorate Game of Thrones. Naturally, some clips were taken from the eighth and final season of Thrones, which concluded several months ago. However, just because diehard fans devoured each new episode of the last season as quickly as they could doesn't mean that everyone else did — or that everyone in the world is completely caught up on the show. Such is the case for a number of people, who turned to Twitter to air out their grievances over the 2019 Emmys spoiling the ending of Game of Thrones for them.
One user wrote, "Wow #Emmys that was way too much of a Game of Thrones spoiler I don't care that it's been months that was rude." Another added, "Dang. Huge Game of Thrones spoiler in the #Emmys opener. Guess I won't watch." Someone else was seriously frustrated about the Emmys telecast, tweeting, "And the #Emmys just spoiled a big scene from the last season of Game of Thrones in their opener. So much for spoiler warnings..."
Even actor Ben Schwartz, known for his role on Parks and Recreation, had something to say about the situation: "I haven't seen Game of Thrones yet and have been pretty great at avoiding all spoilers but was just told that by watching the Emmys and seeing two scenes, everything is now ruined for me."
In fairness, we can see both sides of the coin here. It has to be crushing to keep away from spoilers for months — possibly even years — while slowly finishing a show, only to have it spoiled by an awards ceremony. But it also has been six months since Game of Thrones ended, so the Emmys organizers probably thought using final season footage was totally fair game. 
Emilia Clarke addressed the Game of Thrones haters at the 2019 Emmys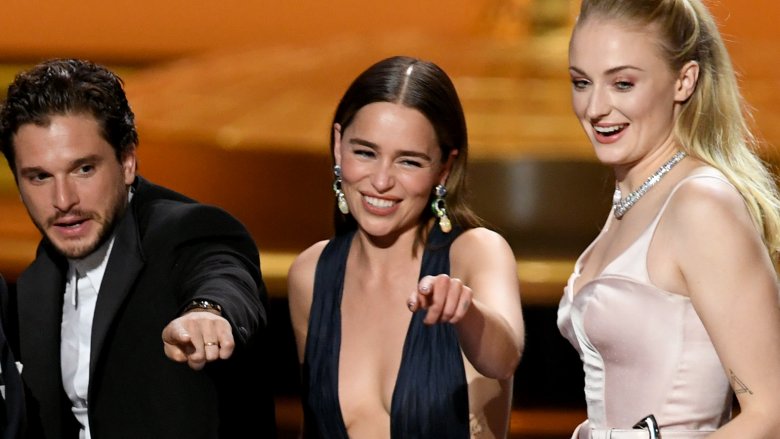 Kevin Winter/Getty Images
Daenerys Targaryen actress Emilia Clarke left the 2019 Emmys empty-handed, sadly losing out in the Outstanding Lead Actress in a Drama Series category to Killing Eve actress Jodie Comer, but she was all smiles when she took the stage to help accept Thrones' award for Outstanding Drama Series. Clarke was still grinning when she spoke with Variety at the Emmys about those who were less-than-pleased with the ending of Game of Thrones. 
Charming as ever, the actress addressed the haters with kindness, choosing to view the negative response as a positive thing. 
"You know what? It was profoundly flattering is what it was, because when someone cares that much that they're ready to make such a noise about how they believe the characters should've been finished and how the story should've gone, that's just enormously flattering," she said. "That just shows how much everybody loved it."
Clarke then got candid about her experience completing Game of Thrones, saying that the Emmys felt like a reunion where everyone "had some time to cool down a bit" from the emotions that ran high on set and while the final season was airing on HBO. In all, the Dany actress couldn't be more thankful for what Thrones gave her: the job of a lifetime and friends that feel like family. Still, Clarke made it clear that everyone involved with Game of Thrones is glad that the show is over.
"I honestly don't think that you would have a crew or a cast alive to do another couple seasons," she shared. "We put our absolute heart and soul, blood, sweat, and tears, muscle, brain energy, everything into this, and I feel like everybody's families are like, 'Thank God, you're done. We can get everyone back.'"
Love it or hate it, the final season of Game of Thrones will be remembered forever. With an Outstanding Drama Series under its belt, plus an additional 11 combined wins at the 2019 Primetime Emmys and Creative Arts Emmys, Thrones proved good to the very last drop.