Game Of Thrones Creators Ink Massive Content Deal With Netflix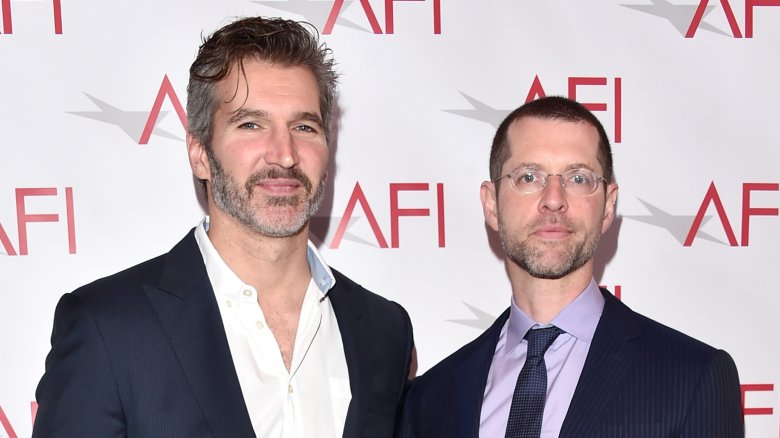 Alberto E. Rodriguez/Getty Images
David Benioff and D.B. Weiss have officially left Westeros.
The Game of Thrones showrunners, whose critically acclaimed series wrapped up its run in May after an incredibly divisive final season, have signed a multi-million-dollar and multi-year deal with Netflix (via Variety). Some outlets, includingVanity Fair, are reporting that the deal is worth $200 million.
After a drawn-out battle to snag the showrunners between the streaming service, Amazon, and Disney, Benioff and Weiss landed at Netflix, where they'll create exclusive original content over several years.
This is yet another huge deal for Netflix, who last year signed Grey's Anatomy creator Shonda Rhimes in a record-breaking deal alongside other contracts with entertainment giants like Ryan Murphy (American Horror Story), Kenya Barris (black-ish), transgender activist Janet Mock (Pose), and even former President and First Lady Barack and Michelle Obama.
In a statement provided to Variety, Benioff and Weiss said, "We've had a beautiful run with HBO for more than a decade and we're grateful to everyone there for always making us feel at home. Over the past few months we've spent many hours talking to Cindy Holland and Peter Friedlander, as well as Ted Sarandos and Scott Stuber. We remember the same shots from the same '80s movies; we love the same books; we're excited about the same storytelling possibilities. Netflix has built something astounding and unprecedented, and we're honored they invited us to join them."
Game of Thrones creatives are in high demand in the aftermath of the series finale; longtime Thrones director and producer Bryan Cogman has found a home at Amazon, where he's working on a Lord of the Rings television series, so it seems it was only a matter of time before another major company snagged Benioff and Weiss.
Now that they've settled at Netflix, it still remains to be seen what Benioff and Weiss will work on for the streaming giant. The deal has likely killed their upcoming (and already controversial) HBO series Confederate, and the pair is undoubtedly already hard at work on their upcoming Star Wars film. Up until this announcement, the two have been rather quiet, after negative reviews poured in for the final season of Game of Thrones. Both said they would be taking time away from the Internet after the finale aired, and they abruptly pulled out of the show's San Diego Comic-Con postmortem just days before the panel. 
Netflix may also come under fire for this decision, especially in the wake of their recent cancellations and finales. Despite their upcoming projects from Rhimes and Mock, which will provide the service with some diverse points of view, the service has been called out recently for cancelling the female-driven shows The OA and Tuca & Bertie – cancellations which coincidentally lined up with the end of Orange is the New Black, a female-led series. Inking a deal for what are likely going to be male-driven projects from two white male showrunners may seem short-sighted on Netflix's part.
Regardless of the optics, this deal is sure to be massive for both Netflix and the former Thrones showrunners, especially as more details emerge about which projects they'll produce for the streaming studio. Before that, the two will very likely be on hand at the 2019 Emmy Awards, during which Game of Thrones is expected to scoop up more than a few trophies.