Antlers: Trailer For Guillermo Del Toro-Produced Film Teases Beastly Horrors To Come
Prepare yourself for a fresh round of sleepless nights, because maestro of the macabre Guillermo del Toro is prepping to unleash a beast of a new horror film on audiences — and we've got the trailer to prove it.
Before all you horror buffs get too excited at the prospect of a new flick from del Toro, we should tell you he's not actually occupying the director's chair on Antlers, the fright-fest from up-and-coming filmmaker Scott Cooper. 
Del Toro's prep work on his adaptations of Pinocchio and Nightmare Alley — plus a documentary about American crime auteur Micheal Mann — are keeping him plenty busy, but his extra-full directorial slate hasn't stopped him from teaming up with a couple of talented directors to bring bone-chilling tales to the big screen. Most recently, del Toro helped Trollhunter and The Autopsy of Jane Doe director André Øvredal shepherd a terrifying new take on Scary Stories to Tell in the Dark into theaters. Now the Oscar-winning The Shape of Water filmmaker is returning to the producer's chair to deliver a different sort of cinematic nightmare unto the masses. By the looks of the film's newest trailer, Antlers may prove a beastly treat for lovers of moody genre fare.
Co-written by Cooper, C. Henry Chaisson, and Nick Ancosta — and based on Ancosta's own short story – Antlers follows the story of a small-town teacher (Keri Russell) and her sheriff brother (Jesse Plemons), who's dealings with a local boy lead to the discovery that the young man (newcomer Jeremy T. Thomas) is harboring a particularly grisly secret — one that will forever alter that history of the sleepy Oregon town. Joining Russell and Plemons in the cast are lauded character actors Graham Greene (Wind River), Amy Madigan (Field of Dreams), and Rory Cochran (Dazed and Confused). 
Cooper first teased the creepy new del Toro collaboration last year, and now that the official trailer is upon us, it's clear that the "grisly secret" is something altogether unexpected. As for the trailer itself, it's a genuinely unnerving 90-second nightmare fueled by daunting music, creepy sound effects, intensely moody overtones, and basically no dialogue. There's just a single word uttered in the dread-soaked Antlers footage. Without spoiling the impact, it's a genuinely unexpected word to tease at the end of such a trailer, and it's bound to leave you ravenous to know exactly how that twist will play throughout the film. 
Who is Scott Cooper, and why is he trying to give us nightmares?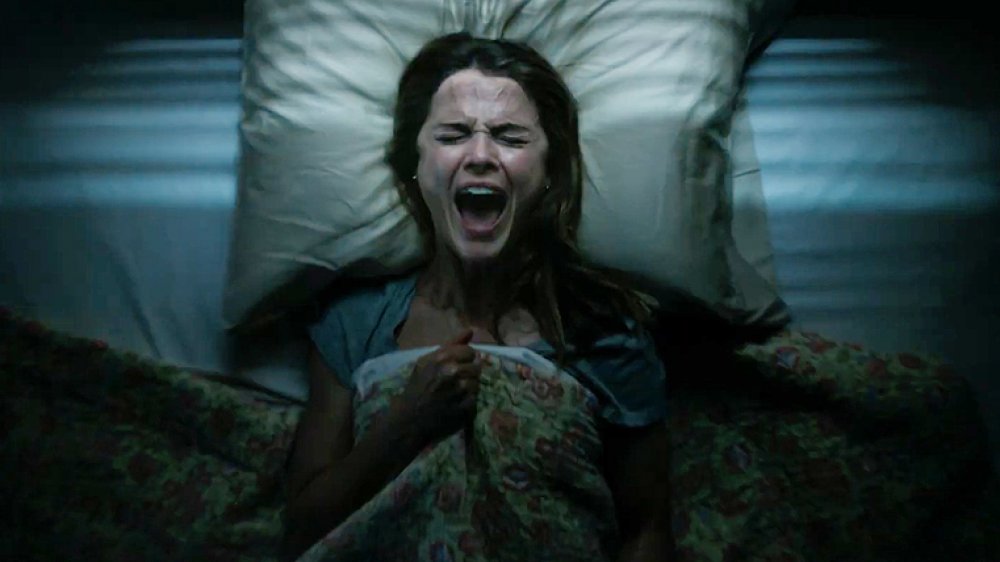 Most everyone is familiar with the name "Guillermo del Toro," but many may not know who Antlers director Scott Cooper is. Those who do already understand his is hardly a name one would associate with the horror genre; Antlers will indeed mark the Crazy Heart director's first official foray into the horror realm. That being said, if you've seen any of his prior films — like Out of the Furnace, Black Mass, and Hostiles – you're well aware of the fact that taut character studies and tightly wound narratives are very much up Cooper's alley. As such, a jump into creature-driven chills and gore-tinged madness doesn't seem all that daunting.
Still, when Cooper down with Collider to discuss Antlers, he offered some candid insight into taking his first step into horror, and shared some of the films that helped influence the unerringly eerie energy that seemingly permeates every frame of Antlers (or at least every frame of the trailer). 
"It's been a lot of fun, and very different for me," he said of entering the horror landscape. "I was so influenced early on by the work John Carpenter, like Halloween, or certainly [William Friedkin's] The Exorcist which is a favorite of mine, or even [Andrei] Tarkovsky's Stalker. So I'm able to bring all of that into one film which is exciting."
One can certainly feel the slow-burning, brooding style of those films in the Antlers trailer, but they can also feel Cooper's own style blending in. For his part, del Toro wanted to see if Cooper could bring that gritty energy to a true genre film. Cooper even noted in his Collider interview that del Toro was quite keen to see a non-horror filmmaker tackle the Antlers narrative. 
"[Guillermo] said, 'I've obviously never seen you direct a horror film, but there's a lot of horrific moments in your movies, so I'm more interested in someone who doesn't work in that genre to step into it," shared Cooper.
If Antlers' beyond-creepy trailer is any indication, del Toro's instincts about Cooper were spot on. With Cooper's background in dramas, you can be sure he's also brought a character-first approach to the mix — which should instantly land Antlers on horror fans' list of must-see genre films of 2020.
Antlers is set to hit theaters on April 17, 2020.