Exclusive Suicide Squad Set Photos Tease Something Big About Cena And Elba's Characters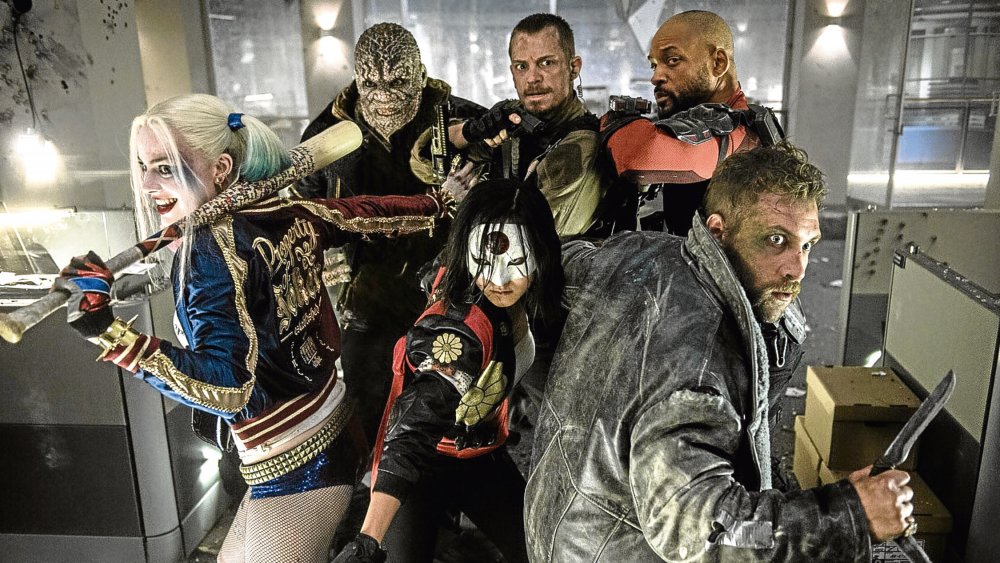 The no-good gang is getting back together — and adding some brand-new baddies to the mix. 
Looper has obtained exclusive behind-the-scenes photos from the set of The Suicide Squad, director James Gunn's reboot-slash-sequel to 2016's Suicide Squad that will introduce to the DC Extended Universe a handful of DC Comics villains. 
Spotted on the film's set were returning star Viola Davis – who will reprise her role as the hard-headed government agent Amanda Waller, known for assembling the original Suicide Squad team in the first flick — as well as franchise newcomers Daniela Melchior, John Cena, and Idris Elba. 
Davis and Melchior are seen in the snaps wearing fairly normal attire. While the former donned a sleek skirt-suit typical of her character, the latter dressed in a get-up seemingly meant to show her character pre-transformation. In The Suicide Squad, Melchoir will portray a gender-bent version of Ratcatcher — a Gotham City sanitation worker known as Otis Flannegan in the DC Comics who eventually turns to a life of crime and takes on a moniker that reflects both the type of work he did and his strange ability to control armies of rats. That said, it doesn't sound off any alarms seeing Melchoir dressed in a loose T-shirt tucked into slightly baggy black pants on the set of The Suicide Squad.
As for Cena and Elba, the costumes they were photographed in are worthy of attention, as they tease something pretty big for the upcoming movie. 
Who is John Cena playing in The Suicide Squad?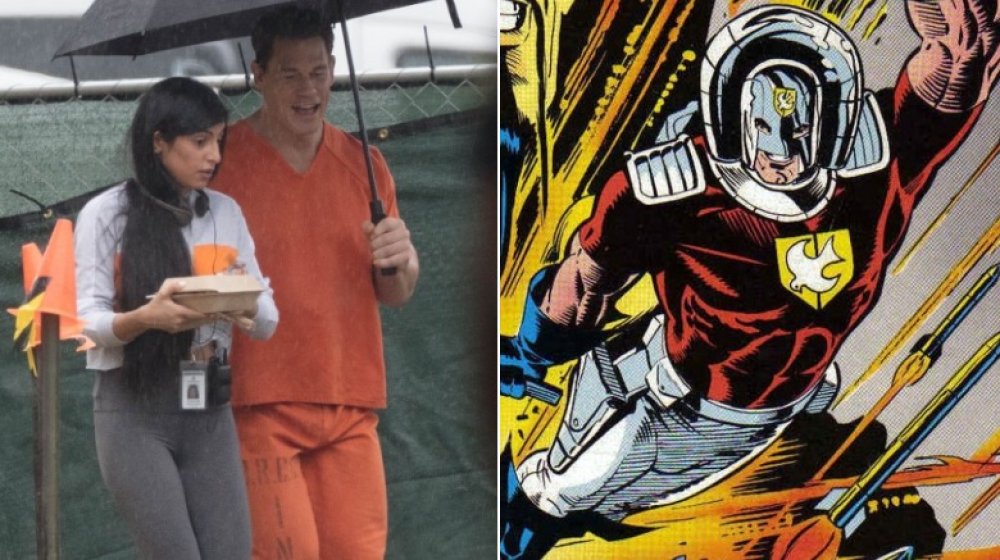 Backgrid/DC Comics
In the exclusive photos from the set of The Suicide Squad, John Cena is shown walking around wearing an orange top and matching pants, which have the words "B.R.C.C. INMATE" stamped down the right leg. Obviously, this is a prison uniform, and we presume that "B.R.C.C." stands for something along the lines of "Belle Reve Correctional Center" — a riff on DC Comics' Belle Reve Penitentiary, the prison and sanatorium that first appeared in May 1987's Suicide Squad #1. Considering that The Suicide Squad isn't a cut-and-dry sequel to 2016's Suicide Squad, it might make sense that director James Gunn would change the name from Belle Reve Special Security Barracks as it was in the first flick to Belle Reve Correctional Center for his movie. Either way, Cena's character is 100-percent a prisoner, and is most likely incarcerated at a CIA black site Amanda Waller will again establish as the operational base for the Suicide Squad.
What remains a mystery, however, is who this dastardly dude is. It's widely believed that the wrestler-turned-actor is set for the role of Peacemaker — a man by the name of Christopher Smith who exhibits an intense passion for peace and an extremist approach to pacifism. Peacemaker is so bent on making things right in the world that he would — and does — kill for peace. Cena can undoubtedly bring the hulking physicality to the role of Peacemaker, should that truly be who he's playing, and his surprisingly sharp acting chops could add plenty of dimension to the already interesting character. 
What's more interesting is the man whom Cena's character — Peacemaker or not — will apparently meet at Belle Reve Correctional Center.
Idris Elba's role in The Suicide Squad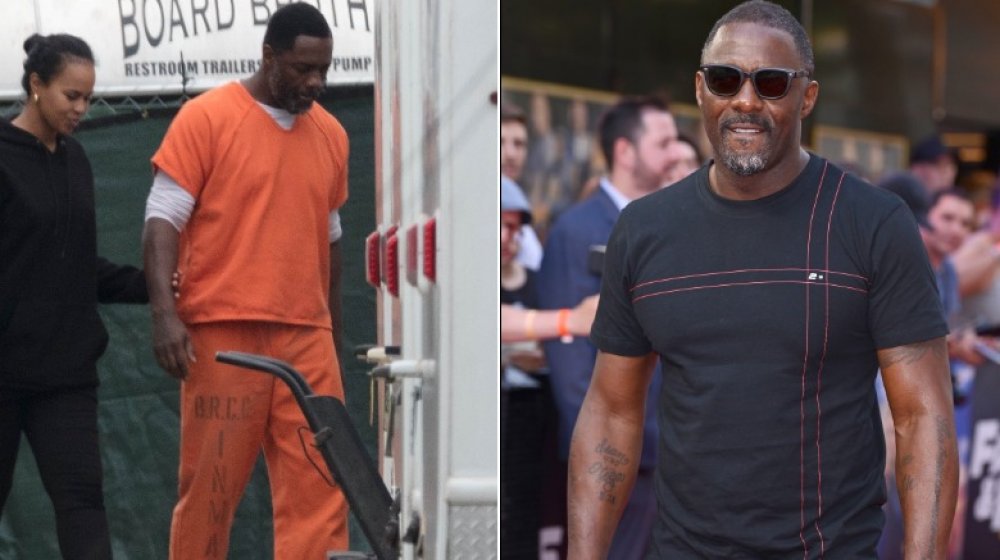 Backgrid, Joe Maher/Getty Images
Just like John Cena, Idris Elba was photographed on the Suicide Squad set wearing a prison uniform — with the same "B.R.C.C. INMATE" tag printed on his pant leg. This indicates that Elba's character in the forthcoming film is incarcerated in the same prison as Cena's character, and hints that the two will meet and become allies during their time behind bars. 
That Viola Davis was also spotted on set on the same day of filming teases that her character Amanda Waller may visit Cena and Elba's characters in prison, recruit them for a highly confidential government mission (just as she had done in the first Suicide Squad movie), and have them join forces with Margot Robbie's Harley Quinn, Joel Kinnaman's Rick Flag, Jai Courtney's Captain Boomerang, Michael Rooker's King Shark, and David Dastmalchian's Polka-Dot Man — plus the mystery characters played by Taika Waititi, Nathan Fillion, Alice Braga, Pete Davidson, Sean Gunn, Mayling Ng, Peter Capaldi, and more.
Though these new snaps give us a pretty big clue as to how some of the new characters will be introduced in The Suicide Squad, what's still unclear is who Elba is actually portraying in the film. He's one of several actors confirmed for the flick whose role has yet to be revealed, which makes it tricky to predict how exactly his villain will interact with Cena's character. Some sources claim that Elba is set to play Vigilante, a moniker assumed by various different people — including the good-guy gunslinger Greg Saunders and the ultimately villainous District Attorney Adrian Chase, who started out by fighting crime beyond his legal jurisdictions and eventually slipped into mental instability and became a full-blown killer. Other outlets have reported that Elba is portraying Ben Turner, the master martial artist better known as the Bronze Tiger, in The Suicide Squad.
In any case, it's clear that Elba and Cena's characters are going to be in close quarters in The Suicide Squad, which looks to be everything fans wanted but didn't get from the original film, all coated in James Gunn's signature wit and style. The director has teased that The Suicide Squad is "the most complex and biggest" but also "the most fun" production he's ever been a part of — and he's already directed two Guardians of the Galaxy movies for Marvel, so that's certainly saying something. 
Check back in with Looper for future updates on The Suicide Squad as the film inches closer to its still-far-off release date of August 6, 2021.