Waititi Confirms Another Key Endgame Character For Thor 4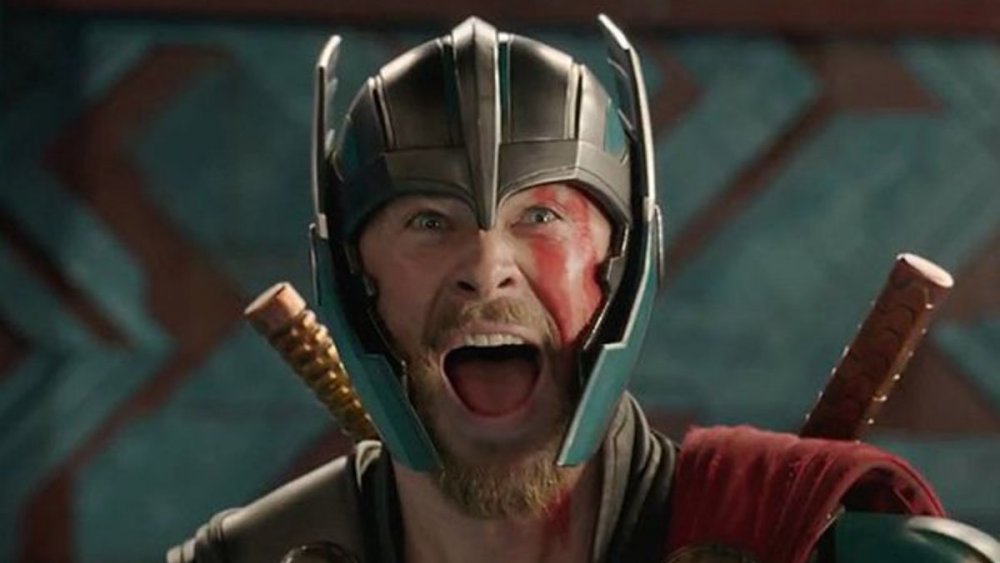 One of Thor's funniest friends will return for the Asgardian hero's next cinematic venture.
During an interview with late night host Jimmy Kimmel, director Taika Waititi — who helmed the franchise-reviver Thor: Ragnarok and will also direct its upcoming sequel Thor: Love and Thunder – confirmed that a very important, very lovable character will appear alongside Chris Hemsworth's God of Thunder in the next Thor film. 
He's the guy who hilariously told ghosts off in Thor: Ragnarok and who settled down in a small Norwegian village with beer, snacks, video games, and Thor himself in Avengers: Endgame. His name, of course, is Korg, and he's coming back to the big screen for more Thor. 
Though his conversation with Kimmel was mostly about his buzzy new film Jojo Rabbit, Waititi briefly touched on Thor: Love and Thunder, which is when the director made this exciting announcement. As the interview began to wind down and Kimmel asked about the fourth Thor flick, Waititi announced, "My character is coming back, Korg." The audience went understandably wild — which spurred Waititi to reply, in Korg's unmistakable voice, "Thank you. Thank you so much for that reaction."
Even better is that Waititi will again voice the effortlessly funny and good-natured character in Thor: Love and Thunder, just as he did in Thor: Ragnarok. Anyone who has missed hearing a New Zealand accent come out of a sort-of-man-shaped pile of rocks will surely be satisfied by Korg's return in Love and Thunder. 
How will Korg fit into Thor: Love and Thunder?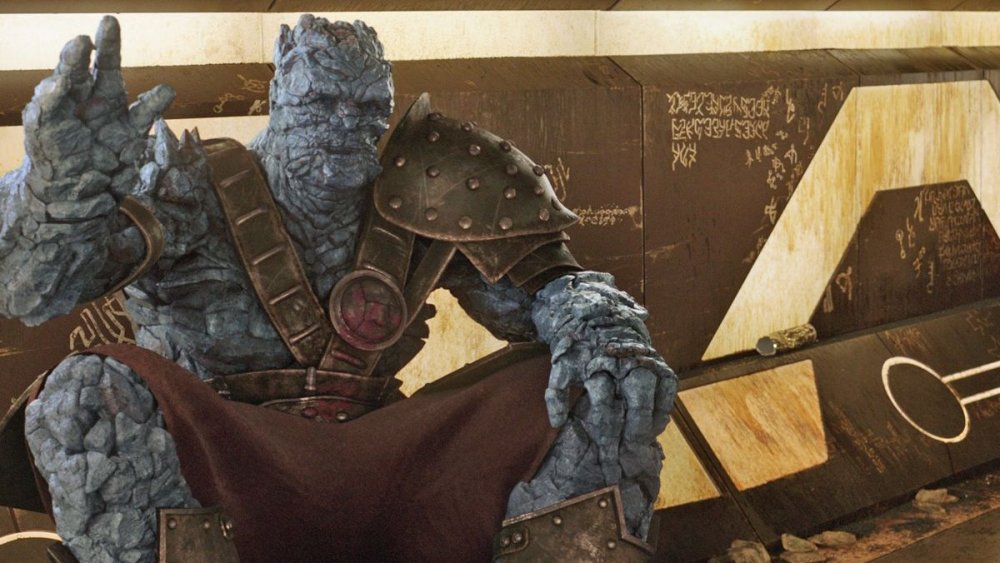 A warrior and member of the Kronan race, an ancient group of rock-like humanoid entities, Korg made his official debut in Thor: Ragnarok — but he wasn't the first Kronan to appear in the Marvel Cinematic Universe. The MCU canon details that a prominent member of the Marauders, the coalition of invaders that attacked the Nine Realms including Thor's home world of Asgard, was a Kronan warrior. That Kronan tried to throw down with Thor during the battle on Vanaheim in 2013's Thor: The Dark World, but the God of Thunder took him down. In 2017's Guardians of the Galaxy Vol. 2, two Kronans were shown fighting when the Quadrant — a piece of the Ravagers' main ship the Elector, used by Yondu Udonta, Rocket Raccoon, Groot, and Kraglin Obfonteri to rescue the Guardians on Ego's planet — whizzed past them. Many fans have speculated that one of the two Kronans was indeed Korg, who wound up getting sent to Sakaar and was forced to compete in the Grandmaster's (Jeff Goldblum) Contest of Champions. 
In Thor: Ragnarok, Korg meets Thor in a holding area where the Grandmaster's champions prepare to fight. Korg explains that he "tried to start a revolution but didn't print enough pamphlets so hardly anyone turned up," and thus he was "forced to be in here and become a gladiator" as punishment. The two quickly become allies — along with another gladiator, the Sakaaran insectoid warrior named Miek — and Korg ultimately stages a mutiny against the Grandmaster. Korg, Miek, and Thor escape from Sakaar with the help of Valkyrie (Tessa Thompson), then go on to defeat the villainous Hela (Cate Blanchett) on the Rainbow Bridge leading into Asgard. After the fiery demon Surtur rises again and destroys Asgard at the end of Thor: Ragnarok, Korg stays in Thor's life. 
Though he didn't appear in Avengers: Infinity War, Korg emerged as a lucky survivor of Thanos' (Josh Brolin) Snap in Avengers: Endgame. With half the universe's population gone, Korg and Miek reunited with Thor and lived together in New Asgard — the fancier name for the town in Norway where displaced Asgardians and other refugees took residence. For five years, Korg provided emotional support (and plenty of video games) during Thor's, er, physical decline during the events of Endgame. He even lent a hand in the final fight against Thanos. 
All this is to say that Korg has been an important part of Thor's life for many years, and that's not going to change in Thor: Love and Thunder, which will likely start off by filling us in on what's happened since we last saw Korg and Thor. Embracing his bigger body and knowing that he's still worthy of being a hero, Thor joined forces with the Guardians of the Galaxy in the final moments of Endgame, when the galaxy-saving crew were about to ship out in search of the 2014 version of Gamora (Zoe Saldana). Meanwhile, Korg headed home to New Asgard, where Valkyrie is now king.
While we can't speculate on what might happen in the upcoming third Guardians of the Galaxy movie of which Thor may or may not be a part, we can theorize that Thor: Love and Thunder will see Thor returning home to New Asgard and having a happy reunion with Korg and Valkyrie. Waititi has confirmed that Love and Thunder will introduce the MCU's first LGBTQ+ character through Valkyrie, who will be looking for her queen in the new movie. It seems safe to assume that  Love and Thunder might see Korg serving as one of Valkyrie's royal advisors, helping her find a lucky lady to aid in ruling New Asgard. Perhaps when Thor comes home, Korg and Valkyrie ask him if he has anyone in mind who might be worthy of the throne. And that woman just might be Jane Foster, played by Natalie Portman, who will pick up Mjolnir and become Mighty Thor in Thor: Love and Thunder.
Whichever way the cookie crumbles, Korg is sure to bring plenty of laughs and some rocky shoulders to cry on should anyone need them in the new Thor flick.
Why Waititi has been so good for Thor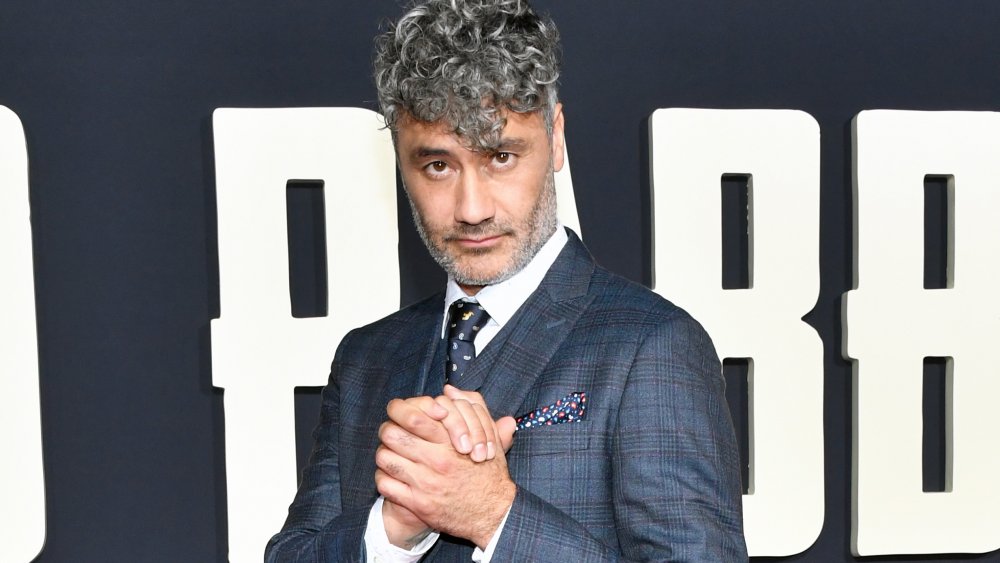 Amy Sussman/Getty Images
When Thor began his standalone films in the Marvel Cinematic Universe, he didn't exactly get off to a strong start. Though 2011's Thor was well-received, its follow-up, Thor: The Dark World, was panned by critics and fans. Even now, it's still often ranked as one of the worst movies in the entire MCU.
Enter Waititi. His irreverent sense of humor — honed by working with deadpan, low-key comedians like Flight of the Conchords' Jemaine Clement on clever endeavors such as What We Do in the Shadows — brought a new spark to the Thor franchise with Ragnarok, giving the MCU one of its funniest and most original projects to date. From all the Love and Thunder announcements that Waititi and Marvel Studios head (now Chief Content Officer) Kevin Feige made at San Diego Comic-Con 2019 to the exciting news of Valkyrie being canonically queer on screen just as she is in the comics to the wonderful announcement that Korg is making a comeback, it's clear that Waititi has a true passion for Thor — and will continue breathing new life into the franchise.
The only bad news about Thor: Love and Thunder thus far, however, is that fans will have to wait until November 5, 2021 to see it. Until then, there's undoubtedly plenty of exciting news to come about the next chapter for the God of Thunder.