Rumor Report: Is Marvel Really Making Captain America 4?
Hold onto your hats, true believers — the Marvel rumor mill has cranked out a doozy.
We Got This Covered is reporting that, according to anonymous sources close to Marvel Studios, a fourth Captain America picture is in development — one which will star Anthony Mackie, as it'll see Sam Wilson officially taking on the mantle.
Now, it's always wise to take rumors like this with a pretty big grain of salt, but the sources cited by WGTC have been on the money before. They were among the first to report that a movie centered on Richard Rider, the man called Nova, is in development (which appears very likely based on comments since made by Marvel head honcho Kevin Feige) and  that the iconic Marvel baddie the Taskmaster would be featured in the upcoming Black Widow movie (which has been confirmed).
It should also be noted that Wilson's struggle with the legacy (and shield) passed on to him by Steve Rogers at the conclusion of Avengers: Endgame is thought to be a major focus of the upcoming Disney+ limited series Falcon and the Winter Soldier, which you will note carries a reference to Wilson's original superhero moniker right there in its title. While we don't have all of the details yet, we do know that the character of John Walker/U.S. Agent — who has taken on the title of Captain America at times in the comics — will be featured in the series, portrayed by Wyatt Russell (Overlord). Signs seem to point to some kind of struggle over who will be the next to fill Rogers' shoes, and this new report seems to indicate that when the dust settles on Falcon and the Winter Soldier, Wilson will have emerged as the new, uncontested Captain America.
It all makes sense on paper — but is it actually how Wilson's journey will play out?
Has there been any official word about Captain America 4?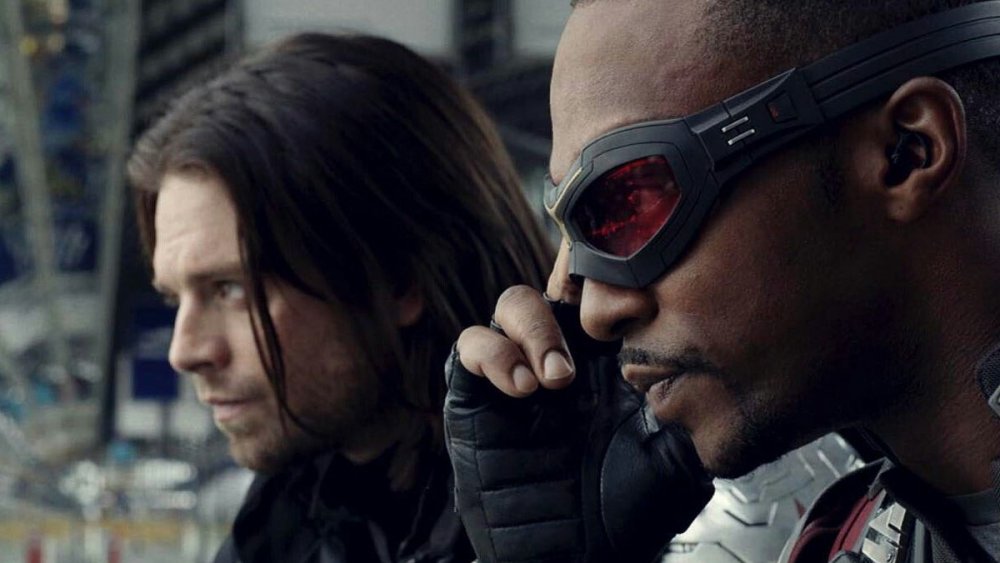 Disney/Marvel
Well, we should be perfectly clear on one point: there has been absolutely no official word whatsoever about the possibility of a fourth Captain America movie. There have, however, been a couple of conflicting comments made by Mackie himself which suggest that as far as Wilson taking on the mantle of Cap, Marvel may still be weighing its options.
First, there was the comment the star made to MTV News back in July indicating that, yes, he'd already put on the Captain America suit. "I just had my first fitting," Mackie said at the time. "It looks really good... they came to my house, I did a fitting in my house."
In August, however, the actor appeared to walk back his remarks when MTV News followed up on the previous interview. "I don't even know if the suit's in the show," he said. "And it's funny because I didn't have a fitting for the suit. I just had my fitting and everybody was, yeah. Everybody was like, 'Oh, you had a fitting of your suit!' And I was like, I never said I had a fitting for the suit. Go back to the tape, I said I had my first fitting."
Yes, that is indeed what he said — right after the interviewer expressed his excitement to see him wear the Captain America suit someday soon. The only thing clear here is that Mackie was fibbing during one of those two interviews, but we'd be hard pressed to say which one.
Then, consider the remark that Mackie made at the D23 expo, also in August, when asked if Falcon and the Winter Soldier would deal with Wilson's transition to his new role as Captain America. "No, I am the Falcon," he stated flatly. "I will always be the Falcon. The moniker will stay the same."
That... doesn't appear to leave a whole heck of a lot of room for interpretation — so it could very well be that, despite the fact that Rogers obviously intended for Wilson to become the new Cap, Wilson himself may have other ideas. It's also worth noting that WGTC has reported a wide variety of rumors having to do with the future of Captain America in the Marvel Cinematic Universe, and that many of these rumors — such as a recent report citing the same sources that Marvel intends to field several different iterations of the character, one of which may be a woman, another of which may be gay — appear to conflict with the notion that Wilson will be the next version of the Star-Spangled Avenger.
At any rate, Marvel's complete slate of releases through 2022 has been announced, so if we are going to get a fourth Captain America flick, it wouldn't be until 2023 at the very earliest. Based on the information that we have available at the moment, however, we're going to go ahead and say that the veracity of this report is questionable at best. 
Of course, we'll be keeping both ears to the ground for any additional information, and we'll be sure to keep you informed. But Marvel has been keeping a pretty tight lid on plot details for its Phase 4 projects, so it wouldn't surprise us if we were to get no solid leads on the studio's plans for the character of Captain America before Falcon and the Winter Soldier premieres on Disney+ in the fall of 2020.