Meet The Cast Of Marvel's Horror-Themed Series Helstrom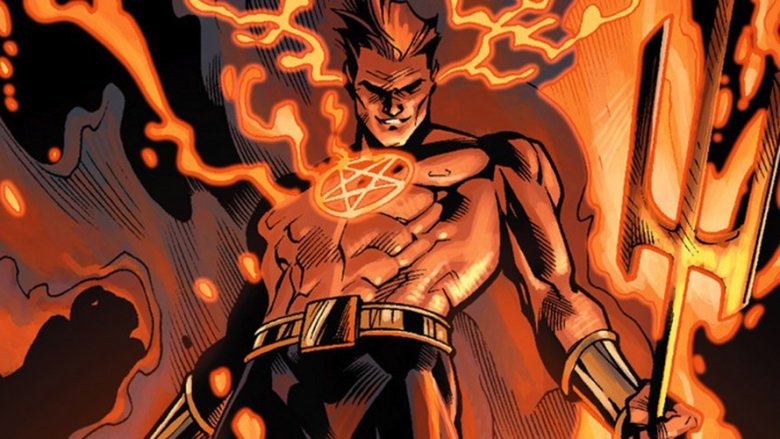 Thony Silas, Nelson DeCastro, Chris Sotomayor/Marvel Comics
Marvel is officially bringing a little hell to Hulu with the upcoming live-action series Helstrom.
Though we've known for a few months now that Hulu and Marvel were indeed moving forward with a full-on horror-styled take on the Marvel Comics character Daimon Helstrom, little has been heard of the series in recent weeks. Given that Hulu's Ghost Rider series was cancelled before it even got off the ground, many fans feared the equally anticipated Helstrom would face the same dark fate. However, thanks to an exclusive announcement published by Deadline, the folks at Marvel and Hulu have put those fears to rest. 
Helstrom producers have given a first look at not only some of the characters set to populate the series' hellscape, but also the stalwart cast of performers tasked with bringing those characters to life. The cast includes a few very familiar faces — like Tom Austen (The Royals), Sydney Lemmon (Fear The Walking Dead), Robert Wisdom (The Wire, Ballers), June Carryl (Mindhunter), Ariana Guerra (Raising Dion, Five Feet Apart), and Alain Uy (True Detective, The Passage). Also featured on the Helstrom cast is veteran character actor (and fortuitously named) Elizabeth Marvel, who's leant her presence to esteemed series like Fargo, House of Cards, and Homeland — not to mention films like the Coen Brothers' True Grit, Spielberg's Lincoln, and Noah Baumbach's The Meyerowitz Stories.
Helstrom — slated to be Marvel's first legit foray into the horror genre on television — was actually pitched as a sort of package deal with the recently abandoned Ghost Rider. That said, it's a bit of a surprise that the series is moving forward in the wake of the Ghost Rider debacle. That's especially true since Daimon made his first appearance in the pages of the Ghost Rider comic. 
The creative team behind Helstrom – namely showrunner Paul Zbyszewski and Marvel TV guru Jeph Loeb — clearly still feel the series' prospects are strong even sans a potential tie-in with the flaming-skulled biker. Zbyszewski said of the Helstrom cast, "We feel incredibly fortunate to have landed a cast loaded with this much talent. It's going to be really fun to watch them work." Loeb added, "Marvel Television is thrilled to have such an amazing cast that enriches Paul's fantastic writing." 
Who (or what) is Helstrom?
As for who those actors will be portraying when Helstrom eventually makes its satanic presence felt on Hulu, we should probably take a moment to explore a little more about who those characters are and what they've brought to the pages of Marvel Comics over the years.
Hulu is currently marketing Helstrom as a kind of pitch-black family drama about siblings Daimon and Ana Helstrom (stylized as "Hellstrom" in the comics), who happen to be the offspring of a serial killer. Those familiar with the Helstroms' tale in the Marvel comics know that their story is rife with horrific supernatural elements because, well, the duo are actually the offspring of Satan himself. Per the comics, the siblings were separated at a young age — with Daimon embracing the human half of his identity to fight demons and such in pseudo-John Constantine style, and Ana (named Satana in the comics) embracing the darker side of her family's twisted history and complicating the narrative in increasingly dubious ways.
While it remains to be seen just how far from the comics the Hulu series will stray, the initial set-up would lead one to believe that Satan may not have quite as real a role to play in the Helstrom madness. Though it's certainly plausible that Zbyszewski and Loeb could bring some serious mood to matters by playing strictly in the bleak realm of a serial killer story, we're hoping they'll eventually drag a few legit demons and devils into fray along the way.
That being said, one look at some of the character descriptions all but confirms a certain level of supernatural shenanigans. Austen is set to play the lead role of Daimon, described as "an ethics professor who moonlights as an exorcist." Lemmon will be playing Ana, billed as an auctioneer who spends her spare time hunting down bad guys like her father. Marvel is set to appear as the duo's long-institutionalized mother Victoria, who is "plagued by demons both real and imagined."
Joining that troubled trio in Helstrom are Wisdom as Caretaker, a guardian with deep-rooted knowledge of the occult; Carryl as Dr. Louise Hastings, a psychologist with an open mind and a strong connection to the Helstrom family; Guerra as Gabriella Rosetti, a Vatican-dispatched demonology expert; and Uy as Chris Yen, Ana's faithful auction house pal who helps her in her every endeavor. 
With such a fascinating premise and such rich characters to play with, Zbyszewski and Loeb clearly have a compelling, morally complex narrative on their hands. With any luck, they'll turn that narrative into another small-screen success story for Marvel. 
Though no official date has been announced, Helstrom is expected to make its Hulu premiere sometime in 2020.