The One Song James Gunn Will Never Include In Guardians Of The Galaxy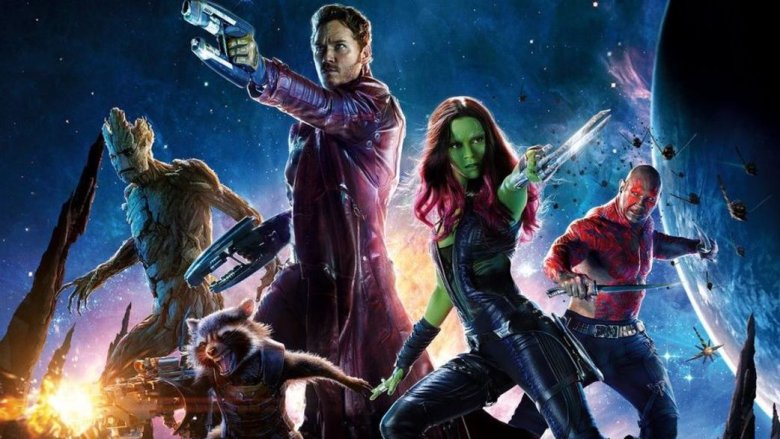 Disney/Marvel
Apparently, James Gunn's devotion to '70s guitar rock only goes so far.
In response to a fan on Twitter, Gunn revealed that there's one song that will never feature in a Guardians of the Galaxy film — "Dancing in the Moonlight," the 1972 hit by King Harvest. 
Love the song or hate it, it's tough to deny that it has that kind of nostalgic, freewheeling vibe that would seemingly make it a perfect fit for the Guardians franchise. So much so, in fact, that it appears Gunn has been asked about featuring the song more times than he would care to count, as Twitter user Fadi Antwan's missive prompted the beloved director to disclose.
Wrote Antwan, "Ok but you better use 'Dancing in the Moonlight' in Vol. 3, or I swear I will actually riot." Looks like Mr. Antwan has some riotin' days ahead, because it isn't happening.
Gunn replied, "I'm asked to include this song BY FAR more than any other. And this predictability is precisely why I'd never use it. In general, I'd rather be in the business of giving folks the thing they want that they don't know they want rather than just the thing they know they want."
It's a fair point, but it's pretty obvious judging by those caps that Gunn is simply sick and tired of hearing about this song. In case you're unfamiliar, it just a breezy, ultra-'70s-sounding little ditty with very lightweight lyrics extolling the virtues of the narrator's nightly ritual, and we just bet that you can't guess what that is. Here's a little sample: "Everybody here is out of sight / They don't bark and they don't bite / They keep things loose, they keep things tight / Everybody's dancing in the moonlight."
Okay, so it's not Shakespeare, but nobody ever said that was a requirement for '70s pop-rock tunes. The song peaked at #13 on the Billboard charts, the only time King Harvest ever broke the top 20; it was covered in 2000 by the English band Toploader, and their version also became a significant hit, going all the way to #7.
Regardless of what a great fit it might seem like, we've got to go ahead and side with Gunn on this one. There are plenty of other songs that can be used to augment the Guardians series' distinct feel, and the director has proven himself to be an expert at making the right selections: who can forget that majestic shot of Knowhere in the first movie, blowing our minds to the trippy strains of David Bowie's "Moonage Daydream?" Or the second flick's opening, with the Guardians taking on a towering alien beast while Electric Light Orchestra's absurdly upbeat "Mr. Blue Sky" provides the soundtrack? Certainly not us, although we have to admit to watching a Guardians movie, like, once a week. It's just good for the soul.
At the moment, we know very little about which songs will be included on the soundtrack for Guardians of the Galaxy Vol. 3, but we do know that this time, there will be an interesting wrinkle. Rather than being curated from Peter Quill/Star-Lord's Awesome Mix Tapes, Vol. 3's soundtrack will consist of a selection of tunes from the Quill's late father figure Yondu's Zune — and if we know anything about that blue-skinned rascal, this means that said selection will be very eclectic, to say the least. (via ScreenRant)
Gunn has also revealed during a Facebook Q&A that Vol. 3's set list (so to speak) has pretty much been chosen, whittled down from an initial list of a whopping 181 tunes. If that seems a little excessive, consider that for Guardians of the Galaxy Vol. 2, he began with a list of no fewer than 500 songs before paring it down to the 14 selections that actually made it onto the movie's soundtrack. 
It seems like even the shorter list of Vol. 3 candidates must include nearly every rock song released in the '70s, but we can now definitively pin down one song that isn't on it, and that's "Dancing in the Moonlight." It's just as well: Quinn already saved the galaxy once by way of a dance-off, and he's unlikely to do that twice. Also, the last time he was in close proximity to a moon, it was getting literally thrown at him by Thanos. Innocuous as it may seem, the King Harvest tune just might dredge up some unpleasant memories for old Star-Lord; he may never want to admit it, but he's sensitive like that.