Guardians Of The Galaxy Vol. 3 - Everything You Need To Know
Marvel Studios
We may receive a commission on purchases made from links.
When Marvel Studios first announced they were making a movie about a green assassin, a talking raccoon, and his BFF (best fir forever), many people were skeptical. Who were these weirdos, and how could they headline a movie? And then "Guardians of the Galaxy" soared into theaters, blasting '70s tunes, paying homage to the legendary hero Kevin Bacon, and impressing audiences everywhere. Since then, the Guardians have become some of the most popular characters in the Marvel Cinematic Universe, with Peter Quill and company headlining a sequel, a Christmas special, and appearing in multiple other movies, including "Avengers: Infinity War" and "Avengers: Endgame."
And now, the Guardians are back, baby. Titled "Guardians of the Galaxy Vol. 3," the upcoming installment is the third feature-length film in the "Guardians" franchise and the second film in Marvel's Phase 5. But will it be the last ride for our lovable mercenaries? Are there any new members on the team? And — say it ain't so — will any of these ragtag heroes bite the dust in part three? Well, let's climb into the Benatar and fly away together into the forever and beautiful sky as we discuss everything we know so far about "Guardians of the Galaxy Vol. 3."
When will Guardians of the Galaxy Vol. 3 be released?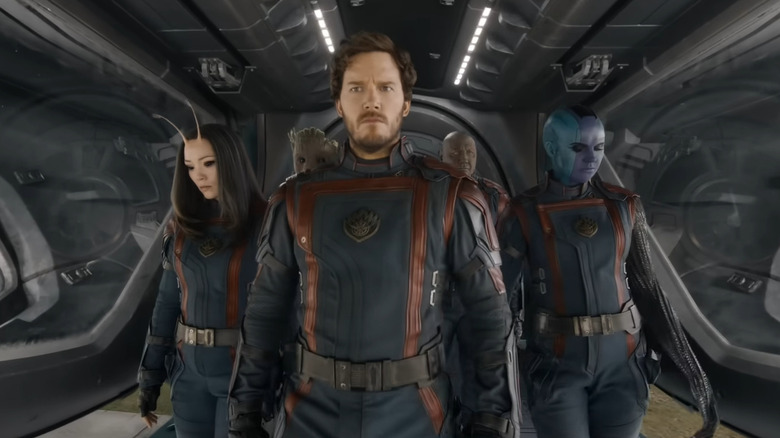 Marvel Studios
After a controversial Phase 4, the MCU's Phase 5 kicked off with "Ant-Man and the Wasp: Quantumania" on March 17, 2023. The film set up some huge stakes for the MCU by introducing the new big bad, Kang the Conqueror. However, after all that multiverse madness, Phase 5 will shift its focus from the Quantum Realm to Knowhere as the saga of Star-Lord continues.
"Guardians of the Galaxy Vol. 3" has had a long road to theaters. As everyone knows, director James Gunn was fired from the "Guardians" movies in 2018, after a politically charged controversy involving old tweets. Of course, he was eventually rehired by Disney, and after joining forces with DC for "The Suicide Squad" and "Peacemaker," Gunn was able to focus on getting Drax, Mantis, and Nebula back on the big screen.
With all that drama out of the way, "Guardians of the Galaxy Vol. 3" is finally in the can. So, when can we expect to see these adorable losers and murderous misfits? "Guardians of the Galaxy Vol. 3" will return in all its action-packed, emotional, musical glory on May 5, 2023.
How the Guardians of the Galaxy Holiday Special sets up Vol. 3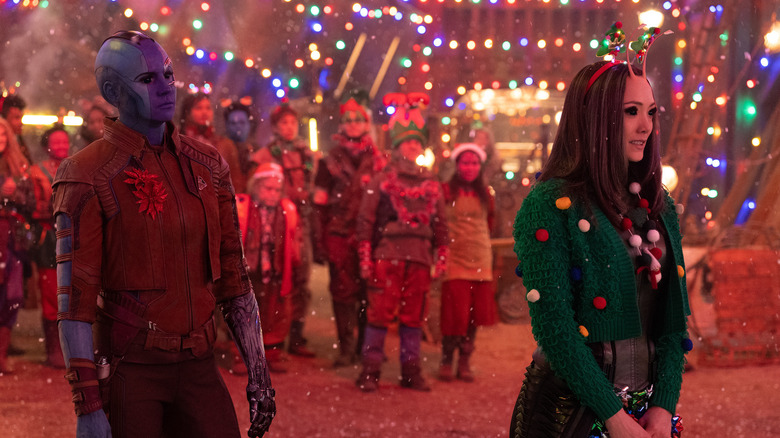 Marvel Studios/Disney+
"Guardians of the Galaxy Vol. 3" was filmed immediately after "Thor: Love and Thunder." Meanwhile, director James Gunn took on an extra project, making the 2022 "Holiday Special" at the same time as the movie. Gunn confirmed that the Disney+ special is part of the Marvel canon, and that it actually sets the scene for "Vol. 3."
To recap, in "The Guardians of the Galaxy Holiday Special," we learn several key details about the future of our scrappy band of space pirates. Following their appearance in "Love and Thunder" the remaining team of Quill, Drax, Mantis, Nebula, Rocket, and Groot have moved on to continue protecting the galaxy. The "Holiday Special" revealed that they settled on Knowhere, buying the severed Celestial head that once served as a base for Tivan the Collector. In addition to seeing some bizarre gift giving (which included Mantis and Drax kidnapping Kevin Bacon for Quill and Nebula stealing Bucky Barnes' vibranium arm for Rocket), we learn they've acquired a new ship called the Bowie. Most importantly of all, though, it's revealed that Mantis and Quill are actually paternal half-siblings.
Peter is also still visibly mourning the loss of Gamora, who died at Thanos' hands in "Infinity War." And, even though an alternate version of her traveled through time to fight alongside them in "Endgame," she has no memory of Peter and ditches the Guardians, leaving Star-Lord with a broken heart.
What is the plot of Guardians of the Galaxy Vol. 3?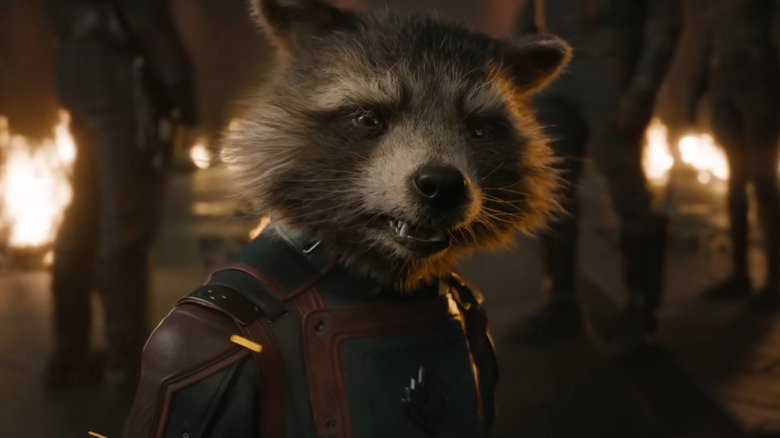 Marvel Studios
We know the Guardians are adjusting to their new lives, with villain-turned-hero Nebula settling into being an official member of Quill's team. According to the official plot synopsis, the Guardians don't get much down time as things "are upended by the echoes of Rocket's turbulent past." The synopsis goes on to say, "Peter Quill, still reeling from the loss of Gamora, must rally his team around him on a dangerous mission to save Rocket's life — a mission that, if not completed successfully, could quite possibly lead to the end of the Guardians as we know them."
This confirms that "Vol. 3" will be focused on Rocket's backstory, something Gunn has been hinting at for a long time. What element of Rocket's past is coming back to haunt him? All signs point to the villainous High Evolutionary, who's intent on creating a perfect society of evolved beings by whatever torturous means necessary. We also know that Adam Warlock — a powerful figure created by the Guardians' enemy, the High Priestess Ayesha — will factor into the story. In short, our heroes are really up against it.
Thankfully, they won't be going it alone, with the past version of Gamora is making her return. She's been off leading the Ravagers, filling the power vacuum left after "Vol. 2." But things could get complicated if "Vol. 3" sets up a love triangle among Gamora, Peter, and Nebula. This Gamora has no feelings for Peter, while he and Nebula have been growing closer.
Who is starring in Guardians of the Galaxy Vol. 3?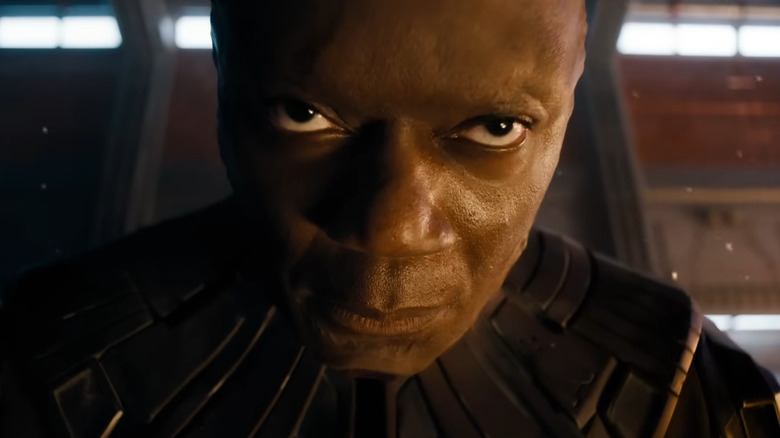 Marvel Studios
As you might expect, all the usual suspects are returning to play their respective Guardians roles. Chris Pratt is back as Peter Quill, aka Star-Lord, and Zoe Saldaña is returning as a version of Gamora that doesn't remember her old friends. Bradley Cooper will voice Rocket Raccoon, Vin Diesel will portray Groot, and Dave Bautista is back as Drax the Destroyer. Rounding out the old guard, we've got Pom Klementieff as Star-Lord's psychic half-sister, Mantis, Karen Gillan as the dead-eyed assassin with a secret heart of gold, Nebula, and Sean Gunn as Ravager Kraglin, who will hopefully have figured out how to use Yondu's arrow by now.
However, there's a new Guardian in town, with Cosmo the Space Dog — the telekinetic, talking pooch who first debuted in the "Holiday Special." She'll be voiced by Maria Bakalova, who earned international acclaim and an Oscar nomination for her turn as Tutar Sagdiyev in "Borat Subsequent Moviefilm." On the antagonist side of the aisle, we've got Chukwudi Iwuji as the High Evolutionary. Iwuji is no stranger to working with James Gunn, as he previously starred as the enigmatic Clemson Murn in HBO Max's "Peacemaker" series. Will Poulter will portray Adam Warlock, a guy who's going to give the Guardians a pretty hard time. You'll no doubt remember Poulter for his work in projects like "Midsommar," "We're the Millers," and "Black Mirror: Bandersnatch."
We've also got some pretty big names appearing in smaller side roles. Elizabeth Debicki will be reprising her part as the High Priestess Ayesha, the high and mighty creator of Adam Warlock, and Sylvester Stallone is returning as Ravager Stakar Ogord. Michael Rosenbaum of "Smallville" fame will be coming back as the crystalline Martinex, and we can also expect to see Daniela Melchior of "The Suicide Squad," Nico Santos of "Superstore," Nathan Fillion of "Castle," and Jennifer Holland of "Peacemaker." Plus, keep an ear out for Linda Cardellini — playing a Marvel character who isn't Hawkeye's wife — and keep an eye out for a quick cameo from — spoilers — the great Michael Rooker as Yondu.
Who is directing and writing Guardians of the Galaxy Vol. 3?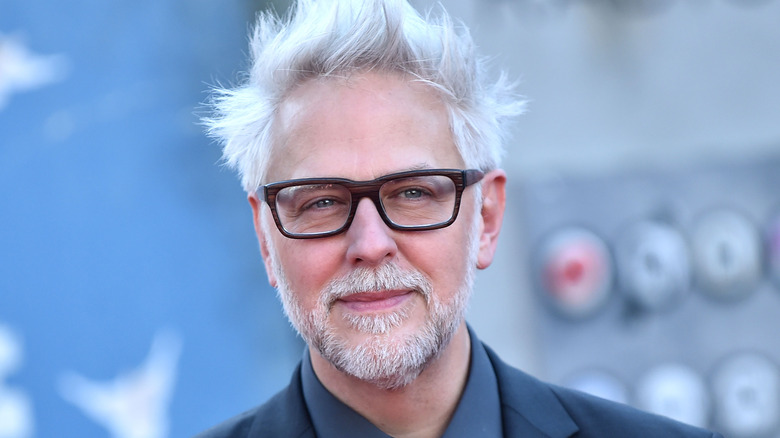 DFree/Shutterstock
Some MCU heroes are just inextricably tied with their directors. At this point, it's hard to separate Thor from Taika Waititi, Ryan Coogler is connected to the world of Wakanda, and Jon Watts shepherded Spider-Man across all three films. However, when it comes to a director and their respective super-franchise, perhaps no filmmaker has left a bigger impact than James Gunn. He's guided the Guardians from the very beginning, both writing the scripts and directing the films, and after that infamous kerfuffle involving tweets, getting fired, and getting rehired, he's here to put his stamp on the upcoming threequel.
In addition to the "Guardians" movies and the "Holiday Special," Gunn is famous for his work at DC, having helmed "The Suicide Squad" and "Peacemaker" ... and, oh yeah, becoming the DCU's Kevin Feige, along with co-head Peter Safran. Talking about his love of the "Guardians" franchise, the new DCU head spoke to Deadline about his last Marvel project, saying, "The reason why I needed to finish this is because I love the character of Rocket more than any character I've ever dealt with before, and I needed to finish his story, and that is what 'Volume 3' is about. I absolutely needed to do it, and I think we've done it in a spectacular way that I can't wait for people to see."
Is there a trailer for Guardians of the Galaxy Vol. 3?
Why yes, there are in fact two incredible trailers for "Guardians of the Galaxy Vol. 3" — trailers that promise to bring hilarity, horror, heroics, but mostly heartbreak. Seriously, get some Kleenex. This movie looks like it's going to get heavy.
The first trailer opens with the Guardians landing on strange planet filled with humanoid animals. This is the MCU's version of Counter-Earth, although it feels like a mash-up of the comics' Counter-Earth and Halfworld. (In the comics, Counter-Earth is a place created by the High Evolutionary, while Halfworld is a planet filled with anthropomorphic animals, all the result of horrific experiments.) After Drax makes a disastrous first impression on the locals (and thus promising the movie is going to have plenty of laughs), we get a glimpse the Guardians donning "2001: A Space Odyssey"-inspired space suits, baby Rocket about to suffer at the hands of the High Evolutionary, and our heroes preparing to make a final stand. "We have been running our whole lives," Star-Lord says. "Pete, I'm done running," Rocket replies, before cocking his gun and getting ready for battle. While the emotions are high, the trailer does end with Peter Quill and Drax debating the appropriate number of people to kill, showing these guys will always be our lovable criminals.
The second trailer, released during Super Bowl 2023, starts off by highlighting the sticky dynamics between Peter and this new Gamora, who has no memory of him whatsoever. As a result, she doesn't exactly reciprocate his affectionate feelings. We also get a much better look at the High Evolutionary and his sinister intentions, as the supervillain lets us know, "My sacred mission is to create the perfect society." But his most famous experiment, Rocket Raccoon, has a different take on the situation, saying, "He didn't want to make things perfect. He just hated things the way they are." It also gives us several new shots of Adam Warlock in combat with the Guardians, going toe to toe with Drax in what's sure to be a nail-biter of a battle. 
"Are you ready for one last ride?" Peter Quill asks. Yes, Peter, we are ... and hopefully, we won't cry too hard.
Is Dave Bautista leaving the MCU after Guardians of the Galaxy Vol. 3?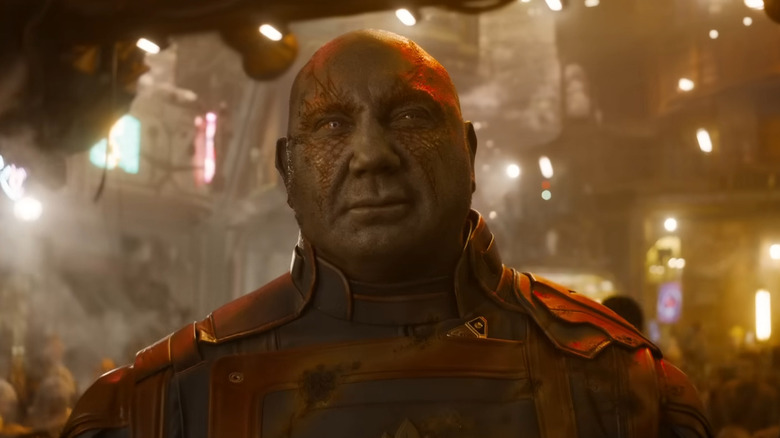 Marvel Studios
While we know "Guardians of the Galaxy Vol. 3" will be the final "Guardians" movie with director James Gunn and this line-up of heroes, we don't know which characters will die or if any of them might come back in later MCU movies. However, we do know for a fact there's one actor who won't be returning to a world of Anulax batteries, floating Celestial heads, and talking cosmonaut canines. 
Sadly, it looks like Dave Bautista is done with playing Drax. He announced he was officially moving on from the literal-minded, murder-happy, not-quite-invisible Destroyer in 2021 on "Ellen," telling the talk show host, "I'm going to be 54 years old by the time 'Guardians 3' comes out. The shirtless thing is getting harder and harder for me." While that may indeed be a factor when it comes to moving on from Marvel, Bautista has given other reasons for his departure of a more personal nature.
Talking with GQ, Bautista elaborated a bit more on his decision saying, "I'm so grateful for Drax. I love him. But there's a relief [that it's over]. It wasn't all pleasant. It was hard playing that role. The makeup process was beating me down. And I just don't know if I want Drax to be my legacy — it's a silly performance, and I want to do more dramatic stuff." In fairness, we think Bautista is being a bit hard on himself. He's awesome as Drax. However, we can't wait to see what the wrestler turned legit thespian does next, as he's proven he's got serious range with roles in films like "Glass Onion," "Blade Runner 2049," and yes, the "Guardians" movies.
This might be Nebula's last hurrah, too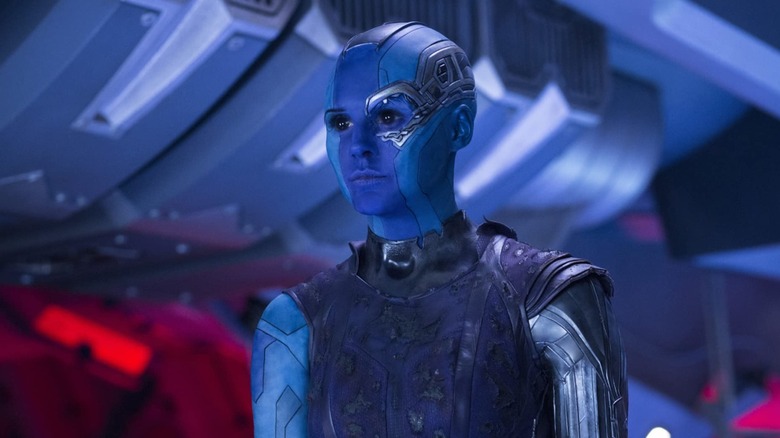 Marvel Studios
With the "Guardians of the Galaxy" franchise saying goodbye to Dave Bautista's Drax the Destroyer, it really is the end of an era. Unfortunately, it looks like he might not be the only member of the Guardians who fans will have to bid farewell to. In a cryptic Instagram post which celebrated the end of filming for "Guardians of the Galaxy Vol. 3" back in May 2022, Scottish actor Karen Gillan teased that Nebula's story might have come to an end. "I don't know if Nebula will return beyond this, it's possible that this is her final chapter. And if that's the case, then I just want to say thank you to @jamesgunn for giving me such an interesting, complex and fascinating character to play," she wrote alongside a photo from set. 
"I have enjoyed this exploration more than any other character I've played. That was one hell of a decade. Thanks for watching," she added.
Whether Nebula is going to bite the dust in dramatic fashion remains to be seen, since Gillan's statement is rather ambiguous, but this certainly could be her final foray across the galaxy. Of course, you never really know if someone is gone for good when it comes to the MCU — just look at characters like Gamora and Loki. So if Gillan is open to it, Nebula may pop up somewhere else in the future.
Is this the last Guardians of the Galaxy movie, and will any of the Guardians die?
Marvel Studios
All good things must come to an end, and unfortunately, that also applies to the "Guardians of the Galaxy" movies. It's been quite a journey since this motley crew first appeared on the cinematic scene back in 2014. They've introduced us to some groovy mixtapes, saved the world with dancing, fought Kurt Russell, and kidnapped Kevin Bacon. And now, in "Vol. 3," they'll be gearing up for one last adventure as they attempt to save Rocket from his traumatic past.
Confirming it will be their last outing, director James Gunn said (via Deadline), "This is the end for us, the last time people will see this team of Guardians." That implies we may see some of the Guardians again, or perhaps a different iteration of the team will show up at some point. However, the line-up of Star-Lord, Gamora, Drax, Rocket, Groot, Nebula, Mantis, and Kraglin will definitely be retired after part three.
We're assuming that some of the Guardians will simply fly off into the horizon. We're also assuming that some of them are going to die. From the trailers, it looks like Rocket is going to be in some serious trouble after running across the High Evolutionary, and based on Dave Bautista's comments about moving on from the MCU, it looks like the Destroyer might also be on the chopping block. However, fans shouldn't expect a bloodbath. As James Gunn said at Comic-Con in June 2022 (via Deadline), "This is the end of that story. I'm sorry. Some stories have an end. It doesn't mean everybody dies."
What Guardians fans should know about Adam Warlock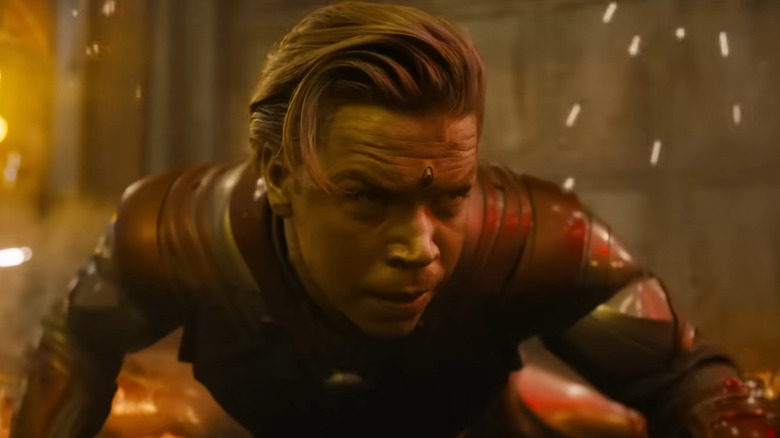 Marvel Studios
Based on the trailer, it seems like the High Evolutionary will be the big bad of "Guardians of the Galaxy Vol. 3." However, there's another force lurking in the cosmos that might be an even bigger threat — Adam Warlock. We've known he was coming since the post-credits scene of "Guardians of the Galaxy Vol. 2." Earlier in the film, Rocket got his greedy little paws on some Anulax batteries belonging to the Sovereign, a race of genetically modified, gold, obnoxious aliens. Consumed with vengeance, the High Priestess Ayesha spent a lot of "Vol. 2" trying to kill the Guardians, and when that didn't work out, she decided to create the perfect superweapon, the perfect being, the perfect way to destroy our heroes — and yep, that's Adam Warlock, whose cocoon made a cameo in that aforementioned post-credit scene.
Talking about this new superbeing, James Gunn elaborated on Warlock a bit, telling Empire the character's life purpose is a tad more complicated than just wiping out our band of music-loving heroes. "But he's definitely not a good guy. What we're seeing is the infant form of Warlock, newly out of the cocoon, and he does not understand life very well. He's basically a baby."
So are there any details we can glean from Warlock's comic book background that might help us understand the character going forward? Created by Stan Lee and Jack Kirby, Adam Warlock was made to be a perfect being by a group called the Enclave before he was found drifting through space by the High Evolutionary. The space scientist essentially adopted Warlock as his own son, giving him the Soul Stone and sending him down as his representative to Counter-Earth, a world of the High Evolutionary's making. So it's possible we might see some sort of relationship between the two characters in "Vol. 3," especially since one of the trailers depicts Warlock fighting the Guardians in a world that may be Marvel's smash-up of Counter-Earth and Halfworld.
Additionally, in the comics, Warlock was a huge player in the "Infinity Gauntlet" storyline. He was instrumental in defeating Thanos, and once it was all said and done, he became the wielder of the bejeweled, reality-altering glove. For a time, Warlock was also a member of the Guardians of the Galaxy, so he has serious comic book connections to all the major players in "Vol. 3." Will he be a loyal Evolutionary acolyte in the film, or will he eventually side with the Guardians? We'll see how that all plays out on May 5, 2023.
What songs will be on the Vol. 3 soundtrack?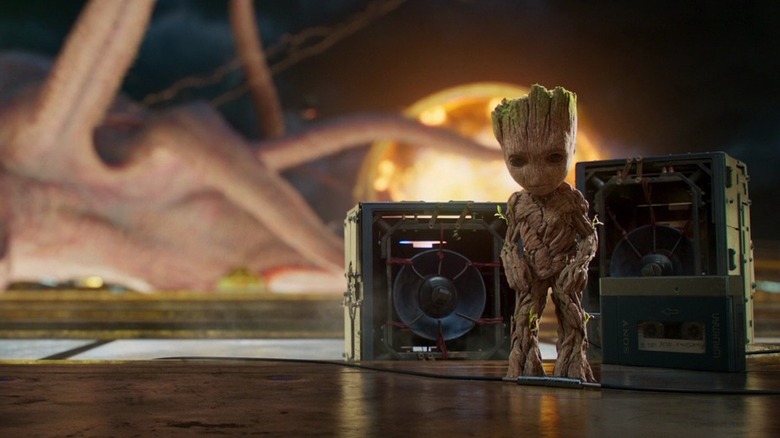 Marvel Studios
The "Guardians of the Galaxy" franchise just wouldn't be the same without the classic rock soundtracks scoring each of the movies. James Gunn worked on these personally, listening to hundreds of songs before creating the soundtrack for the first movie. It sounds like we can look forward to a third playlist even more powerful than its predecessors. "I worked twice as hard on this soundtrack as I did on both the first two soundtracks combined," Gunn admitted to Entertainment Weekly.
Marvel fans got their first taste of the "Vol. 3" soundtrack in the film's two trailers, one of which was scored to Spacehog's "In the Meantime" and one of which was set to Rainbow's "Since You Been Gone." The latter tune hails from the 1970s, which is par for the course when it comes to needle drops for the "Guardians" franchise. However, James Gunn has confirmed that since the music for the third film is coming from Peter's Zune MP3 player, which he got from a deceased Yondu via Kraglin in "Vol. 2," the songs will be coming from multiple decades. In fact, if you're curious what numbers you'll be hearing in the upcoming movie, we've got you covered.
Some of the notable songs we'll hear include the acoustic version of "Creep" from Radiohead, "Crazy on You" by Heart, "No Sleep Till Brooklyn" by the Beastie Boys, "Badlands" by Bruce Springsteen, "I'm Always Chasing Rainbows" by Alice Cooper, and "Do You Realize??" by the Flaming Lips. You should also keep an ear out for tracks such as Florence + The Machine's "Dog Days Are Over," Earth, Wind & Fire's "Reasons," The Mowgli's "San Francisco," The The's "This Is the Day," X's "Poor Girl," Faith No More's "We Care a Lot," and Ehamic's "Koinu no Carnival."
The tone of this Guardians film is going to be different from its predecessors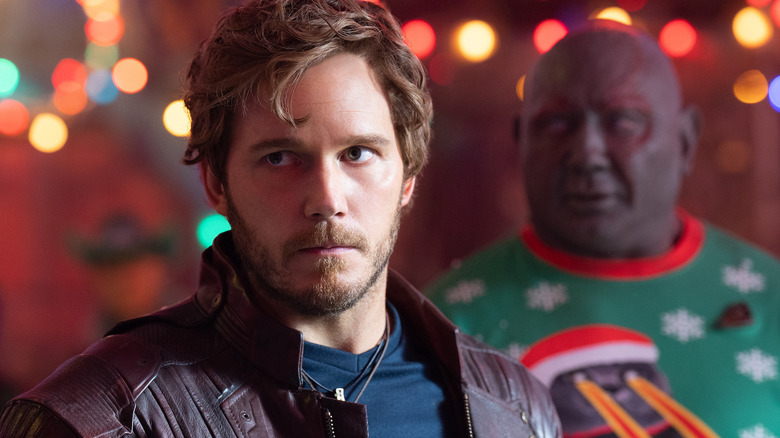 Marvel Studios
Despite having life-or-death stakes for the characters, "Guardians of the Galaxy" movies are known to be light-hearted, funny, musically inclined superhero movies. At least, they have been so far. According to Gunn, the tone of "Vol. 3" is going to be completely different from its predecessors — going in a bigger and darker direction. As James Gunn put it (via Deadline), "It's big; it's so, so big and dark, and different from what people might be expecting it to be."
Dave Bautista told Uproxx that this change in tone is going to make the film great. "It's just so much better, so much deeper. It's so much more personal. And there's such a massive inspiring message to this film," he said. Before even watching a full cut of the feature, he confidently told the outlet that it's going to be the best of the three "Guardians" movies.
That's certainly a lot to live up to, but other cast members like Karen Gillan and Pom Klementieff were also moved by the heavier storyline, which we know will center around Rocket but involve the rest of the cast, too. Speaking to Digital Spy, Gillan admitted that the script was so emotive that it brought her and Klementieff to tears. "We read it together and we both cried and laughed, but there was full tears. It's incredible, I think it's James' strongest work yet with the Guardians and it's just brilliant," she gushed. However, Gillan made sure to mention that there's plenty of that classic "Guardians" humor in the film too.
James Gunn slammed racist criticism about the casting of Chukwudi Iwuji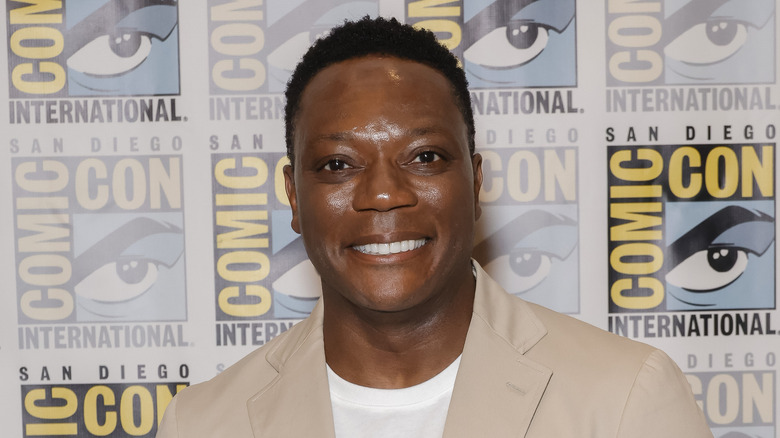 Frazer Harrison/Getty Images
Chukwudi Iwuji plays the High Evolutionary, a powerful villain with virtually unlimited intellectual power. The character comes straight from the pages of Stan Lee and Jack Kirby's comics, first appearing in "The Mighty Thor" #134. Iwuji is excited to bring the character to the big screen, as he told Collider with great enthusiasm. "He is narcissistic, sociopathic, but very charming ... [But] there's something very Shakespearean about him, there's something very emotionally dark about him, and he's a lot of fun on top of all that," the actor explained.
However, his casting was unfortunately met with a cruel racist backlash from some Marvel fans on social media. One particular Instagram troll criticized his portrayal of the High Evolutionary because the character is white in the comics. However, director James Gunn took the opportunity to speak out against such racist comments. "I chose the best actor, period, and the best person for the role. I don't give a s*** what ethnicity Chukwudi Iwuji is, so stop with your racist presumptions on WHY he was chosen," the filmmaker wrote (via Variety). He then added the parenthetical aside, "And, by the way, he's playing a guy who's almost always purple [in the comics]."
What else do we know about Guardians of the Galaxy Vol. 3?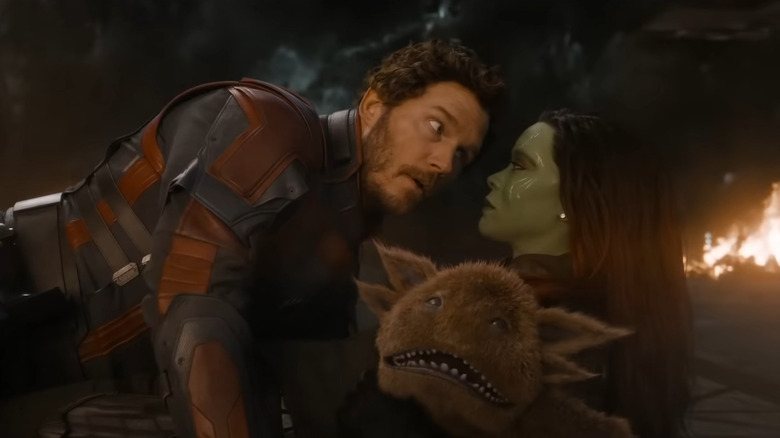 Marvel Studios
"Guardians of the Galaxy Vol. 3" promises to be one of the best and most important films in the MCU, especially in Phase 5. So in addition to the cast, crew, and storyline, what other details do we know about the upcoming movie?
Well, if you're wondering, "Hey, where has Gamora been all this time?" — we'll we've got an answer for you! A trailer that aired at the 2022 Comic-Con depicted Gamora as the leader of the Ravagers, filling the power vacuum left by Kraglin striking out with the Guardians in the wake of Yondu and Taserface's deaths. We also know that Rocket will be reunited with Lady Lylla, a talking otter who's his love interest in the comics. We're really hoping these crazy kids can make it work and not have their love affair squashed by any superpowered, romance-hating baddies.
While we're on the subject of unique creatures, it appears the Guardians will find themselves up against an Abilisk — the same type of tentacled monster they faced in the opening of "Vol. 2." More adorably, it appears we'll be introduced to a new fuzzy friend, who James Gunn has said is named Blurp. He shows up in the second trailer, squeezed between Star-Lord and Gamora. We don't know much about Blurp, but the critter seems pretty cute.
Will Guardians of the Galaxy Vol. 3 have any post-credit scenes?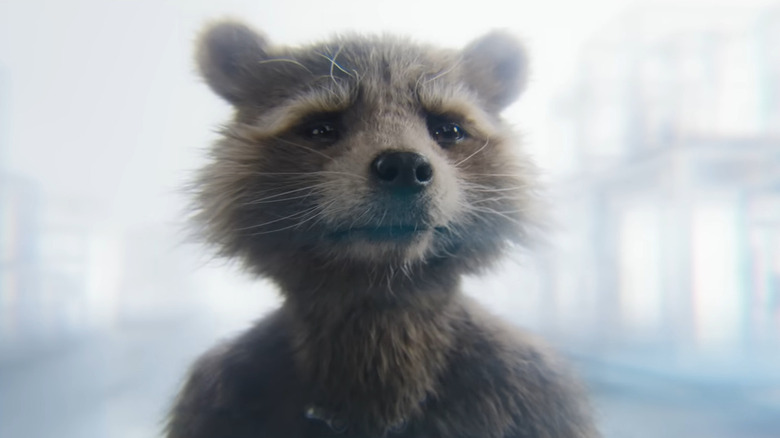 Marvel Studios
Everybody knows to stick around for the end of the credits when watching an MCU movie, as you'll generally be treated to two post-credit scenes. "Guardians of the Galaxy Vol. 2," however, went a bit nuts with these additional moments, giving us a whopping five post-credit scenes. So when "Vol. 3" hits theaters, should we expect an insane amount of extra material?
Well, this time around, it looks like James Gunn and company have decided to cut back on things, as there will only be two post-credit scenes for the third installment in the series. However, don't worry — you'll still be getting plenty of "Guardians" as "Vol. 3" is longer than the first two films. In fact, it runs about 2 and a half hours.
What is Guardians of the Galaxy Vol. 3 going to be rated?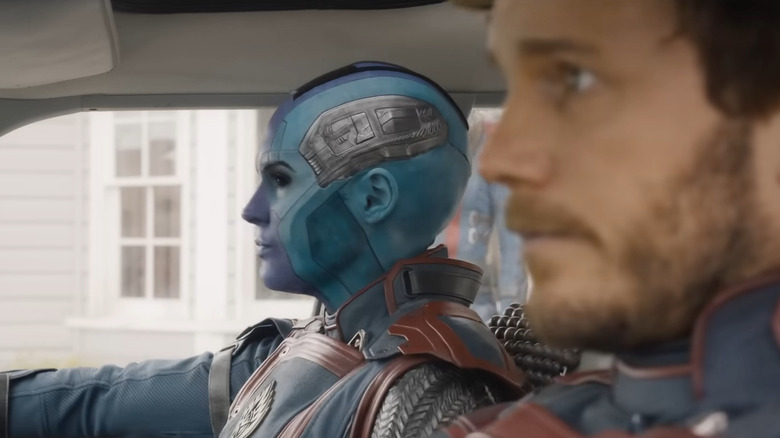 Marvel Studios
Like every Marvel movie up to this point, "Guardians of the Galaxy Vol. 3" is going to receive a PG-13 rating. However, the "Guardians" movies have always been a bit edgier than other MCU fare. (Who can forget Rocket's infamous Jackson Pollock joke from the first film?) So it would probably be wise to expect some blue humor alongside some serious emotional stakes and possible disturbing imagery. After all, the High Evolutionary's whole thing is running experiments on unwilling subjects.
Plus, this will be the first MCU movie to feature the use of an F-bomb. The series has teased this before, with Nick Fury almost getting super adult at the end of "Avengers: Infinity War," but it seems "Vol. 3" will be the movie taking the MCU in bold new directions when it comes to grown-up language. Of course, there will be only one use of the word — thus the PG-13 rating — so don't expect this to be a Martin Scorsese movie.
Where to watch the previous Guardians of the Galaxy movies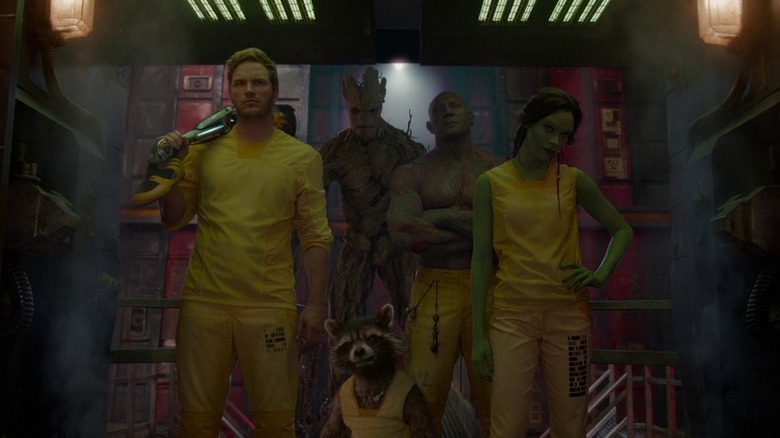 Marvel Studios
Before the Guardians of the Galaxy show up for one last hurrah, it might be a good idea to catch up on their previous adventures and see how we got to this point in the saga. The tale of Peter Quill and his pals starts with 2014's "Guardians of the Galaxy," when Star-Lord is kidnapped by Yondu, grows up a Ravager, and finds a new family while defeating the megalomaniacal Ronan the Accuser. You can stream "Guardians of the Galaxy" on Disney+ or rent it for $3.99 on platforms like Apple iTunes, Amazon Video, Google Play, Vudu, and YouTube.
Then there's 2017's "Guardians of the Galaxy Vol. 2," which kicks off with an ELO banger and a showdown with an Abilisk. We're then introduced to the super cute Baby Groot, Star-Lord's Celestial powers, future Guardian Mantis, and the Sovereign — responsible for creating Adam Warlock, who will feature prominently in "Vol. 3." The sequel also features perhaps the saddest moment in the MCU ("He wasn't your daddy"), so prepare for some sobbing when you stream it on Disney+ or rent it for $3.99 on Apple iTunes, Amazon Video, Google Play, Vudu, and YouTube.
If you haven't seen it yet, you'll also need to catch up with the delightful "Guardians of the Galaxy Holiday Special." Here, we get to see Mantis and Drax deliver some Christmas cheer to poor Peter Quill by bringing him a present — a hypnotized Kevin Bacon. Filled with catchy Christmas songs, the special also reveals Mantis is related to Peter, that the Guardians now run the decapitated city of Knowhere, and that, when you think about it, the concept of Santa Claus is pretty darn weird. You can stream the special on Disney+.
Of course, if you want to feel the full emotional weight of "Guardians of the Galaxy Vol. 3" when it hits theaters on May 5, 2023, you'll also need to watch "Avengers: Infinity War" and "Avengers: Endgame." These two films left a lasting impact on the Guardians, with the arrival of Gamora and Nebula's abusive, genocidal dad — Thanos. In his quest for the Soul Stone, Thanos sacrifices Gamora's life, but an alternate Gamora shows back up after the Avengers pull a time heist to restore order to the universe. All this will have major implications for "Vol. 3," so be sure to stream both "Infinity War" and "Endgame" on Disney+.