Halloween Kills Casts Anthony Michael Hall As Tommy Doyle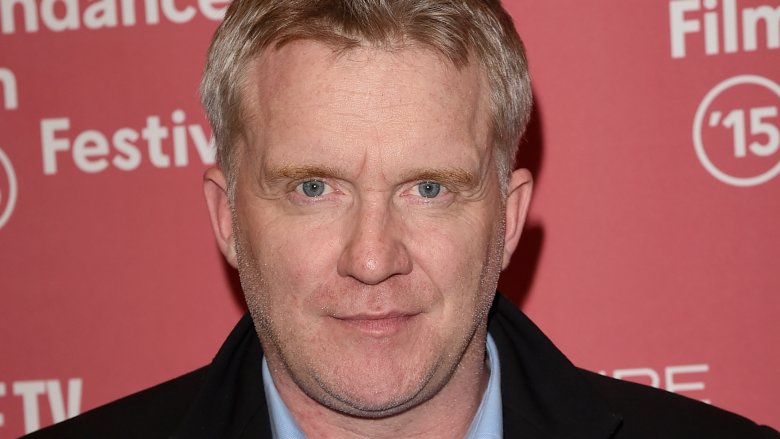 Jason Merritt/Getty Images
He survived the wrath of the boogeyman as a child — can he do it again four decades later?
Veteran actor Anthony Michael Hall has been cast as Tommy Doyle in Halloween Kills, the second installment of a planned trilogy which begun with last year's Halloween. Variety was first with the news.
The 2018 edition of Halloween featured Jamie Lee Curtis returning to the role of Laurie Strode, and also treated fans to a brief appearance by Nick Castle, who portrayed Michael Myers in John Carpenter's 1978 original film and donned the mask once more for a single shot. The flick, which ignored all of the seemingly gazillion films in the Halloween series and positioned itself as a direct sequel to the first movie, was a significant financial success, grossing in excess of $250 million dollars at the worldwide box office; it also scored with fans, who were appreciative of Curtis' butt-kicking performance and the whip-smart screenplay by Danny McBride and David Gordon Green, who also directed.
Fans will remember that the character of Tommy Doyle is a minor, albeit important, one from the original movie. He's one of Strode's young babysitting charges, who early in the film spots Myers lurking in the shadows before seemingly anyone else. The little boy insists that Myers is the boogeyman, and although Strode initially responds by correcting him just like any babysitter would, she eventually comes to admit that the kid may have been right. After being rescued from Myers by Dr. Loomis (Donald Pleasance), Strode tearfully asks, "It was the boogeyman, wasn't it?", to which Loomis solemnly replies, "As a matter of fact, it was."
Doyle was portrayed in Carpenter's film by Brian Andrews, who went on to a modest career in television and smaller features. Interestingly, the character was portrayed in one of those myriad, now non-canon sequels (Halloween 6: The Curse of Michael Myers) by Paul Rudd in his first starring role; Rudd, of course, would go on to become a reliable comedic character actor. Oh, and also a superstar, by way of his role as Scott Lang/Ant-Man in the films of the Marvel Cinematic Universe.
Hall has enjoyed a long and varied career after rocketing to stardom in the '80s as the teen star of such classic comedies as Pretty in Pink, The Breakfast Club, and Weird Science. He largely stuck to television guest appearances in the '90s before landing the starring role in the USA Network's horror drama series The Dead Zone (based on the novel by Stephen King), which ran for six seasons between 2002 and 2007.
Since then, he's popped up in TV series such as Community, Psych, and Marvel's Agents of S.H.I.E.L.D., and in features like The Dark Knight and War Machine. Most recently, he's been featured in the hit CW series Riverdale and the ABC sitcom The Goldbergs. 
So far, there's no word as to whether Hall will appear in three-quel Halloween Ends, which is being shot back-to-back with Halloween Kills. The news that Green's Halloween was being expanded into a trilogy was a bit surprising for some fans, but in a conversation with Collider, the director revealed that he and McBride had always had enough story for three movies.
"Relaunching it for just one, we wanted it to have a bigger story," the director said. "We were originally going to even shoot them back to back, but as soon as we got it up and running, we took a look at ourselves and were like, 'You know what? We should make sure we can do one of them good, before we bite off trying to do three of them.' So, we just put all of our efforts into trying to make the first one land. There was talk, right away, of us doing more of these. We just needed to get everybody aligned and see if everybody was down with the vision. Luckily, everyone is."
Green went on to explain that after he completes his trilogy, he'll be done playing in the sandbox built by Carpenter in 1978 — but, he admitted that this doesn't necessarily mean that the series won't continue, especially if Carpenter (who scored the 2018 film and is serving as a producer on all three) deigns to continue his involvement.
"I think, ultimately, Michael Myers is such an iconic character that no one besides Carpenter is ever gonna have ownership over him," he said. "This will be our chance at the table to play with these characters, and I'm sure that, when we're done, other people will come in and do the same thing, or have their own reinvention. Michael Myers is iconic enough to allow that, too. He's like James Bond, where you can have different actors and different filmmakers. He represents something so simple and scary that he can be translated by lots of different people."
Well, we must say that Green and McBride's first time up to bat turned out pretty darned well, and that if they crush Halloween Kills and Halloween Ends like we think they will, producers might consider the possibility of doing what the latter's title suggests and ending the series. Failing that, though, they could go down a road which was briefly visited with 1983's underrated Halloween III: The Season of the Witch: turn the series into an anthology, one which could explore more creepy Halloween-themed stories having nothing to do with (or even just having a casual connection to) Myers.
Say, that Hall is a pretty great actor: perhaps Tommy Doyle could become a paranormal investigator, leading us through a series of bizarre, unrelated happenings which always seem to take place around the titular holiday in a new trilogy of Halloween anthology flicks? We're just spitballing here.
At any rate, it'll be interesting to how Doyle is folded back into the narrative; he'll be just a little old to require babysitting. We'll find out when Halloween Kills hits theaters on October 16, 2020; Halloween Ends will wrap things up when it drops on October 15, 2021.