Ewan McGregor Confirms Obi-Wan Kenobi Disney+ Series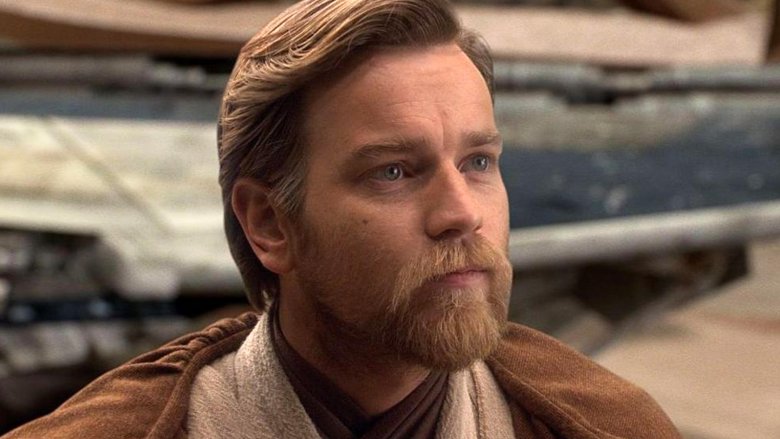 He's one with the Force again. 
Taking the stage at this year's D23 Expo in Anaheim, California, actor Ewan McGregor and Lucasfilm president Kathleen Kennedy confirmed that an Obi-Wan Kenobi television series is in the works at Disney+. 
The announcement happened in quite a hilarious way: McGregor — who played the Force-sensitive fighter and revered Jedi master in the three Star Wars prequels The Phantom Menace, Attack of the Clones, and Revenge of the Sith — coyly asked Kennedy to ask him if he would be playing Obi-Wan Kenobi again. With a smile, she obliged, and McGregor lit up as he answered, "Yes." 
That one word sent the crowd into a fit of joy, as it served as explicit confirmation of the project and the definitive end to the many, many reports that have come out over the years. 
After firing a few shots at the franchise in 2014, calling fans of the films some pretty nasty names, McGregor went public with his desire to reprise his role as Obi-Wan for some type of screen project. In October 2016, McGregor's sights were set on starring in a spin-off project, and they remained there through the middle of 2017, when he said during an appearance on Jimmy Kimmel Live, "I've been asked this question so many times, and I answer questions when I'm asked them, because I've been brought up like that. Polite. And it's got to the point now where it looks like I'm touting for work at Disney's front door like, 'Give me the Obi-Wan film!' Of course, I'd be happy to do it."
By August 2017, the world was convinced that Lucasfilm was working on an Obi-Wan Kenobi movie, though no one knew for sure whether McGregor would be taking the lead role, or if Lucasfilm would tap someone entirely new to play the Jedi master. McGregor later revealed that the relevant parties were only talking about an Obi-Wan film, not doing anything official. 
It remained quiet on the Obi-Wan front until August 16, just a week before D23 kicked off, when Cinelinx reported that McGregor was set to return to the role for a Disney+ series. Turns out, the outlet was way ahead of the curve — and totally right in its claims.
Though McGregor and Kennedy didn't reveal much about Obi-Wan Kenobi during D23, at least when compared to the juicy teaser trailer the live-action Star Wars series The Mandalorian dropped at the Disney+ presentation, Kennedy did confirm that the series is well underway and has been in the works for quite some time. She stated at the event, "We have all the scripts written, and we're ready to go next year, we can't wait to start production" (via Deadline). 
Obi-Wan Kenobi marks the third live-action Star Wars show to hit Disney+, joining the above-mentioned Mandalorian (starring Pedro Pascal in the lead role) and the yet-untitled Rogue One: A Star Wars Story prequel show (featuring Diego Luna back in his big-screen role as Cassian Andor). It's interesting that Lucasfilm decided to go the show route for Obi-Wan, particularly considering how poorly Solo: A Star Wars Story performed at the box office in 2018. From our vantage point, it appears that Lucasfilm may have used Solo's performance to gauge next steps for the Obi-Wan Kenobi project, realizing that stories about a single Star Wars character don't fare well in movie format but may do incredibly as television series. We have our fingers crossed for Obi-Wan Kenobi to be a success, that's for certain. 
Disney+ is set to launch in the U.S. on November 12. Check back with Looper for a release date for Obi-Wan Kenobi when Lucasfilm makes that announcement.