Ewan McGregor Will Reportedly Return As Obi-Wan Kenobi For New Disney+ Series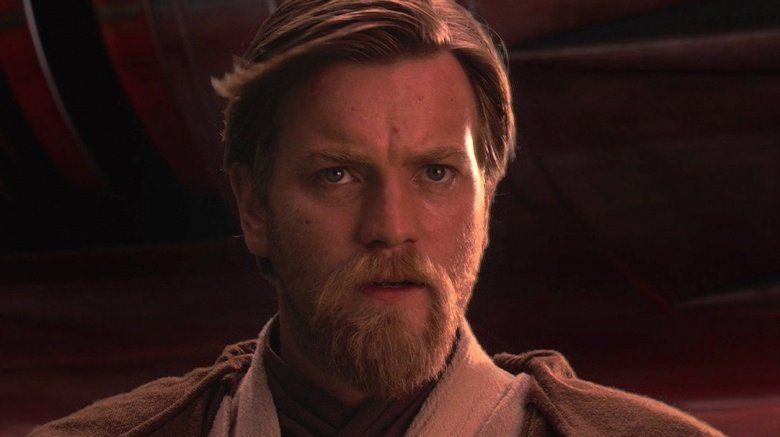 He's our only hope, and he's finally stepped up to the plate. 
According to a recent report by Cinelinx, Star Wars icon Ewan McGregor is returning to his role as Obi-Wan Kenobi for a new Disney+ series. 
McGregor — who took his first turn as the noble, gifted Jedi master in 1999's The Phantom Menace before reprising his role in 2002's Attack of the Clones and 2005's Revenge of the Sith — has reportedly already signed a contract to return to his role for a show all about Obi-Wan, set to release on Disney's upcoming streaming service. This suggests that a formal deal is locked in, though without explicit confirmation from the folks at Disney and Lucasfilm, we can't state for certain whether McGregor has officially scribbled his signature on a new Star Wars contract. For what it's worth, it does appear that is the case: Deadline has reported that McGregor is indeed lined up to lead an Obi-Wan Kenobi Disney+ series.
It's been a wild ride keeping up with McGregor's ties to the Star Wars world — and his feelings about the film series — after the prequel trilogy wrapped. 
In October 2014, the Scottish actor publicly dissed the franchise, calling fans "parasites" in an interview with Details (via Digital Spy). Said McGregor, "The people I meet are the f***ers who want me to sign Star Wars photos so they can sell them on the internet or the people at premieres who are crushing children against barriers to get me to sign their f***ing picture of Obi-Wan Kenobi. They're not fans — they're parasitical lowlifes and f***ing w***ers."
McGregor may have been having the worst day in the recorded history of worst days when he gave that interview, or he may have had one too many terrible encounters with over-eager fans, since his attitude shifted a few years later. With time away from the franchise apparently helping to clear his head and tug on those strings of nostalgia surrounding his heart, McGregor revealed in October 2016 that he'd like to grab the lightsaber again and star in a few Obi-Wan Kenobi-centric spin-off projects. The actor maintained that desire for months, stating in mid-2017 that he's so keen on returning as Obi-Wan that he feels he's turned into one of those rabid fans he so greatly dislikes.
"I've been asked this question so many times, and I answer questions when I'm asked them, because I've been brought up like that. Polite. And it's got to the point now where it looks like I'm touting for work at Disney's front door like, 'Give me the Obi-Wan film!'" McGregor said in a May 2017 appearance on Jimmy Kimmel Live!. "Of course, I'd be happy to do it."
Reports surfaced in August 2017 claiming that an Obi-Wan Kenobi movie was officially in the works, but the big mystery was whether Disney and Lucasfilm would ask McGregor to reprise his role. By January 2018, McGregor was admitting that talk of an Obi-Wan movie was just that: talk. Later that year, the actor confirmed that there were no plans for him to return as the Force-sensitive fighter, though he was remaining hopeful about the possibility of an Obi-Wan movie or series happening either with him or older Obi-Wan actor Alec Guinness at the forefront: "There's no plans as such to do it, as far as I know. I've been asked this question for years and years. I'd be happy to do it. There must be a good story to tell as they're doing spin-offs."
It seems evident now that the talk turned into action, and the bigwigs at Disney and Lucasfilm decided to move forward with an Obi-Wan Kenobi series instead of a spin-off movie. (At least, that's what appears to have happened. There's been no word yet on whether a movie featuring McGregor's robed Jedi will come to fruition.) A Disney+ show feels like a better, more viable option for the companies, since the two Star Wars spin-off films released in the past (Rogue One: A Star Wars Story and Solo: A Star Wars Story) haven't performed as well as the core trilogy installments. Solo, in particular, was considered a box office bomb and may have factored into Disney and Lucasfilm's decision to greenlight an Obi-Wan show rather than a movie. 
Disney+ is the perfect landscape for an Obi-Wan show given that the platform is home to a few other Star Wars series: The Mandalorian, starring Pedro Pascal as the titular lone gunslinger; and the yet-untitled Rogue One prequel series, which sees Diego Luna reprise his role as Cassian Andor. Obi-Wan Kenobi may not have been a major player in the Star Wars universe for quite some time, but he'll seamlessly re-join the fray alongside his fellow franchise characters on Disney+. 
Not much is known about the Obi-Wan Kenobi Disney+ series beyond what we've run through here. Check back with updates on the show as more information becomes available. 
Disney+ is scheduled to launch on November 12.