Fast & Furious 9 Casts UFC Fighter Francis Ngannou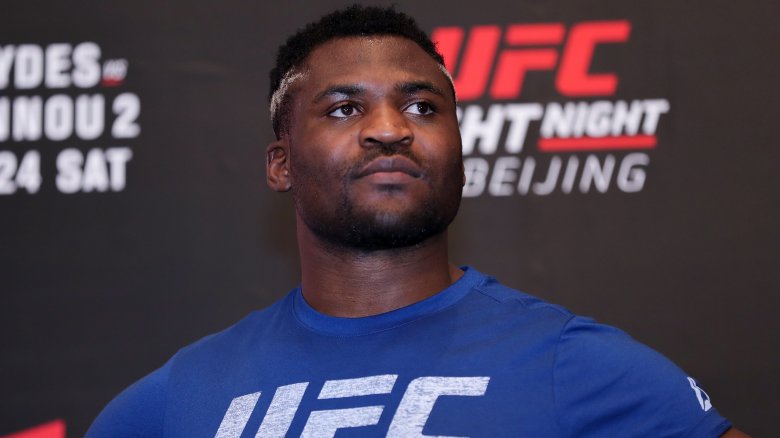 Emmanuel Wong/Getty Images
In case you were worried about just how tough the next Fast & Furious flick might be without Dwayne Johnson's Luke Hobbs, you can take heart knowing that the cast of Fast & Furious 9 just added a lot more muscle to the mix.
Per a recent Deadline report, those muscles will belong to one of UFC's toughest competitors to boot. Francis Ngannou is joining the cast of Fast & Furious 9.
Though we've yet to find out who Ngannou will be playing in the upcoming ninth — we repeat, ninth — addition to the increasingly (and often insanely) over-the-top Fast & Furious franchise, the quick-fisted bruiser will be making his big-screen debut alongside series regulars Vin Diesel, Michelle Rodriguez, Jordanna Brewster, Tyrese Gibson, and Ludacris. He'll also be joining another muscled-up F&F newbie for the upcoming film in former pro wrestler John Cena.
When news of Ngannou's casting broke, many franchise fans stated their belief that the tough guy's addition to F&F 9 is a direct result of Johnson's exclusion from the film – which may or may not be the result of an ongoing feud with co-star Vin Diesel. However, it may just be that Johnson's Hobbs & Shaw commitment caused some scheduling conflicts. On that front, it's also worth noting that franchise regular Jason Statham (the Shaw to Johnson's Hobbs) will also not be appearing in Fast & Furious 9. So make of that what you will. Either way, with Ngannou officially boarding the project, there will certainly be no shortage of musclebound tough guys to tangle with when Fast & Furious 9 hits screens next year. 
As it happens, Ngannou will also not be the first UFC fighter to join the Fast & Furious team. Former UFC tough girl (and Haywire star) Gina Carano beat him to the punch when she turned up as a brooding double agent in 2013's Fast & Furious 6; MMA master Ronda Rousey also got the jump on Ngannou when she joined the Fast fray for 2015's Furious 7. 
Since there's been no announcement regarding who Ngannuo will play in the upcoming film, it's too early to tell if he'll be trying to take down the Toretto crew (as Carano unsuccessfully did) or if he'll be joining Dom and company in their fight against, well, whoever gets in their way in the upcoming flick. Though we'd love to see Ngannou bring some extra weight to Dom's crew, we're still betting he'll be teamed with the series' relatively new big bad — Charlize Theron's Cipher. 
If you'll recall from Fate of the Furious, Cipher is the ultimate F&F baddie who's been wreaking havoc on the Toretto and Shaw crews for years now, even forcing Dom to break bad in Fate by holding his son hostage. Though Dom ultimately found his way out of that Fate of the Furious nightmare, fates were not actually sealed at the end of the movie. Cipher is still very much in play, looks to be at her villainous ways once again in Furious 9, and could probably use a new tough guy or two in her corner. As Ngannou likely does not have one of those "I can't lose a fight on screen" clauses built into his Fast & Furious contract, it's almost certainly the villain's life for him.
No matter what side of the fight he's on, Francis Ngannou is primed to get into the action, and seems a solid fit for a franchise where big tough guys are always in demand. Both Fast & Furious and UFC fans will get their first look at Ngannou on the big screen when Fast & Furious 9, directed by Justin Lin, blazes into theaters next spring. That premiere date is May 22, 2020 — just in case some series diehards want to start queuing now.