John Cena Joins Cast Of Fast & Furious 9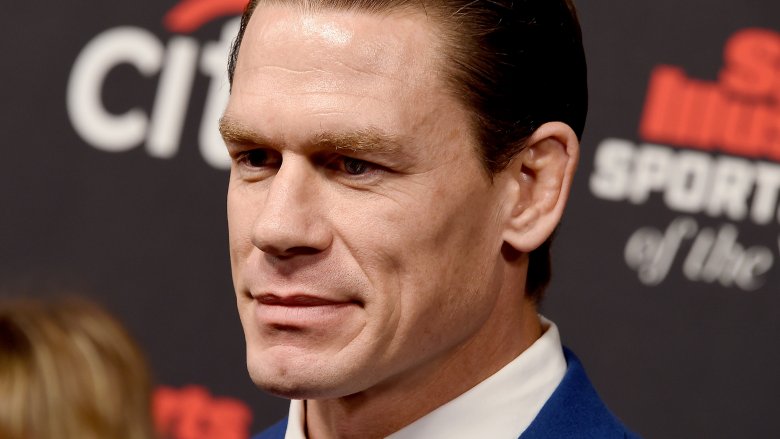 Gregg Deguire/Getty Images
Watch out, the Rock. John Cena is coming to lay the smackdown on the Fast & Furious franchise.
Universal Pictures confirmed today that the wrestler-turned-actor, who recently appeared in the acclaimed biographical dramedy Fighting With My Family, is on board for the ninth installment of the seemingly unstoppable movie series. It was also confirmed that Dwayne Johnson will not appear in the film, which was already all but certain (via Deadline).
Johnson told MTV News back in January that he was pretty much resigned to sitting out Fast & Furious 9 due to his commitment to Hobbs & Shaw, the spin-off buddy picture co-starring Jason Statham that's set to open August 2. "The plan has always been for the Fast & Furious universe to grow and expand. As of now, we're not in Fast 9 because they're getting ready to start shooting," he said at that time, referring to himself and Statham. "But who knows, with Fast 10 and down the road, you never know. Because look, at the end of the day, the truth is there's unfinished business between Hobbs and Dom [Toretto, portrayed by Vin Diesel in the main series]." 
Well, we're all very excited  for Hobbs & Shaw; any film with an indestructible Idris Elba taking a flamethrower to stuff has our attention. But if Johnson must sit out the next installment in the main franchise, Cena is as good a choice to replace him as any — in fact, better than most we could think of, given that he's diligently proven his talent. While he's been an icon in the wrestling world forever, it's been a long road to the kind of visibility that a featured role in a blockbuster franchise like Fast & Furious will afford him.
Cena made his first forays into the acting world in flicks produced by WWE Studios with titles like The Marine and 12 Rounds, but in recent years he's proven himself adept at voice work (2017's Ferdinand), comedy (2018's Blockers), and even as a supporting character in a mid-budget franchise spin-off picture (Bumblebee). He's charismatic, built like a brick wall, and the camera kind of digs him — making him a perfect fit to fill the Rock-sized hole in Fast & Furious 9.
All told, the pulse-pounding franchise — which has fielded eight films in 18 years — has grossed north of $5.1 billion dollars at the worldwide box office. Its highest-grossing entry, 2015's James Wan-directed Furious 7, racked up over $1.5 billion dollars on its own; it's one of only eight films to surpass that milestone, and one of only four to do it it while not having Avengers or Star Wars in its title.
If Hobbs & Shaw should happen to rule August at the box office — and its competition on opening weekend is, in a word, nonexistent — and Furious 9 continues the series' recent trend of billion-dollar-plus performances, Cena could conceivably find himself smack-dab in the middle of one of the top 5 highest grossing franchises in history by the end of next year, which sounds like a pretty decent place to be.
While there's no word on the character Cena will be playing, Deadline hears from its source that he'll be "a badass." We know, we know: John Cena? As a badass? In a Fast & Furious film? Why, something just don't add up!
In all seriousness, folks, he should make an excellent addition. Fast & Furious 9 (which will probably get a different, more radical title in the months to come) is being directed by series veteran Justin Lin, who was at the helm of 2013's Fast & Furious 6, 2011's Fast Five, 2009's simply-titled Fast & Furious, and 2006's The Fast and the Furious: Tokyo Drift (not that we would hold that against him). He's working from a screenplay by Dan Casey, who penned the script for Josh and Jonathan Baker's intriguing sci-fi thriller Kin. The flick's production is set to ramp up later this month, with a release date of May 22, 2020, already slotted; we'll keep an eye out for further details, and keep you posted.