Read This Before You See Fast And Furious: Hobbs And Shaw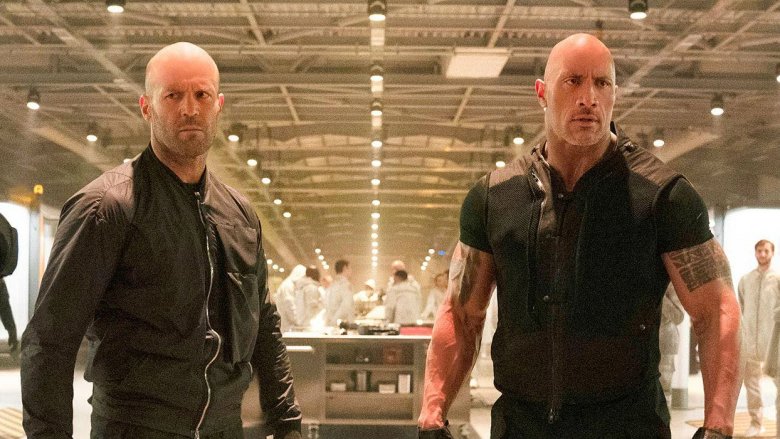 If you're a fan of the franchise, you know that in the world of The Fast and the Furious, just about anything is possible. The dead sometimes reappear years later with amnesia, an average everyday man can lift a car without breaking a sweat, and skydiving in a muscle car is totally feasible feat and not at all preposterous. It's also fairly common for bad guys to turn good, and for good guys to dabble in criminal activity in order to save the day. Enter Hobbs and Shaw, the first feature spinoff of the Fast and Furious franchise led by smart-mouthed macho men Dwayne Johnson and Jason Statham. 
Since their first appearances in the franchise, both characters have been colossal fan favorites. And though both of them are fantastic as individual characters, they're an absolute treasure when they're forced together, showcasing an outstanding comedic chemistry. To get the most out of what is set to be one of the biggest and most unmissable blockbuster movies of the summer (and possibly even the year), we've rounded up a few tidbits and plot details you'll want to scrub up on. Just remember: Anything is possible in these films. 
For now, here's everything you need to know about Fast and Furious Presents: Hobbs and Shaw before you see it. 
Hobbs: From adversary to family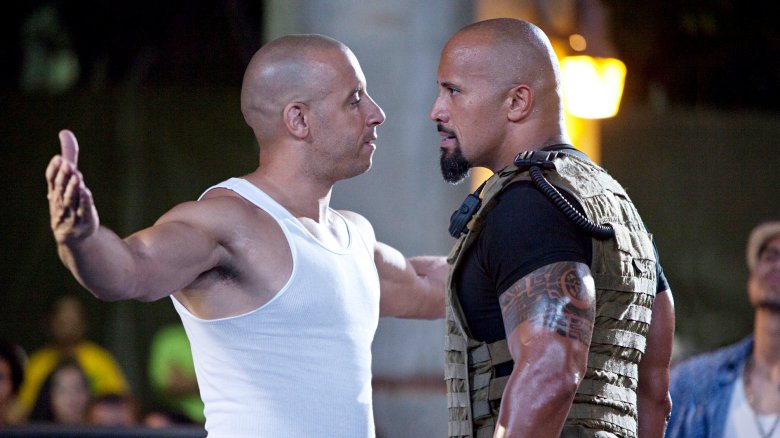 When the character was first introduced in Fast Five, Johnson's Agent Luke Hobbs was simply a straitlaced do-gooder as part of the Diplomatic Security Service. As a result, he spends the majority of that movie tracking down Vin Diesel's Dominic Toretto — and his extended family of Corona-chugging criminals — in a bid to stop them from pulling off the most outlandish heist Rio (or indeed, cinema) has ever seen.
But it's not long before Hobbs grudgingly sees the good in the gang, and decides to work with them. The vault of money they're heisting belongs to drug lord Hernan Reyes, who is so peeved about his profits getting plundered that he kills Hobbs' entire team and attempts to frame Toretto and the gang for the hit. But ya boy Hobbs is smarter than the average beefcake and collaborates with the Fast crew to get even with Reyes.
Fast Five marked the beginning of a fruitful relationship between Hobbs and Toretto's gang, with Johnson's now-former agent slowly evolving into a permanent cohort, growing to understand (and exist comfortably within) the often complicated gray area between being a good guy and a bad guy in order to help save the day.
Shaw: From big bad to big hero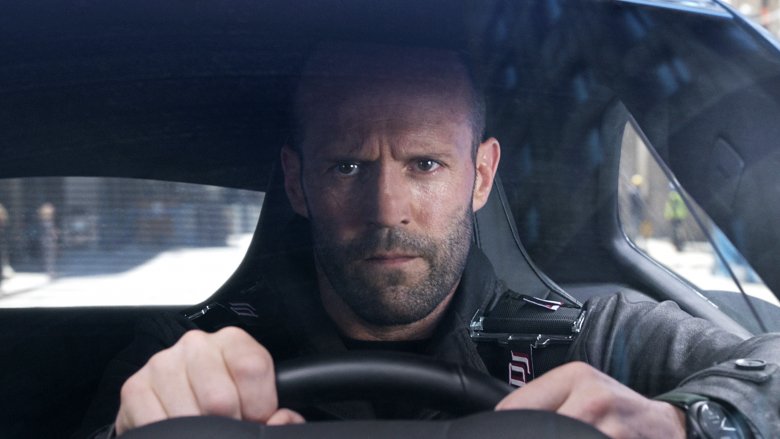 Now here's where the soap opera leanings of the Fast and Furious franchise really starts going into overdrive. When Hobbs returns in Fast and Furious 6, he teams up with the gang again to take down terrorist Owen Shaw (Luke Evans) — yes, that Shaw, brother of Statham's Deckard Shaw.
Not only does Owen wind up in a coma but there's also a twist ending which introduces Statham's character to the franchise and reveals that he's the big bad behind team member Han's death in The Fast and Furious: Tokyo Drift (the third film of the franchise which is technically a sequel to the sixth, because that's just how this franchise rolls).
Shaw continued to be the baddie of the franchise in Fast and Furious 7. It was here that audiences were first treated to the phenomenal chemistry between Statham and Johnson thanks to Shaw being the perfect impulsive foil against Hobb's by-the-book bruiser. However, Shaw is grudgingly forced to make nice with the Fast gang (and Hobbs) in order to get even with Charlize Theron's Cipher in Fast and Furious 8 when it's revealed that she used his brother for her own personal advancement.
Shaw was pretty clear about the fact that none of this made him a good guy or a willing member of Toretto's "family." And that makes him the perfect foil for Hobbs...
The best of frenemies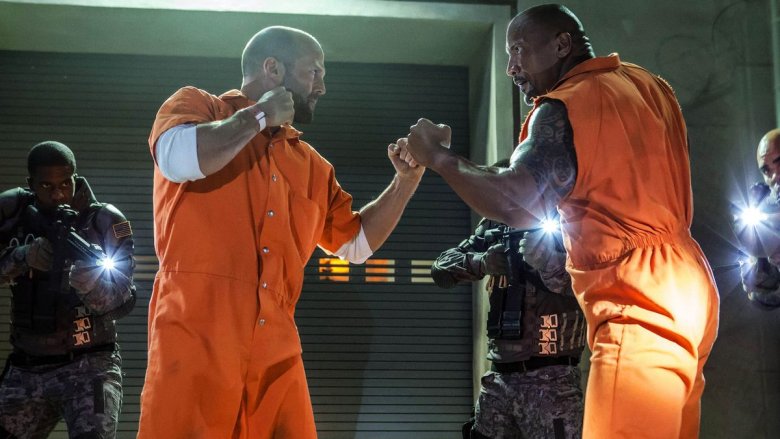 One of the biggest reasons Hobbs and Shaw have such an entertaining dynamic is that they have completely opposing yet complementary character arcs within the series. While Hobbs has realized that he sometimes has to break a few laws and collaborate with criminals in order to save the day, Shaw has discovered that he sometimes needs the help of legit good guys in order to carry out his dirty deeds. 
Their conflicting sets of morals and goals has given them one of the most fascinating and hilarious relationships in the entire franchise. As highlighted by the prison break scene from Fate of the Furious, these two rivals are often forced to fight alongside each other while also fighting against each other. It's a buddy cop movie dynamic, minus the cops. 
Speaking to IGN, director David Leitch has copped to the fact that Hobbs and Shaw was influenced by the buddy cop movies he grew up loving. "There are these buddy movies from the '80s and '90s like Lethal Weapon and 48 Hours that really speak to me as a filmmaker. They're ones that made me want to be a filmmaker in the first place. So to see the chemistry [Johnson and Statham] had in the last Fast, and to see the potential they could be... it was hard not to say yes, and say, let's go do this." 
Shaw is keeping it in the family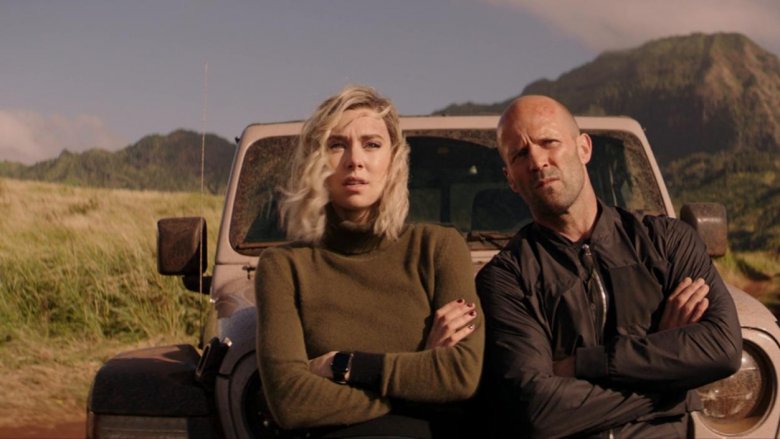 If you've caught even just five minutes of one Fast and Furious movie then you're likely already more than privy to just how important family is to the franchise. Not only is it Toretto's favorite adjective and motive for committing any and all crimes, but those family values also provide the backbone for much of the franchise's major plots. And Hobbs and Shaw looks to be extending these values from the franchise to the spinoff, too.
Not only is noted Fast and Furious superfan Helen Mirren returning to play Shaw's rough-and-ready (and currently incarcerated) mother, but his sister (played by Vanessa Kirby) is also showing up as a main character. Hattie Shaw, an MI-5 agent, looks to be bringing some serious trouble in Hobbs and Shaw's direction, appealing to Shaw's loyalty to family and Hobbs' loyalty to saving the world in taking down Idris Elba's villainous Brixton (more on him in a moment).
Hobbs (and Johnson) is also keeping it in the family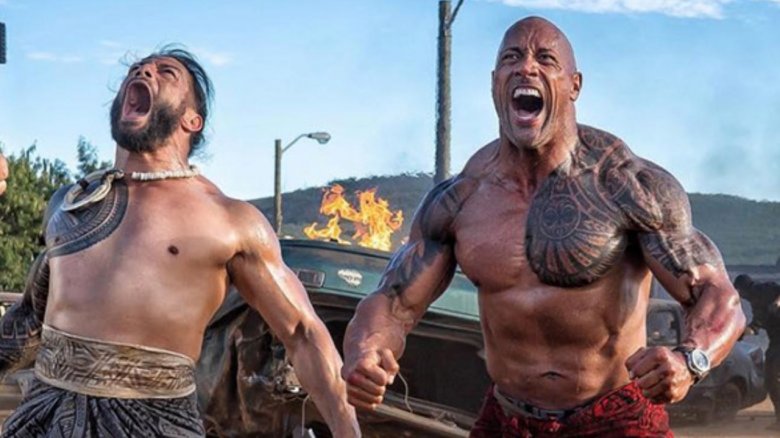 But isn't just Shaw's family who'll be a major part of the movie. Though we've seen little of Hobbs' family so far, save for his daughter Sam, it looks as though Hobbs and Shaw will be introducing audiences to Hobbs' Samoan family in the movie — and to Johnson's.
The most recent trailer for the movie has teased a massive set piece involving Hobbs' family, who look like they'll be putting their traditional fighting skills to good use in helping their brother defeat Brixton's endless squad of heavies. Interestingly, the family connection doesn't end there: Johnson's cousin, fellow WWE wrestler Roman Reigns, will be swinging a sledgehammer of family justice alongside him as Hobbs' brother.
Speaking to Empire, Leitch has teased great things for the battle sequence, particularly for fans of a good old-fashioned smackdown. "Roman Reigns and Dwayne teaming up as sort of a tag team against a couple of mercenaries is pretty awesome," he promised. "It's going to be a huge treat for wrestling fans."
'Black Superman'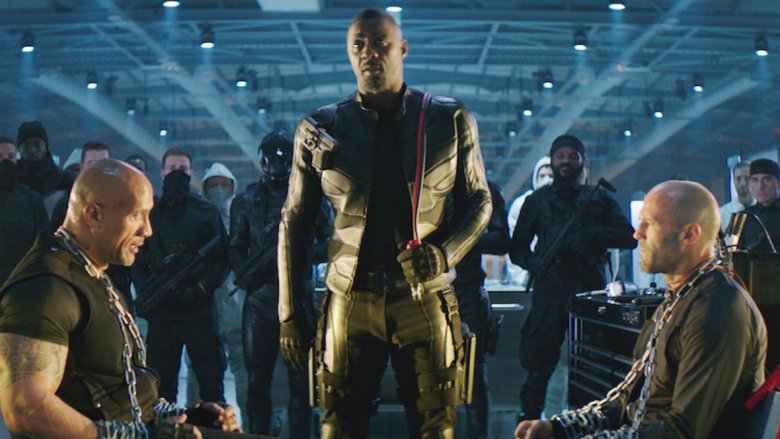 Bringing a new villainous dimension to the Fast and Furious franchise, and adding to the already stellar roster of acclaimed actors in the series, is Idris Elba as Brixton. Described by the British actor as being a "mean" motherflipper who "borders on the lines of scientific" during an interview with EW, the self-proclaimed "black Superman" looks to be one of the most powerful foes Hobbs and Shaw may have encountered thus far.
According to an Instagram post from Johnson, Brixton is an "undefeated" villain who promises "to wreak havoc, hell, and mayhem" on Hobbs and Shaw in what the actor suggests will be the "showdown of showdowns." Described in the official plot description as a "cyber-genetically enhanced anarchist," Brixton is a supervillain who appears to be abusing technology to make himself harder, bigger, faster, stronger — oh, and bulletproof to boot.
With trailers for Hobbs and Shaw showing the villain using a super-serum of sorts to bulk up and hulk out while also threatening the world (and Hattie Shaw) with an insidious bio-threat, Brixton promises to be a next-level heavy.
Surprise cameos?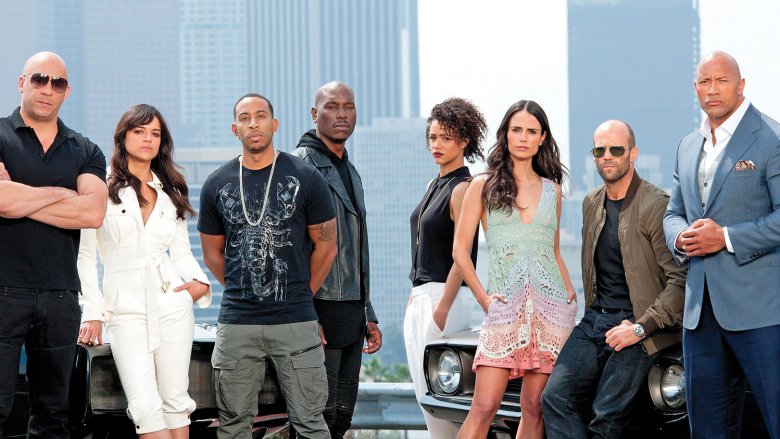 Asked by Collider whether he wanted to build a whole new world of characters for Hobbs and Shaw or borrow some familiar faces from the franchise, Leitch sounds like he's open to the idea of cameos while building a fresh, new universe.
"I think it would be a fun nod to have a couple of the characters come by and make their appearances," he mused. "But I think we have a really strong point of view that we want to create our own characters for this world." That certainly sounds like the answer of a man holding his cards close to the vest, and so he should be. Surprise cameos of this nature always work best when they're at their most unexpected. Still, we perhaps shouldn't rule out a brief surprise appearance from beloved characters like Tyrese Gibson's Roman Pearce or Ludacris' Tej Parker.
However, the greatest and most unexpected cameo may come from someone outside the existing Fast family. According to That Hashtag Show, rumors suggest that a certain highly cherished Hollywood star (who we won't name because spoilers) could have a secret and significant role in the movie that will most definitely blow the roof off every theater the film screens in.
Toretto probably won't be bringing Coronas to the boys in this one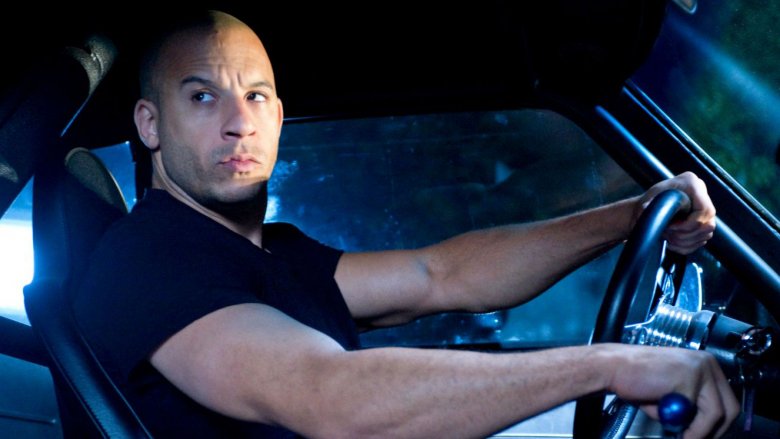 Don't get your hopes up for a cameo appearance from Vin Diesel in Hobbs and Shaw, though — not even to drop a cursory F-bomb (that's family, you guys) at the traditional we-saved-the-day BBQ. Not only is Hobbs and Shaw looking to establish its own cinematic universe without Toretto showing up and cracking open a celebratory beer for the boys, but there's still the alleged beef between Diesel and Johnson to deal with.
That beef surfaced in August 2016 during the last week of filming Fast and Furious 8, when Johnson published a cryptic Instagram post which inferred that an anonymous co-star wasn't conducting himself as a "true professional" and that fans could see his blood "legit boiling" in some scenes. The phrase "candy asses" was used, which is how you know the Rock means business.
The feud seemed to drag on for months under the guise of vague social media back-and-forths, with Michelle Rodriguez even confirming it to People, explaining that though "they're bros," everyone knows "what men are like" and as such, it's best to let Johnson and Diesel "figure it out." The two have since reportedly buried the hatchet, with Johnson telling Entertainment Tonight that he and Diesel simply "have different fundamental philosophies" on how to do things, and Diesel stating of his co-star, "We still love each other. That's my boy."
A director and writer dream team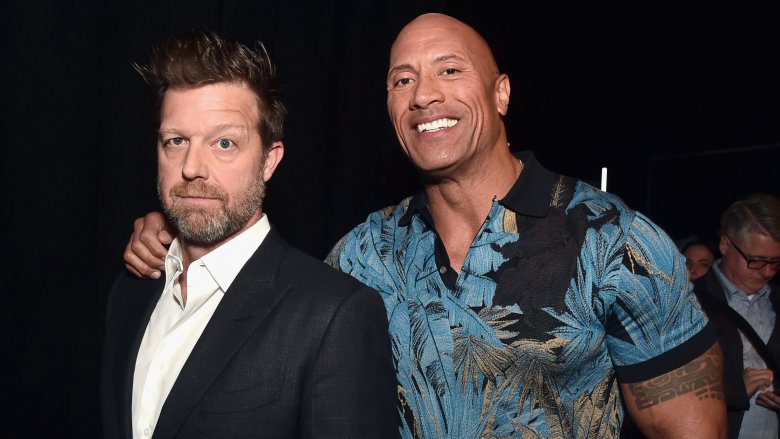 Alberto E. Rodriguez/Getty Images
The Fast and Furious franchise has built quite the reputation for itself as one of the boldest, most ridiculous, and bombastic set of action films ever made. With Leitch directing Hobbs and Shaw and regular Fast and Furious narrative mechanic Chris Morgan behind the screenplay, the spinoff looks as though it's in capable hands for maintaining that reputation.
Not only is Morgan responsible for having penned the first film, he's also the man behind the genius resurgence of the franchise from Fast and Furious 5 onwards. He's the writer who looked at the ludicrously gigantic action sequences already delivered by the franchise and said, "No, let's go bigger."
Meanwhile, Leitch might currently be one of Hollywood's most highly sought after and respected action directors. The former stuntman is responsible for directing films such as Atomic Blonde and Deadpool 2 and for having co-directed John Wick. He's the perfect director to bring into the franchise at this moment, and he's sure to put his own frenetic, sardonic spin on the series with Hobbs and Shaw.
We've only seen a 'blink' of the action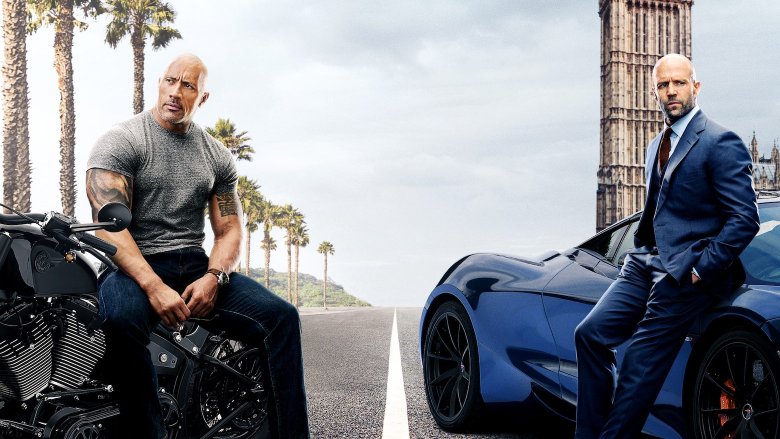 As you're likely already well aware from having watched (and rewatched) the trailers for Hobbs and Shaw with your mouth swinging open in awe, we've already seen a lot of action. But for those afraid that the promo clips have given away the movie's best set pieces, Chris Morgan is here to set those fears at ease, telling Empire that they show only "a blink of the action in the movie."
It's a gutsy claim to make, but a believable one. After all, if you compare the trailers that were released for Fast and Furious 8 with the actual film, it's easy to see how the promos barely scratched the surface. With so much action and story to tell, there's also a fair chance that Hobbs and Shaw could share a similar running time to Fast and Furious 8, which gave audiences an epic 150-minute cinematic ride that never got boring.  
The start of a beautiful friendship (and franchise)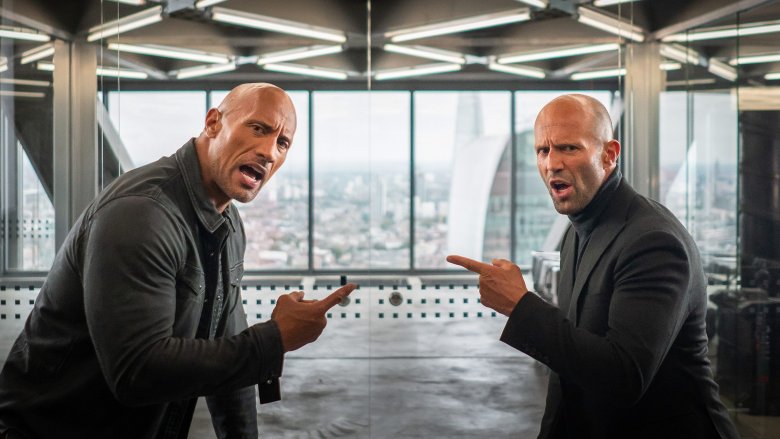 If you're giddy at the prospect of Hobbs and Shaw enjoying their own series of films rather than existing as just a standalone spinoff, then you're in luck. Leitch has confirmed that Hobbs and Shaw is intended as the first movie of an ongoing franchise.
The director told Collider, "It's an origin story, in a sense. It's not an origin story, but we're starting a franchise. So we want it to be a little bit more grounded, a little bit more character-centric. We're going to set up the stakes for these guys and their relationship, but we're also going to have some great set pieces and some action that you'd expect from that type of franchise."
Awesome though that may be, there is a downside: It means that Hobbs and Shaw probably won't be starring in Fast and Furious 9 while their own respective franchise gets built from the ground up. Sounds so far like a worthy sacrifice to make.
The First of many 'Fast and Furious' spinoffs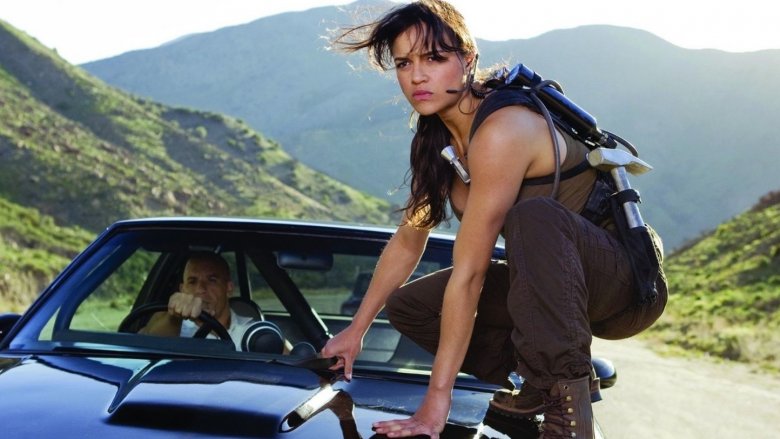 Try to keep the blubbering to a minimum here, but the Fast and Furious franchise could be coming to an end after the next couple of films. However, it seems as though the saga's creative team is already putting plans in place to keep the series alive in new and exciting ways.
Hobbs and Shaw is the first of many planned Fast and Furious spinoffs. On top of a theme park ride and a Netflix Original animated series that's currently in development, Diesel has also teased that a female-led Fast and Furious movie may be coming soon.
In an Instagram post shared at the beginning of 2019, Diesel revealed that he and producer Samantha Vincent had heard a pitch at Universal for such a movie. Judging by his caption, it sounded like it went well, "There are three new spin offs that we have promised Universal... this week we heard a pitch for the Fast female protagonist driven spinoff I created in 2017, and you can tell by the smile on Samantha's face it was VERY exciting."
Keep them coming, guys.