Henry Cavill Replaces Daniel Craig As James Bond In New Fan Edit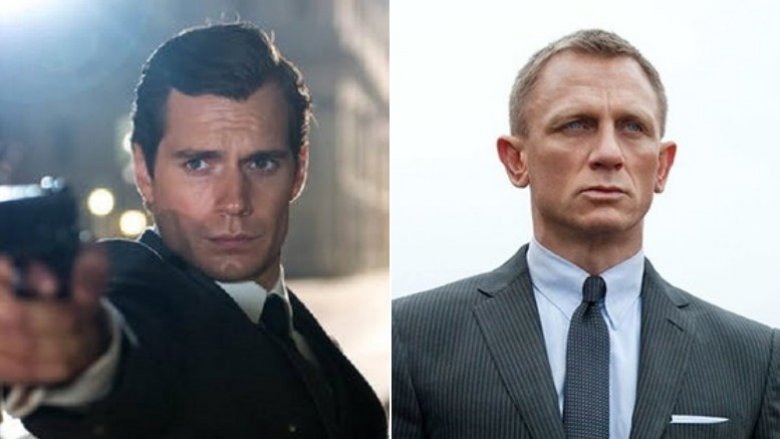 Who should replace Daniel Craig as James Bond? One creative fan has a pretty good idea.
A fan edit depicting Henry Cavill as the iconic superspy has surfaced online — and we must say, it's good enough that if Hollywood execs hadn't seriously considered casting Cavill in the role before, they're probably mulling it over now. 
The image comes to us courtesy of digital artist Jakub Maslowski via his Instagram account. It's stylish as all get-out — and that's because Maslowski used his top-notch photo-editing skills to alter a poster for the 2015 action-adventure spy film The Man from U.N.C.L.E., in which Cavill starred as the charming secret agent Napoleon Solo. In that one-sheet, Cavill is seen gussied up in a suit and tie (which is, conveniently, Bond's preferred attire) and holding a gun in his hand. To create the photo imagining Cavill as Bond, Maslowski removed from the Man from U.N.C.L.E. poster Armie Hammer, who played fellow spy Illya Kuryakin and was standing behind Cavill on the one-sheet. It looks as though Maslowski then added graphics of smoke clouds to either corner of the photo, changed the background to feature Big Ben in London, and placed a neon "007" logo and Cavill's name behind the actor's head. Some other editing — like manipulating the lighting, toying with the shadows, and adding a filter or two — may have been conducted as well. 
The end result is a photo edit that features a perfectly dapper-looking Cavill nonchalantly sauntering through clouds of smoke and carrying a silenced pistol. This fan-edited poster did use an existing one-sheet as a foundation, but it's still pretty awesome to look at. Plus, Maslowski's Photoshop expertise deserves at least some kudos considering this image could pass as legitimate if one didn't know any better. 
Maslowski was evidently inspired by a yet-unconfirmed rumor that surfaced in September of last year that claimed Cavill was being eyed to replace Craig once the latter finishes up his run as 007 with next year's forthcoming Bond 25 (which will almost certainly have a different, more provocatively ambiguous title when it's released). For that matter, Maslowski isn't the first to have this idea. Fellow Photoshop wizard BossLogic also took a crack at Cavill as Bond shortly before the rumor started making the rounds. Like Maslowski, BossLogic stitched together existing imagery to create a photo that's undeniably cool. Both fan edits definitely have us hoping that Cavill being up for the part is more than just a rumor.
The actor is, of course, best-known for portraying Superman in the early films of the franchise now known as Worlds of DC. He held down the role in 2013's Man of Steel, 2016's Batman V. Superman: Dawn of Justice, and 2017's Justice League — but after that team-up film fell far short of box office expectations, studio Warner Brothers was forced to radically rethink its approach to its DC properties. Rather than continue building a singular, interconnected world in the vein of the wildly successful Marvel Cinematic Universe, Warner and DC went back to the drawing board with a more filmmaker-driven approach which focuses more heavily on standalone films.
So far, the results have paid dividends; this year's Shazam! (which largely paid lip service to the established continuity) scored with critics and was a modest box office hit, while the upcoming Joaquin Phoenix starrer Joker (which takes place in a completely different timeline) is already garnering early Oscar buzz. 
But as a result of the recalibration, characters which resonated with audiences (such as Gal Gadot's Wonder Woman and Jason Momoa's Aquaman) have been allowed to continue with further solo adventures, while those that were less warmly received (such as Cavill's Superman and Ben Affleck's Batman) were put on hold for rejiggering. Robert Pattinson has since been cast as the Caped Crusader in director Matt Reeves' upcoming The Batman, while the role of Supes remains open — meaning that Cavill should have some time on his hands, should he want to jump into another iconic franchise.
Of course, it's not like the star is just sitting around waiting for the phone to ring. He'll be holding down the lead role of Geralt in Netflix's upcoming, highly-anticipated live-action adaptation of The Witcher, which is based on the venerable book and video game series of the same name; he's also attached to star in Enola Holmes, in which Stranger Things' Millie Bobby Brown will appear as the titular younger sister of the legendary detective Sherlock Holmes, to be played by Cavill. (Yes, that's correct: if Cavill plays his cards right, he could end up portraying Superman, Holmes, and Bond all within a few years of each other.)
But few actors would sneeze at the opportunity to play 007, and if the stars line up right, the 36-year old Englishman could potentially hold down the role of 007 for years to come, as Craig has. The blond Brit has made a fine Bond, admirably filling the superspy's shoes in Casino Royale (2006), Quantum of Solace (2008), Skyfall (2012), and Spectre (2015) before agreeing to come back for one more go-round in the physically taxing role. Bond 25 has had its share of bumps in the road on the way to screens, but sneak peeks released by director Cary Joji Fukunaga promise a rollicking, globetrotting sendoff for Craig. 
It's doubtful that we'll get any official Bond casting news until after that flick is released on April 8 of next year, but until then, this image should help to give fans, executives, and casting directors some serious food for thought. Cavill is a gifted actor, he certainly looks the part, and he's British, to boot. Thank you, Mr. Maslowski, for creatively stating the obvious — this man needs to be the next 007.