The Real Reason Robert Pattinson Was Chosen To Play Batman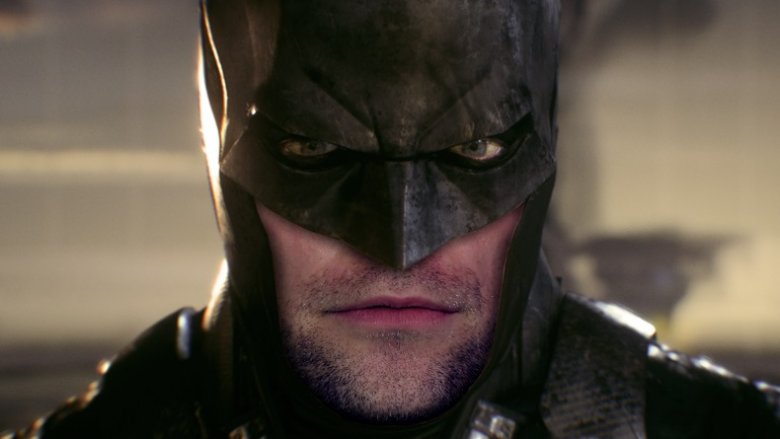 Say what you will about Battinson, but The Batman writer/director Matt Reeves is more than confident that he made the right choice.
An in-depth piece in The Hollywood Reporter revealed Reeves' process in selecting the star of his upcoming film, and in casting Robert Pattinson, it's clear that the Twilight series played zero part in his decision-making process.
According to THR, Pattinson was neck-and-neck with Nicholas Hoult — who has appeared as Beast in the X-Men series and portrayed the eponymous author in the biopic Tolkien — right up until the last minute. Reeves had been keeping several actors in mind while penning the screenplay (though neither Pattinson nor Hoult knew they were being considered during this time), and he was intent on casting a 30-something actor for his version of the iconic hero.
Hoult very nearly missed out on consideration altogether, however, due to his appearances in the X-Men movies. According to THR, both Marvel Studios and Warner Brothers — the studio behind the series of films now known as Worlds of DC — are keen to make sure that as little cross-pollination as possible takes place between the two franchises, to avoid confusion among casual moviegoing audiences. Reeves was impressed with Hoult's work, however, and the fact that the X-Men films are not part of the Marvel Cinematic Universe — in addition to Hoult not exactly being recognizable as the blue, fuzzy beast — swayed the director in favor of giving him a shot. 
Earlier this year, Reeves spent a great deal of time examining the previous work of both actors. In the case of Pattinson, though, it's safe to say that he didn't have himself a Twilight marathon. He was more focused on the small indie films which have been the actor's bread and butter since appearing in that franchise — and, in case you haven't noticed, those are pretty much the only types of projects Pattinson has been interested in taking on since his work on the oft-maligned YA franchise that made him a household name. His avoidance of big-budget tentpoles actually ended up working in Pattinson's favor, as Reeves wasn't concerned with whether his star could viably hold down a blockbuster franchise (although Pattinson had, to be fair, proven that he could). He was much more interested in whether the man who would be filling the Caped Crusader's shoes not only looked the part, but could legitimately act — and, since we're being fair, Pattinson has proven that he fits that bill, as well.
In particular, Reeves was mightily impressed with the star's turns in the 2016 historical drama The Lost City of Z, the acclaimed 2017 crime thriller Good Time (which earned Pattinson heaps of accolades from critics), and the 2018 sci-fi mystery High Life. Hoult had similarly proven his acting chops in such features in George Miller's action masterpiece Mad Max: Fury Road and the 2017 drama Newness, and both actors fit the bill both physically and in terms of their age.
A source close to the production, identified by THR as a Warner Brothers insider, described the casting process as "quick — quicker than normal," since Reeves had apparently narrowed it down to a contest between Pattinson and Hoult at the very beginning of the process. According to this insider, it boiled down to a few key questions: which actor best embodied the character of Batman? Were they able to act with their eyes, so to speak, so that a wide range of emotions could come across while wearing the famous mask? And, did they have a certain intangible quality — a je ne sais quoi, if you will — which would be apparent onscreen?
The best way to find out: stick each actor in a Batsuit for a screen test. According to THR, the contest between the two was so close that they each had a pre-negotiated contract ready to go, with the screen test being the last remaining contingency. Late last month, Pattinson and Hoult each took their turn suiting up and shooting footage on a Burbank movie lot, and in short order, Reeves made his decision.
As we recently reported, the director has been largely mum on the subject of Pattinson's casting in the intervening days, but he did take to Twitter to post a GIF that speaks volumes — of Pattinson as Constantine "Connie" Nikas in Good Time, forgoing a caption in favor of three bat emojis.
🦇🦇🦇 pic.twitter.com/2AaQaexvUF

— Matt Reeves (@mattreevesLA) June 3, 2019
It was his way of addressing the furor that sprang up online among Bat-fans in the wake of the announcement that Pattinson was to be the new Bruce Wayne, and while the tweet contained no text, we're pretty sure we catch his drift. It goes something like this: look, guys. Just chill. If all you've ever seen Robert Pattinson do is play a sparkly vampire, then your concern is understandable, if misguided. But wait until you get a load of him as the Dark Knight, because this man can act.