New It: Chapter Two Poster Teases Trailer Coming Tomorrow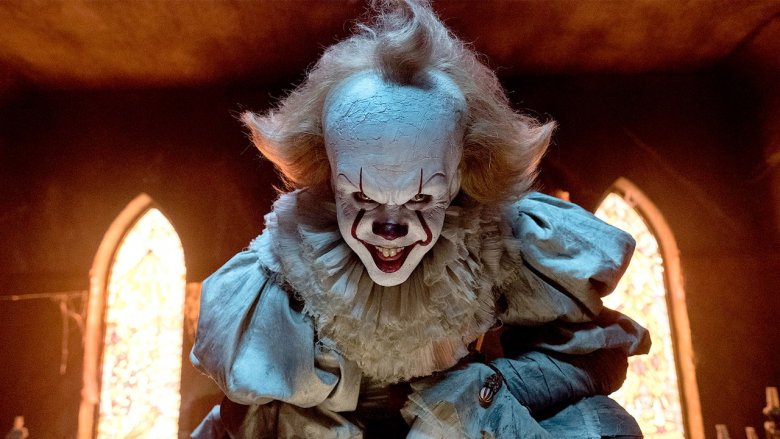 Hide your children.
The evil entity which appears most often in the guise of Pennywise, the Dancing Clown, is back in a new poster for It: Chapter Two, the conclusion of the story begun with 2017's smash hit It: Chapter One. A trailer is expected to be released tomorrow. (via ComicBook.com)
The stark white one-sheet, featuring the succinct tagline "IT Ends," features the malevolent yellow eyes of Pennywise (Bill Skarsgård), who turned in one of the most utterly terrifying performances in recent memory in the first film. If you were just a touch disappointed at having left the theater with your pants only partially soiled after watching that movie, don't worry: Skarsgård has promised us that due to his defeat at the hands of the Losers' Club back in 1989, Pennywise will be "scarier and angrier" this time around, a notion that we, quite frankly, are having a hard time wrapping our heads around.
Nope, that's not scary at all. Just in case you missed out on all the shrieking terror the first time, It: Chapter One adapted portions of the Master of Horror's 1986 masterpiece It, in which a band of seven preteen outcasts (who label themselves "The Losers' Club") must team up to do battle with a supernatural, discord-sowing, child-eating entity which rears its ugly head every 27 years to terrorize the residents of sleepy Derry, Maine. They manage to drive the creature into hiding — but not to kill it, and when it returns after its quarter-century-plus slumber, the Losers' Club must return to Derry as adults in an attempt to finish what they started.
While King's novel shifts back and forth between the two time periods (1958 and 1985 in the novel; 1989 and 2017 in the films), the flicks' writer Gary Dauberman and director Andy Muschietti wisely chose to go with a more linear narrative, with Chapter One focusing on the earlier period. It: Chapter Two will be set in the (relatively) present day, although the first film's young cast will be featured in flashbacks.
We've already gotten a look at some amazing sneak preview footage which adapts one of the most harrowing scenes from the novel, and we can hardly wait to feast our eyes on a proper trailer. There are barely enough superlatives to describe It: Chapter One; it was our favorite horror film of 2017, one of the greatest movies of that genre in perhaps the last 20 years, one of the best Stephen King adaptations ever put to film, and — oh, yeah — the highest-grossing horror flick of all time. 
Chapter Two is expected to break the bank, and for its portrayal of the adult Losers' Club, the production has lined up a cast that is nothing less than stellar. They are: James McAvoy (Dark Phoenix) as "Stuttering Bill" Denbrough; Bill Hader (Barry) as Richie Tozier; Jay Ryan (the CW's Beauty and the Beast TV series) as Ben Hanscom; James Ransone (Captive State) as Eddie Kaspbrak; Andy Bean (Swamp Thing) as Stan Uris; Isaiah Mustafa (Shadowhunters) as Mike Hanlon; and Jessica Chastain (Molly's Game) as Beverly Marsh.
According to the flick's official Twitter account, the trailer will be dropping tomorrow morning, so you can count on us to scrutinize the heck out of it, all the better to fill you in on what you can expect from the movie. At 1,138 pages, King's novel probably could have filled three or four movies, meaning that the filmmakers will have to be selective about which scenes they include; also, the first flick demonstrated their willingness to go off-script, so to speak, with a few killer set pieces that didn't come directly from the book. It can take a keen eye to parse out the meanings of all of those wonderful small details that virtually all trailers these days are bound to include, and as you know, dear reader, our eyes are keener than most.
Stay tuned for our signature blend of expert analysis and unabashed fanboy and -girling over the trailer for It: Chapter Two, and get pumped: the movie hits screens on September 6.