It: Chapter Two Cast Teases How The Losers' Club Is Different Now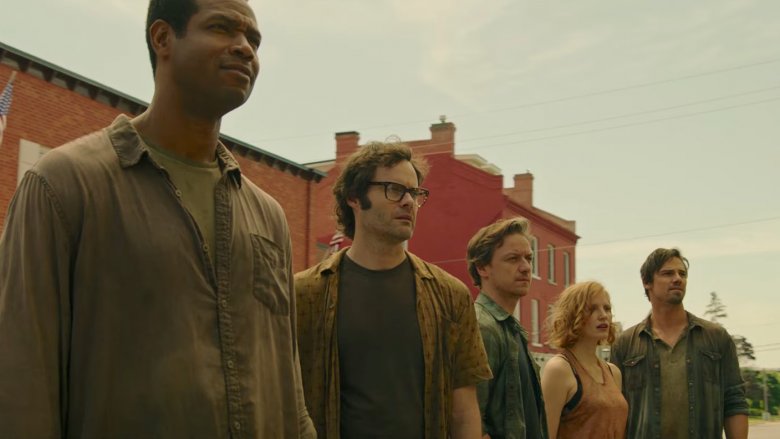 The kids who nearly killed Pennywise the Dancing Clown are all grown up.
The adult cast of It: Chapter Two recently sat down with Entertainment Weekly, and several of them had some interesting details to share about how their characters had changed since the events of the first film. 
First, a little refresher, and be warned that spoilers for It: Chapter Two may lie ahead: in Stephen King's 1986 novel It and its film adaptations, the members of the Losers' Club — Bill Denbrough, Richie Tozier, Ben Hanscom, Eddie Kaspbrak, Stan Uris, Mike Hanlon, and Beverly Marsh — first encounter the shape-shifting, child-eating entity which appears most often in the form of Pennywise as mere children. (It: Chapter One, the smash hit 2017 film, transposes the time period of this first encounter from 1958 to 1988). Over the course of the narrative, it's revealed that Pennywise has terrorized Derry, Maine for centuries, appearing every 27 years to embark on a months-long reign of child murder. Together, the Losers' Club is able to seriously wound It — but It escapes, recuperating during Its long hibernation.
When Its cycle of murder and mayhem begins once again, the now-adult Losers' Club are called back to Derry by Mike, the only member who remained in the town for his entire life. Due to an unexplained aspect of Its supernatural nature, every single Loser except Mike has completely forgotten about the horrifying events of their childhoods — but as Mike contacts them all, the memories come flooding back. (In King's novel, Stan — the first to get a phone call from Mike — responds to the call to action by promptly committing suicide.)
Returning to Derry as adults, the surviving Losers discover that Pennywise — who generally kills only for sustenance, taking the shape of his victims' worst fears because their terror "salts the meat" — has a serious grudge against them due to their previous encounter. It's no longer merely out for a nice lunch, but for blood — and as rational grown-ups, they find themselves even more poorly-equipped to deal with Its mind-bending assaults than they were as impressionable children.
It: Chapter One featured Jaeden Martell (The Book of Henry) as Bill, Finn Wolfhard (Stranger Things) as Richie, Jeremy Ray Taylor (42) as Ben, Jack Dylan Grazer (Shazam!) as Eddie, Wyatt Oleff (Guardians of the Galaxy Vol. 2) as Stan, Chosen Jacobs (Castle Rock) as Mike, and Sophia Lillis (Sharp Objects) as Beverly; all will appear in Chapter Two in flashbacks. The adult Losers will be portrayed by James McAvoy (Dark Phoenix) as Bill, Bill Hader (Barry) as Richie, Jay Ryan (the CW's Beauty and the Beast TV series) as Ben, James Ransone (Captive State) as Eddie, Andy Bean (Swamp Thing) as Stan, Isaiah Mustafa (Shadowhunters) as Mike, and Jessica Chastain (Molly's Game) as Beverly.
While not all of the adult cast of It: Chapter Two were at liberty to discuss details about their characters (citing changes that have been made from the novel by screenwriter Gary Dauberman), McAvoy and Mustafa opened up about how Bill (who left Derry for sunny L.A.) and Mike (who became the town's trusted librarian) have changed in the 27 years since they came up against Pennywise, who is portrayed in both films by Bill Skarsgård.
McAvoy revealed that when Mike's fateful call comes, Bill is in L.A. "shooting a movie," as he's now a successful Hollywood screenwriter. The actor also described the character as a "Stephen King avatar," which sounds exactly right to fans of the Master of Horror's works; King is quite fond of assigning the profession of writer to the lead characters of his stories, illustrating that old adage, "write what you know."
McAvoy went on to elaborate on the plot device of the Losers' Club's collective amnesia. "When you leave Derry, something happens where you forget it all," he said. "I think it's like a [power] of Pennywise's. Because if everybody could remember what he gets up to every 27 years through history, we'd go, 'Hey, Derry's really f—ed up, we should do something about that. We should send in the f—ing Army!'"
As for Mustafa, he explained that Mike remaining behind in Derry has allowed him to get a slightly better handle on the nature of the town and, thereby, of Pennywise Itself. ""Mike sees how Derry is very special in a dark way," the actor said. "He's trying to figure out what the hell's going on in this town and what he can do to put an end to this cycle. It's an obsession for him."
Hader would only reveal that Richie's adult life is "not the same as the book," in which the motormouth kid grows up to become a famous radio DJ. "But," the star promised, "it'll be a real mindblower." Asked if Richie instead becomes an, ahem, adult film star in Chapter Two, Hader deadpanned, "Yeah."
The rest of the adult Losers kept the details of their characters' lives under lock and key (including Bean, who had no beans to spill over whether Stan avoids the grim fate he met in the novel). But one key cast member did have something to offer about his character's new outlook: Skarsgård, whose utterly terrifying portrayal of Pennywise in Chapter One was a crucial aspect of that film's success.
"He's scarier and he's angrier," the actor said. "There's a couple of very brutal things in [Chapter Two]."
Frankly, we're not sure that we can handle Pennywise being any scarier than he was in Chapter One. Oh, who are we kidding: we're going to be first in line when the story's conclusion hits the big screen on September 6.