Will There Be A Spider-Man: Far From Home Sequel?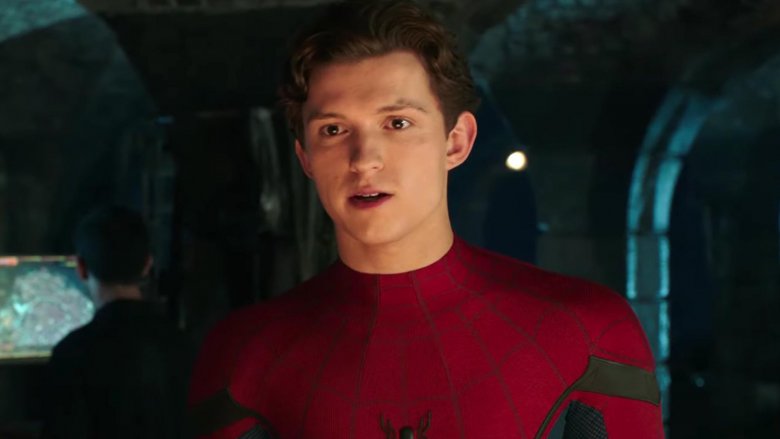 Spider-Man: Far From Home finally swung out from behind the curtains at Sony and onto silver screens on July 2 — delighting fans with stunning international settings, a trio of adorable romances, tons of twists and turns, Jake Gyllenhaal in one of his most captivating roles yet, thrilling action, awesome tunes, and plenty of Peter Parker-brand humor. 
It also left audiences with quite a few questions, chief among which is this: Will there be a Spider-Man: Far From Home sequel?
While neither Sony nor Marvel have come right out and said the word, it's looking like the answer is yes, there will be a sequel to Spider-Man: Far From Home. 
Talk of a third Spider-Man film starring Tom Holland as the friendly neighborhood hero from Queens cropped up even before Spider-Man: Homecoming, the predecessor to Spider-Man: Far From Home, opened in theaters in 2017. Slashfilm published an article in April of that year following a visit to the Homecoming set, when the outlet's Peter Sciretta learned that "the plan is to have the inevitable sequel take place in his junior year and a third movie of the trilogy to take place during his senior year of school." Though Far From Home wasn't set in Peter Parker's junior year of high school, the movie took place during the summer vacation leading into it. 
Judging by the Slashfilm scoop and the fact that Far From Home fell into the time slot mentioned two years prior to its theatrical launch, it stands to reason that the plan to have the third Spidey flick play out during Peter's senior year is still in tact with studio Sony. Perhaps the wall-crawler will get a little time off as the Marvel Cinematic Universe begins Phase 4 and introduces a slew of new heroes to the bad-guy-busting roster, then step back onto the scene in his final year at Midtown School of Science and Technology as he prepares for graduation and college. Heck, maybe the potential Spider-Man: Far From Home sequel will introduce Gwen Stacy and Harry Obsborn, two famous Marvel Comics characters whom Peter canonically meets for the first time at Empire State University.
Additionally, it would make little sense if there wasn't a follow-up to Spider-Man: Far From Home — for a few reasons. 
The first is that the major Marvel heroes who have gotten their own standalone films have received trilogies — like Chris Evans' Captain America, Chris Hemsworth's Thor, and Robert Downey Jr.'s Iron Man. It would be quite silly for Marvel to give Sony the a-okay for two Spider-Man movies and not a third given what fan-favorite heroes have experienced in the MCU thus far. Sure, the Amazing Spider-Man movies ended with the second one, but that's largely due to the sequel's poor box office and critical performance — not to mention the fact that Andrew Garfield's take on Spidey isn't a part of the Marvel movie world. 
Another reason why a Spider-Man: Far From Home sequel seems like a guarantee is that Spider-Man capped off the third phase of the MCU. Obviously, there's a reason why Marvel chose Far From Home to conclude the phase and serve as the first movie post-Avengers: Endgame and post-Infinity Saga. Why would the studio, which plans everything years in advance and never makes rash decisions, make that kind of move and then deny Tom Holland's Peter Parker the right to a third movie? Marvel is infamously secretive, and Sony follows suit when it comes to the Spider-Man movies, but our own Spider-Sense is tingling and telling us that both studios have big plans for Peter. 
Then there's the subject of Tom Holland himself. Everyone loves the guy, have been consistently impressed with his onscreen work and offscreen charms, and have heralded him as the best actor to play Spider-Man — even better than Tobey Maguire in Sam Raimi's original Spider-Man film series. Not going through with a Spider-Man: Far From Home sequel wouldn't just be a disappointment to fans of the hero, it would also be a huge letdown for people who love Holland.
And finally, those after-credits stingers are a huge reason why Spider-Man: Far From Home will likely get a sequel. We won't get into spoilers here, but what happens in Spider-Man: Far From Home's mid-credits and post-credits scenes sets up huge storylines in the MCU moving forward. Both sequences have major consequences — some that directly impact Peter Parker's life and how the world will view him, some that establish the possible introduction of a famous villain who has historically been a pain in Peter's butt, and some that alter what we thought we knew about the agents of S.H.I.E.L.D. Leaving all those threads dangling in the wind and not tying them up with a Spider-Man: Far From Home sequel? Doesn't seem like something Sony would do or Marvel would agree to. 
Of course, we won't know for certain whether we'll get to see a Spider-Man: Far From Home sequel until Marvel and Sony make that announcement. Until that day comes, kick back, relax, and listen to the ultra-cool Far From Home soundtrack to make the wait a little easier.