Spider-Man: Far From Home Soundtrack Revealed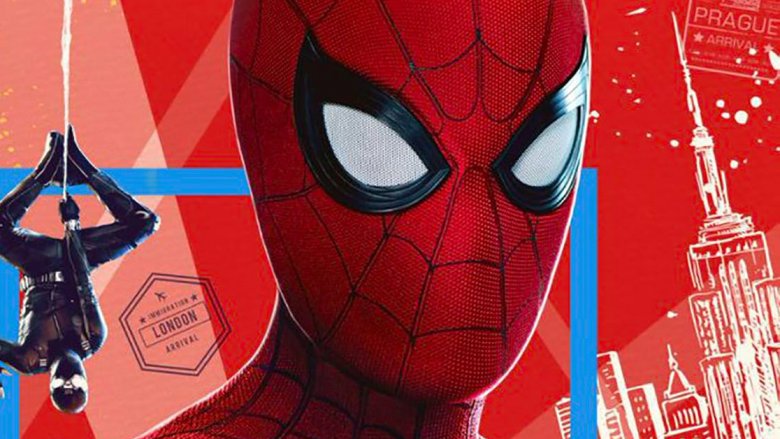 Contains mild spoilers for Spider-Man: Far From Home
Spider-Man: Far From Home takes our favorite friendly neighborhood hero on an adventure across Europe, where he gets much more than he bargained for. A summer vacation like that requires a kickin' playlist of tunes that will make anyone want to get up and dance — and Sony Pictures certainly delivered. 
Thanks to the folks at Screen Rant, the full soundtrack for Spider-Man: Far From Home has been revealed. 
Featuring a song from the late Whitney Houston, classic tracks from AC/DC and the Ramones, and tunes totally apropos of Far From Home's international setting and Peter Parker's trip over the pond, the Spider-Man: Far From Home soundtrack has something for everyone. 
The tracks are said to play out at just the right times: Houston's "I Will Always Love You" sets the post-Avengers: Endgame stage, "Stella Stai" by Umberto Tozzi rings out when Peter and his pals are on their way to Venice, Mina's "Amore Di Tabacco" can be heard when the gang touches down in Italy, "Snad jednou ti dám" by The Matadors sounds when the action shifts over to Prague, and when they check into their up-scale hotel, the group hears "Deux Arabesques" by Claude debussy.
Tony Revolori's Eugene "Flash" Thompson gets his own tune with "EUROFLASH," apparently written by Spider-Man: Far From Home director Jon Watts, and when a pivotal relationship is confirmed, Far From Home plays "I Wanna Be Your Boyfriend" by The Ramones. 
There are plenty more tunes included on Spider-Man: Far From Home's soundtrack, and they each are connected to important moments in the movie. Marvel has a habit of doing this — selecting just the right song to accompany the mood of a scene, like using "Immigrant Song" by Led Zeppelin in Thor: Ragnarok and "Just a Girl" by No Doubt in Captain Marvel – and it's good to see that Sony is keeping the tradition alive with Far From Home.
Sony Classical has already released the film score for Spider-Man: Far From Home, composed by Michael "Mick" Giacchino, who also wrote the score for Spider-Man: Homecoming. The musical maestro put careful thought into each song, ensuring that the score embodied both the spirit of Spider-Man as the famous Marvel Comics hero and the innocence and verve of Tom Holland's take on the character. 
Of writing the Homecoming score, Giacchino once said, "I love that clumsiness of the character, that wanting to run into the fray of things without even thinking, as a teenager would. And I love that so much of it took place in his [high school] world, where even he was tortured by the other kids and not just by these supervillains." He clearly kept the same frame of mind when scoring Far From Home.
Every song featured in Spider-Man: Far From Home is listed below. Beneath it, you can find the complete track list for the Spider-Man: Far From Home film score. Catch the flick in theaters starting today, July 2.
Spider-Man: Far From Home soundtrack
1. "I Will Always Love You" — Whitney Houston
2. "If You're Snappy And You Know It" — Mick Giacchino
3. "Stella Stai" — Umberto Tozzi
4. "Bongo Cha Cha Cha" — Caterina Valente with Werner Müller and His Orchestra
5. "Amore Di Tabacco" — Mina
6. "Slnko" — Marcela Laiferová
7. "Snad jednou ti dám" — The Matadors
8. "Deux Arabesques" — Claude Debussy
9. "CRSD" — Flipbois
10. "The Devil's Wall" — Bedřcih Smetana
11. "Moravian Polka" — Jaroslav Fuksa and Vladmir Pffefer
12. "Town Called Malice" — The Jam
13. "EUROFLASH" — Eugene Thompson
14. "Wat Mout Ik Met Zo'n Man" — Jantina Noorman
15. "Back In Black" — AC/DC
16. "I Wanna Be Your Boyfriend" — The Ramones
17. "Vacation" — The Go-Go's
18. "A Message To You, Rudy" –The Specials
Spider-Man: Far From Home film score
1. Far From Home Suite Home (8:27)
2. It's Perfect (0:30)
3. World's Worst Water Feature (7:30)
4. Multiple Realities (3:32)
5. Brad to the Drone (3:32)
6. Change of Plans (2:28)
7. Night Monkey Knows How to Do It (0:19)
8. Mr. One Hundred and One (3:20)
9. Prague Rocked (3:43)
10. Who's Behind Those Foster Grants (2:57)
11. Power to the People (3:33)
12. Personal Hijinks (3:53)
13. Praguenosis: BAD (1:08)
14. A Lot of 'Splaining to Do (2:14)
15. The Magical Mysterio Tour (3:21)
16. Taking the Gullible Express/ Spidey Sensitive (5:07)
17. Gloom and Doom (4:16)
18. High and Flighty (2:20)
19. An Internal Battle (1:50)
20. Happy Landings (2:58)
21. Tower of Cower (5:12)
22. Bridging the Trap (1:58)
23. Bridge and Love's Burning (2:50)
24. Swinging Set (1:47)
25. And Now This... (0:58)