The 5 Best And 5 Worst Jake Gyllenhaal Movies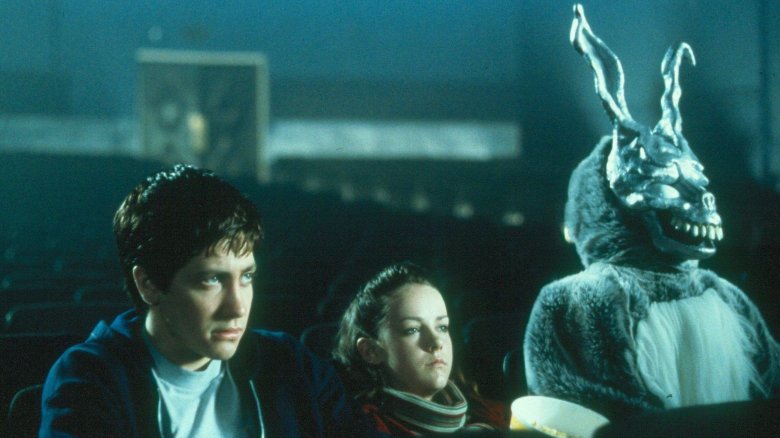 With charm, looks, and intellect to burn (not to mention a fearless devotion to craft and character), Jake Gyllenhaal has posited himself as one of the most adventurous, respected actors of his generation. Given his family pedigree (his mom is an Oscar-nominated screenwriter/producer/director, his dad is a longtime director of film and TV, his big sis Maggie is a respected actor in her own right, his godfather is legendary cinematographer Robert Elswit, and his godmother is screen icon Jamie Lee Curtis), a career in entertainment was all but pre-ordained for the youngest Gyllenhaal. Not surprisingly, he made his big screen debut at the tender age of 11 in Billy Crystal's hit 1991 comedy City Slickers and never looked back. Over the ensuing decades, Gyllenhaal has built a fiercely loyal fanbase by disappearing into complex roles across all cinematic genres.
While the chameleonic performer has appeared in some of the best films of the past 25 years, there have been more than a few head-scratching misfires along the way. With his recent art world horror/thriller/satire Velvet Buzzsaw continuing to confound even his biggest fans, it's as good a time as any to break down our picks for the five best and five worst Jake Gyllenhaal movies.    
Best - Nightcrawler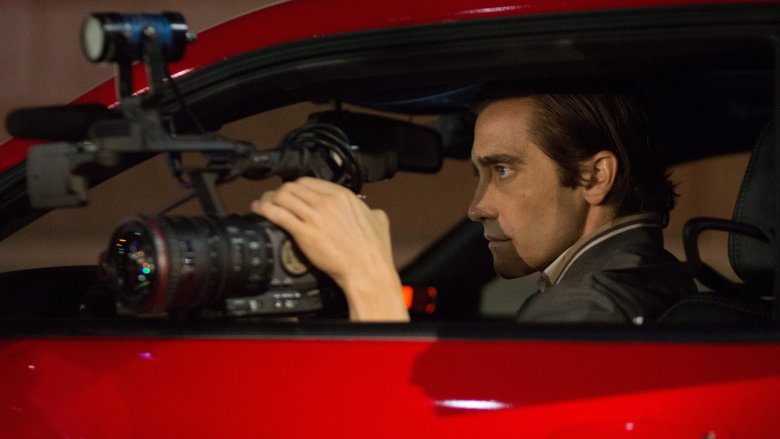 By the time he'd signed on to star in Dan Gilroy's harrowing 2014 crime drama Nightcrawler, Jake Gyllenhaal had already established himself as an actor who reveled in tackling vividly-drawn characters with complex moral arcs. Still, nothing could quite prepare us for Gyllenhaal's salacious turn as the film's morally vacuous would-be video journalist Lou Bloom. Little did we know before Nightcrawler hit theaters, but that eerily captivating turn was set to become one of Gyllenhaal's most memorable.
Set amid the seedy underbelly of modern-day Los Angeles, the movie follows an intensely driven outsider bent on making a name for himself in the cutthroat world of crime journalism by becoming a "nightcrawler" — willing to drive around looking to film car accidents, four-alarm fires, police shootouts, and any number of heinous events likely to feature a body count, in hopes of selling the footage to bloodthirsty local TV stations.
"Amoral" is the only way to describe the world and characters Gilroy presents in his pitch-black, Oscar-nominated media satire. Make no mistake, Nightcrawler is a film so overwhelmed with sleaze-peddling manipulators that Gyllenhaal's Bloom (probably the worst of them all) almost feels like a postmodern antihero of sorts, even as he meticulously erases the line between eyewitness and willing participant. Gyllenhaal plays the dual roles of driven freelancer and reprehensible opportunist with the calculating air of a feral vampire, transforming Nightcrawler into a modern horror fable that feels all too plausible.
Worst - Prince of Persia: The Sands of Time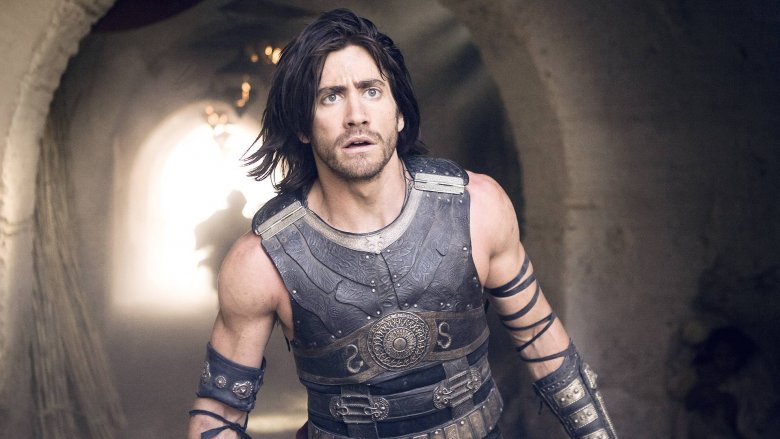 If Nightcrawler remains one of Jake Gyllenhaal's most memorable movies, the 2010 big-budget spectacular Prince of Persia: The Sands of Time is one everyone would likely rather forget. Adapted from the popular video game of the same name, Prince of Persia follows a fugitive prince and princess out to save their mystical land. To do so, they must keep an ancient dagger that can reverse time out of the hands of a nefarious man bent on using it to control the world.
Yes, that plot is as video-gamey as it sounds, and if you've been paying attention to the game-to-movie market, then you know exactly what went wrong with Prince of Persia. This Gyllenhaal action vehicle is one of the more rotten attempts to bring video game magic to the big screen.
Unfortunately, Prince of Persia was also one of the most expensive video game adaptations ever made, and even claims a Guinness World Record as such. While the film eventually turned a modest profit, those of us who bought a ticket and took the mind-numbingly dull ride that was Prince of Persia: The Sands of Time were left wondering where all that money went. It certainly wasn't visible in the film's lackluster production values. Even more disappointing was Gyllenhaal's inability to carry the torch of action star, or to bring even a hint of intrigue to a character/story that never reaches beyond the medium that spawned it.
Best - Zodiac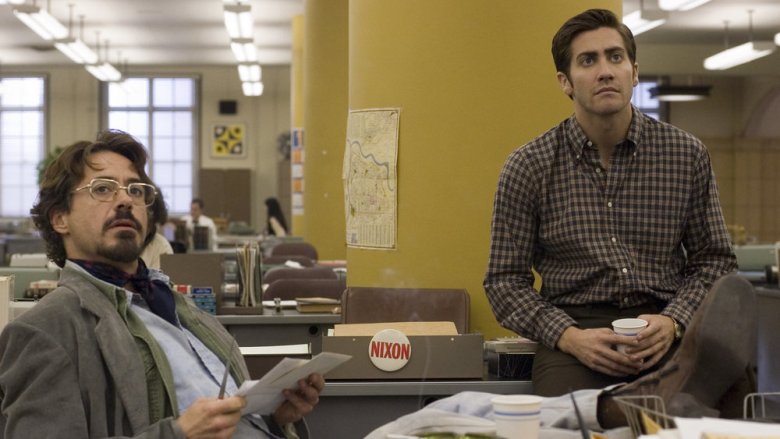 There are few directors in Hollywood (or the rest of the world, for that matter) more revered than David Fincher. Over the years, Fincher has earned such an unimpeachable reputation that his projects attract A-list talent the moment they're announced. As it happens, there are also few filmmakers as meticulous and uncompromising — Fincher has a reputation of pushing those actors well beyond their comfort zones in service of an impeccable moment.
Seems somebody forgot to tell Jake Gyllenhaal that before he signed on to star in Fincher's Zodiac. Itself a based-on-actual-events account of journalist Robert Graysmith's work/obsession with tracking down San Francisco's Zodiac Killer in the late '60s and early '70s, Zodiac found Gyllenhaal and Fincher infamously butting heads throughout production. The director pushed his crew through as many as 70 takes per scene (often deleting work in front of his actors as he went) before settling on a satisfactory take. Unused to such a rigorous shooting style, Gyllenhaal was left dismayed after Zodiac wrapped, saying of Fincher that he "paints with people," further adding that, as an actor, "it's difficult to be a color."  
Hard feelings aside, Zodiac is a near-flawless character study about a key player in one of the most compelling/enduring serial killer mysteries in modern history. It also happens to feature one of Gyllenhaal's strongest performances, and even a decade-plus after its release, Zodiac remains — in all its grisly, manic obsessiveness — a high mark for both director and star.
Worst - Love and Other Drugs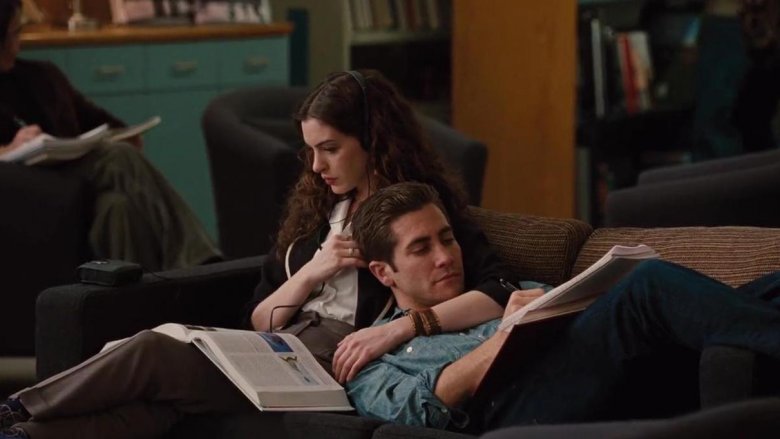 2010 just might rank as the lowest point in Jake Gyllenhaal's career. Not only did the actor's bland and boorish Prince of Persia hit theaters that summer, but his stunted romantic dramedy Love and Other Drugs arrived later that fall. Sold as a sexy, modern love story about a free-spirited woman with Parkinson's disease (Anne Hathaway) falling — against better judgement — for a charming pharmaceutical salesman, Love and Other Drugs missed the mark entirely on laughs, drama, sex appeal, and romance, leaving many to wonder how such a travesty could've occurred with so many talented people involved.
The film was, after all, co-written and directed by Edward Zwick (he of Glory, Legends of the Fall, Courage Under Fire, Blood Diamond, and The Last Samurai) and co-starred the likes of Oliver Platt, Josh Gad, Hank Azaria, and the inimitable Judy Greer. Of course, a quick glance at Zwick's resume will expose Love and Other Drugs' central problem — he's at his best when working on action flicks lighter on character and heavier on set pieces. It's clear about ten minutes into Love and Other Drugs that Zwick's style is simply not suited to more personal, character-driven fare, and the film propels itself forward with the grace of a drunken elephant on ice skates. The shame of it is that — as their dual Golden Globe nominations portent — Gyllenhaal and Hathaway are both quite good in this stinker of a film.     
Best - Enemy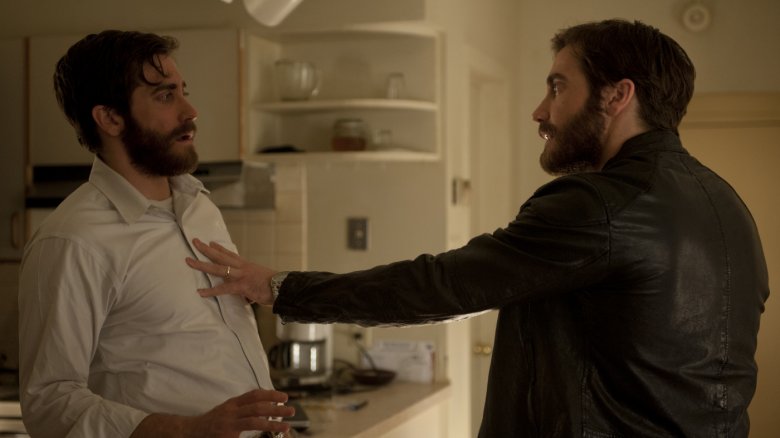 He's now regarded as one of the most exciting filmmakers in Hollywood, but just a few years back it would've been hard to find many filmgoers who knew the name Denis Villeneuve. Prior to 2013, the Canadian director had but four features to his credit, and those had rarely been seen outside of Canada or the festival circuit. Of course, moviegoers who experienced Villeneuve's films knew at once they were witnessing the work of a burgeoning cinematic visionary. Jake Gyllenhaal was one of them. The actor first worked with Villeneuve on his missing child mystery Prisoners, but they re-teamed later that year for an overlooked gem that stands as one of the best in either of their lauded portfolios.
If you've streamed the atmospheric head-trip of a doppelgänger thriller Enemy, you understand its "overlooked" status. To call this tale of an unassuming man spiraling into existential oblivion after spotting his exact look alike "difficult" or even "divisive" would not just be a grievous understatement, but also a disservice to the film's artistic and philosophical accomplishments. For the sake of keeping Enemy's angsty secrets intact, we'll simply say that it's a foreboding puzzle box of a movie that defies any and all classification. We'll also say that Gyllenhaal delivers the best work of his career in a dual role. If you can give yourself over to Enemy's thought-provoking, maddening ambiguity, you're likely to find it one of the most confounding yet satisfying cinematic experiences of your life.
Worst - Brothers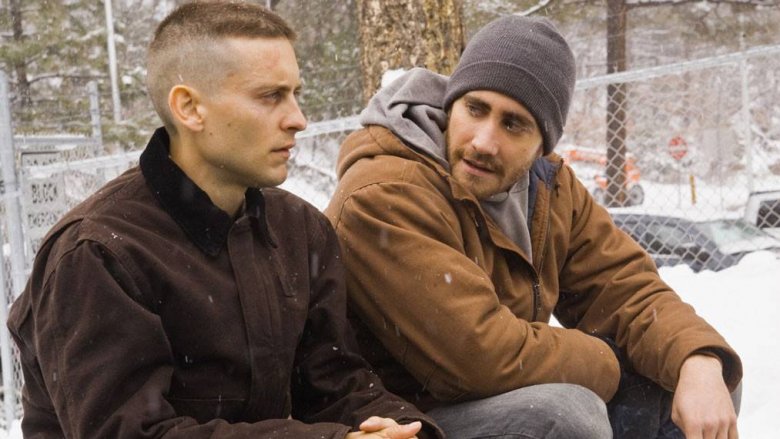 If we were to tell you today that Jake Gyllenhaal had signed on to star in a movie alongside Natalie Portman, Tobey Maguire, Sam Shepard, and Carey Mulligan, you'd likely have more than a vested interest in the project. If we also told you said project would be written by David Benioff (Game of Thrones) and directed by politically savvy Irish auteur Jim Sheridan (My Left Foot, In the Name of the Father), you'd probably find it hard to contain your utter elation. In truth, cineastes the world over let that elation boil over when Sheridan announced he'd be directing 2009's Afghan War drama Brothers, and that he'd do so with such an amazing cast and crew in tow.
We'd be just as quick to tell you what an utterly deflating experience it was to experience the clumsily executed Brothers when the shamelessly manipulative little film stumbled into theaters back in 2009. Most of us are still trying to figure out how this seeming slam dunk of a war-at-home drama went so very wrong. Maybe it was the too-familiar setup of a wife falling for another man while her husband is deployed. Maybe it was the schlocky twist that said wife was falling for her husband's own brother. Or maybe it was the fact that Gyllenhaal, Portman, and Maguire failed to bring any emotional stakes to the mix outside of soap opera level melodrama. Whatever the case, Brothers remains a black mark on the otherwise impressive careers of everyone involved.
Best - Donnie Darko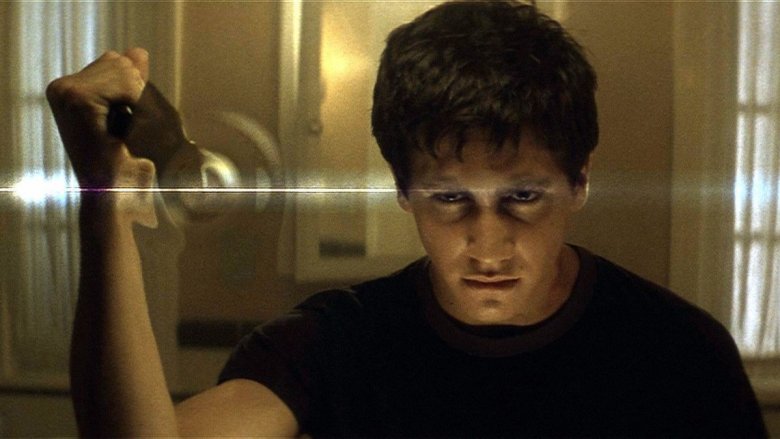 We have zero issues calling Enemy the most confounding movie in Jake Gyllenhaal's filmography, but it's worth noting that the actor first garnered wide attention and critical praise with a movie that rivals Enemy in both resolute ambiguity and mirthful mindf**kery. That film was Richard Kelly's 2001 time/mind/soul-bending existential horror thriller Donnie Darko. As hard is it is to believe that Donnie and his freaky pal Frank made their auspicious premiere almost 20 years ago, it's even harder to believe that after so much time (and dozens of obsessive late night screenings) Donnie Darko is still just as much a mystery today as it was when we first discovered it.
That's a good thing, for the record. Donnie Darko — with its winding maze of young love, wormhole theory, high school drama, hypnotherapy, parallel universe hypotheses, pseudo-religious satire, '80s doom-pop anthems, and string-pulling but possibly imaginary bunny-men — is such an enigmatic affair that we'd be more than a little bit heartbroken if all of its secrets were ever fully revealed.
Kelly's ability to blend the film's near-schizophrenic mix of genres and moods into a singular, digestible (if indecipherable) narrative is one big reason Donnie Darko remains such an endlessly re-watchable little film. Gyllenhaal's buoyantly brooding, utterly transfixing performance as the troubled young Donnie is the other. And it's the reason Kelly's unwieldy narrative remains grounded in some semblance of reality, even as it hurls itself into the dark recesses of the universe. 
Worst - The Day After Tomorrow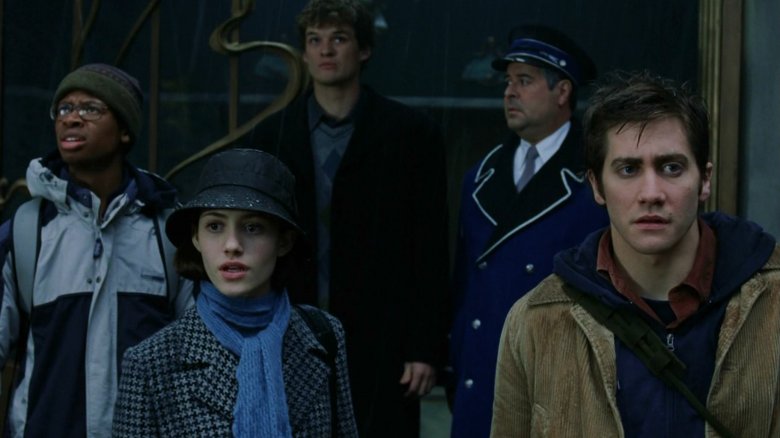 Jake Gyllenhaal's considerable reputation is largely built on a solid slate of indie flicks, but he's always tried to subsidize those more personal projects with dalliances in the blockbuster realm. Case in point: 2019 has already seen Gyllenhaal reunite with Nightcrawler director Dan Gilroy for the indie oddity Velvet Buzzsaw, and will next find him going toe-to-toe with a certain MCU webslinger. While we've all got high hopes for Gyllenhaal's Marvel debut, to date the gifted actor hasn't had much success with tentpole fare. That's been true since his first foray into blockbuster land, 2004's oh-so-forgettable sci-fi farce The Day After Tomorrow.
For those of you who have forgotten (willingly or otherwise), this bombastic eco-disaster flick follows a paleoclimatologist's perilous journey to save his son (Gyllenhaal), who — after an unexpected climatological shift triggers a new ice age — is riding out the apocalypse with a pretty girl (Emmy Rossum) inside the New York Public Library. No laughing, that's the actual plot of The Day After Tomorrow, and yes — timely politics and good intentions aside — the film is every bit as ridiculous as it sounds. The characters are paper thin, the science even more so. And to make matters worse, Roland Emmerich — who often chooses bombast and spectacle over character to eye-popping effect — fails to deliver anything even remotely impressive in terms of special effects or set pieces. In doing so, he helped The Day After Tomorrow claim the tragic title of Jake Gyllenhaal's first big-budget meltdown.
Best - Brokeback Mountain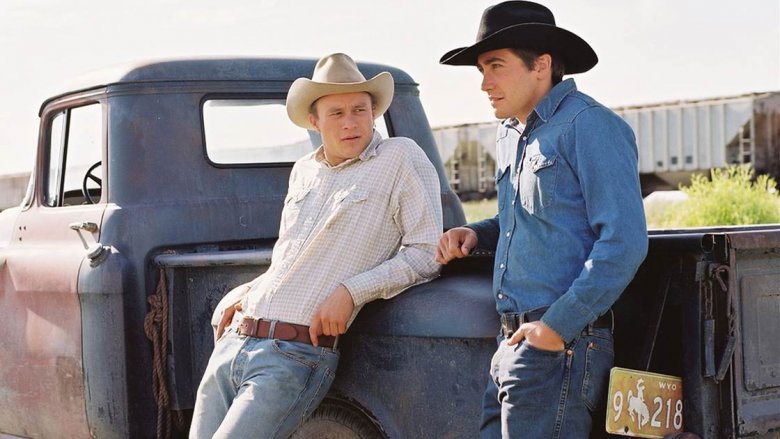 Prior to The Day After Tomorrow, Gyllenhaal's career had flourished with memorable turns in low-budget movies. It was a bit of a surprise, then, that he hadn't really received the sort of respect and adulation that seemed his birthright. That all changed when Gyllenhaal signed on to appear opposite Heath Ledger in Ang Lee's boundary-smashing cowboy romance Brokeback Mountain.
Though Brokeback Mountain may no longer seem like the trailblazing bit of queer cinema it was purported to be in 2005, the modestly-budgeted indie was very much a game changer when it hit theaters — not so much because it featured a sexually-explicit homosexual romance (which had certainly been covered in dozens of films prior), but because for the first time such a story was wholly embraced by mainstream moviegoers. In truth, it was Gyllenhaal's endearing turn as the outspoken Jack Twist and Ledger's passionately introverted work as his lover Ennis Del Mar that made it all but impossible to resist Brokeback Mountain's tragically star-crossed romance.
Fueled by an impassioned screenplay, the assured direction of Lee, and heartbreaking turns from Michelle Williams and Anne Hathaway as the lovers' long-suffering partners, Gyllenhaal and Ledger's brave, charismatic work helped turn their "gay cowboy movie" into one of the great romances in cinema history. They also managed to turn a hefty profit in the process, and even earned Oscar nominations or wins for almost everyone involved, including Gyllenhaal, who earned his first (and somehow only) nod for his work.  
Worst - Southpaw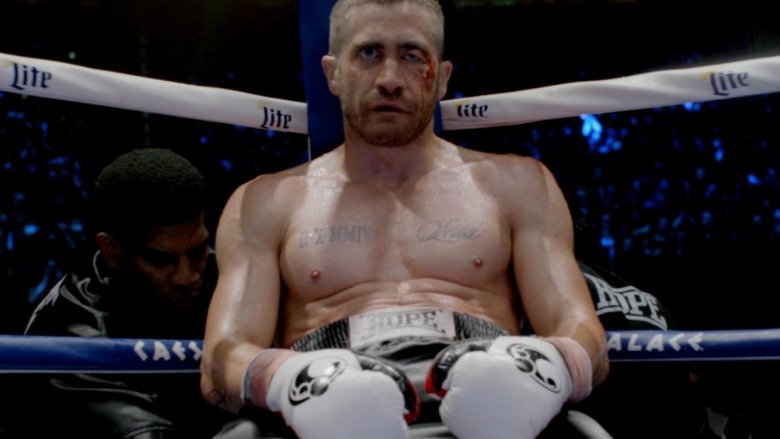 More potential awards season accolades are likely what drew Jake Gyllenhaal to claim the role of down-and-out boxer Billy Hope in 2015's Southpaw. On paper, the film about a boxer trying to reclaim his glory in the ring (and also recover his daughter from child protective services) in the wake of an unthinkable tragedy looked to have all the makings of an awards darling. Expectations were bolstered by Gyllenhaal's physical transformation for the role and the fact that Antoine Fuqua was directing a screenplay from The Shield and Sons of Anarchy guru Kurt Sutter. If that weren't enough, Southpaw also featured supporting turns from critical faves Rachel McAdams and Forest Whitaker.
While the Academy has historically shown love to emotionally punishing boxing flicks (see Rocky, Raging Bull, Cinderella Man, Million Dollar Baby, The Fighter, and Creed), Southpaw never comes close to matching those films in terms of emotional resonance. Rather, the film dwells more in the realm of macho posturing than understated underdog integrity, with Sutter suffusing what might've been an engrossing tale of hard-earned second chances with one frustratingly predictable and melodramatic moment after another. For his part, Fuqua does nothing to dissuade his actors from reveling in that melodrama, shamefully wasting the talents of his leads and completely failing to bring any style to the action in the ring. As such, this wannabe champ arrived in theaters as a paper champion worthy of no second chances.
Best and worst of the rest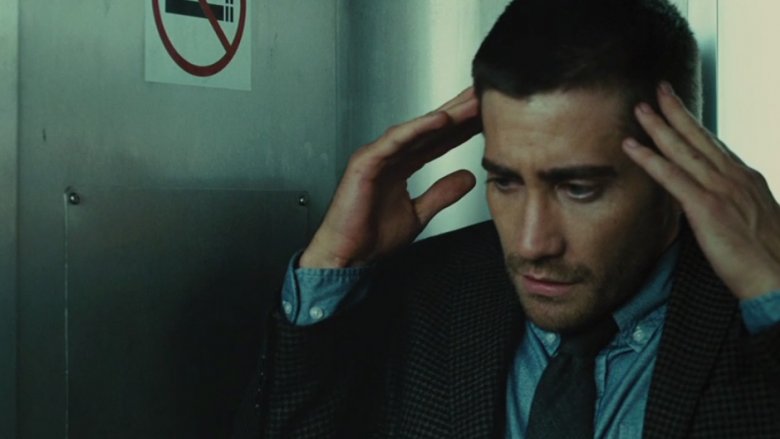 While researching a list like this, it quickly becomes obvious that a "five best" approach to Jake Gyllenhaal's career just isn't quite enough to cover the actor's staggeringly solid oeuvre. So, while we cannot stress enough that you should skip an unmitigated disaster like Gyllenhaal's doomed rom-com Accidental Love or the schlocky sci-fi thriller Life, we'd rather take a moment to point you in the direction of a few fantastic Gyllenhaal flicks that just missed that vaunted "five best" classification.
At the top of that list should be both of Gyllenhaal's 2018 offerings: the first being Paul Dano's devastating family drama Wildlife, which finds Gyllenhaal abandoning his wife (Carey Mulligan) and son, and the second being Jaques Audiard's meandering metaphysical western The Sisters Brothers, which sees the actor trading barbs with Joaquin Phoenix, John C. Reilly, and Riz Ahmed. High on that list should also be the live/die/repeat sci-fi fantasy Source Code (Duncan Jones' follow up to his pitch perfect Moon). Then there's Tom Ford's austere meta-drama Nocturnal Animals and Bong Joon Ho's outrageous meat-is-murder satire Okja. And hey, anyone looking to check the actor's comedic chops should spend a little time with Gyllenhaal's so-astonishingly-absurd-it's-sort-of-amazing romantic farce Bubble Boy. Happy viewing, all!