The Real Reason The Office Is Leaving Netflix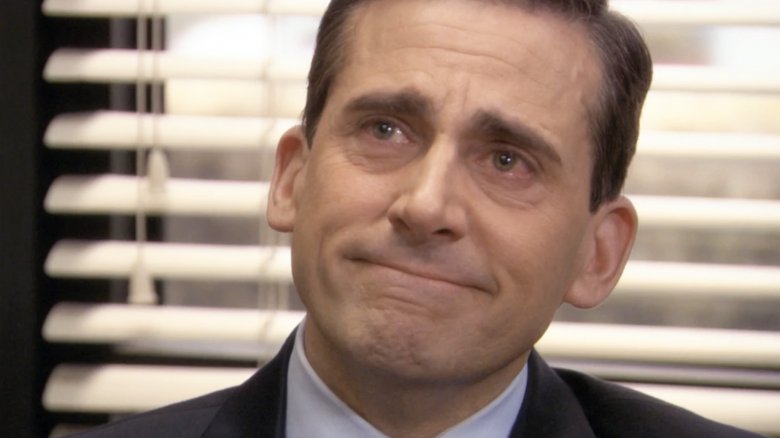 The folks at Dunder Mifflin Paper Company, Inc. are moving out. 
As much as it pains us to say this, and as hard as it will be to hear, the beloved sitcom The Office is leaving Netflix. The streaming giant confirmed the news on Tuesday, June 25, tweeting that The Office will remain in its content library until January 2021. Then, it's gone from Netflix for good. 
Before you start sobbing into your "World's Best Boss" mugs, Office fans, you should know that there is an upshot to this disappointing development. Viewers who fell in love with The Office — which stars Steve Carell as Michael Scott, the bumbling but mostly well-meaning overseer of Dunder Mufflin's Scranton branch — can still binge the series from the comfort of their own homes. They'll just have to do it on a different streaming platform. Starting in 2021, The Office will be available to watch on NBCUniversal's yet-to-release streaming service.
The Office's quirky cast of characters — from the lovebirds Jim and Pam (John Krasinski and Jenna Fischer) to the aggressive, eccentric beet farmer Dwight Schrute (Rainn Wilson) and a host of other office workers — and its witty storylines have found a place in millions of viewers' hearts over the years. In 2018, Netflix subscribers spent more time watching The Office than any other television series available to stream on the platform, so the show is clearly an invaluable asset to Netflix. That considered, one would assume that Netflix brass didn't make the decision to dump The Office — and they would be right. 
The reason why The Office is leaving Netflix is because NBCUniversal, which owns the series, has decided to remove it from the steaming platform and bring it to its own service. 
NBCUniversal previously licensed The Office to Netflix, but now that the series' current deal with the service is about to expire and NBCUniversal's yet-unnamed platform is expected to launch in the middle of 2020, it isn't advantageous for NBCUniversal to continue granting streaming rights to Netflix. According to The Hollywood Reporter, the company has secured exclusive domestic streaming rights for all nine seasons of The Office in a five-year deal, paying a staggering $100 million per year to stream it on its upcoming platform. 
NBCUniversal executives are incredibly excited that The Office is shifting from Netflix to the impending streaming service, with the company's chairman of direct-to-consumer and digital enterprises Bonnie Hammer saying, "The Office has become a staple of pop-culture and is a rare gem whose relevance continues to grow at a time when fans have more entertainment choices than ever before. We can't wait to welcome the gang from Dunder Mifflin to NBCUniversal's new streaming service."
Universal Television president Pearlena Igbokwe added, "The Office is one of our most prized series, and we are thrilled it has found an exciting new home where generation after generation will continue to discover and rediscover Michael Scott's most cringe-worthy moments, Jim and Pam's will-they-or-won't-they, and the incredible quirky ensemble that makes each episode a masterclass in comedy."
When Netflix addressed the situation, it took a slight jab at NBCUniversal in mentioning that Office fans can continue watching the series ad-free until January 2021. By contrast, NBCUniversal's streaming service is "ad-supported." 
The move to have The Office leave Netflix has been in progress for some time now. In April 2019, it was reported that NBCUniversal brass were engaging in "internal discussions about removing The Office from Netflix when the contract expires in 2021" and subsequently loading it onto the new streaming site. NBCUniversal, Warner Media, and the Walt Disney Company — three of Netflix's most crucial suppliers — are all launching their own streaming platforms and were previously said to be "looking to take their hit content back to feed their own platforms," according to The Wall Street Journal. Apparently, the companies are no longer comfortable with licensing to Netflix now that they can take back the content they own for streaming on their respective platforms. 
This is exactly what happened with Friends, another much-adored sitcom that originally aired on NBC. Warner Bros. Television produced and distributed Friends, and Netflix paid a pretty penny to keep the series in its library year after year. Though it was briefly believed at the end of 2018 that Friends would leave the platform in January 2019, the truth is that it's sticking around until sometime in 2020, when another new streaming site enters the arena. That platform is WarnerMedia's unnamed one, which includes programming from HBO, Turner, and Warner Bros. Television. WarnerMedia intends to use Friends as a major selling point for the new platform, and it's likely that NBCUniversal wants to do the same with The Office. 
A similar sequence of events happened in late 2018 and early 2019, when all of Marvel Television's standalone superhero series were cancelled at Netflix. Daredevil, Luke Cage, Iron Fist, The Punisher, and Jessica Jones were axed in relatively quick succession — and it's assumed that the reason for these cancellations is the same as the reason why The Office is leaving Netflix. Marvel TV's parent company, Disney, is about to launch its own streaming site, Disney+, and is looking to gather up all the content it owns to house it in one place. Reportedly, Marvel TV can't use any of the characters featured on the superhero shows for at least two years post-cancellation, due to a clause in the deal with Netflix. It's because of that detail that people believe Daredevil, Luke Cage, Iron Fist, The Punisher, and Jessica Jones won't arrive on Disney+ until at least 2020. 
With The Office and so many other wonderful shows getting plucked from Netflix, the platform is going to have to ramp up its original content to keep subscribers around. Netflix has great original series like Stranger Things, BoJack Horseman, GLOW, Sex Education, The Crown, and more in its catalogue — but whether those shows will ever be able to fill the void the irresistible and easily re-watchable Office will leave behind remains to be seen.