Dwayne Johnson Teases Hobbs & Shaw, Black Adam, And Future Team-Up With Keanu Reeves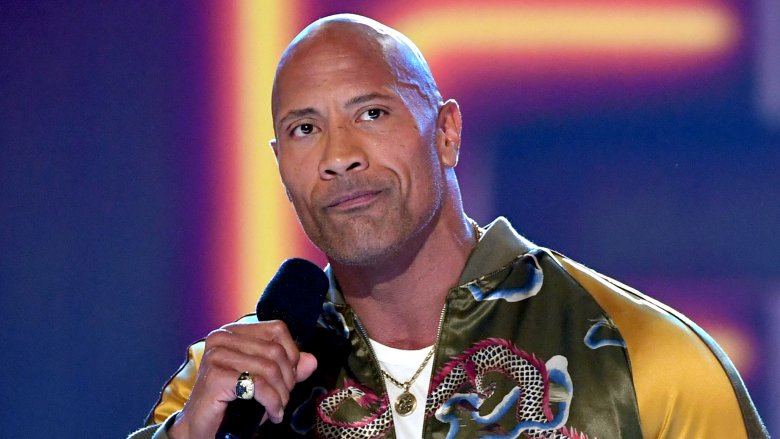 Kevin Winter/Getty Images
The Rock is psyched for you to experience Fast & Furious Presents: Hobbs & Shaw. 
The star had a chat with Josh Horowitz backstage at the MTV Movie and TV Awards, where he talked a bit about the upcoming film — and the possibility of a team-up down the road with another action star who is having something of a moment.
"You know, Hobbs & Shaw... [we put] put a lot of effort into that," Johnson said,  "and making it great not only for the Fast & Furious fans, [but] I wanted to make sure we made a movie that transcended the Fast & Furious world... but still made sure that we had the ethos of Fast & Furious, which is of course family, and brotherhood, and obviously the big action sequences and things like that."
Yes, we're pretty sure we knew what to expect from Hobbs & Shaw: quippy dialogue, fast cars, wall-to-wall action, and an invincible Idris Elba taking a flamethrower to stuff. But Horowitz wanted to know about a certain rumor that's been popping up around the movie: that it just might feature an appearance by the one and only Keanu Reeves, whose John Wick: Chapter 3 — Parabellum has been blowing up badguys and the box office in roughly equal measure. Unfortunately, Johnson had to disappoint Horowitz and everyone else... but there may be a catch.
"Well, you know, Keanu and I have been texting each other. And I will tell you, I will confirm, that he's not in [Hobbs & Shaw]... because that rumor started to kind of just swell. But I will tell you this: we have a few surprises in Hobbs & Shaw that have been testing — we've been testing the movie to the audiences — they have just been blown on their ass when these surprises happen."
Very interesting, The Rock. Might there be some kind of Wick-referencing Easter egg? It doesn't seem super-likely, since the John Wick and Fast & Furious franchises are produced by different studios (Lionsgate and Universal, respectively). But when pressed by Horowitz about whether a Rock 'n Reeves team-up might be in the cards at some point in the future, Johnson didn't hold back, until he did.
"Oh, look, fore sure! I love Keanu, and Keanu, obviously he's having just this awesome time in his career," the star said. "We talked about it, we've [said], 'Hey, dude, somewhere down the line, let's do something, for sure.' But as of now, in Hobbs & Shaw, [no appearance by] Keanu. However, it's..." Johnson then trailed off and made a series of meaningful hand gestures, which we're honestly not sure how to interpret. It seems like he must be implying that there's some sort of Reeves-centric reference in Hobbs & Shaw, one which he's not keen on spoiling for us.
Johnson continued by gushing over his excitement for the forthcoming Black Adam, which — after years in Development Hell — is finally moving forward with The Shallows director Jaume Collet-Serra. "There's a lot of... research and development that has to go into Black Adam," Johnson said, indicating that he hasn't even gotten a chance to try on the costume yet. "[But Serra] is a genre filmmaker who is inherently edgy and dark, [and]... he's gonna be great for Black Adam. He has a great take and [made] a great pitch [for] Black Adam."
I response to Horowitz noting that "edgy and dark" wasn't exactly an apt description of Shazam!, Johnson took the opportunity to commend all involved for realizing that Adam needed his own solo feature, rather than trying to cram him into the starring vehicle for his traditional heroic foil. "[Originally], Shazam! and Black Adam was going to be... one movie," he said. "And then we just realized, that just the inherent narrative of both characters, it was hard to meld them. They should [each] have their own origin stories."
He went on to praise the ceremony's host, Zachary Levi, for his performance in Shazam! while reiterating that Black Adam would be decidedly its own thing. "Zach did an amazing job, so excited for that movie... [and] Black Adam is going to be a fun movie, but there's gonna be some edge and some darkness. He wrapped up the interview by showing his fanboy stripes, noting that Black Adam basically has the same powers as Superman, only Supes "doesn't kill anyone." Then, with a wry grin: "Black Adam does."
We're pretty sure we smell what the Rock is cooking. Of course, there's no announced time frame for Black Adam's release, but if you need a fix of Johnson doing what he does best — kicking ass, taking names, cracking wise, and arching that famous eyebrow — look no further than Fast & Furious Presents: Hobbs & Shaw. The flick, co-starring Jason Statham, Vanessa Kirby, and Idris Elba — hits the big screen on August 2. You can watch the full interview with Horowitz below.