Hobbs & Shaw: Idris Elba Wields Giant Flamethrower In New Photo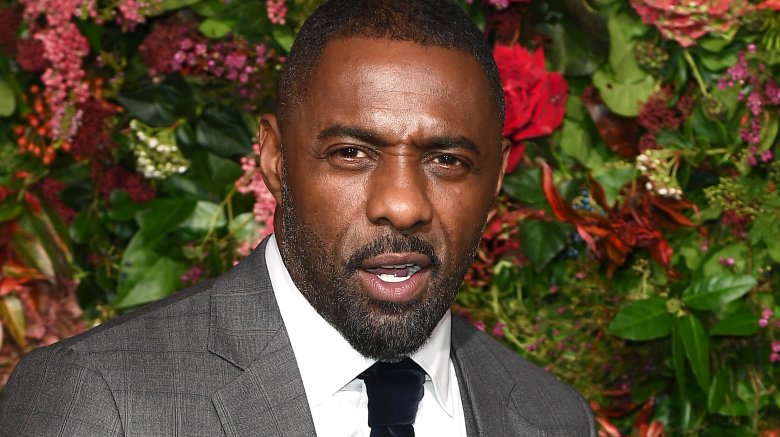 Getty Images
Idris Elba is here to bring the heat — literally. 
We're just over four months out from the release of the first-ever Fast & Furious series spin-off movie, Fast & Furious Presents: Hobbs & Shaw, and Dwayne "The Rock" Johnson isn't letting us forget it. The actor, who reprises his Furious 7 and The Fate of the Furious role to lead Hobbs & Shaw as DSS federal agent Luke Hobbs, has been rolling out behind-the-scenes snaps and set photos in a steady stream for months now — and his latest offering is the hottest one yet. 
Shared with his 136 million-plus Instagram followers on Tuesday is a photo of Johnson's co-star Elba in character as Brixton Lore, wielding a massive flamethrower that's shown actively spitting fire. 
"THE baddest bad guy the Fast & Furious franchise has ever seen. With a MF'n flamethrower," Johnson captioned the photo, adding a fitting fire emoji to further accentuate Elba's badassery. "My brotha @idriselba. He's a bad man. Let's dance. HOBBS & SHAW THIS SUMMER."
As is standard for Elba, he looks like the epitome of cool in this new Hobbs & Shaw photo — and not only because he's swinging around a giant weapon that could turn his enemies into barbecue in three seconds flat. From his all-black get-up (evidently monochrome even in the black-and-white snap Johnson posted to social media) to the aggressive, combative look on his face, Elba means business as Brixton, the ex-MI6 agent and criminal genius who causes trouble for Hobbs and his enemy-turned-adversary Deckard Shaw (Jason Statham). How exactly this flamethrower factors into the fight between Brixton and Hobbs and Shaw is a mystery for now, but considering the dastardly dude is also the leader of an international terrorist coalition and has cyber-genetic enhancements, the weapon is likely just one of many featured in Brixton's personal arsenal. 
Those familiar with Elba's work are fully aware that he plays villains like no one else, stunning as Krall/Balthazar Edison in Star Trek Beyond and Shere Khan in Jon Favreau's remake of The Jungle Book. Though he's also stepped into a softer light to portray heroes (both real-life ones like Nelson Mandela and make-believe ones like Heimdall in the Marvel Cinematic Universe), Elba genuinely prefers playing baddies. "Heroes and good guys can be flat and boring on an acting level, at least. But when you play a villain there are often so many layers to let your imagination run wild," he once told Mirror U.K.
With a flamethrower and an array of cyber-genetic upgrades in tow, Elba's Brixton seems another role where the actor can let loose and go a little mad. 
Directed by John Wick and Deadpool 2 filmmaker David Leitch, Hobbs & Shaw takes place two years after the events of The Fate of the Furious and brings several new faces into the expanding franchise. On the roster alongside Elba, Johnson, and Statham are Vanessa Kirby as M16 field agent and Deckard's sister Hattie Shaw, Helen Mirren as Deckard's mother Magdalene Shaw, Roman Reigns as Hobbs' brother, and Eiza Gonzalez as Madam M. Eddie Marsan, Cliff Curtis, Josh Mauga, and John Tui round out the cast. 
Hobbs & Shaw is set to launch in theaters on August 2.