Joker Director Confirms Film's R Rating, Releases Haunting New Photo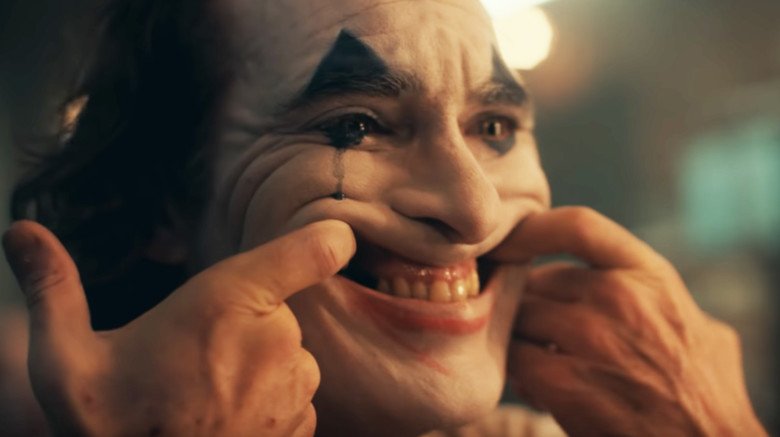 Why so [bleep]-ing serious?
Joker director Todd Phillips has stated that his upcoming Joaquin Phoenix-starrer will indeed be R-rated. 
He dropped the news in a manner most interesting: in a reply to a fan who left a comment on his latest Instagram post, which was a haunting image of Phoenix sitting in front of a mirror and applying his Joker makeup. Phillips captioned the photo with two words that carry a double meaning: "Finishing touches." Obviously, Phoenix is putting the finishing touches on his face paint — he still needs the Pagliacci-inspired blue eyes and bright red mouth — in the photo. Meanwhile, Phillips himself is polishing up Joker before its October 4 debut. 
In the comments, a fan queried Phillips about whether one such finalization was an official rating from the Motion Picture Association of America. Phillips responded that the MPAA is going to give the film an R rating, and he thought everyone already knew Joker would be adult-oriented. 
"It will be Rated R. I've been asked this a lot. Just assumed people knew. Sorry," the director wrote. 
Considering everything we know about Joker thus far, it's approximately zero percent surprising to hear explicit confirmation from Phillips that the film holds an R rating. Billed as "an exploration of a man disregarded by society [that] is not only a gritty character study, but also a broader cautionary tale," Joker follows Phoenix's Arthur Fleck, an aspiring comedian who snaps and turns to a life of crime when he bombs with audiences. Arthur's own mental illness, hinted at in the trailer for the flick, coupled with the pressure of caring for his ailing mother (Frances Conroy) certainly doesn't help his instability — and neither does the corruption that runs rampant through 1980s Gotham, which the antagonistic Thomas Wayne (Brett Cullen) is looking to oversee as mayor. Gotham is in need of reformation, and the pained Arthur Fleck fancies himself the spearhead of a movement full of outcasts, self-styling as none other than the Joker. And if certain rumors prove true, Arthur's criminal alter ego might turn murderous when a long-held family secret finally surfaces. 
Now imagine that playing out within the parameters of a PG-13 rating. Difficult, huh? 
Also starring Zazie Beetz, Robert De Niro, Marc Maron, Shea Whigham, Douglas Hodge, Dante Pereira-Olson, and Brian Tyree Henry, Joker is set to open in theaters on October 4.