Joaquin Phoenix Joker Movie Details Reveal Character's Real Name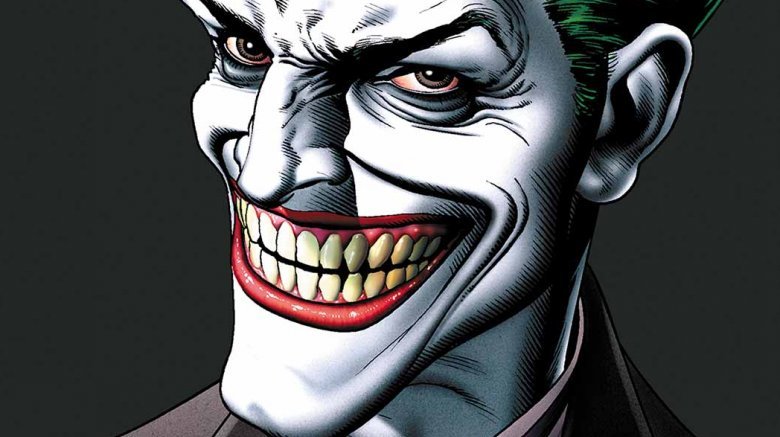 DC Comics
Would a Joker by any other name sound as sweet?
That Hashtag Show has dropped a pretty big bombshell regarding the upcoming Joaquin Phoenix-starring Joker film: his real name. 
According to a new report by the outlet, the Clown Prince of Crime will be supposedly called Arthur Fleck in the movie, directed by Todd Phillips and potentially also featuring Zazie Beetz in the role of a single mother who catches Arthur's eye before he becomes the Joker.
The report further claims that Joker will likely follow the failed comedian Arthur as he moves in with his mother, Penny, who is thought to be extremely ill in the movie. 
Arthur later meets a woman named Sophie Dumond — a character Beetz might portray. (For what it's worth, Looper previously hypothesized that Beetz may be set for the role of Jeannie, who later becomes the pregnant wife of the soon-to-be-Joker as featured in the 1988 one-shot Batman: The Killing Joke, written by Alan Moore with art by Brian Bolland.) 
Additionally, THS alleges Robert de Niro might have a role in Joker. If he truly is on board, he'll reportedly play the late-night talk show host Murray Franklin. 
Circling back, the Joker's reported real name and his close connection with his mother, described as "very attractive in her youth" and "obsessed with her former employer," leads to another huge reveal: Arthur Fleck and Bruce Wayne, Batman himself, might be presented as half-brothers in Joker. 
Stay with us, here.
Since the film will allegedly feature Thomas Wayne, the Gotham City physician and philanthropist that the Joker thinks is a tan-skinned cheeseball, THS theorizes that Penny Fleck once worked for the Waynes, became infatuated with Thomas Wayne, sparked up an affair with the married man, fell pregnant, and later gave birth to Arthur. When Arthur returns to Gotham to live with his mother, a string of events causes him to descend into madness — and finding out who his father really is, at the same time attempting to care for his dying mother and accept that his career as a comedian is doomed, would probably catalyze his downfall.
Again, this is just a hypothesis, but we can see the pattern of thinking behind it. Positioning a pair that have long butted heads as brothers would be a shocker for audiences. That Joker is a separate entity from the DC Extended Universe means Phillips and co. can essentially do with the film and its characters whatever their little hearts desire — including go all William Shakespeare and turn the comic book movie into a family tragedy. Seeing that on the big screen would be worth way more than the cost of entry. Fingers crossed it happens. 
Joker will begin principal photography in New York in September in preparation for an October 4, 2019 release.